Sugar Ray Leonard's Height
5ft 9 (175.3 cm)
Former American Boxing Champion. In the Melbourne Herald Sun commented on his height, saying:
"I used to say I was 5ft 11 but the truth is I'm 5'9"
. This photo (by Chantelle) is from London Film Con 2013.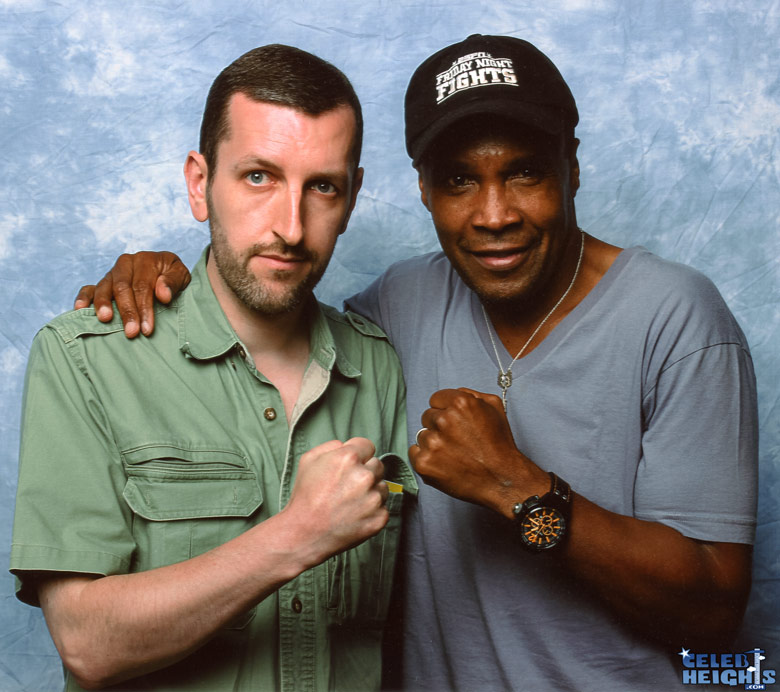 5ft 8 Rob with Sugar
You May Be Interested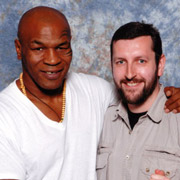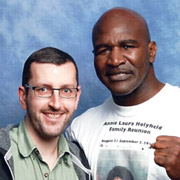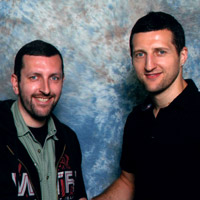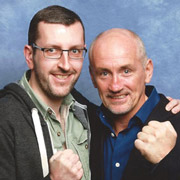 Add a Comment
70 comments
Average Guess (29 Votes)
5ft 8.97in (175.2cm)
JohnMoore-162cm
said on 27/May/20
Maybe 5ft9 peak
Tall In The Saddle
said on 29/Apr/20
@Nik, yeah, I think Ray is pretty honest. Though the official result was a draw, Ray now always refers to Tommy Hearns having won their second fight(IMO, Tommy should've in fact been given the decision). A rare concession in the world of boxing and a concession that I think meant a lot to Tommy. Not sure but I think Ray went as far saying that Tommy kicked his a$$. On par with that, Ali also admitted a few times that Norton won their rubber match, again, I agree with that. Norton was jobbed badly.
Nik
said on 27/Apr/20
I believe his very honest and admirable claim!
Tall In The Saddle
said on 31/Mar/20
Hearns used to be listed as tall as 6'2" back in the day. You'd almost believe it too the way he towered other Welters who averaged about 5'6" to 5'7" but even if he was just 6', he was already rocking a 5" to 6" advantage and he appeared extremely thin, though a powerful upper body, very weak legs.
I've noted that in most photos with Evander, Tommy is shorter. Perhaps not quite a full inch, but close to. So if Evander was 6'1", then Tommy was just a shade over 6 feet.
MW Champ Carlos Monzon also used to be touted as 6'2" but was 5'11.5" in reality. Still very tall for a MW, at least back then. He used to tower most opposition also but outside the ring, amongst average sized guys, his height wasn't so noticeable.
I think with Rob, Ray looks good for a 5'9" listing. He's leaning in with head bowed a bit also. Look to the difference in shoulder height.
viper
said on 25/Mar/20
I guess Hearns has shrunk a bit, because Barkley was 6-0 minimum.
In some matches they would list Barkley at 6-0 1/2 instead of his listed 6-1
viper
said on 15/Mar/20
Even the announcers pointed out how Hearns was taller than 6-0 Barkley
viper
said on 15/Mar/20
Disagree Rob.
Iran Barkley is at least 6-0 and Hearns was an inch taller.
Hearns is 6-0.75-6-1 at least
Matt(182cm)
said on 11/Mar/20
Hi big Rob, how tall would you say peak Thomas Hearns was? Here's Leonard facing off with Benitez:
Click Here
(angle 1)
Click Here
(angle 2) and here's Thomas Hearns facing off with Benitez:
Click Here
I'd personally estimate Benitez at 5ft9-5ft 9.25 and Hearns at 5ft 11.75-6ft.25

Editor Rob
6ft range for Hearns is likelier than 6ft 1
viper
said on 21/Feb/20
Click Here
27:35 mark Leonard says Hearns is
6-3-6-4, some say 6-5
viper
said on 18/Feb/20
Hearns looks a good 6-1.
He had a solid inch on 6-0 Iran Barkley
Beej
said on 18/Feb/20
Non - Hollywood heights ; ) SRL - Just under 5 '9. Duran 5 '6 (poss add half inch at peak) Hagler 5' 8. Hearns 6 and a 1/2.
Yang (5 footer 8, 173)
said on 5/Nov/19
He looks like half inch taller than you Rob...
Litenko
said on 15/Oct/19
176 cm for his peak?
Canson
said on 11/Aug/19
Actually Tyson has a significant footwear advantage on him in that pic which was from 2012. In 2014 they looked closer in height. Still not sure Sugar Ray is more than a 174cm guy today like Rising said tho
Canson
said on 11/Aug/19
He's definitely lost height Rob. Tyson is 5'10" in person and he towers him as you've met him too.
Click Here
Christian 6'5 3/8"
said on 11/Aug/19
@Sandy
No, it's his nickname. I think Rob should start adding quotation marks around nicknames of celebs so that people like you won't get confused.
Miss Sandy Cowell
said on 8/Aug/19
Is Sugar his real name? It sounds like the sort of name you'd give to a fuzzy white dog, i.e: 🐩, not a name you'd call an experienced boxing expert!
However, I think it's very sweet of him to open up so blatantly to having added all of two inches to his height in the past! 🍬🍬
5ft9.
'Annonymous'
said on 29/Apr/19
Hey Rob, for some time I'm interested in the height of a basketball player who is not on your website yet but he met Sugar in 2011. Here are the photos of David Robinson and Sugar:
Click Here
Click Here
Click Here
Click Here
Click Here
Click Here
Click Here
Click Here
David is listed on the internet as 7'1" but he looks like a real giant next to Sugar. Rob, how tall do you think David could be?

Editor Rob
He did claim 7ft 1, I think some estimate him as 7 foot flat, but I'm not sure he was that short.
ArjunaKorale
said on 30/May/18
@bradybreaker1953: No, lol, I am not calling you that 'old'...I believe 'proper old age' starts once a person hits seventy. 32, however, was old for Roberto Duran as the guy turned pro when he was 16 & had been fighting continually for 16 yrs (& had fought a great number of fights) before facing the bald one. Thus, Duran was old (in boxing yrs), slightly faded & certainly NOT IN HIS PRIME (& nowhere near his optimal weight range - 135 to 147 lbs, in my opinion) when he fought Hagler. All those hard fights against Leonard, Hagler & Benitez (and others) caught upto weary Roberto the day he faced Hearns. An in-peak, less bulky, less weary, more energised Duran (with the great Arcel & Brown in his corner), at welterweight, would have fought Tommy right down to the wire. By the way, Hearns was never 6 ft 2.5 inches in his entire life (unless he was wearing a two inch heel)...Tommy was more around 6 feet and half an inch (184 to 185 cm) tall. Roberto was around 5 ft 7 (170 cm) or a quarter of an inch under. I have viewed the Duran-Benitez fight multiple times & can best give Roberto only 2 or 3 of the 15 rounds they fought together. Still, I would WITHOUT QUESTION put Duran way above Benitez in the all time rankings...Roberto accomplished a lot more during his career & was at the top of his game over a much longer time period than Wilfredo. However, your comments are noteworthy & do elicit a reply.
JJAK
said on 30/May/18
Great fluid and tactical boxer maybe 5 9 peak.
Good power good chin great movement most time good plan.
Taller than hagler minus hair probably .5 inch difference.
Much lower than hearns 6-6'2 way over duran 5 6. 5 weak tower.
handsomeblackbradybreaker1953
said on 1/May/18
"Old age?????"Dude,I'll be 65 July 6.Are you calling ME old???
Anyway,Duran was about 5'61/2" and Hagler 5'8",but Duran seemed almost as strong as Hagler,and EXTREMELY ELUSIVE,as Ray Leonard discovered in their trilogy.
Leonard is 5'9",but deceptive muscular and buff,which is why he stopped 6'21/2" Hearns,who lacked physical strength and endurance to match his power.Leonard was the best of the Leonard-Hearns-Duran-Cuevas-Benitez quintet,with Benitez a strong second (he'd have beaten Cuevas easily and did beat Duran,though Hearns bettered "The Radar.")Great middle-division fighters brightened the 70's and 80's!!!!
ArjunaKorale
said on 7/Feb/18
@John ibanez:
Although Marvelous Marvin Hagler was most definitely 'Un-Marvelous' against short (5 ft 7 max), old (32), past his peak, former lightweight legend Roberto Duran, Hagler was strictly Marvelous against huge 6 ft 0.5 inch, 26 yr old, in peak, light-middleweight great Thomas Hearns! Little Duran took Hagler right down to the wire in '83 (I feel that the fight could have even been a draw)...and yet huge Tommy Hearns only lasted less than 3 rounds against the bald one in '85 (the fight wasn't even close, with Hagler messing Hearns up so badly that Tommy had to be carried out of the ring by his own body guard)! Styles make fights, Baby, styles make fights!
ArjunaKorale
said on 6/Feb/18
@John ibanez:
On Roberto Duran vs Marvelous Marvin Hagler...yes, I too noticed that the two of them weren't that far off in height, when they met in ring centre. I think, however, that this optical illusion was to do with camera angles and the fact that Duran & Hagler were actually not that much different in height. If you look at some of the prefight pix, during the buildup to the fight, when the two fighters were wearing similar foot attire, you will see that Hagler is ONLY about 3 cm (roughly an inch) taller than Duran. Now I have actually met Duran (but this was around Sept 2014 when Roberto was around 63 yrs old) and even in his old age, Duran was close to 5 ft 7 (170cm)...I think that when I met him, he may have been around 5 ft 6.5 inches (169cm) tall (there is going to be some amount of shrinkage due to age, but I think that Roberto is one of those lucky ones who hasn't suffered much shrinkage). So, in his peak, Duran was definitely a full 5 ft 7 in my opinion. All this would make Hagler around 5 ft 8 or 5 ft 8.25 (around 173 cm) tall (THERE IS NO WAY THAT HAGLER IS 5 FOOT 9.5 INCHES TALL). AND YES, I AGREE, HAGLER VS DURAN WAS A WONDERFUL FIGHT...the way little, old Duran hovered, glided side to side & counterpunched a natural counterpuncher like Hags was v impressive...in fact, after I watched that fight, I wanted to alter their names, taking away Marvelous from Hagler & conferring it to unique Duran. The fight should have been a draw, Un-Marvelous Marvin only turning it on during the last 2 rounds.
John ibanez
said on 25/Dec/17
HI I noticed that when Duran fought hagler in that wonderful fight , when they came up to each other just before they started , it appeared that Duran was the same height as hagler ,yet they have Duran listed as 5ft 7 inches and hagler at 5ft 91/ 2inches , could I be wrong ?cheers barney
ArjunaKorale
said on 18/Oct/17
Hey, Editor Rob, any chance of you adding the other members of the Fab 5 to your incredibly informative site? There are NO ENTRIES FOR DURAN, HAGLER, HEARNS AND BENITEZ! Come on, Rob, u gotta add them. It is a crime that they are not on this important site. As I have mentioned in earlier posts, Hagler & especially Duran are considered, by some boxing experts, higher up the echelon of boxing legends than even Sugar Ray Leonard. My take on the heights of these Welterweight/Middleweight greats are as follows:
Roberto Duran 170 cm (5 ft 7) - I have actually met him once.
Sugar Ray Leonard 175 - 176 cm (5 ft 9.25 inches)
Marvelous Marvin Hagler 174 cm (5 ft 8.5 inches).
Thomas Hearns 184 cm (6 ft 0.5 inch).
Wilfredo Benitez 176 - 177 cm (5 ft 9.5 inches).
I would like you to note that, apart from Duran, I have never personally met any of the others.
What's your take on the heights of these amazingly charismatic champions, Rob?
Harris
said on 12/Oct/17
He's clearly losing more height than Rob is in the picture above, and still looks near 5'9". His shoulders clearly hover above Rob's and he generally doesn't hold up the best posture anyway. My guess is that he's no taller than 5'8.5" today, since he could look no taller than Rob did with Mike Tyson in some recent pics, but as for his prime 5'9" solid is believable. 61 is a bit young to lose height in the amount he appears to have lost his imo.
Barberboy
said on 21/Sep/17
Met him years ago great guy pure class but he's not 5'9 I'd say 5'8 tops
KH
said on 13/Sep/17
Not sure he was ever the full 5'9. Looks no taller then Rob here and he seems like a guy who wouldn't have lost much height with age.
Jan
said on 21/Aug/17
Dear Rob,
How tall do u think he was in his younger years? 5'9? or taller than 5'9?
Editor Rob: I think he was 5ft 9 prime and today is half inch or so under it.
Al
said on 29/May/17
5'9 1/2 at his peak
RisingForce
said on 23/May/17
Wow, I guess he'd be dropping fast then, but last year I think, he did look similar to Usher and Mario Lopez when they boxed. Don't know whether to enter peak or current for the guess, though.
RisingForce
said on 21/May/17
5'9" peak seems about right, but he seems to be losing height the last few years. Not over 174.5 cm today. Is 174 likely? His posture often makes it tough to tell.
Editor Rob: he could be down to 173-4 range today.
ArjunaKorale
said on 13/Feb/17
Regarding the HEIGHTS OF THE FAB FIVE 'MIDDLEWEIGHT BOXERS OF THE 1980s - I've watched videos of their fights (on multiple occasions) as well as numerous interviews & my height estimates (which I believe to be pretty accurate) are as follows: Sugar Ray Leonard 176 cm (5 ft 9.25 inches); Roberto Duran 170 cm (5 ft 7inches); Marvin Hagler 174 cm (5 ft 8.5 inches), Thomas Hearns 184 - 185 cm (6 ft 0.5 inches to 6 ft 1 inches); Wilfred Benitez 176 - 177 cm (5 ft 9.25 to 5 ft 9.5 inches) tall. One thing's for sure Hearns' trainer, Emanuel Steward, told a BIG LIE that Thomas was 6 ft 2 tall, lol! Rob, you created an entry for Leo a while ago & now it is time to add the other 4 greats (many boxing experts consider Duran & Hagler to be even greater than Leonard) - you would certainly be attracting a lot of hardcore & old school boxing fans to your site by giving a page each to Duran, Hags, Tommy & Wilfredo! Please, Rob, please, lol!
CreepX
said on 18/Jan/17
There is many Pictures featuring Holyfield (186 cm) and Hearns together. 183-184 cm for Hearns seems right.
Cvgo95
said on 11/Jan/17
Duran's height rob?
ArjunaKorale
said on 15/Nov/16
What I meant to say regarding the heights of the Fantastic 5 of 1980s middleweight/welterweight boxing was that I thought that they were the following heights: Sugar Ray Leonard 176 cm (5 ft 9.25 inches), Hagler 173 - 174 cm (5 ft 8 - 5 ft 8.5 inches), Duran 170 cm (5 ft 7) & Wilfred Benitez 176 - 177 cm (5 ft 9.25 - 5 ft 9.5 inches) tall. Rob, isn't it time for you to give Duran, Hagler & Benitez each an entry on your invaluable site? Please, lol!
ArjunaKorale
said on 14/Nov/16
@movieguy:
Hearns being 6 ft 2 was a lie propagated by Emanuel Steward just to make Hearns seem more intimidating to the average welterweight (at that time the av welter only stood around 5 ft 7 or something like that) - I am convinced that he was a weak 6 ft 1 (185 cm) at the most. In fact, looking back at the old 80s fights & comparing with guys like Duran (5 ft 7), Leonard (5 ft 9.25), Hagler (around 5 ft 8.5) & Benitez (maybe 5 ft 9.5 or 5 ft 10), I am willing to agree with Emil 183 that Hearns could have even been around 184 cm (6 ft 0.5 inches) tall. Also, look at the stare off that took place at the start of the fight between Hearns & Randy Shields - it looks v unlikely that Hearns stood a full 2 inches taller than the 5 ft 11 inch (180 cm) Shields.
movieguy
said on 22/Sep/16
Hearns was given as 6'1'' when fighting. I seem to remember his trainer saying in reality he was 6'2'' but they downplayed his height to make it easier to find opponents. No one wanted to fight a 6'2'' welterweight. Maybe this is unlikely as Rob seems to think Hearns isn't more than 6ft these days.
Borats Chicken
said on 17/Aug/16
Rob, its quite funny seeing that playing basketball or boxing people get growth spurt..
Johno
said on 10/Jul/16
I don't think it is slouching as much as having a shorter neck, Rob has a longer neck. Both parties are losing height and there is hardly anything between them.
Sugar Ray 5'8.5
Shredder
said on 1/Jul/16
He is slouching more than Rob and is still taller than Rob , 5'9 in his prime seems honest. Maybe a little under now.
ArjunaKorale
said on 8/Feb/16
@Rob:
Are you saying that Tommy Hearns was NEVER 185 cm (6ft 1)? Even during his fighting days? Please watch the Hearns vs Duran fight - a fight in which Hearns towered Duran - and then tell me you don't see a half foot (6 inch) difference between Hearns & Duran. I have seen Hearns listed as 6 ft 1 in every boxing source I have looked at (including 'boxrec', George Kimball's 'Four Kings', & Bert Randolph Sugar's 'Boxings Greatest Fighters')!
Editor Rob: I haven't looked at him much in his 30's, but today he doesn't look over 6ft, an inch loss is possible.
ArjunaKorale
said on 8/Feb/16
@Emil 183:
Emil, why do you think that Leo was a 'flat' 5 ft 9 (175 cm), instead of 5 ft 9.25 (176 cm) tall? I believe that Duran (whom I had all the luck in the world to meet at the Trafford Centre, Manchester, England, in September 2014), has not shrunk one bit since his fighting heyday & looked v close to 5 ft 7 (170 cm) to me. Now compare Duran to Leo in photos of them together & Leo always looks around 2.5 inches (6 cm) taller than Roberto. So that would make Leo 176 cm in his peak times of life. Surely Leonard could have shrunk by 2 cm today (both u & Rob r saying that Leo is 174 cm now)? Also, Hearns looked a full half a foot (6 inches) taller than Duran before, during & after the time of their fight (1984). Are you (as well as Rob) saying that there wasn't quite a 6 inch difference in height between Hearns & Duran?
Emil 183
said on 3/Feb/16
@ArjunaKorale
Fair enough - but I believe Leonard was a flat 5'9 peak and 5'8.25-5'8.5 today.. If Hearns is 3-3.5 inches taller that makes him 6-6'0.5 peak height.
Editor Rob: yes, Sugar I think is a bit under 5ft 9 today.
ArjunaKorale
said on 1/Feb/16
@Emil:
I feel u r WRONG with your comment. Leonard was slightly taller than what he is now when Ray faced off against Tommy in 1981 - Ray was throughout his boxing career around 176 cm (5 ft 9.25) (I don't believe he was just a flat 5 ft 9). And Ray said many times that Hearns was 3 to 3.5 inches taller than him - so this would make Tommy around 185 cm (6 ft 1). I have also met Duran in person (the only one of the Fab Four that I have met) & let me tell u, even Roberto said that Tommy was like half a foot taller than him.
Emil 183 cm
said on 16/Jan/16
I don't think Hearns was ever 6'1.. He didn't look 4 inches taller than Leonard in their fight to be honest
ArjunaKorale
said on 8/Jan/16
Rob, shame you didn't get pics with Duran & Hearns. If Hearns is not over 6 ft now, that's coz he must have shrunk an inch. During his peak fighting days, Tommy was 185 cm (6 ft 1 inch) tall in every good/reliable source I've looked at. He was a giant of a welterweight (no surprise that he was able to rise in weight & win the world light heavyweight title on two separate ocassions. Even Sugar Ray Robinson, who was considered a v tall welter for his time, was 'only' around 180 cm (5 ft 11).
Johno
said on 4/Jan/16
Leonard's eyeline is fractionally higher then Rob's but Rob has the longer forehead. He is of similar height to Rob.
5'8.25
ArjunaKorale
said on 2/Jan/16
Rob, how about adding the other 3 boxers who made up the 'Four Kings'? Yes, I'm talking Roberto Duran, Marvin Hagler, & Thomas Hearns! Duran (whom I have actually met) is a dead cert for what he is listed - 5 ft 7 (170 cm). Hearns is a dead cert for his listing too i.e. 6 ft 1 (185 cm). But Hagler's listing on most boxing sites, including the famous boxrec, is a complete error! Boxrec have Hags at 177 cm (5 ft 9.5). There is no way this is correct as he was only an inch or so above people like Duran & several cms below 176 cm Leonard. I think that 172 cm or 173 cm was a good fit for Hags during his fighting days. Rob, could you also do a listing of Brit Alan Minter who was the Undisputed Middleweight Champion of the World. I'd love you to do one since boxrec has Minter down as 5 ft 9 (175 cm) & I have a strong feeling that he was actually taller & around 5 ft 10 inches (178 cm) tall!
Editor Rob: don't ask me why, but I passed on getting photos with Duran and Hearns...I think I was out of money, but Tommy didn't look over 6ft, but he's older now so maybe he could have been.
Key
said on 2/Aug/15
Definitely 5'8" Maybe 5'8.5"
ric
said on 9/Mar/15
Hey Rob, how do you get comic con photos online? do they give you an electronic copy of photo?
[Editor Rob: I scan mine, although you can pay 5 quid to get a full digital copy if you wanted it.]
Voiceless Dental Fricative
said on 16/Feb/15
Hey Rob, do you think Leonard might be slightly south of 5'9?
He looks it here with Tyson
Click Here
[Editor Rob: yes, he certainly could be.]
ArjunaKorale
said on 24/Aug/14
Rob, u still haven't put up an entry for Sugar Ray Robinson. I think Leonard was around 176 cm in prime. I also think (but am less sure) if Robinson was around 180 cm. If so, Robinson was v tall for a welterweight. Everyone goes on about how great Leonard was, but I absolutely believe that Robinson would have beaten him. Come on Rob, you can't have all these lesser boxers on your site without having the greatest ever boxer of all time!
P.S. I love your site - it is totally addictive & I go back to it, again & again!
ArjunaKoral
said on 5/Feb/14
@Marcus Hickman: Yes, I agree that Floyd Money Mayweather is only around 5 ft 7, but Mayweather Snr was around 5 ft 9 or even 5 ft 10 in his prime at welterweight (of course, he is no longer that height now).
Gaz
said on 19/Jan/14
heigth Yes why wouldn't you able to? theres a reason why there is so many different weight classes.
Marcus Hickman
said on 15/Jan/14
Mayweather Sr. 5' 8"
Mayweather Jr. 5' 7"
Roger Mayweather 5' 7"
Rich Hall
said on 31/Dec/13
My money's on you Rob. I've bet the barn. And remember, Frankie Fear is your best friend!!!
heigth
said on 31/Dec/13
lol can you be such a good boxer like him if you are 5'4 feet?
[Editor Rob: in the lightweight division maybe.]
Mathew
said on 8/Oct/13
5'9" is accurate, maybe down a quarter inch today.
LG69
said on 19/Sep/13
In this photo,he doesn't look 1" taler than Rob. I'd say 5'8.5". Does he seem a legit 5'9", Rob?
[Editor Rob: I'd think a weak 5ft 9 today]
ArjunaKorale
said on 12/Sep/13
@Rey: Leonard & De La Hoya around 176 cm, but Curry I believe is taller - at least 177 cm & maybe even 178 cm - Curry was a very big welterweight.
Junior31
said on 1/Sep/13
Rob what was your impression physically upon meeting him?
Rey
said on 20/Jul/13
Leonard was shy of 5'10' just like Boxer Donald Curry and Oscar De La Hoya. !!
Juicey
said on 17/May/13
He's 5'9 met him in vegas with stallone during the contender finals
jonnie
said on 3/Apr/13
He's 5'9 3/4
ArjunaKorale
said on 26/Jul/12
Rob, please could you do an entry on the other Sugar i.e. Sugar Ray Robinson. Robinson (who I think was 180 cm tall) was the original Sugar fighter & in my opinion was better than Leonard. Just check up on him - Robinson is considered the greatest pound for pound boxer of all time (even higher than Muhammed Ali)
Anon
said on 7/Dec/11
I'd guess he's actually 5'8" and change
Shaun
said on 22/Sep/11
There is something special about this guy. I saw an interview with him in which he talked about Bruce Lee and I was blown away with how smart he was. Hugh Jackman recently also said the same thing.