Barry McGuigan's Height
5ft 5 ½ (166.4 cm)
Former Irish Professional Boxer. In his Cyclone Autobiography, in the vital statistics section he has
Height 5'6"
. This photo (by Giles) was from an Autographica event in 2013.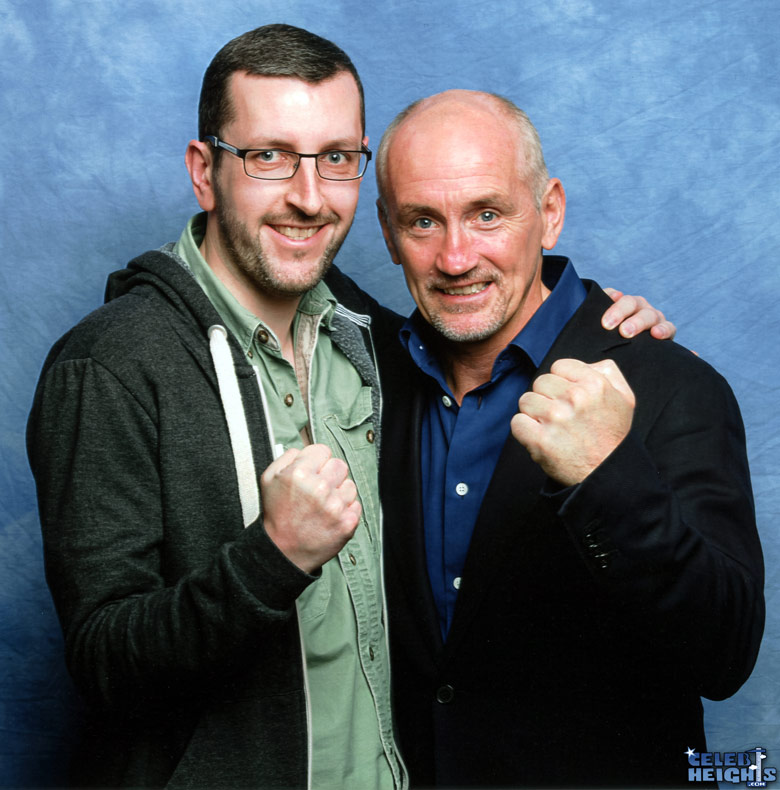 5ft 8 Rob and Barry
You May Be Interested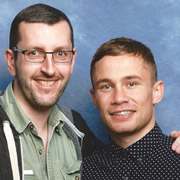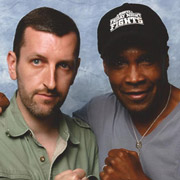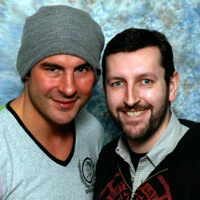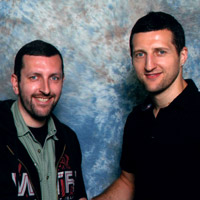 Add a Comment
37 comments
Average Guess (15 Votes)
5ft 5.33in (165.9cm)
Tall In The Saddle
said on 2/Apr/20
Thanks for that Rob.
Tried to look at both fists as compared to yours in absolute terms. I guess Barry's fist maybe closer to camera in the pic with you and also closer to camera than Henry's in the other photo. He does have a large fist for his size though.

Editor Rob
I think his would have been a bit nearer.
Tall In The Saddle
said on 2/Apr/20
@Rob
It's been commented on a few times on this thread. Barry's fist does look disproportionately large. Did you notice this as you go, including shaking hands? I flicked between the above pic and your photo with Henry Copper and Barry's mitt looks even bigger than Old Henry's!

Editor Rob
Henry's hand is bigger from what I remember
Comment95
said on 1/Mar/20
how big his head?

Editor Rob
9-9.2 inches
Guest66
said on 12/Mar/19
Damn this little dude's hands are big, unbelievable.
Jordan87
said on 8/May/18
Ever check out this guys highlights? He was a wrecking machine, very nasty fighter. Tough as nails to. Yes I am saying this 5'5 man can likely hand me my butt.
Sandy Cowell
said on 29/Mar/18
@ Nik - I know believe he has, but as you say, this isn't the ideal programme to watch for taking in the heights of celebrities, unless, of course, it's Rachel Reilly, who always has to stand, or the game wouldn't get very far at all, would it?
I enjoy watching the funny '8 out of 10 Cats' version, and look forward to their extra-rude teatime teasers!
Nik
said on 26/Mar/18
@ Sandy Cowell - Hi!
Barry has been on "Countdown", hasn't he? However this is not the best program to watch if you are a height detective!
I think that 5'5.25" is liable for Barry Mcguigan, but 5'5.5" is possible too!
You must have been up late when you made this comment, it is even after the one I did at 11:05! This page is surprisingly short of comments and it is good to give this gentleman some extra comments!
Cheers!
Sandy Cowell
said on 25/Mar/18
Barry doesn't look any more than the 5ft5.5 at the most, as written on this page!
I read the possibility of slightly taller (5ft6/6.5 or even 5ft7) on the 'Latest Comments' page, courtesy of Adnan, and I thought "Surely not?"
This guy's been on many a programme other than sports-based ones and I remember thinking that he was truly small then and there! 5ft6.5/7 isn't THAT small, but 5ft5.5 just about scrapes it for me, so that is what I reckon he is!
Adnan
said on 24/Mar/18
5'6" maybe 5'6.5" if he has bad posture he could be 5'7"
ArjunaKorale
said on 22/Sep/16
Good estimate of Barry's true height, Rob. But, I need to tell you something else - I'm pretty sure that 166 cm and NOT 168 cm (a full 5 ft 6) was always his adult height. In photos of Barry with the always quoted 5 ft 7 (170 cm) Roberto Duran, Barry looks easily at least 1.5 to 2 inches shorter & this would make Barry only 5 ft 5.5 at the most! Don't take my word for it, please check it out yourself.
Editor Rob: in person I wouldn't have guessed Barry over 5ft 5.5.
TJ
said on 5/Jul/14
4 inches would be approximately the distance from Rob's eyebrow to the top of his head. Clearly, the top of Barry's head is way above Rob's eyebrow Chris.
SaveUsY2J
said on 14/Jun/14
@Chris- If that's four inches I'm a wizard.
Chris
said on 4/Jun/14
I don't understand Rob. You look a good 4 inches taller than him in that pic.
MD
said on 24/Apr/14
Yeah, that's a better shot at that event. It still showed that Barry couldn't be 5'6", so it was good you made the listing more accurate.
MD
said on 23/Apr/14
Rob,
I think you may really have to finally lower him to what you thought him originally. Here he is with Niall Horan of One Direction, who you've estimated, yourself, to be about 170cm.
Click Here
Admittedly, we can't see footwear, here, but even if he assume and advantage for Horan, I still think with this and your photo with him (you're very clearly more than two inches taller than this guy), it's evidence enough that he's not 5'6", anymore.
[Editor Rob: I think it is quite possible 5ft 5.5 range, my thought was that...maybe the photographer's position helped Barry a fraction.
there is a straight on shot
of niall and barry
]
Ace
said on 4/Apr/14
Cleverly at 25 next to 6'2.5 Tony Bellew:
Click Here
I don't see 6'2, let alone 6'3 Robert.
robert
said on 12/Mar/14
Hey rob i noticed nathan cleverly always gets listed at 6ft1 when hes more 6ft3.. he was maybe 6ft1 when he was younger like 16
[Editor Rob: he could be near 6ft 2, not looked much at him]
cd
said on 4/Feb/14
Rob do you think he'd measure somewhere near the 167cm mark?
[Editor Rob: yes it's possible]
TJ
said on 21/Dec/13
Rob, Barry was often listed at 5'5.5 in the '80s and sometimes rounded up to 5'6. The shorter height therefore seems to be correct, although he does seem to be pulling off 5'6 in the pic.
richkid123
said on 13/Dec/13
Hey Rob, what do you think he weighs?
[Editor Rob: in his book he had a bunch of weights for his 80's fights, they were 125-130 pounds...he's probably a few pounds more than that these days, maybe not a big amount more though.]
Rampage(-_-_-)Clover
said on 11/Dec/13
I saw him years ago in a pub in Dublin. Around this mark is fair.
I knew he wasn't tall, but those hands are sick
Arch Stanton
said on 7/Dec/13
Massive fist for his height, his fist looks the size of a heavyweights!
cd
said on 23/Nov/13
Rob I found this image
Click Here
where Barry looks like he could be 2 inches taller than Carl Frampton, but as we know he's only 1.5 taller max. Do you suspect Carl could be barefoot while McGuigan has some footwear here?
[Editor Rob: boxing shoes? Half inch maybe...]
Voiceless Dental Fricative
said on 21/Nov/13
Rob, are you thinking of creating a Hatton entry? I think he's claimed 5'6.
[Editor Rob: I'm hoping one day he does an event.]
Mr. R
said on 19/Nov/13
Supposedly, his son is four inches taller at 5-10. Not sure I believe either one of them.
The Exorcist
said on 19/Nov/13
Barry McGuigan: 5'5.5"
Ricky Hatton: 5'6.25"
Floyd Mayweather Jr : 5'7"
Click Here
Voiceless Dental Fricative
said on 18/Nov/13
If Hatton is a strong 5'6, Pacquiao is 5'5-5'5.5 range.
Mike 181
said on 17/Nov/13
Look how big his fist is compared to yours Rob and your bigger than him. He was born to use those haha
MD
said on 7/Nov/13
If you think he's 5'5.5" or just shy of 5'6", why is he still listed at 5'6"?
[Editor Rob: he may have lost a fraction by 52, I'd leave him at his 5ft 6, wouldn't want to upset him!]
LG69
said on 6/Nov/13
5'5.5"-5'6" He does have big hands for a small guy.
Vegas
said on 4/Nov/13
rob whats your opinion now on ricky hatton and floyd mayweather having met barry?? to me hatton looks about half an inch taller than barry and floyd an inch above ricky
[Editor Rob: hatton claims 5ft 6 himself, I think you could put Barry in the 5ft 5.5 range, floyd 5ft 7 I think is ok.]
The Exorcist
said on 4/Nov/13
Rob,
With Barry at 5'6", would Ricky Hatton be 5'6.5"?
Click Here
Or possibly McGuigan is a little under 5'6"?
[Editor Rob: mcguigan is likely a fraction shy of 5ft 6]
Arjuna Korale
said on 3/Nov/13
Looks more like 166 cm (5 ft 5.5 inches) tall compared to 173 cm (5 ft 8) Rob. But though Rob has one up on Barry lengthwise, just look at the difference in size of their hands!!! NO surprise that Barry was a pretty good boxer! Rob, you still haven't put up a page for the greatest boxer of all time - Sugar Ray Robinson - please, please do this. And if u have any more time, how about a page for the oldest boxing champ of all time - Bernard Hopkins (I suspect that Hop is around 6 feet or 6 foot & half an inch tall). What do u think, Rob?
[Editor Rob: he said in his book about his fists:

his grandfather had "big hands, disproportionately big, and I was fortunate enough to inherit his strength and his hands"]
truth
said on 3/Nov/13
He looks closer to 5ft5 tbh
Mathew
said on 2/Nov/13
Could be under the 5'6" claim based on the photo.
richkid123
said on 1/Nov/13
looks legit, guy looks like he has some big hands
Arch Stanton
said on 1/Nov/13
5'5.5-5'6" looks right on the live boxing.