Stephen Furst's Height
5ft 9 (175.3 cm)
American Actor, best remembered for playing Vir on Babylon 5. In film he can be seen in Animal House and The Dream Team. A 1987 newspaper mentioned
"After graduation, he dropped 90 pounds from his 5-foot-10 frame"
.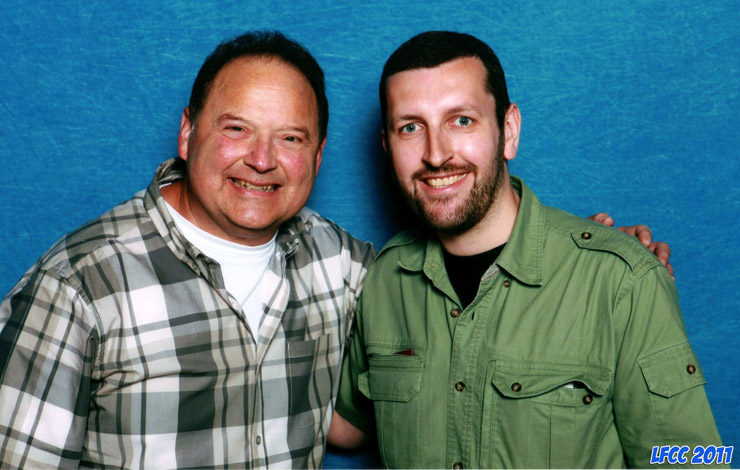 5ft 8 Rob and Stephen @ LFCC 2011
(1954 - 2017)
You May Be Interested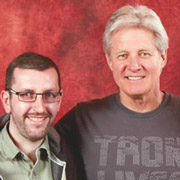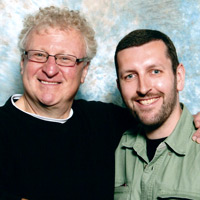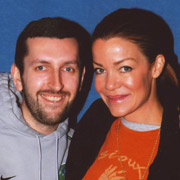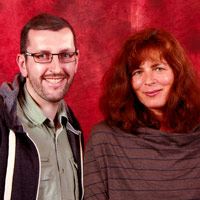 Add a Comment
21 comments
Average Guess (9 Votes)
5ft 8.61in (174.3cm)
Jkiller
said on 4/Jul/20
Always looked 5'8.75 in Babylon 5.
Miss Sandy Cowell
said on 27/May/20
Hey! Stephen needs a comment and a vote for 5ft9.
I'd had no idea he'd passed away, 176cm guy. This is terribly sad. 😢
176cm guy
said on 18/Mar/18
Hey Rob, he passed away last year in June.

Editor Rob
Yes, sad that he's gone.
World Citizen
said on 26/Dec/17
Looks 171 172 here
Canson
said on 19/Jun/17
He did. RIP!
Sandy Cowell
said on 19/Jun/17
I've just found out Stephen has passed on, via MJKoP's comment in 'latest comments'.
So sorry to hear this. He was a lovely man. 😿
RIP Stephen xxx
MJKoP
said on 18/Jun/17
Rob: I'd award him at least 5'9.25", then. He was always described as 5'10", and you met him much later in his life after the peak of his obesity(320 lbs) and numerous other health problems. He almost had to get his left leg amputated at one point, for crying out loud. Poor guy. His problems were definitely in some part hereditary with both his parents passing at the age of 47 from diabetes.
Malotito
said on 18/Jun/17
Met him about 12 years ago, very personable and not at all full of himself. I am good at judging heights, and I am comfortable in saying he was about 5'10". I was in fact surprised, because I had envisioned him as shorter than that. Also was thinner at that time than in his Flounder persona. He had bad posture, may have even been 5'10" and change if he stood up straight. Did not see any footwear assist but truthfully was not looking for it.
MJKoP
said on 18/Jun/17
RIP...back to 5'9"
Editor Rob: RIP, he might have been a bit over 5ft 9 at peak, always seemed to have a bit of a poorer posture at times...was a friendly man at conventions.
Hans Meiser
said on 17/Jun/17
He sadly died on Friday.
charlie
said on 2/May/16
no one has commented about Stephen Furst? Stephen looks closer to 5 ft 8. n Animal House he could of been 5 ft 9 inches
MD
said on 7/Jul/06
Nope, Dave is not 5'11.5"
Here he is with 5'11" Orlando Jones, and obviously shorter even with the angles:
1.
Click Here
2.
Click Here
J.
said on 6/May/06
If he'd correct the clouch, Chappelle can easily look 6'0", next to Chris Tucker and Ali:
Click Here
Anonymous
said on 18/Jan/06
Unless he grew a few inches, he wasn't taller than Cary Elwes in Robin Hood Men in Tights who's 5'11"
jokey
said on 8/Nov/05
Eddie was wearing platform shoes for most of that movie, and so he looks probably about 4 or 5 inches taller than he would barefoot, while Dave and Harris are probably in normal shoes.
MD
said on 31/Oct/05
Now, Eddie Griffin is listed at 5'6.5", and he must be wearing platform (give the theme of the moive) shoes because here he is as tall as Chappelle. Still, how much do you think platforms can add:
1. http://www.imdb.com/gallery/ss/0279493/Ss/0279493/SC46-6.jpg?path=pgallery&path_key=Chappelle,%20Dave
Then, here he is with Eddie, again, but with Neil Patrick Harris listed at 6'1.5"
2. http://www.imdb.com/gallery/ss/0279493/Ss/0279493/K2138-24a.jpg?path=pgallery&path_key=Chappelle,%20Dave
This is very confusing. Is it possible they have Eddie on a small box/crate?
Juice
said on 20/Jun/05
I play basketball at a local spot every weekend. Once in a while Dave will be there with his friends, and we'd play. I am 5'10 and I had to guard him twice and he has a couple of inches on me. I would say 6ft even.
6'2 Korean
said on 11/Jun/05
He's gotta be at least 6'. I just finished watching Chappelle Show 2. There was a scene where John Mayer(a legit. 6'3 ) was playing guitar and Dave appeared about 2-3 inches shorter than John Mayer. I would say 6' on the dot though he might look 6'1 on screen but he's skinny as chopsticks.
Ball-A-Hallic
said on 7/Jun/05
It's possible but I think Dave looks more 5'10.5 or 5'11 than 6'0 he's probally jus 5'11 or 5'11.5 tops but put at 6'0 jus to make him seem taller but hes so skinny and lanky he could be 6'0 but I'd stick wit 5'11.
Anonymous
said on 11/May/05
Met him and he was a good 2-3 inches shorter than my friend, who is 6' even.
Ricardo
said on 26/Mar/05
Yeah i understand Rob. Everytime someone calls out 6'0" you always have to wonder... what are the chances. But watching blus streak, and seeing him next to 5'7" Martin Lawrence, he looks like about 5'11" - 6'0", but he's very skinny.