Stephen Merchant's Height
6ft 7 (200.7 cm)
British actor and writer known for roles in TV series The Office and Extras. He said in an interview,
"one's a short, fat guy and one's 6'7"
referring to his attempts to get Hugo Boss to give him and Gervais suits for Bafta's. In the same IcBirmingham interview he talked about height issues:
"... heard all the jokes. People say things like 'Did your parents put you in a grow bag?' and 'What's the weather like up there?'...I went to the bar to get a drink and a bloke sniggered 'That's a tall order!....it's amazing how people feel they can make fun of your height when they never would if you were fat or disabled"
. In 2015 he mentioned a peril of being too tall:
"I'm too tall. I am 6ft 7in, so I've been most people's height at some point in my life, and 6ft 4in is the best. You're tall, but you don't have to bend when you go through a door."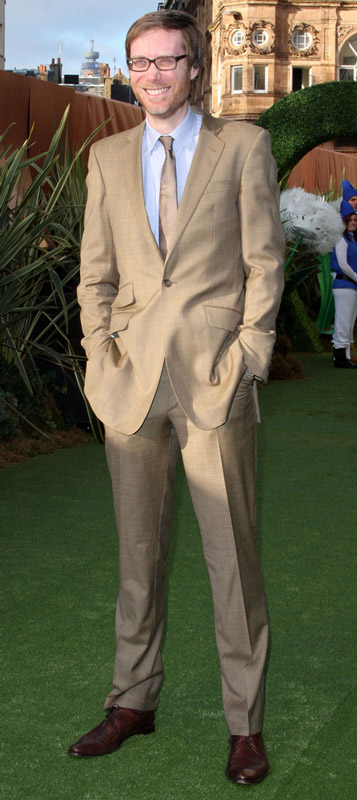 Photos by PR Photos
Add a Comment
169 comments
Average Guess (36 Votes)
6ft 7.12in (201cm)
Junior Hernandez 1990
said on 23/Jun/19
6'7 Tom Davis look more like a stable 6'7 than Aaron Judge, Vitali Klitschko, Peter Jones and Stephen Merchant.
Canson
said on 7/Jun/19
@Junior: agreed. Worst case 199.5-200 afternoon but 200 is reasonable too. At times he can look the full 6'7"
Junior Hernandez 1990
said on 5/Jun/19
@Canson @Rampage Agree it. But i wouldn't go under 200cm now as previously thought of 6'6.25-6'6.5" range seem too low the more of looking into his work. Osman kept a deep impression at least 1.5cm taller than him.
@Hong He can looks it too but depending the time of the day. He is more like a 200cm guy.
Canson
said on 30/May/19
Worst case he's a weak 6'7" I agree with Rampage
Hong
said on 26/May/19
He looks an easy 6ft7 too me.
Rampage(-_-_-)Clover
said on 20/May/19
Better chance of 200cm than 202cm (which belongs to Richard Osman)
Junior Hernandez 1990
said on 13/Apr/19
Average guess height 6'7.12(201) is pretty accurate for a two hour out of bed height for him.
Junior Hernandez 1990
said on 8/Mar/19
I guess depends the time of the day. He can look 6'7 on talk show or a few movie but generally look around 200cm.
184guy2
said on 23/Feb/19
No less than 6'6.75 or 2 meters
Shashank-6'3 3/8
said on 22/Feb/19
My guess a weak 2m guy .Anywhere from 6'6 1/2 -6'6 3/4
Junior Hernandez 1990
said on 20/Feb/19
I think taking more look Merchant can pass for 200cm maybe 6'7 just simply a doctor check up in the AM. I personally knows someone solid 202cm could possible tell apart.
@Merdie No chance. Merchant was on Conan O'brien show several years back and they look specifically 3 inches apart. He can be 6'7 but certainly isn't at his low.
Canson
said on 18/Feb/19
If he wasn't the full 6'7, he would be at least a strong 199cm to 200 cm guy at a low.
Merdie
said on 16/Feb/19
He's definitely taller than 2.01cm
I know he's skinny and that adds a bit of height, but even with that in mind, he's still taller than 6 7'
He keeps saying he's 6 7, because he's convinced himself to be okay with being 6 7' . But in reality he's more than that. I kinda feel for the guy, I can imagine how it must feel like, never blending in, always being aware of your height, but I still don't like downplaying his height.
Christian 6'5 3/8"
said on 5/Feb/19
@Canson
I felt comfortable sitting in the back, but I had the front seat pushed all the way up front. If someone was sitting in the front seat and had their seat further back, then it might feel tighter for me. I didn't "ride" in the backseat, as I was in the car alone. I just sat there for a short moment to test how roomy the back seat was. Ever since I bought the car, I've never actually been the passenger. I've always just been the driver.
Canson
said on 4/Feb/19
@Christian: I had more of a problem in the back of the Camry due to the head room and lack of an adjustable rear seat. I probably have a slightly longer upper as my legs aren't as long as yours. I've never ridden in the back of mine despite having had it for over 8 years now. I have sat in mine for a few minutes tho just to test it. It wasn't all that roomy in the rear. Did you actually ride in the backseat of your car or did you just sit there for a moment?
Christian 6'5 3/8"
said on 3/Feb/19
@Canson
Fortunately my upper body isn't that tall so headroom isn't really a problem, unless if it's a sports car or some other type of low car. I've just recently tried sitting in the back of my Camry and it was okay, although not as roomy as the front seats.
Canson
said on 3/Feb/19
@Christian: yea for your car I'm not sure how much you'd have in the rear. It may not be enough headroom compared to front. As for the larger vehicles the Avalon is their full size you'd be ok in there probably. I've sat in the back of a few models of Avalons over the years and been ok
Christian 6'5 3/8"
said on 1/Feb/19
@Sandy
How tall is the doorway near your porch? Your doorway must be shorter than standard if a 6'2" person has to duck.
@Frank R1
Even at my height, I struggle a bit to sit comfortably in the back seat of mid sized cars. I drive a 2018 Camry which is a mid sized car, and I don't really have a problem riding in the driver's seat, but I've never ridden in the back so I don't know yet. Full sized sedans and SUVs are no problem though, regardless of the seat position.
Mickie
said on 31/Jan/19
@Frank R1 - I understand the urge to prevent the seat in front of you reclining. I'm a little over 6'3" and even at my height that really blows when people do that. One of the only downsides at my height, however. I would say Merchant is on to something when he calls 6'4" the best, in that up to that sort of height range (and I'd argue up to 6'5" really) you're not going to often encounter problems for your height and you will still get to be taller than the vast majority of others. Flying coach is one of the few exceptions, where even a 6'0" guy may feel too tall if someone reclines in front of them (depending on the airline and their leg room).
As for Merch, I think he's got to be very close to the height he claims. If I were to guess whether he was a whisker under 6'7" or a whisker over, I'd guess under. I'd expect a guy like Peter Crouch to be a little taller than Merchant.
Frank R1
said on 30/Jan/19
If you're too tall to sit comfortably in the back seat of a standard-sized sedan, then that sucks. Forget about being comfortable in most "coach seats" too. I remember when those stupid "airplane seat back suppressors" first came out. I thought: "These devices are going to create big problems" and I was right. Soon after they became available to buy, a fight broke out between two airline passengers because one guy could not recline his seat because the "d-bag" behind him chose to put a seat back suppressor on the seat in front of him.
Canson
said on 12/Jan/19
@Sandy: you highlighted what I've said all along about guys wanting to be taller. No need for it when it's more problematic at that size. I even heard an acquaintance say once that he was helping out a 6'5 friend of mine when introducing him to someone that he was 6'7 and that I was 6'6".
Sandy Cowell
said on 10/Jan/19
That must be awful for Stephen to have to bend down when he's entering a room! My 6ft2 uncle had to do exactly that in order to enter our porch, so imagine how much Stephen would have to bend just to enter the same porch?
I'd never given that sort of thing much thought before. Exceptionally tall people have a whole host of problems that average and small-sized ones would only encounter when entering a child's playhouse! It can't be easy for the super-sized!
6ft7, though he'd much prefer to be 3" less.
Paul NS (6ft 0.5)
said on 8/Jan/19
@Trevor M: Merchant at 6'4" is a joke. You think Clive Owen is 5'10" then?
Click Here
SAM CHERRY
said on 15/Nov/18
Tall tall guy at 201 cm
Breech Loader
said on 14/Nov/18
He whinges about being too tall? Guys are always going on about being too tall or too small.
Well I think girls are totally allowed to make fun of their own height when they find the only plus of their stature is that they are always in the front row of group photos. I'm 5' Nothing. I am consistently the shortest person in the room.
I'M 33 YEARS OLD.
Canson
said on 9/Oct/18
@Animus: you couldn't have said it better. That shows when most guys lie up to about 6'5". Not a lot of guys unless pro athletes claim 6'7" although I do know one guy (former teammate who I've mentioned before) would measure 6'6" in the morning and probably right at 197 or a hair over afternoon and he claims 6'7" still. There aren't a lot of 6'7" tight ends. Jimmy graham is listed at that but likely max 6'6". He's only measured 6'6.25 morning height but genuinely can look more 6'6" than Gronk despite measuring identical to what he measured. I would put Gronk 6'5.5 more than 6'6"
Nik
said on 9/Oct/18
Stephen Merchant is so right in that no one should ever make fun of someone else because of their height, tall and short people have to endure this and it is not acceptable. I am sure that Stephen Merchant would also join me in saying that it is unacceptable for anyone to make fun of another person for any other reason.
AlanGreenspan
said on 6/Oct/18
Yeah, 5'7 and a big head is way better than a 6'7 skinny guy.
Animus
said on 6/Sep/18
Unless you're freakishly athletic so you can be a tight end in the NFL or an NBA player, this is a tough height to be. I'd rather be 5'8 than this height. If you're scrawny like Merchant, there's absolutely no benefit to be 6'7.
Junior Hernandez 1990
said on 12/Jun/18
@Canson I never saw him around since last month but i remember he say that he was 6'7, but look at least 6'7 1/4 range as a absolutely min from what i see him enough and sometimes really don't look under 202cm when i met him anytime of the day. I'm not sure if he was the guy you mention. I'll wait for a chance if i met him i will ask if was him.
Canson
said on 8/Jun/18
@Junior: if that's the same guy, SJH said he measured 6'6.9 at a low. Not sure though if it's him
Junior Hernandez 1990
said on 6/Jun/18
@Canson I'm not sure but my neighbor name was Steven Hopkins and his brother and him have visited this site. I'm not sure if he use a nickname as S.J.H or his full name. One thing this guy look massive sometimes i wonder he downplay 1/2 could look a full 6'7.5" alot.
Canson
said on 28/May/18
@Junior: is the neighbor you referred to below S.J.H?
Junior Hernandez 1990
said on 23/May/18
Peak Rock is probably solid 6'2.75" and i don't see over 4" between them. 6'6.75" will be a generous max for him.
Myself
said on 22/May/18
@Ian55 In your case i think it would be something like 194/195 cm with a long reach.
I would personally choose between 6'6 and 6'8 for me, if i could...
Ian555
said on 15/May/18
Rob what do you think is the best tall height to have? Im talking about best height for basketball and best tall height where you can tower over almost everyone but you don't have bend through the door or bang your head or have any other tall problems.

Editor Rob
It could depend on many factors.

Somebody might have a personality in which they would find being a very tall height to be a burden.

Somebody might not like paying out an extra £100,000 through life on extra food needed to keep a very big body going...

Micky
said on 9/May/18
I give him 6'6.75"
Canson
said on 5/Feb/18
@Junior: I actually trust your judgment prettt well tho if you saw someone in public. You're pretty good overall with estimating and one of the better ones here. I saw your estimate for matt Barnes and that looked close to what I would guess him. I would say he looked around 6'6.5 maybe 6'6-6'6.5 if I had to guess based on him next to Kobe and Artest
Junior Hernandez
said on 4/Feb/18
@Canson True he maybe more like 6'6.5" as i watch Table 19 last week thats how he look in that movie an obvious weak 6'7 guy. If he is like 200cm i wouldn't spot him as a weak 6'7 because i have a neighbour also a visitor here in this site and standing a solid 6'7-6'7.25" met him few times a week so i know how tall legit 200-201cm look like.
Canson
said on 19/Jan/18
@Junior: he may not be a full 6'7" now (if he ever was) but think 6'6.5 fits him a bit better than 6'6.25
Junior
said on 25/Dec/17
@Canson
I feel Merchant could be measure a strong 6'6.25" maybe a full 199cm and 6'7 a morning measurement.
Canson
said on 6/Dec/17
@yupyup: agree with your assessment on Merchant but hope you aren't throwing me in that category. I proudly claim 6'4" and have no desire to be taller. Merchant can have 6'7" all to himself. All I was saying is once you hit a point too much height becomes Tom much height imho
yupyup
said on 4/Dec/17
Looks 200+-1cm. Karl Pilkington at ~183-184cm looks like a midget next to him. Merchant is a very tall man. You guys below seem very insecure about your heights, even at 6'4"+, very weird.
Jim
said on 2/Dec/17
Seems like a nice guy. 6'7"
Canson
said on 7/Nov/17
@junior: I think merchant may be a little less like 199-200. He doesn't look any bigger than a Dennis Rodman a Dominique Wilkins or much diff from Melo really but crouch tho is a strong 6'7 maybe 6'7.5
Canson
said on 7/Nov/17
@Avi: 6'5" really isn't that bad. You may notice a lot of guys lie and say they're 6'5" but outside some athletes not many guys not close to 6'6" (6'5.5 or up) will lie and claim 6'6". Some but not a lot. I could easily claim 6'5 or 6'6" (shoes) but like you said what's the point when 6'4" is tall enough. And I can see why because 6'5" has fewer drawbacks. I'm 6'5-6'5 1/8 out of bed and still 6'4 1/4-3/8 at night. I've thrown a pair of dress shoes on immediately after waking in my house where there is a 6'6 1/2" light fixture and still was under by a hair even in thick winter boots maybe grazed for a minute then came down. But in the evening Im near an inch away even in Jordan's. Now while if I had to choose I'm gonna go with losing from where I am rather than gaining, Christian isn't that bad off At 196cm but He is about as tall as you can be tho for living without a lot of inconvenience. He's 198 or so out of bed but isn't above prob 197 past about 4 hours after he wakes up. Even then in a normal sneaker he's under 6'7 for the whole day virtually. And He can still wear a normal shoe for most of the day and be under doorways by enough to where he doesn't duck. 6'5.25 evening makes 6'6.25 in a normal sneak. And in other cases he could go to a lower shoe like a casual and just be 6'6" flat in it. 6'6" in a shoe isn't as cumbersome as 6'6" barefoot. Unless a lower doorway a 6'6 in shoes is around 2" at least sometimes 3" in newer homes. But Once you get into the 197 range at your lowest it's prob when you really have to put more attention to shoes as well. A guy this size is likely 199 maybe even closer to 200 out of bed depending on the person and can be as high as 6'8" in shoes in the AM and still 6'7" in them at night. That's a bit more problematic. I have a friend who is the exact same height as Christian is at 196.2 evening and he wears a casual shoe often but even in Jordan's the times I've seen him or in Winter Boots he's prob still 199 range in both. Now my legit 6'6 and 6'7 friends I have different story. Out of the three I mentioned the latter (two taller ones) always complain about their height while the 6'5" doesn't really that much. He may make the comment once in a while and say 6'3" is more ideal which it is but he isn't always saying it almost all the time. We have a 6'3" friend And they tell him they wish they were his height. While I agree 6'3" is a damn good height I think I'm ok if I were maybe half inch shorter or a cm to half inch and came a little under 6'4" as ideal. I'd still claim 6'4" since I'd be well within 1/4" of it and would be no higher than max of 196 even in a pair of thicker Jordan's.
Junior
said on 17/Oct/17
I'm betting Peter Crouch had a full inch on Stephon Merchant. 6'8 vs 6'7.
Handy Andy
said on 8/Oct/17
If You Happen To Be Exactly The Same Height As Stephen Merchant, Remember To Duck.
avi
said on 1/Oct/17
@Canson
A legitimate 6'5 is very large so it's definitely not desirable, though yes less issues with day to day tasks. I think 6'4 and under there aren't too many issues day to day. As for cancer I know there is one study out there for prostate which I believe it stated Men over 6'0 increased risk. The main study was a huge one done mostly on women but confirmed the risk stands for men as well albeit slightly less.
One quote to paraphrase:
"They found that for every 4-inch change in height, there was a 13 percent increase in risk for developing any type of cancer. The cancers most strongly associated with height were cancers of the kidney, rectum, thyroid and blood. Risk for those cancers increased by 23 to 29 percent for every 4-inch increase in height."
This is a huge deal as the sample size was extremely large and conducted over quite a lengthy timeframe.
Canson
said on 14/Aug/17
@Avi and Christian: agreed! Think that height of 6'6 or 6'7 are too tall in those regards. Doorways health etc. however I don't think 6'5" is all that bad at least like Christian said less issues with doors. Now Avi made good points for health but no guarantee that's the case necessarily for all types of cancer
avi
said on 7/Jul/17
@Christian-196.5cm (6ft5 3/8)
Also potential health risks go up. For anyone over 6'2. Pancreatic cancer risk is very high for men over 6'1 and over 6'0 for prostate. Ideal height is different for everyone but most seem to agree 6'1-6'2 area I think. Obviously it's not 6'5 or 6'6 it's too large and 6'7 and 6'8 are very undesirable for multiple reasons many more serious than doorframe issues. Based on all the discoveries health wise with being too short or too tall I'd say the "best" height is 5'10-6'1 if you fall in that range you are basically a solid average. I don't think someone 6'0 or most at even 6'1 have too much more health risks but 6'2+ I believe the risks rise significantly.
Christian-196.5cm (6ft5 3/8)
said on 5/Jul/17
People like Merchant having issues with doorframes is the reason why I believe anything over 6'6" is an undesirable height for everyday life imo. You have to constantly duck down when entering/exiting doors, because the standard doorframe is usually 6'7", so you even if you're 6'6" barefoot you would be 6'7" or close to it in most shoes. Not to mention for every inch you're above maybe 6'2" the trouble with fitting in shorter cars, plane seats, and finding clothes etc increases. At least 6'2-6'5.75" range people usually don't have to worry about doorframes though.
even
said on 28/Jun/17
200 cm
Sandy Cowell
said on 24/Jun/17
So Stephen Merchant has to bend down when he goes through doors! That must be incredibly irksome!
Steve says that the best male height is 6ft4, and that 6ft7 is just too tall. I can understand that but I can't relate to it, obviously!
However, I have known guys of 6ft4 and even 6ft2, for whom certain doors require for them to bend down in order to walk through without scraping their heads!
I will put 6ft7 for Stephen.
Christian-196.5cm (6ft5 3/8)
said on 23/Jun/17
199-200 range perhaps
S.J.H
said on 22/Jun/17
@Canson
Agree with you. Merchant could be a full 6'7.25 max out of bed and like my thoughts he drop to min 6'6.25 , my max lost height for a day is 2.65cm upon out of bed when i get about 8hours of sleep so i bet on stephen merchant could have lost this much a day just like me.
Canson
said on 19/Jun/17
@SJH: he may have been measured in the morning and been 6'7" 1-2 hours out of bed or maybe lost some height. A guy his or your size tho could lose a full inch easily tho. As for Kimmel and Fallon I always suspected that both were lucky if they were 5'11 meaning no more than that for either perhaps less. I see it in those comparisons to Conan or Michael Jordan the latter I've heard too many people including NBA say he's 6'4" range so likely around 6'4.5
S.J.H
said on 19/Jun/17
He could not pass over 6'6.5 with jimmy fallon. Fallon listed 5'11.5 but a big problem is that i have met jimmy kimmel in person close up he was not taller than 5'10.5 but rob listed him at 5'11.25 and fallon had always look about 1cm taller so give it a generous 5'11 for Fallon and the max between merchant and fallon is about right on listing here but fact would be they're both 2cm shorter in person than listing. 6'6.25-6'6.5 max for Merchant that explain why 6'7 Peter Crouch giving impression look easily taller than all 6'7 celebrities not just 0.5 more like 0.75 or an inch. Highly doubt 6'7 claim actors were in the 6'6 range a little more or lesser.
Canson
said on 4/Jun/17
He actually looks 6'7" not like a 6'5 1/2 guy who inflates or is inflated.
Gladstone Screwer
said on 3/Jun/17
Stephen seems a real gent, to be fair, and manages his height well. It can't be good being stared at all day, but at 6'7" that's just gonna happen.
Great suit in the picture, by the way.
berta
said on 14/May/17
beside dwayne johnson he looked atleast this heioght in recent photos BUT i think he can be a guy that fall down to 200 cm flat on bad days
Canson
said on 10/Apr/17
@SJH: I agree on most of that. But Westbrook is taller than Wall for sure. Same person has met both at 6'3 and said Wall is 1-1.5" shorter than him and that Russell Westbrook and him is maybe 1" maybe less. Westbrook looks taller than Curry Rose and Wall all of which are 6'1" range at their lowest. Westbrook I can believe is his actual pre draft height of 6'2.25 especially on the court which is why people assume he's 6'4-6'5. Kobe with barkley too I believe Kobe has always been taller. Kobe may have been a solid 195 and probably really hasn't lost any height. Maybe he dips a fraction below the 195 mark but with Barkley I've heard and seen multiple posts and have 2 people who are reliably measured who met him and even another person as well as his teammates coaches fans and all to the effect of he's 6'4 range or under or at most 6'5". One of the same ones met Kobe and said he looked 6'5" in person so 6'4.75 is likely there since the diff with a 6'2 guy is 2.75 or 3" and that's no difference esp if Kobe has a footwear advantage. But MJ and Barkley I believe prime were at best weak 6'5" guys no less than maybe 6'4.5 no higher than maybe 6'4.625. Meaning both would wake a fraction over 6'5" more than likely
Canson
said on 31/Mar/17
@SJH: I agree with most of what you said. Harden however is only 1" shorter than Barkley is. He looks around 1-1.25 shorter than Kobe as well. I'd put harden very worst as 191 maybe 191.5. Westbrook isn't as tall as he is and he's 188-189 in real life according to someone I know who met him. Said was around the Rock's height
Canson
said on 31/Mar/17
@6'0": only thing is SJH is 6'7" as well so easier for him to tell but to me merchant looks near 6'7" peak maybe not today
6'0
said on 25/Mar/17
@S.J.H
I'd say he looks closer to 6'8" in the Dennis Haysbert picture. You need to take into scout the fact that Denis is standing much closer to the camera. Of course, this is all predicated on Dennis being 6'4".
6'0
said on 25/Mar/17
@184guy
How could you even tell? His character was slouch through the whole movie.
S.J.H
said on 21/Mar/17
When i think of 6'8.25 claimed brad gerrett being 200cm in real met by a visitor here name Robert Broome, i don't buy stephen merchant, richard osman pass for 6'7 anymore. They may just be 6'6 range and peter crouch a real 6'7 and a peak greg davies 6'7 too
Peterson188cm
said on 19/Mar/17
Stephen Merchant: 200cm / 201cm
Peter Crouch: 202cm / 203cm
184guy
said on 11/Mar/17
Looked very tall in Comparsion to Hugh Jackman on Logan
No less than 5 inches difference
And looks also about 5 inches taller than The Rock and John Krasinski ( both around 6'2.5-6'2.75)
So Stephen might not be a full 6'7 but he is very close like 6'6.5- 6'6.75
S.J.H
said on 6/Mar/17
@Canson
Stephen merchant didn't look like my height that is why i could tell and i always suspect he is 6'6.25 as my 6'8 cousin met 6'7 claim peter jones in real say he was really not over 6'6 and most people have see the comparison that merchant look fractionally taller than jones. Honestly barkley didn't look under 7cm taller than the rock also look strong 3" if the rock is 6'2 and barkley 6'4.5 it didn't make sense and james harden even look like not over 190cm with barkley. I think rock is 6'1.75 a big 187cm guy could look 6'2 and i'm buying barkley a strong 6'4.5 nowadays and 6'4-5/8th peak and michael strahan is probably not a 6'4 but just a 192cm guy and measure 6'4.25 in the early morning
Click Here
kobe had 1.5" on strahan on nickelodeon award but kobe had about 0.4" more footwear. Without footwear advantage kobe is at least 1.2" taller than strahan not 0.5" range. Strahan is between in the 6'3.5-6'3.75 (6'3.6)
Click Here
kobe sneakers look 1-1.1"
Click Here
strahan footwear much like a flat style 0.7" boost
Click Here
you can see the difference from top of their head look 3" and worst is 2.8" really not 6cm. Wahlberg, barkley and rock posture were prepared except for big shaq only if the ground was not level then rock could be 6'2 but not over which is less impossible
Canson
said on 4/Mar/17
@S.J.H: he may have been 6'7" prime maybe down to 6'6" today. In the pic with Barkley and Rock it looked 2-3" and strahan looked about the same difference with Rock as Barkley. My 6'3" friend told me when he met Rock he's 6'2" and Barkley about 1.5" taller than him and about 6'4 1/2. He said Barkley is my height
S.J.H
said on 26/Feb/17
6'4-5/8th charles barkley had solid 3" on the rock and stephen merchant only had like 4.5" on the rock. Check the link below
Click Here
Ned Schneebly
said on 13/Jan/17
Poor guy, must be awful to be six seven. He seems quite jolly though.
John
said on 20/Nov/16
I think his comment is absolutely accurate. I know it for myself.
But at least one may say that he has been almost everybody else's height...
S.J.H
said on 14/Nov/16
Hiding aside and suddenly look like a 6'6 stranger
Click Here
MadDrummer
said on 1/Nov/16
I'd say he's between 6'7.25" and 6'7.5" next to Peter Jones.
Rampage(-_-_-)Clover
said on 31/Oct/16
I think Osman might be the stronger 6ft7
Rampage(-_-_-)Clover
said on 11/Oct/16
Rob, who do you think is taller Merchant or Osman?
Editor Rob: would be great if they ever met, I think it is a toss up really.
S.J.H
said on 20/Sep/16
I think merchant could hold 200cm but that positive fraction more at 6'7 only happen before afternoon. Unlike richard osman who look like 201cm than 6'7 alot and the dragon den Peter Jones met by my 6'8 cousin said that he was only 6'6 in person i doubt it when i saw a full picture he look 0.5 shorter richard osman back to back which osman in converse chucks which is 0.7 less footwear than Peter Jones dress shoe calculate up at 3cm difference
Wallace
said on 7/Sep/16
I've met him. That looks right. I have a six five friend and he looks taller in person. I came up to his neck at five eleven
Alex
said on 14/Jul/16
It's funny, cause I'm 6'4" and I'd love to be an inch or two taller, even though I realize that once you get close to the 2m mark (6'6"-6'7" or above), life becomes pretty annoying. I have a doorway at work that has a thick inner frame, so its height is ~6'2" (188 cm), and I have to slouch pretty heavily when entering, and it's a huge pain in the ass. I can't imagine what it's like to have to do that every time.
Mathew Robinson (190 cm)
said on 27/Apr/16
"I'm too tall. I am 6ft 7in, so I've been most people's height at some point in my life, and 6ft 4in is the best. You're tall, but you don't have to bend when you go through a door."
I think that's a good point, that really someone who is extra tall would have pretty good insight to the best height to be. And he's got a point in his assessment; 6'4" is a standout tall height but doesn't come with the problems of heights over 6'6" like ducking doorways.
S.J.H
said on 27/Apr/16
Jimmy Fallon is a guy like timberlake 5'11 and 6''0 with dress shoe. Stephen merchant look max 7.5inch taller than fallon. 6'6.5 is fair and he could be 6'7 in the morning
Lenny
said on 27/Apr/16
Click Here
here is the vid where he stands back to back with Peter Jones @ 2:44 , two things: Jones doesn't like finding someone taller than him and goes up on his toes for a few seconds, Jones has far better posture. I estimate Merchant to be about 6 7 and a quarter and Jones to be a couple of mm below
Arch Stanton
said on 27/Apr/16
Rob for some reason the right column is italicized.
Editor Rob: ok thanks for pointing out, in this case it was a missing closing tag on the 2006 comment I made...
Arch Stanton
said on 27/Apr/16
Interesting that he says he'd be happy at 6 ft 4. 6'4 is still a very tall height, so he can't detest being very tall that much, otherwise he'd have said 6'2. I can see what he means about the ducking through doors though and jokes.
Rampage(-_-_-)Clover
said on 26/Apr/16
Yeah he does look a strong 6ft7 beside Jones
Arch Stanton
said on 26/Apr/16
6'7.25-6'7.5 arguable with Peter Jones.
Rampage(-_-_-)Clover
said on 24/Apr/16
He looks like a very tall Elton John
Jenn
said on 7/Apr/16
If you watch him standing next to 6'0 Jimmy Fallon, 6'7 seems pretty damn accurate
Rifle
said on 6/Dec/15
In big bang theory S09E09 he looked 6'9" with Leonard.
James B
said on 30/Nov/15
Lillo thomas said on 28/Feb/15
6'4 isn't too tall. 6'4 is solid tall . It's almost in the very tall range. 6'5 - 6'6 is the start of the very tall range. I agree with Stephen Merchant. 6'7 is too tall in real life. 6'7 is a very good height for playing basketball. For nonbasketball guys being this tall must suck.
6'3-6'4 range is the start of very tall. 6'4 is a weak very tall height yes but it's still within the very tall category. 6'5 and 6'6 are legit tall heights.
Merchant at 6'7 is virtually a giant.
S.J.H
said on 22/Nov/15
I don't he was 6'7 not even 6'6.75 , because i check out the lip sync clip that merchant with 5'9 joseph gordon levitt at best he look 6'6.5 there and even a flat 6'6
A6'2Guy
said on 27/Jun/15
@hal I agree, I also agree that you shouldn't discriminate with people of any height, short or tall.
hal
said on 2/Jun/15
A 6'7" guy saying 6'4" is tall? Wow, I love this guy even more now. It proves that he's not one of those manmore jerks who thinks that every guy under 6'5" is either short or average height.
Rifle
said on 5/Apr/15
Hi Rob,
Could Stephen Merchant be 6'8" out of bed?
Also are the heights of really tall celebs(6'6" and above) in this website their afternoon or evening heights?
Regards
[Editor Rob: it's the same all round, afternoon/evening. I'm sure he'd touch 6ft 8 yes.]
hal
said on 4/Apr/15
@Legend
Are you for real? Did you mistake that 7 for a 0 or a 1? How can a guy who's 6'7" not think he's that tall and wish he was taller? To most normal height people, like me(184cm), Stephen's a giant. I think 200cm is the start of giant range. I wish I was his height or close to it.
And I think Stephen's a legit 6'7". Maybe a strong 6'7". Like 202cm.
Lillo thomas
said on 28/Feb/15
6'4 isn't too tall. 6'4 is solid tall . It's almost in the very tall range. 6'5 - 6'6 is the start of the very tall range. I agree with Stephen Merchant. 6'7 is too tall in real life. 6'7 is a very good height for playing basketball. For nonbasketball guys being this tall must suck.
Legend
said on 26/Feb/15
Why are people saying this is too tall?
Stephen probably wishes he was even taller than what he is. Its a fact most people around his height do indeed wish they were taller and do not think they are that tall.
Duberry
said on 8/Jan/15
Must suck being this height, like being a 5'2 guy on the opposite end of the spectrum. Top bloke though.
Hetty
said on 9/Dec/14
where do you reckon a 6'4 & 6'1 guy would end up near him? near the eyebrow/under his ear maybe?
[Editor Rob: probably above his eyebrow, his head isn't a huge size or anything for his height. A 6ft 1 man probably wouldn't look that much above his nose.]
BGee
said on 24/Nov/14
Definitely 6'7 (looks a bit like he was supposed to be 6'3 or 6'4 but was stretched out), hence the way too tall height he has now (anything over 6'5 is too tall in my book). Though he'd make a great Plastic Man with those lanky limbs of his!
Hauptstadt
said on 12/Sep/14
@James B
Perfect tall height is 188-193. Too bad i'm only 186cm and will probably not reach dat dere 6'2.
James B
said on 11/Sep/14
Yeah he looked a weak 6'7 for sure in Modern Family. Peter Crouch could have a good 1 inch on this guy.
James B
said on 1/Aug/14
Even 6'4 is still too tall. I'd say perfect tall height is 5'11-6'2
avi
said on 16/May/14
@The Exorcist says on 7/Dec/12
He's about 6'7".
He's making Matt Lucas and Elton John look like midgets here:
Click Here
actually he doesnt look more than 9-10 inches bigger than Elton John who is 5'7 at best. so 6'6-6'7 for Merchant. and yes its too tall i agree with him.
person
said on 25/Apr/14
stephen merchant looks taller than he actually is because i thought he was around 6'9-6'10 but when me and my mates met him in london and i'm legitimately 6'8; i was startled and perplexed to find out that i had around half an inch to an inch over him. 6'7-6'7.5 for stevie boy.
django
said on 28/Mar/14
I know what he says about his height, that's not too reliable when you're too tall though innit
Editor
said on 21/Nov/13
He said recently "Being 6ft 7in is too tall. 6ft 4in is much better"
Hypado
said on 20/Nov/13
I must say he looks taller than 6'7"
(2)
John
said on 18/Nov/13
Been watching "Hello Girls" and I must say he looks taller than 6'7".
Aerocobbler
said on 26/Jun/13
Easy,easy,easy 6'7. I would have thought closer to or 6'8. I saw his standup show and he looked gigantic.
Fei
said on 24/Jan/13
Door Frame comment from below - if its an American movie, remember that US doorframes are 6'8", not 2m.
cansen79
said on 4/Jan/13
I think he's more than 6'7. I know that he's quite skinny and that adds a bit to it, but still 201cm is not too tall. I honestly believe that he's at least a strong 6'8
The Exorcist
said on 7/Dec/12
He's about 6'7".
He's making Matt Lucas and Elton John look like midgets here:
Click Here
MaskDeMasque
said on 28/Oct/12
I think he might be 6'6ish actually. 6'7 out of bed. Has 6 inches on pilkington who i don't think is taller than 6'.
somedude
said on 30/Sep/12
he is tall but he is built like peter crouch i think. how much do you guys reckon he weighs??
EB
said on 8/Aug/12
I seriously thought he would have been about 5'11" because he is always sitting next to Ricky and he looks so thin and weedy. When I heard 6'7" I was literally like "Holy F***!"
Vegas
said on 20/Jan/12
steven says on 19/Jan/12
seriously he look 6'5-6'6 in Hall Pass. i bet he is shorter in real. probably mid day 6'7 in shoe. not under 6'5.5 and not over 6'6
____________
he was 3 inches taller than conan o brien easily and taller next to jon ross
Click Here
than penn jillette
Click Here
steven
said on 19/Jan/12
seriously he look 6'5-6'6 in Hall Pass. i bet he is shorter in real. probably mid day 6'7 in shoe. not under 6'5.5 and not over 6'6
Sam
said on 30/Dec/11
How much would you estimate he weighs, Rob?
[Editor Rob: could be in the 160-165 range]
Godred
said on 27/Nov/11
@mike - I would not want to look like that though.
Mike
said on 2/Nov/11
Uh, Stephen, people usually "make fun of" your height because it's usually not seen as a bad thing. I'm 6'2 1/2" and I wish I was taller.
Saw him in a crowd a few years ago and he towered over everyone even slouching. Skinny as a rail though.
LAN Jiao
said on 1/Nov/11
again i think solid 6'6.5 for merchant, not quite good 2metre tall so let alone 6'7. peter jones a solid 6'6.25 and atually look more 6'7 in shoe then barely range. even they were 200-201 morning and claim 6'7 is still fair but they gota be weak 6-7 through out the day unlike peter crouch a scary skinny tallish 6-7 can pull to look 6-9 alone.
LAN Jiao
said on 25/Oct/11
Consider to took off every tip of his hair in thea evening or night he would be measure out 199.2cm max. Peter jones case 198.3cm and
Peter Crouch case 200.5cm
Jake T.
said on 16/Oct/11
With Adam Sandler and Conan O'brien he looks like a 200 cm man, Stephen can be either 6'6.5 or 6'6.75 anyways he is very tall.
Yaspaa
said on 1/Oct/11
Ooh James, that's , I don't what that is, the guy is as close to 6'7 as it gets, he made The Rock look like a midget.
Abi
said on 1/Oct/11
Also the time of day photographs are taken at can play a big part in height because people grow and shrink during the day
Vegas
said on 30/Sep/11
lan jiao, the premier league claim crouch is 198cm (under 6'6), obviously he is taller than that but thats what the official site claims
Click Here
LAN Jiao
said on 29/Sep/11
be honest we have eye to see people's frame and height. if peter jones and merchant were same height as peter crouch nobody would bother to argue here. if peter crouch truely just 201cm as the premiere league got him measure this height, so how could stephen merchant and peter jones were level height as peter crouch?
much obviously stephen merchant and peter jones stand around 6"6-6"6.5 nothing over max 199cm. crouch was then a real 6'7 guy.
Abi
said on 4/Sep/11
Household Door frames are actually 2 metres tall (6'6") he is 6'7" most of the pictures you see of him are usually in e.g. Itv studio and those doors are taller. When he stands next to Karl pilkington who is 6'1" he is at least 6" taller than him and on one picture they are standing together and next to a door and stephen is taller than the door and he has to bend down to get under door frames.
James
said on 28/Aug/11
Stephen Merchant is not 6.7. I will prove it to you in five reasons.
1. On the picture with picture with peter Jones he was on tiptoes
2. he is not six inches taller than Johnathan Ross
3. Most doors have a standing height of 6'8 and he was not level with shoes on.
4.
Rampage(-_-_-)Clover
said on 12/Aug/11
Peter Jones can look 6ft6.5
James
said on 27/Jun/11
Conan O'Brien 6'3.75 (192cm)
Stephen Merchant 6'7 (201cm)
James
said on 23/Jun/11
JJ says on 13/Jun/11
No james you got it wrong, peter jones towered 6'1 johnathon ross peter jones is a legit 6'7 along with stephen merchant, or mayby there both easily in the 6'7 range not sure about the latter, but it's quite possible
Merchant is just a fraction taller than Jones so.
James
said on 12/Jun/11
Stephen Merchant 6'7 (201cm)
Peter Jones 6'6.75 (200cm)
James
said on 12/Jun/11
okay 201cm
Chameleon
said on 26/May/11
Parker how tall is that girl next to Crouch do u know?
Cranberries
said on 10/May/11
He has an enormous, almost alien-like head; makes him look slightly shorter than he really is, but he's every cm of 6'7".
Parker
said on 6/May/11
[Editor Rob: maybe crouch is a guy who is half inch over 6ft 7 and just drops the 1/2 inch, whilst merchant is near enough 6ft 7.
Crouch looks closer to 6'8 to me Rob.
Click Here
James
said on 4/May/11
he looked a weak 6'7 in comparison to Dwayne Johnson in Tooth Fairy.
Rob is 199cm not out of the question for Merchant? He's very skinny which can help him loook taller but he does not look as tall as someone like peter crouch.
[Editor Rob: maybe crouch is a guy who is half inch over 6ft 7 and just drops the 1/2 inch, whilst merchant is near enough 6ft 7.

I think if he were 6ft 6.5 he seems a kind of guy who would say that height.

I never seen tooth fairy so can't comment on him and dwayne.]
Mathew
said on 13/Apr/11
WHAT!? I thought this guy was like 6'2"!!!
Rampage(-_-_-)Clover
said on 26/Mar/11
Merchant is taller than Peter Jones...so he's 202cm
When you reach 6ft6 and up you'll find guys claiming a shorter height...my uncle is prime example. He himself is 6ft7-6ft8 and he always claims 6ft6...sometimes even 6ft5
Rampage(-_-_-)Clover
said on 18/Mar/11
6"7.5(202cm)
marshall
said on 11/Mar/11
tell me james, what exactly is a weak 6 foot 7in hahaha
Jacob
said on 12/Feb/11
Said in the 'Ricky Gervais Guide To... the World Cup' that he himself is 6'7".
mahe
said on 2/Jun/09
Comparing heights with 6'7" Peter Jones, famous British businessman and Dragon Den judge:
Click Here
OR at 4:00 of the following video:
Click Here
Stephen has the edge :)
Anonymous
said on 20/Apr/09
I always thought he looked more like a solid 6,8". He is very thin though, difficult guy to judge.
seriously
said on 24/Dec/08
seriously... he says he is 6'7'', and hates his height. My guess is 6'7,5''. It's absured to call him shorter than 6'7''.
Annoyed
said on 16/Dec/08
Your right James, he does look a bit like crouch, same TYPE of guy physically.
He says he was 6'7" last time he was measured but he MUST be a touch taller than that, he is just tooooooooooo big.
Annoyed
said on 27/Oct/08
also, look at the pic of him side by side, with relaxed posture next to the Big guy off the office (USA) who is standing as tall as he can, that is easilly more than 4 inches and imagine if Merchant stood up straight !!!!!!!!!!!!!!!!!!!!!!!!!!!!!!!!! any less than 6'7" is ridiculous.
Annoyed
said on 27/Oct/08
EASILLY 6'7" !!!!!!!!!!!! could even be taller, goodness me, go on ANY youtube vid with Merchant in it, look at him with Gervais who is at least 5'7" and it looks more than a foot. He hates his height, gets depressed about it on the xfm radio show and he was 6'5" at 15 years old !!!! Id say he is 6'7.5" and rounds down because unlike most of the people on this site, he doesnt want to be any taller and always says he wishes he was 5'9" . He says ont he xfm show he regards it as a disability. this man is HUGE! 6'8" is possible, 6'7.5" likelly an he rounds down to 6'7". any less, OBSCENE !!!!!!
cellardoor
said on 27/Sep/08
He looks taller than that here i think:
Click Here
next to John Krasinski who's listed as 6'3
Kurt
said on 14/Apr/08
I walked past him on Oxford Street. I'm 6'3", and he was at very least 3" taller. 6'7" is about right for him.
blink 198
said on 6/Dec/07
he looks the same mark as 6ft6 james cromwell to me..
G-MANN
said on 21/Nov/07
I don't think Merchant particularly enjoys being so tall and gangly, he's definetely an ectomorph, so I don't think he would bull**** about his height to make himself look taller. If anything he'd be modest and round his height measurement down. He's bloody tall, end of story.
Henry
said on 10/Aug/07
I was next to him at the Prince Concert, he's easily 6'7".
He also dances strangely.
pianochris
said on 24/Apr/07
Well the standard height for a doorframe in the UK is 6'6" and this guy has to duck to get in the doorway in 'Extra's'. Oh but maybe they built the set smaller to make him look big......yeh right
Anonymous
said on 30/Dec/06
he's massive, saw him in london recently and he ws simply towering over the people he was with. funny this guy is normal looking but he is so stringy
david
said on 17/Dec/06
luis-garcia you have no sense to judge height if you think he's 6'4,really mate.
Anon
said on 3/Dec/06
Stephen Merchant is 6"7 - he's said so numerous times before, as has Ricky Gervais. The photo doesn't really do him justice as he's at least a step behind Gervais and Gallagher.
Rastus
said on 29/Sep/06
This guy is at least 6' 7", probably even more. Saw him on Extras last night and he was so much bigger than Gervais (and a dwarf, ironically enough) that it looked superimposed. 6'4" and 6'5" guys like Goldblum, Vaughn and Hasselhof look very tall beside most people on screen or in pictures. However Merchant towers over people so much that you have to do a double take to believe what you're seeing.
Kat
said on 27/Apr/06
My friend, who is 6', was at the University of Warwick with Steve [they did a radio show together] and he says that Steve is 6'6"
Fozzy
said on 28/Mar/06
6'7'' my arse!
they only said that because anything above 6'6'' is very unusual
fmem
said on 5/Mar/06
he says he's 6ft 7
and he DOES tower above Gervais. just look at the pictures of them at the Golden Globes. They barely got Ash Atalla and Stephen's heads in the same shot
CelebHeights Editor
said on 6/Jan/06
From hbo site,
" He's eight foot tall, has stupid glasses, awful hair, but it makes me look good, which is why he's in the series. We look so strange on screen together as well. The height difference is ridiculous. I want people to know that he is a freak and I'm the normal one. Don't look at this and go, "What? Didn't know Ricky was a dwarf." I'm not. He's the weird one."
- Ricky Gervais
makdaddy
said on 5/Jan/06
luis_garcia u are wrong if u knew wat 6'4 was u would'nt say that its incorrect 6'6 but no way 6'4
Luis_Garcia
said on 25/Dec/05
No way is he 6'7, if he was he would completely tower Gervais and Gallagher. I'd say he's 6'4, 6'5 max