Steve Coulter's Height
6ft 0 (182.9 cm)
American actor known for roles in Insidious Chapter 2/3, The Conjuring and TV shows The Walking Dead (Reg) and Banshee (Elijah). On his imdbResume he had his height/weight as 6ft and 175lbs.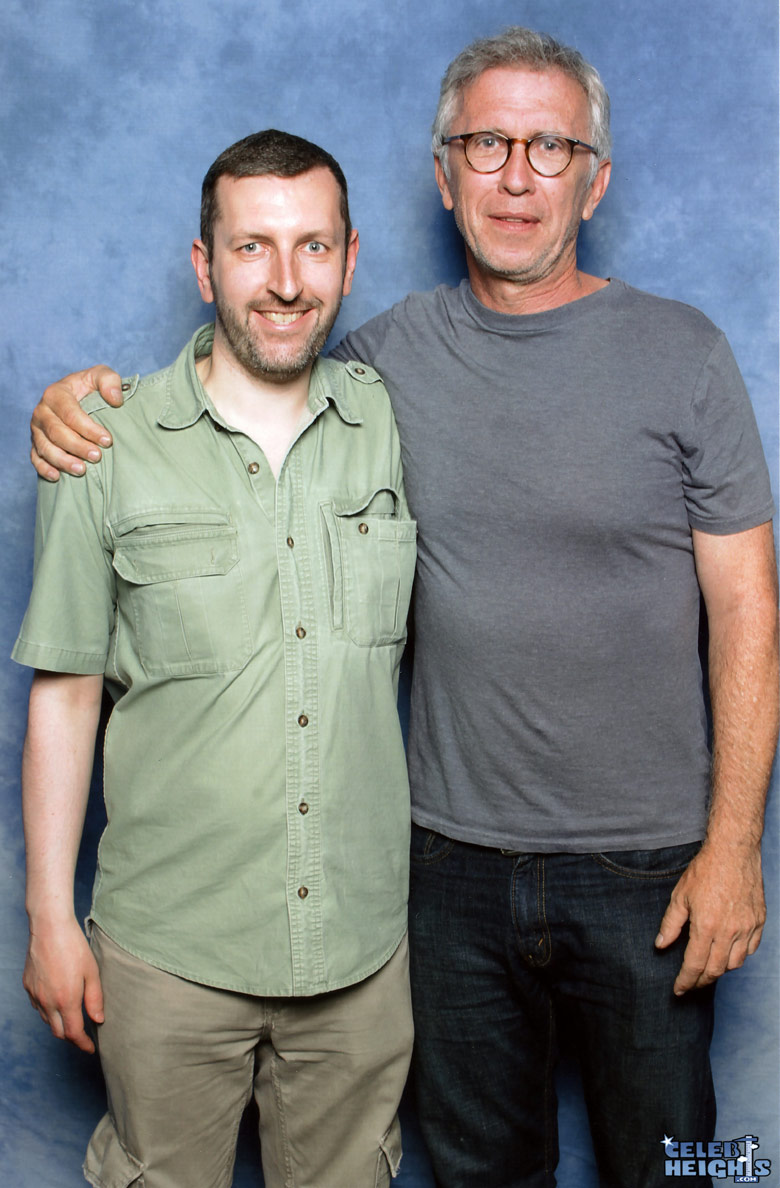 5ft 8 Rob and Steve @ LFCC 2015
Add a Comment
21 comments
Average Guess (23 Votes)
6ft 0.15in (183.3cm)
Bwk
said on 20/May/20
Looks at least a little over the 6'0'' mark next to you here. I'd say 6'0.25'' is arguable. Unless he had on thicker footwear than you.

Editor Rob
There are many actors claiming six foot who would be best advised not standing with Steve, because he is a comfortable 6ft.
Nik Ashton
said on 4/Feb/20
He's more than just tallish!
mark thompson
said on 16/Dec/19
looks 6'0.25-6'0.5 range
al001
said on 10/Oct/19
@PD 213
No way, he looks at LEAST 6'0. 6'0.5 i'd say.
Peter 179cm
said on 20/Dec/18
A strong 6'0,could pass for 184cm.
Tall Sam
said on 12/Oct/18
Could pass for a strong six footer here.

Editor Rob
He's a more legit six foot than some who claim that height...

He was asked his height on twitter too, which he replied: "6' 😁".

Dream(5'9.5")
said on 14/Jun/18
Looks a good 6'0"er here.
Zampo
said on 2/May/18
Perfect example of a solid 6ft possibly measuring a few mm above the mark. Wouldn't dip below 6ft in the evening. Would definitely edge me out. Has a greater eye-level than me (171-171.5 cm an the middle of his forehead is exactly 5'10, whilst mine is about 177 cm.
World Citizen
said on 19/Jan/18
Perfect listing
F97
said on 14/Dec/17
Looks taller than a flat 6 footer. His eyelevel is pretty much bang on 5'8" and he is listed as 182.9 cm while Reed Diamond is listed as 183.5 cm and looks shorter next to You Rob and 5'8" Comes up to his eyebrows while this guys eyelevel is 5'8". This guy looks 183.5-184 cm to me
Nik
said on 14/Nov/17
@ PD 213
I agree with every word you said!
Paul
said on 13/Nov/17
Seems implausible for him to be below 6ft. Could probably pass for 6-0.25, not 6-0.5 though.
PD 213
said on 10/Nov/17
Looks in the 5'11.5-5'11.75 range imo. Still a very great height, and that's how tall I am too!
Redwing
said on 9/Feb/17
I don't understand why does he look 186 cm tall?
Big C
said on 20/Dec/15
@Amaze yeah he defo looks a solid 6'0 with Rob, that's a clear 4 inches difference here, this is probably how I would look with Rob.
Sam
said on 6/Aug/15
Yeah, there's a lot of guys on that show under 5'10", many 5'8"-5'9". Yeah more or less average but most shows with large casts like that tend to have a few tall guys or at least six footers, a lot of leading man type TV actors can be kinda tall. Six foot rangers like this guy or Michael Cudlitz can look almost towering at times, which can lead me to think that the main guys like Andy Lincoln or Norman Reedus lean more towards 5'9" than 5'10". There was a true tall guy, like 6'5" or so, in the most recent season and he looked massive in comparison to the mains.
Amaze
said on 5/Aug/15
@Kourosh lol obviously it's not that tall its just low tall a good height obviously
Kourosh
said on 3/Aug/15
Another proof that 6'0 is not that tall. Its just tall or tallish.
Andrea
said on 2/Aug/15
Sam, i stopped watching TWD at the beginning of the third season, i think, but i wouldn't say the cast was short, but more average! Not every show is like Chuck where most of the guys are over 6'2! :)
Andrea
said on 2/Aug/15
When I read he took part to Banshee i thought "who the hell is this guy"... Then i googled his name and realized why i didn't recognize him! With all that beard, it could have been anybody XD
I actually never paid attention to this guy's height in Banshee but he does look near 6' with you!
[Editor Rob: he pops up in a few films and shows here and there.]
Sam
said on 2/Aug/15
Looked quite tall on The Walking Dead, whenever a tallish actor pops up there it's a reminder how the main cast is generally rather short.