Ted Raimi's Height
5ft 11 (180.3 cm)
American Actor, best known for playing Joxer on Xena: Warrior Princess and from Seaquest and Xena.
You May Be Interested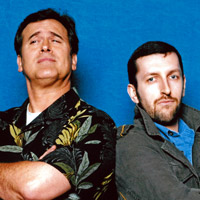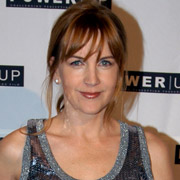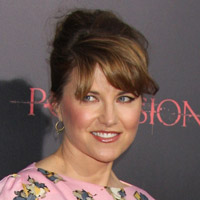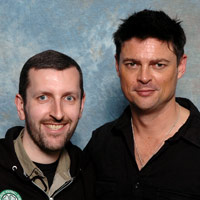 Add a Comment
14 comments
Average Guess (10 Votes)
5ft 10.88in (180cm)
Miss Sandy Cowell
said on 8/Dec/19
I just saw Ted in the 1989 film 'Shocker'. I think he might have been about 5ft11.25, but not the 6ft that I found when I Googled him. He was only 23 then, his birthday being right at the end of the year. Ted was born in December 1965.
FE
said on 6/Mar/19
@Editor Rob,
Nice Downgrade! I thought 6ft was hard to believe let alone 6'2"! Although he did look a Solid 5'11" in Xena series, But didn't look any taller than JK Simmons in the SM series.
BTW if I'm not mistaken, wasn't he in a scene with Harrison Ford in a movie from the early 90s and looked a good inch under him? (If Harrison was a strong 6ft back then). Well, I haven't seen much of him, so at the moment I think the current listing is ok.

Editor Rob
After 13 years of events I finally seen Ted and I can't see him over 5ft 11, although with Bruce on Xena he could look over 5ft 11. Could he have lost a cm? I don't know!
Valhalla
said on 10/Jun/17
Rob, that pic with urban on teds page urban looks noticeably taller? So is urban 184-5 cm tall? You said he looked the same as raimi
aknawkneemoose
said on 26/May/17
holy crap this guy's listed as 6'2 and people are saying he's more near 5'11
Krista
said on 1/Feb/17
He's definitely not 6 0 . I met him before he's 5 10 at best
berta
said on 1/Feb/17
he is at no taller than at most 181 bruce campbell is almost 2 inches taller. rob please look at photos of them togetrher
Redwing
said on 9/Jan/17
His brother gives off a Jimmy Fallon vibe.
Timmy
said on 20/Aug/16
He's about 176cm in person. I was surprised when I met him he's only a little shorter than me.
Editor Rob:
maybe Ted has shrunk! Back at an event, with a barefoot Urban he certainly
Looks as tall
in a moderate sneaker, and taller than hudson leick in heels there.
A guy who can look shorter though, maybe age caught up with him...
thatguy
said on 18/Jul/15
He's definitely not 6'0.
From this year:
Click Here
[Editor Rob: I'm sure that is Sam]
thatguy
said on 17/Aug/14
@ FA
It's possible. Mostly to do with genetics, and how strong one's bones are when they reach that age. Some people don't shrink at all, while others lose a lot of height. Ted Raimi is one of them. He is surely not 183cm (6ft) today, more a long the lines of 177-178cm.
Then:
Click Here
Now:
Click Here
thatguy
said on 10/Jun/14
He definitely shrunk. He was much closer to Bruce Campbell's height back in the Xena days than he is now:
Pic of him and Bruce in Xena:
Click Here
Click Here
Click Here
Looked around 181-182cm during that time. Slightly shorter than Campbell.
Peak: 5'11.75
Now: 5'9.25
indy
said on 13/Feb/14
Met him. 5'9.5 , 5'10 max.
Hob
said on 6/Aug/12
the shortest looking 6footer. he looked 2-3inches shorter than 6feet bruce campbell. over 5'10 is silly
Bubba
said on 21/Nov/10
I always believed he was shoret, don't know why. Thought he was in the 170 - 175 cm range.