Terrell Owens Height
6ft 2 ⅞ (190.2 cm)
American NFL Football Player. He was measured almost 6ft 3 and claimed on Twitter to stand
"6'3 & a fraction! lol"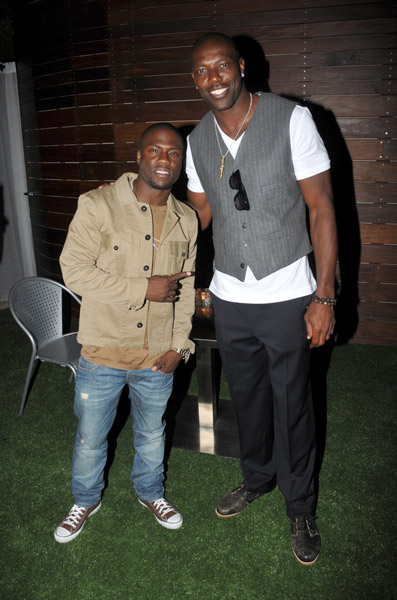 Kevin Hart
and Terrell
Photos by PR Photos
Add a Comment
31 comments
Average Guess (9 Votes)
6ft 3.03in (190.6cm)
Nik
said on 14/May/19
6'3" less a hair!
Nik
said on 20/Mar/19
Rob says 6 foot 2 and many fractions but I can understand the average vote of 6'3.03"!
VelikiSrbin
said on 22/Feb/19
@Rob
What would you call a solid foot in height difference? When the top of someone's head is at your shoulder level?

Editor Rob
As I say, it's not a perfect comparison in the clip, but if somebody is roughly around the shoulder then that is going to equate to a foot or so difference.
VelikiSrbin
said on 19/Feb/19
Editor Rob
They seemed a bit further apart, so I'm not so sure on just how much between them in the clip.
@Rob if you pause at :22 they shake hands and are close to each other. Do you think it looks like 13 inches between them? It looks less than a ft to me. ?

Editor Rob
Again about a foot looked possible, but it is a shame they didn't stand side by side in this kind of video.
VelikiSrbin
said on 18/Feb/19
Rob what do you think is the difference between him and kevin hart in this clip? Pause at :22
Click Here
It looks less than in the photo above?

Editor Rob
They seemed a bit further apart, so I'm not so sure on just how much between them in the clip.
Canson
said on 16/Feb/19
I don't think he's as low as 6'2 or 6'2.25. The more I see I doubt he's less than maybe weak 6'3" barefoot. 6'2.5-.75
Canson
said on 6/Feb/19
@Rampage: it's possible. I'd even say Owens is probably more like a weak 6'3 at a low. 6'2.5 is possible so is 6'2 5/8. Depends on how early players got measured back then. Some today lose half inch as seen in the comparisons from mid 2000s Combines when they began being held early morning and Senior Bowls were still afternoon
Rampage(-_-_-)Clover
said on 5/Feb/19
I think Hemsworth is eligible for this listing
Canson
said on 28/Nov/18
@Bobby: he shows a 6'2 7/8 pre draft so he could conceiveably be 6'2 3/8 at his low but honestly looks maybe a weak 6'3 worst case in most pics. He doesn't look as low as 6'2.25 to be honest. Maybe 6'2.5 but I could buy more of 6'2.5-.75 tbh
Click Here
Canson
said on 27/Nov/18
@Bobby: he always looked an inch taller than McNabb when they played or close. If McNabb was 6'2.25 (could be 6'1.75 afternoon), TO world be weak 6'3 at least
bobbyh3342
said on 26/Nov/18
6'2.25 no more than that
Frost
said on 23/Aug/18
As listed.
Canson
said on 15/Feb/18
@SJH: depending on when he was measured he may come down that low. Prob more so 6'2 5/8 tho if he gets that low. Not sure if the combines were held that early in the AM back then
Rampage(-_-_-)Clover
said on 29/Jan/18
Rob, could Tom Welling also get this?

Editor Rob
It's arguable that he is right inside the 6ft 2.75-3 range.
Canson
said on 14/Jun/17
The combine measurements LOL wish they were uniform from year to year and accurate in all sports
Canson
said on 15/Mar/17
6'2.75 at his lowest (aggregate).
S.J.H
said on 8/Mar/17
6'3.25 acting height. NFL measurement in the morning 190cm drop to 189cm afternoon. 6'2.5 not over
Pal
said on 15/Feb/17
@Borats Chicken
Donovan Mcnabb was measured 6'2.25 at the combine in 1999 according to Nfl draft scout
TO is a solid 6'3 guy
Borats Chicken
said on 22/Oct/16
Rob, would you mind looking at Donovan McNabb qb who is listed as 6'2
but possible he could be 6'2.5
SportsHeight
said on 5/Feb/16
Rob, how come Owens is measured at 6'2 7/8" and gets a 6'3" listing, but Tom Brady is measured at 6'4 3/8" and gets listed at 6'4.25"? Either Owens should be 6'2.75" or Brady should be 6'4.5", right? Assuming these are early-morning measurements, it seems more sensible to bring T.O. down.
Editor Rob: I think I wasn't as sure about time of day's that measurements would be taken. It is pretty much accepted that none of the nba/nfl heights would be evening, but sometime throughout the morning.
Rusty 190cm
said on 11/Mar/15
Rob, this is interesting since he is the exact same height as me. He claimed 6'3.5" and 6'3" and a fraction in a youtube video of him working out. Do you think the 6'3.5" is an early morning claim? If you were 6'2 7/8" would you claim 6'3"? I always claim 6'3" and no one questions it.
[Editor Rob: a few might go 'about 6ft 3/almost 6ft 3' but 99% of people would probably say 6ft 3.]
Rusty 190cm
said on 10/Mar/15
Rob, where did you find out he measured almost 6'3"? I have not been able to find evidence of that anywhere.
[Editor Rob: from the draft, the data used to be available years back. He was 6ft 2 and 7/8ths. I think something like ourlads had it many years ago.]
Yati
said on 30/Jan/15
Legit 6'3".. Look at all the standing shots on Celebrity Apprentice next to Lorenzo Lamas and Johnny Damon.
Sal
said on 9/Jan/15
This makes me rethink a few things. I always thought and heard Gary Payton was closer to 6'2" because he was a few inches shorter than Michael Jordan who we agree is 6'5". I just saw a youtube video of Jamie Foxx clowning Gary Payton and Terrell Owens at an awards show and Payton was an inch taller than Owens. I never really questioned Owens height.
Janza
said on 1/Jul/14
He was measured 6'2.75 in the morning, so hes really closer to 6'2
MD
said on 12/Nov/13
@MrTBlack,
Actually, the roster list bares not even that much resemblence to draft/pro day heights. I've seen roster heights more than a full inch over what a player was measured. In fact, that seems to be the rule rather than the exception.
MrTBlack
said on 10/Nov/13
@MD
The NFL states your exact height however, they round off to the nearest inch on the roster list. But if your lets say 6'2.5", they put you as 6'2".
MD
said on 1/Nov/13
Lol! I didn't know the NFL was THAT picky during the drafts. I knew they did quarter-inches, which makes sense, but eighths seem like overkill. lol
If that's the case, yeah, he's 6'3". Hell, normal wear-and-tear during a day does more than eighths. lol
MD
said on 31/Oct/13
Yeah, I have the same question just finding this page. If he was measured at "almost 6'3"" then what was he actually measured at?
[Editor Rob: 1/8th inch shy]
MrTBlack
said on 29/Oct/13
So would almost 6'3" make him 6'2.5?
matt678
said on 27/Aug/13
looks a solid 6ft3 in this pic solid as a rock though