Tiny Ron's Height
7ft 0 (213.4 cm)
American actor, known for roles in films including Last Man Standing, Ace Ventura and Road House. He has his own site on acting, called abwag and says of his height: "Being a big 7 footer that I am, my acting too large would be like a mountain moving all over the place on the small and large screens"
You May Be Interested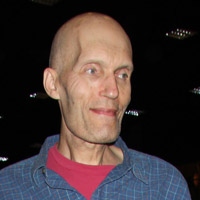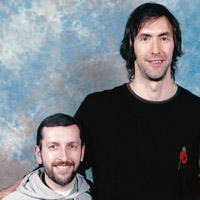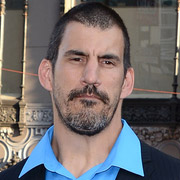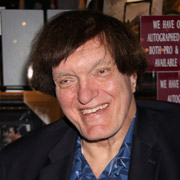 Add a Comment
53 comments
Average Guess (6 Votes)
6ft 11.58in (212.3cm)
Canson
said on 25/Dec/19
7'0" looks a touch high. 6'11.25
Chris Junior Hernandez 1990
said on 24/Dec/19
6'11 1/4 max with 6'3 1/4 Billy Campbell
Click Here
had consider Ron tilt down his face level. Maybe peak height he really was 7'0 but losing 3/4 inch isn't impossible.
Nik
said on 14/Nov/18
@ Sandy Cowell - Here's another not so tiny "Tiny"!
Sandy Cowell
said on 24/Mar/17
I'll opt for a bit less as he might have lost height by now. I read a comment below which I agree with by Eric. I'll give Tiny 6ft11.5.
I knew a couple of Tinys. They weren't as 'tiny' as 7ft. They were 6ft8 and 6ft10! That was the extent of their tininess!
AMS
said on 11/Mar/16
He is Ron Taylor, his daughter is 6'8 and she is a professional Bball player as well. They are my family. Just FYI.
jasperwazup
said on 17/Oct/13
I think his mother was 6'3'' and his niece is 6'6'' at least I remember reading about that. a legit 7 foot guy. In Road House Patrick Swayze was around 5'11'' or just under so yeah 7 foot sounds right.
Fern194cm-192cm
said on 25/Jul/13
Hey Rob,
I was wondering if you would consider listing his peak height at 7,1. It says on a few basketball websites, including basketball reference.com which always seems to list barefoot heights, that he was 7,1 and 265. I think 7 foot for his current height fits well. I actually believe that TRon below is the real Ron Taylor.
TRon
said on 26/Jan/12
I don't know why I have to state this, but in my younger years I was 7' 1" tall and now I am bouncing between 7' and 6' 11 3/4".
Eric
said on 9/Jan/11
Maybe 7' peak and 6'11 now.
mick
said on 15/Nov/08
Tiny had to duck to get in the door at our club, and his dad is 6'7" and he towers over him
mick
said on 15/Nov/08
I first met Tiny in the early 90's when I was a bouncer at a club in Temecula, a where his parents lived. I'm 5'10" and when I shook his hand it was like I was 2'tall, but what a nice guy. I offered him a job as a bouncer but he said he was kinda busy. ha ha
Alex
said on 16/Oct/08
Comparing the picture to Mamun's with Kane I'd say Tiny has around 4 more inches on Mamun than Kane does. He's way below Ron's chin while he didn't come as much under Kane's chin.
Audra
said on 21/Aug/08
I just want to make a comment on what Melanie said on the 9/Nov/07. Do you have to be so dam insulting. He looks ok to me. Maybe Melanie is the one that look dam ugly and needs to put others down to make herself look better. I like to bet Melanie isn't earning as much as Tiny Tim is the filming industry. Maybe Melamie is just jealous. Like to know what she has to say too that...........
The Weak 6'4"
said on 16/Jun/08
looks a solid 7 to me. might be high 11's. but close thats for sure
Marcelo C.
said on 21/May/08
......just a little taller than De Vito, I
Alex2
said on 20/Apr/08
Humm, this guy does look close to height with Nash if you look at the two photos, and i dobt think hes that much taller than Peter Mayhew either.
Yaspaa
said on 17/Apr/08
Alex2,there is more than 1" difference. Around 12" for Kane over the mamunster and 16" for Tiny.
Jake Is Back
said on 10/Apr/08
Well he is definantly more than an inch taller than Kane. And looks it too.
sf
said on 27/Mar/08
Never know - he justs might be "Tiny Ron"...
D-lurker
said on 6/Feb/08
I see more than an inch over Kane here, Alex2...Look at the chin levels, Kanes rests on Mamuns' head.. 6ft10 at the very least if you were to compare to Jared Jefferies (though he too looks taller than 6ft10) looks near enough 7foot on his own right however. (i'm hoping as i really can't handle kane at 6ft7 :P hahahaha)
Anshelm
said on 17/Jan/08
Here's another one with niece Lindsay Taylor
Click Here
who's 6'8" (203 cm) according to WNBA. BTW the previous one I sent (apparently a dead link now) featured another basketball player, Kate Bauman
Click Here
listed at 6'6" (198 cm) just about everywhere, but nobody here really believed that. I've since found a more reasonable height of 6'3" (191 cm) for her
Click Here
(look Minnesota)
Fred Lang
said on 28/Dec/07
Sorry, that was Kevin Peter Hall! Should have researched his name(and height - 7'3") before writing.
Fred Lang
said on 28/Dec/07
Hey Tiny, if you read this, I just saw you on the movie "Alien Nation - Body & Soul". Couldn't really appreciate your height in that one except for the comments scripted for your fellow actors. Have you been considered to replace Peter Allen Hall for the "Harry and the Hendersons" TV series that was cut short by Hall's unfortunate death from aids. I read he contracted it from a blood transfusion after he was in an auto accident. I believe he was 7'2" and you would be perfect for the job. BTW, you have a great smile!
Alex2
said on 22/Dec/07
Comparing this photo with Kanes, he look like 1" taller than Kane, could have shrunk, no way a full 7ft
sf
said on 12/Dec/07
Yes, I think Mamum likes superman.
Mamun
said on 12/Dec/07
WOW !!!!! Mr. Ron you have seen this site !!! What an honour . I hope you
liked my picture with you . I would like to thank you personnally for that.
Mr. Ron , what every one here would like to see is a picture with you and
Kevin Nash, Sid , Kane, UT or even the great Khali . This site would go crazy
if there was a picture like that ! Again I would like to thank you personnally
for your kindness in leting me take your picture !!
Kind Regards
Mamun
TinyRon
said on 10/Dec/07
I am 7ft in my stocking feet. I have a big head and big bones. Pictures can be very misleading how people stand to each other in the plane of the camera. So, comparing Kareem's picture with this one is really a stretch in angles. Sorry about the over smile.
Alex
said on 11/Nov/07
6'10 plus is a Giant in my book.
Matthew
said on 11/Nov/07
He isnt "tall" he is a giant.
melanie
said on 9/Nov/07
tall guys are sexy? look at him, I don't think so!
Antron
said on 7/Nov/07
dude this guy always has pictures with the giants!
cantstop25
said on 7/Nov/07
tiny ron really does look tiny in comparison with kareem lol
Mamun
said on 7/Nov/07
Thank you all very much for your kind comments !!!!!
Regards ,
Mamun
seanprice1
said on 6/Nov/07
its a burd, its a plane..its..........mamun!!!
vandam
said on 5/Nov/07
nice shirt !
guy
said on 5/Nov/07
I'm surprised he's standing up so straight.
Mr_6'5''
said on 4/Nov/07
Based off this picture with the great Mamun, wouldnt you say Kane should be upgraded by at least 1 inch
Big Show
said on 3/Nov/07
He always looked like a legit 7 footer to me in the movies I've seen of him, especially in Last Man Standing. However in the pic with Mamun he looks more like 6'10. He could've shrunk a bit though.
5'8''Bree
said on 3/Nov/07
holy crow, 7 feet! Tall guys are hot...just thought i'd throw that in
Danimal
said on 3/Nov/07
I don't see Tiny at anything under 6'10"-6'11" and I would believe 7'0" too.
OutBenchThis
said on 2/Nov/07
Got the superman theme going Mamun, right on man! I think there's no reason to the doubt 7ft claim
nick
said on 2/Nov/07
ok, i really do not think that the kareem picture is good to guage scince number 1 he seems to be definetly taller than he is, and he seems to be over 17 inches taller than 5'8 mamum, he also seems to be within 4 inches from the former guiness record holder which isnt true, Could be footwear, or it can be some scewed angle
The only reason why i say this is because kevin nash im sorry everybody seemed to be within 3 inches of his height in a picture, and if he were really that tall like he looks in the pic with mamum then he would have of course looked taller.
Alex
said on 2/Nov/07
Ron could be as short as 6'11 but I don't think any shorter than that.
Antin
said on 2/Nov/07
"JT says on 2/Nov/07 Kareem and Tiny Ron (Click Here)"
tiny ron looks 206-207cm
JT
said on 2/Nov/07
Kareem and Tiny Ron (
Click Here
)
runt
said on 2/Nov/07
I think Kareem looked about 3" taller. I'd say ron is 6'11"
[Editor Rob: he's on a further plane here]
JT
said on 2/Nov/07
Nice pic again Mamun.
Click Here
Even considering that Ron
Alex
said on 2/Nov/07
He looks a legit 7'0 there with Mamun.
Catsman
said on 2/Nov/07
Where are these other Baughman and Lindsay pictures people are talking about?
Alex
said on 28/May/06
Jake, there isn't 10 inches between Ron and Bauman though. The pictures can be a bit tricky but I looked at them a couple times each. Ron does look a legit 7'0 so Bauman is 6'4 and then his niece is more 6'7.
Jake
said on 29/Apr/06
If he is 7', the two women are like 6'4" and 6'2", where do you come up with 6'8" and 6'5"?
Alex
said on 5/Apr/06
Looking at those pictures again I'd say
Ron is 7'0
Baughman is 6'5
Lindsay is 6'8.
Anshelm
said on 11/Jan/06
Stumbled on some pics:
Next to (reportedly) 198 cm/6'6" tall Kate Bauman (blonde on the left), and a 191 cm/6'3" (?) woman:
http://www.tallpeople.org/photos/data/3332/Kate_Bauman_.jpg
Though it's hard to believe Bauman's 198 cm next to Ron's 203 cm/6'8" niece Lindsay Taylor (both are basketball players, as one may have guessed):
http://www.tallpeople.org/photos/data/3332/3301kate_lindsay.jpg (I've also seen 196 cm/6'5" for Bauman, but I'm not sure she's even that)
Uncle & niece (maybe not quite 203 cm?) together:
http://www.tallpeople.org/photos/data/3163/1999-10-24_ron_Lindsay_events_center.jpg
Talk about growth genes in the Taylor family!