Todd Stashwick's Height
6ft 1 (185.4 cm)
American Actor known for roles in tv shows The Riches, Heroes and 12 Monkeys. This photo (by photographer Jenny) is from Rogue Events Supernatural Convention. He said in 2008
"I'm 6'2, 200-plus pounds"
.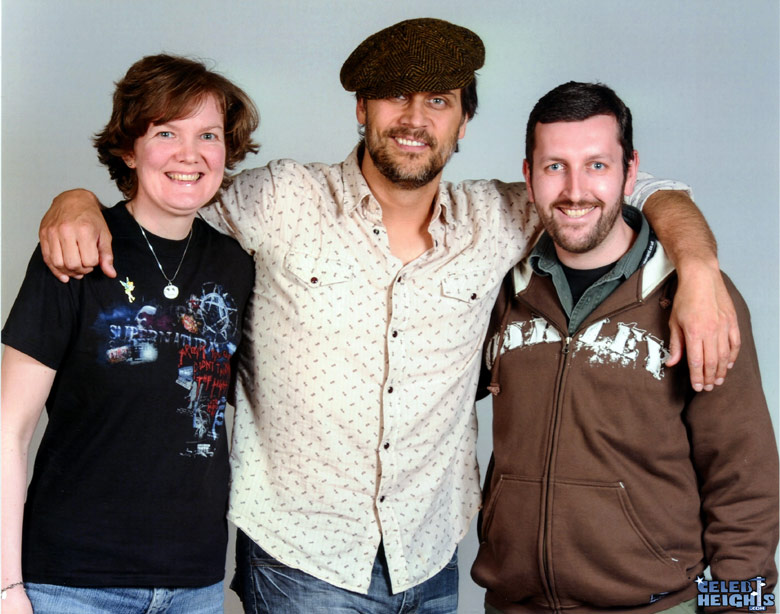 5ft 8 Rob/Jenny and Todd
You May Be Interested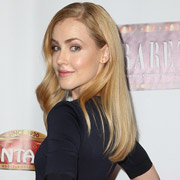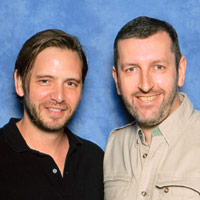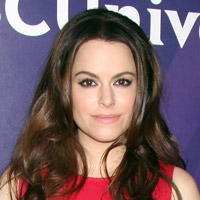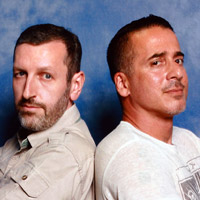 Add a Comment
49 comments
Average Guess (9 Votes)
6ft 0.81in (184.9cm)
ladeez
said on 8/May/20
solid six foot one
Chris Junior Hernandez 1990
said on 5/May/20
Strange that he only look 5'11 1/4 with Rob and Jenny. But in Kim Possible he pull off close to 6'1. Where the 4cm had gone in picture? Lol.
Rampage(-_-_-)Clover
said on 15/Jul/18
Rob, then would you consider 6ft0¾ for him?

Editor Rob
I'm not sure under 6ft 1, I might say Todd could have slight edge on Amell.

Actually there was a scene in 12 Monkeys with Todd, Rupert Graves and Aaron stanford, and I'd say their listings seemed reasonable on screen to what I see in person.
Rampage(-_-_-)Clover
said on 13/Jul/18
Rob, who looks taller in person Stashwick or Amell?

Editor Rob
They are quite close in person.
Nik
said on 13/Jul/18
I think that he clears 6'1"!
Sandy Cowell
said on 17/Jun/18
I can think of better things to stash than parts of a candle!
Todd can have 6ft1.
Amanda
said on 2/Mar/17
Strong 6'1,
Sam
said on 21/Jan/17
w/o the hat he really only looks 5'11ish, he might be leaning but Rob isn't exactly standing great himself and probably matching posture. His eye level suggests at least a good 6 foot next to Rob but his head is slightly tilted up compared to Robs who is more down.
Rampage(-_-_-)Clover
said on 12/Oct/16
He looks nearer 6ft with the lean. But looked every bit of this on Heroes.
Mike
said on 7/Sep/16
Really looks closer to 6ft here. I highly doubt he is a solid 6ft 1, 184 would probably be a better estimate.
Rampage(-_-_-)Clover
said on 5/Sep/16
Rob, which of these would he most likely fall into?
A) 188cm/186cm
B) 187.5cm/185.5cm
C) 187cm/185cm
D) 186.5cm/184.5cm
E) 186cm/184cm
Editor Rob: B-C range, a decent enough 6ft 1 I think.
NBAer
said on 29/Feb/16
MAX 184cm in my opinion,he looks more 183 with the lean,but Rob is leaning too...
Rampage(-_-_-)Clover
said on 11/May/15
Rob, is there a quote?
[Editor Rob: yes I added it, refresh the page.]
d
said on 31/Mar/15
wow 182 max
Rampage(-_-_-)Clover
said on 24/Mar/15
Rob, does this guy actually claim 6ft2?
[Editor Rob: yes, he is a big guy somewhere around 6ft 1 though.]
Ed Kline
said on 14/Dec/14
This is a great picture, because it illustrates how much variance in the difference in height can occur from pic to pic. We all know how tall Jenny and Rob are pretty much to the millimeter, but Jenny looks distinctly taller ( a solid inch or more) in this picture. This picture is a cautionary tale to not put too much stock in a any one photograph of a celebrity.
[Editor Rob: in a few of these shots I can get my position beside the actor but Jenny can't quite get as far back, so sometimes is a bit nearer, also in this shot I was aware of Todd dropping a little height so I'm dropping a bit in my back too.]
Rampage(-_-_-)Clover
said on 26/Nov/14
He could be 186-187cm out of bed and rounds that off to 6ft2
Tommo
said on 20/Apr/14
I really don't think he looks 5'11 in the picture, at all. I'd say about 184 based on the picture and his posture isn't great, listening seems fair.
Lenad
said on 31/Dec/13
looks 9-10cm taller than rob. Up straight I can see 6'1 but no more
Rampage(-_-_-)Clover
said on 23/Dec/13
I think he might just be 6ft0.5/184cm but no less.
About 5ft11-5ft11.5 with Rob.
Lenad
said on 8/Dec/13
3.5-4 inches taller with posture disadvantage. Up straight id give him a weak 6'1
avi
said on 25/Aug/13
@Rob
Should be 6'0.25 area
Yaspaa
said on 22/Aug/13
He has the look of a taller guy.
Rampage(-_-_-)Clover
said on 6/Aug/13
"Todd Stashwick's height is 6ft 0.75in (185cm)"
Generous considering he clearly looks 5ft11 in the picture
Rey
said on 9/Jul/13
Why is Jenny's eye level almost 2 inches higher than Rob.
[Editor Rob: I've adjusted my height at the last moment in that photo by bending spine/tilting head a bit, since I thought todd was going to lose some height by leaning towards me at that moment.
]
Jeremy
said on 5/Jul/13
6'1 seems hard to see from this photo, I mean Rob is slouching to match him and still only looks about 4 inches shorter. Realistically looks about 6-0, unless there are over 5 inches from his eyebrow to the top of his head (Im about 6'1 and there are only ~ 4.5 inches from eyebrow to the top of my head
otep90
said on 3/Jul/13
aline to lower ear that's 5'11'' 180cm
Stephen
said on 8/Jan/13
184 classic
Peyman
said on 26/Dec/12
jenny looks two inches taller than you!!
how is it possible?
It doesn't seem you're slouching , no more than half an inch I mean
& by the way I'll still go with my 6' 0.5'' estimate for Todd
I have a friend who is around 187 but claims 194 . So that does not make sense to call any guess under the 6'1'' mark impossible just because he claims 6ft 2in
[Editor Rob: I'm dropping height to match todd...
she's about 2-3 inches closer to the camera.]
truth
said on 25/Dec/12
just about 5ft11, where the hell 6ft1??
Aragorn 5'11
said on 22/Dec/12
With the cap on he's 6'. Without it he's barely 5'11.
tom
said on 22/Nov/12
6-1"?? never,5-11 1/2 imo
Liam
said on 6/Oct/12
Nothing more than 6ft
Johnnyfive
said on 17/Sep/12
I see 184 on this picture, considering that he's slouching.
[Editor Rob: I'm slouching aswell...]
Rampage(-_-_-)Clover
said on 26/Jul/12
Okay perhaps 6ft0.25(183.5cm)?
[Editor Rob: he looked very close to mark pellegrino at this event, but then he had a hat on...]
Rampage(-_-_-)Clover
said on 25/Jul/12
In the picture he's 5"11.75/182cm approx.
I think Height Challenger No.10# may edge him out
Rob, maybe 6"0/183cm is closer?
[Editor Rob: I'm sure he claims 6ft 2, but I believe he is near 6ft 1. 6ft I'm not sure he's that low.]
Peyman(182.3cm-184.2cm)
said on 13/Feb/12
Peyman says on 6/Feb/12
congratulations Rob & Jenny for reaching 176.5cm !
----------------------------------------------
well my mistake ,this is not his full posture , there is more than 4 inches difference even on this pic , so a strong 6ft 0.5in is my new estimate for this guy.
Peyman
said on 6/Feb/12
congratulations Rob & Jenny for reaching to 176.5cm !
ChiasmataX
said on 3/Jan/12
He's bang on 184cm/ height challenger # 10's height.
Anon
said on 3/Oct/11
If he was the same height as mark pellegrino like Rob said, then it's 6'0.5 minimum for him up straight. Maybe 6'1 but the postures in this photo are very distorted. I see him near 4 inches taller than Jenny and near 4-4.5 on Rob with the horrendous posture. I give him 184-185cm minimum.
Moke
said on 2/Sep/11
with the cap a strong 6'1, without barely 6'. But his posture is not the best...
Legend
said on 23/Aug/11
A little over 6.
Rampage(-_-_-)Clover
said on 16/Aug/11
With the cap looks 187cm-188cm...
Alex
said on 11/Aug/11
He looks 6'0 1/2 I'd say.
Ras
said on 31/Jul/11
6ft IMO.
[Editor Rob: I think he was same height as mark pellegrino at this event and they were both shorter than kurt fuller]
Josh B
said on 7/Jul/11
Rob, i'm guessing your dropping posture intentionally because the difference between you and Jenny is a good inch.
[Editor Rob: jenny's actually losing some height as we all are, although she's nearer the camera than me.]
Mathew
said on 6/Jul/11
6'1" listing is fine, but he looks more like 184 cm.
Rampage(-_-_-)Clover
said on 3/Jul/11
Looks about 6ft
Scott
said on 30/Mar/08
Yep passed her the other day on Upper Street in Islington, London. She was in chunky gym trainers walking her dog. Was surprised at her height as I'd always thought she was short for some reason. 5'8.25 would be more accurate than 5.7.5. Seemed taller as she is quite well built too, pretty broad ...