Tom Petty's Height
5ft 8 ½ (174 cm)
American singer, best remembered for songs such as "Free Fallin" and "I Won't Back Down".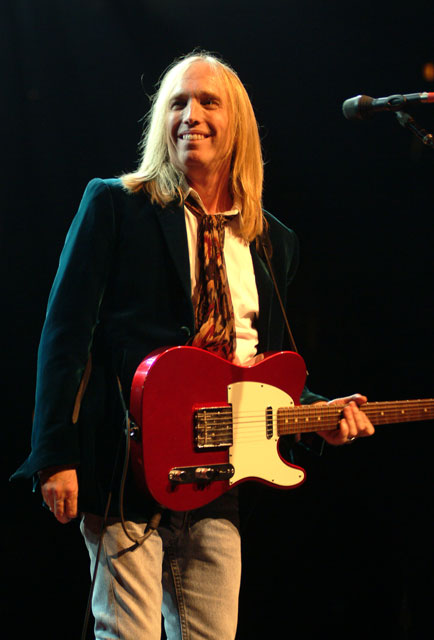 Photos by PR Photos
Add a Comment
30 comments
Average Guess (16 Votes)
5ft 8.66in (174.4cm)
Miss Sandy Cowell
said on 20/Oct/19
Today Tom would have turned 69 years of age. He passed away in 2017.
I still enjoy this great star's fabulous music and will for the rest of my days.
5ft8.75.
RIP Tom XXX 🕯️ Always remembered; always loved.
William_O'Jell
said on 12/Apr/19
I always had him as a tall guy in my mind. 6 feet plus. To find out he was 5 feet 7 or so is really strange. But its the music that matters not size.
Jan Acton
said on 15/Jan/18
This gentleman will forever stand taller than measures of feet and inches. I can't imagine anyone who can top this gifted human being that millions can relate to!
ally N
said on 7/Dec/17
Tom Petty looks about 1.5 inches shorter than G.Harrison and J.Lynn, fellow Wilbury's.
Anonymous
said on 7/Dec/17
Goodbye to a good friend. My closest surfing partner, heartbroken to see him go. So long my surfing brother, see you in the next life.
Sandy Cowell
said on 29/Nov/17
@ Jem - How great for you to have met this fantastic star!
It's too late for anyone else now; I bet you feel priveleged! 👍 Nice one! 😉
Jem
said on 27/Nov/17
I've met him several times over the years and he was about 4" taller than my 5' 3" so I would put him at 5'7".
Super nice guy and gone too soon :(
MSJC
said on 6/Oct/17
Gone too soon :(
Nik
said on 5/Oct/17
R.I.P Tom Petty.
Sandy Cowell
said on 3/Oct/17
Unbelievable. So sad to hear that this morning.
A big part of my Musical life.
(I'll be playing his music later today, reminiscing.)
RIP Tom xxx 😢
Travis
said on 3/Oct/17
RIP.
Paul
said on 3/Oct/17
Sad to hear he's passed (for real this time), RIP.
Coldplay lover
said on 2/Oct/17
Sad news out of California today. RIP Tom Petty
Sandy Cowell
said on 12/Dec/16
I've been trying to track down one of Tom's songs called 'Hot Summer Nights' for years! It was from the Summer of '79, when I was on the verge of leaving school and also about to see Led Zeppelin at Knebworth! Happy memories!
I have never really taken in Tom Petty's height, not even when he was playing with the Travelling Wilburies, but I have always liked him and respected his music enormously. I'll go for an average 5ft9! Anything drastically either way, I'm bound to have noticed by now!
6'1 Julian
said on 24/Dec/14
Does anyone have info on the other Heartbreakers? I've heard people claiming that Stan Lynch (drummer from '76 through '93) was 6'6, and I know the current drummer Steve Ferrone is 6' even, but I wonder about the others. Mike Campbell always looks closer to 5'11 to me, just because he has a couple inches on Tom while wearing normal dress shoes. The other guys I have no idea, all I can really say is Howie Epstein appeared to be a pretty short man.
Sam
said on 11/Aug/14
Yeah, Petty often looks barely an inch taller than Bob Dylan, at times Dylan can even seem taller in photos! I don't see anyway the difference between them could be 2 inches as listed unless Dylan's wearing platform shoes.
Click Here
Mark
said on 28/Jan/13
I thought he was around 5'7 height myself, judging from the video for 'Handle With Care' next to Bob Dylan.
Ian
said on 28/Jan/09
Looks the same height as Glenn but big hat.
Cinzia
said on 3/Sep/08
Men always mean 5'6" when they say 5'9". He was little and had a lift on his boots. Still good looking!
MikeM
said on 7/Jul/08
5'9 would be accurate
Johnny
said on 2/May/08
I kind of always thought 5'8 because when he is with others it seems to fit more. Look at the traveling wilburys he looks only slightly taller then bob dylan and around 2 inches shorter then george harrison moby 5'8.5. I know the footwear but he wears cowboy boots and bob does too, but not enough to make him look the same height if Petty really is 5'9 but maybe enough if Petty is 5'8, Because the do look the same height.
Minstrel Man
said on 1/Jan/08
I think 5'9.5" (at least 5'9")
I used to believe a 5'10.5" listing I saw, he can look that with cowboy boots.
cindy
said on 21/Dec/06
i met him about a little over a month ago at the end of their 06 tour. TP was in cowboy boots, but they seemed pretty low. Not like youre average cowboy boots. I stood right next to him (i'm 5'4 in the shoes I was wearing) and he was about 5 or 5 1/2 inches taller than me. 5-9 or maybe 5-9 1/2 seems right, in my opinion. really nice guy though!
Glenn
said on 10/Nov/06
5-9.I see him very often.
sam
said on 9/Nov/06
Glenn, what was your estimate of Petty?
Brad
said on 19/Sep/06
With those boots & hats he always wears, he always looks taller than he is.
Chaplyn
said on 13/Apr/06
So how tall is Tom barefoot?
CelebHeights Editor
said on 5/Feb/06
Pic of Petty and Glenn up.
mcFan
said on 22/Aug/05
Tom Petty wasn't as tall as George Harrison in Traveling Wilburys. George looked 1.5 inches taller than Tom and I think George Harrison was at the most 5'9.5 during Beatle days. I would give Tom a max of 5'8.
Trey61
said on 10/Jul/05
I think 5'-9" could be right, but only in his cowboy boots. I stood backstage at a TP concert in the early '80's and Petty was shorter than my 5'-8" with both of us in western boots. I'd put him more at 5'-7".