Eric Clapton's Height
5ft 9 ½ (176.5 cm)
English guitarist, singer and songwriter best known for songs such as "Layla", "Wonderful Tonight" and "Tears in Heaven". An early publicity sheet mentioned his height as being 5ft 10.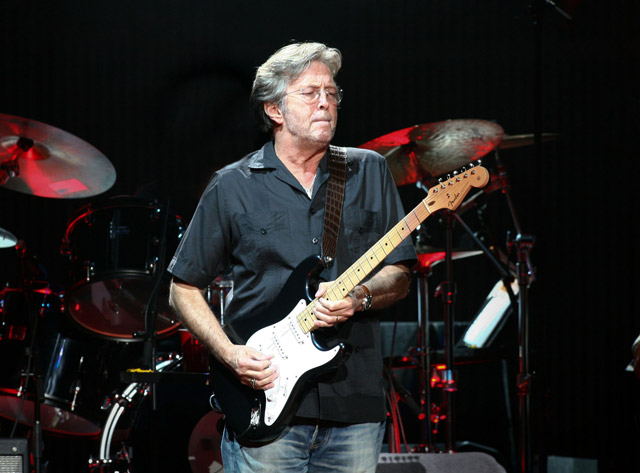 Photos by PR Photos
Add a Comment
161 comments
Average Guess (18 Votes)
5ft 9.9in (177.6cm)
Nik Ashton
said on 19/Oct/19
The average guess is 5'9.9" (18 votes!)!
Martin Garvey
said on 18/Oct/19
5'9 1/2 ???
Rubbish, I got his autograph years ago and he's a midget I'm 5'10" and I towered over him
Mark Skyer
said on 14/Aug/19
Recent photo with 6'3" John Mayer, has 74yr-old Clapton@c5'7", tops.
Miss Sandy Cowell
said on 27/Jul/19
I knew a girl called Layla, born at the right sort of time, early 1971, (Layla was released at the end of 1970 and I had it on a mixed hits LP), and when I met her parents, I wasn't surprised to find out they'd been long-haired hippies! 😄😍🤩
Eric looked fairly statuesque in Tommy, and I was surprised to find out that he was only 5ft9.5 when I first came here. In fact, I'll be giving him 5ft10.
One of Britain's greatest guitarists, right from his Yardbirds and Cream days.
🎼🎸🎶🤩😋
Anna S
said on 13/Jun/19
Can you add his former wife Pattie Boyd? In her autobiography she claims she was 5'7 1/2 when she was modelling in her 20s.
Spencer Dobkin
said on 5/Jun/19
177 peak. 174-175 now. Never looked a full 5'10" to me.
Ally N
said on 17/Mar/19
He always seemed taller in Cream, but Ginger Baker looked taller, about 6 ft or better.
Dom P
said on 13/Jan/19
I always felt it was hard to judge E.C. height because Jack Bruce, so much shorter, maybe only 5 '6". Clapton also wore heals a lot in the early days. My guess 5'10" at his peak. 5' 9" now.
Christian
said on 9/Dec/18
- Rob, I remember you had Eric at 5'9'' a while ago but then you changed it back to 5ft 9 ½ again? What made you change your mind?

Editor Rob
I thought in his 20's and 30's he could seem over 5ft 9
Greg99
said on 5/Aug/18
any idea how tall John Mayall is/was - he looked noticeably taller than Clapton in the Bluesbreakers days (65/66)?
diavolo
said on 18/May/18
How tall was Jack Bruce? He looked about 5'4" next to Clapton (if Clapton is 5'9"). He always used a short-scale bass which is ideal for shorter people.
Guitar Guy
said on 20/Apr/18
He looks 5ft 10.
Hey Rob, can you add Mark Knopfler's height please.
Dom P
said on 5/Feb/18
Eric Clapton looks 5' 10 " at his peak.
Ally N
said on 10/Dec/17
I always thought Eric was 5'11' years ago but after seeing him next to others, he is not. Pete Townsend probably 6'1" is easily taller which can be seen on the Rainbow Concert album. Eric with noticeable heels. The Blue Suede Shoes 1986 special for Carl Perkins, Carl 6'1" is taller for sure and George Harrison is a bit taller than Eric, was also there for Carl P. Maybe you noticed , Rob.
ally N
said on 7/Dec/17
EC could be 5' 9" now from aging.
Ally N
said on 21/Nov/17
Eric Clapton in the 1987 Princes Trust Concert looks not as tall as George Harrison. The thing is Harrison's hair is puffed up a bit making him look taller, even though his posture varies. I have seen enough pictures to say Eric is 5'10", equivalent to Harrison, Lennon,& McCartney.
Ally N
said on 18/Nov/17
Eric is 5' 10', he has good posture most times. Maybe his 5' 9" now, being older.
Sam
said on 13/Nov/17
There's a good chance the guys mentioned in the last comment all probably averaged around 5'9.75" mid-day, maybe McCartney a quarter inch more, Jagger a quarter inch less.
Anonymous
said on 12/Nov/17
I believe Eric, Mick Jagger and the 3 front Beatles are all exactly the same height, 5 ft. 10 in. Maybe a 1/4 in difference. A Rock and Roll luck out.
Christian
said on 2/Oct/17
This a good video with commentator Martin Brundel who's 5.7.5 (171,5 cm) and Eric Clapton. It proves that EC is about 175-176 cm.
Click Here
Markymark
said on 28/Sep/17
Check out the YouTube video of Clapton and McCartney...I think the title is 'Clapton thinks McCartney is an idiot'
Anyway...clearly Eric is looking up at (5ft10?) Paul.
macfan
said on 14/Sep/17
Rob, how do you still have Eric Clapton at 5'9 when he was no less Lennon, McCartney, and maybe a very, very small smidgen over Harrison? Do you still believe that after "Your Mother Should Know" that there is a difference, even if minuscule, between Lennon and McCartney even with the same footwear. I go by what I can see and there is no difference, but George seemed a hair less than the other three.
Editor Rob: 5ft 9.5 peak is probably more likely.
berta
said on 22/Aug/17
hm i must disagree with this one. he cant have been only 175 cm peak maybe now but peak i would say 177-78 range. This can be a full inch off
Christian
said on 26/Jul/17
If Clapton is 5'9'' then John Lennon and Paul McCartney are also in that range. I don't think that Paul was 3 cm taller than Eric Clapton.
Click Here
Paleman
said on 21/Jun/17
This listing is too low, Rob, at least for his peak height. Looking at pictures from his younger days with the likes of Knopfler and the Beatles, he couldn't have stood at only 5'9". I personally thought he always looked 5'11"-ish, but I suppose 5'10" could be on the money. I have a hard time believing he stood anywhere lower than that.
Markymark
said on 17/Jun/17
Always thought he was at least 5'11. I think he was probably a strong 5'10 in his prime. He looks 5'9 right now...no more no less. If you look at pictures of him with other musicians he's usually the shorter one.
Genius though...love his music.
Ally N
said on 20/Apr/17
Eric same height as the 3 front line Beatles and Mick Jagger.
Rampage(-_-_-)Clover
said on 22/Feb/17
5ft10 peak, Rob?
Dingus
said on 22/Feb/17
Looks about 5'09.75" - 5'10.125".
HonestSlovene
said on 30/Dec/16
5'9"-5'10" sounds right for him, looks average.
Stephen
said on 4/Dec/16
Rather than relying on questionable anecdotes of meeting Clapton, someone with the right computer app could extrapolate his height starting with the known given that a Stratocaster is 38.5" long. A bit of photo manipulation and you'll have the answer.
Sandy Cowell
said on 3/Dec/16
@ Sweets - Hi! What a way to spend your 21st! 6ft1 is very tall and has prompted me to dig my 'Tommy' DVD out and take a better look!
Eric Clapton's one of the most influential rock/blues musicians ever! From the Yardbirds and Cream to his own band and solo stuff, he's done so much fantastic music.
You are so lucky to have seen him! I never have, though I've always wanted to!
Sweets
said on 1/Dec/16
I had amazing 21st birthday @ Eric Clapton concert, The Fillmore in San Francisco. I am 5'-8". In 1980, EC was 6'1" easy. Great view standing next to him as well as looking up to stage.
Sandy Cowell
said on 24/Nov/16
I thought he looked a bit taller as a guitar-playing preacher in the rock opera 'Tommy'- I'd have assumed an inch taller!
Walt
said on 21/Jun/16
Great listing, man. He was a legit 5'9.5 man. Him with Pattie Boyd (5'7)
Click Here
Maybe 5'9 nowadays.
Paleman
said on 5/May/16
Clapton was once listed at IMDB at a whopping 6'1"! Could look big and tall on stage, that much is true.
Any idea how tall Mark Knopfler is? He's listed at 6' on Google and does in fact look to be at least in the 5'11" range in most clips.
Click Here
- looks like a weak 5'11" here because of his terrible posture but standing up straight he could be very close to six feet. Sting looks tall here too, but only because he's closer to the camera.
Editor Rob: 5ft 11 range for Mark seems plausible.
Christian
said on 21/Jan/16
Hey Rob! Have you seen this? It says Clapton is 5'10''.
Click Here
Editor Rob: it's worth mentioning yes.
Jack
said on 2/Nov/15
I met him. I do believe 5'10. According to a press release that is correct.
I just saw a listing which had some that are clearly wrong.
Jeff Beck not 5'10"! Santana not that tall either. Stevie Ray 5'5""...doubt it. Keith Richars was listed too tall . It's just an interesting topic because you just can't tell from film, pictures etc. If you know how tall one is you can guess at the others.
isabellasw
said on 25/May/15
I had an affair with Eric 35 years ago. He is 5'9".
Holly
said on 7/Dec/14
Here is a video of Clapton with Paul McCartney. Paul looks just a
bit taller than Eric. This was sometime after 9/11 due to the song
they are talking about. Not sure of the footwear.
https://www.youtube.com/watch?v=63e8WRjiPyc
Arch Stanton
said on 4/May/14
I consider myself an advanced guitarist and a good judge of somebody's playing abilities and you're certainly right about him being overrated as a guitarist IMO. He's very good at what he does and is a great blues guitarist and a talented musician, but he's pretty limited as a player. Even by his own confession seeing players like Paco de Lucia etc he admitted it and that there are far better players around than himself. He's certainly not this sort of God people thought he was. He could look 5'11" a lot I thought.
Sam
said on 2/May/14
Although he has a lot of talent as a guitar player and I like Cream, I think Clapton is pretty overrated. As a songwriter, I see Jack Bruce as the greater creative presence in Cream.
Anyway, of the 5'10" range 60s music legends, he's the one who always seems to give a taller impression to me. I'd be really surprised if he was an inch shorter than the taller Beatles. Up review, in a few pictures though, near six foot (I think) Robbie Robertson does seem a bit taller.
Gus
said on 16/Oct/13
They say Neil Young is 6.1 feet, I'm 6.1 almost six two (6.3 with heels) So is it Neil 6 feet plus? If yes he is really tall I mean for a musician, since most rockers are kind of short or "average" in height, thank you :D
Gus
said on 16/Oct/13
BTW Clapton is listed at 6 feet seems a little to tall for me, he must around 5.9 or 5.10 at the most (Maybe 1.75 Meters because six feet equals 1.82 Meters) anyway is no big deal,Thank you!!
Gus
said on 16/Oct/13
Who is Ian Gotham???
zip
said on 8/Oct/13
I met Eric clapton at new market race course about 25 years ago
and introduced to him by Ian Gotham
ian towered over both of us and as I chatted with both I could see that Eric was quite a bit shorter than me (5'9)
Mind you like me he was wearing trainers
averagegiant
said on 1/Aug/13
@cranker
are those your 2 heros?
Sam
said on 29/Jul/13
Probably English guitar is a better description. From that time on the Johnny Cash Show, here they look close in height:
Click Here
But here Cash seems to tower over Clapton:
Click Here
wiltonstilts
said on 22/Jul/13
Cranker why are you talking about hitler? Thats retarded screw off with that seriously. . As for clapton above average. 5 10 maybe 5 11
Cranker
said on 19/Apr/13
You are all talking total rubbish. Clapton is 5ft 9in. He's the same height as me and Hitler.
Bard
said on 8/Apr/13
5'10
eric
said on 25/Mar/13
5'10 is tall average.
Arch Stanton
said on 12/Mar/13
I saw an Angus Young interview the other days and he said "big guys like Clapton with big hands and long fingers". I suppose even G would be big compared to him!! Granted though Clapton could look 5'11"-6' at peak and pull off looking tallish.
SaimoN
said on 28/Feb/13
There is a video clip when Clapton was a guest at The Johnny Cash show back in late 60s or early 70s. Now Johnny Cash is suppose to have been somewhere 6'1'' to 6'2'' range (his different driver's licences say different heights) and Clapton didn't look even slightly shorter. They were both leaning when they talked together on stage, but I'd say Clapton must have been very close to 6'0'' or at least a solid 5'11'' in his prime.
(s)ain't
said on 20/Feb/13
I think 5'11 or close to it is a little more appropriate.
Arch Stanton
said on 28/Jan/13
5'10 isn't tall Nate. It's average.
Arch Stanton
said on 18/Jan/13
Rob he's a guitarist mainly, he'd go mental at seeing "singer". He is a guitatist who can sing, not vice versa! Always looked 5'10 ish to me.
Matt
said on 22/Nov/12
He was a lot taller than I thought he would be in person. About ten years ago, I saw him in Santa Monica chatting outside the Del Mar hotel. I'm 5'9" and he definitely was considerably taller. A solid 6' -- NOT 5'9 1/2"
Derek
said on 21/Oct/12
Rob, is this his current height or his peak height? I always thought he was 5'10.5"-5'11" in his prime.
miguel
said on 29/Sep/12
about 20 years ago I was in Onslow gardens admiring an old Rolls Royce and Mr. Clapton who lives/lived there said to me, do you like the car, I said yes and standing next to him I noticed that he was my height 6 feet no less!!
Danimal
said on 23/Aug/12
This is too low for his prime Rob.
mcfan
said on 22/Aug/12
Clapton was taller than Harrison. He was every bit his 5'10 in his prime. He certainly was not shorter than McCartney or Lennon.
Christian
said on 29/Nov/11
Rob, how did you come up wth 5.9.5 for Clapton? Didn´t you have him at 5'10 years ago?
joker
said on 4/Nov/11
I think Clapton is taller than 5.95 because he is taller than both lennon and harrison. Possibly 5.11 in his prime.
mcfan
said on 12/Sep/11
They just showed footage on Showtime from 2001 in NYC with Paul McCartney and Eric Clapton standing directly in front of one another. They were exactly the same height.
Greg
said on 12/Sep/11
A delightful piece of YouTube'ery is here, with Clapton matched against Carl Perkins and the great Johnny Cash (a really nice performance by all three, cash shows what a wonderful guy he was and Clapton was close to his peak as a musician):
Click Here
Perkins looks a tad shorter than Cash, but both Cash and Perkins seemed around 6'1, and are clearly "big" guys with large frames. Next to Clapton, Cash looks *huge*, but Clapton doesn't seem that far off height-wise; I'd say Clapton was about 5'9 - 5'10 here, and doesn't seem to be wearing huge boots (though that's hard to say with certainty).
bam
said on 19/Aug/11
he did look 5'11 near john mayer, i'm stumped
Robby D.
said on 7/Aug/11
Rob - Do you have any idea how tall Jeff Beck is? I saw him and Eric Clapton play together at Ronnie Scott's and I thought Clapton looked about an inch taller, therefore I assumed Beck was about 5'9", yet he is listed as 5'10".
Robby D.
said on 25/Jul/11
Perhaps Eric Clapton is 5'10" then, because I was browsing the internet to find out how tall Jeff Beck is and he is listed as 5'10" everywhere. I am sure Eric is taller than Jeff.
5'8.56784
said on 25/Jul/11
He hold his own against 6'3 Mayer, he might be 5'10 nowadays.
Ken Hery Roedsand
said on 16/Jul/11
I think he has the right height for his "exelente perfomence" and lyrics, song and guitar. I think also that his height is average for most of all known artists.He is , whithout any doubt one of my favourites....
Robby D.
said on 10/Jul/11
In the sixties when he was with the Yardbirds, he was way shorter than Paul Samwell-Smith, Chris Dreja and Jim McCarty and only slightly taller than Keith Relf, whom I think was about 5'8", therefore I think Rob's assessment of 5'9.5" is probably quite accurate. He was never, ever over 5'10" even at his peak.
Shaun
said on 30/Jun/11
First of all Rob Clapton is primarily a guitarist. Its like calling Jimi Hendrix a singer. And I doubt he is under 5'10". Only looks about 4 inches shorter than 6'3" John Mayer I recall.
5'7.56
said on 22/Jan/11
He's 5'10 now and was 5'11 at peak.
mcfan
said on 17/Mar/09
Clapton wasn't 5'11 or 5'11.5... no way. In this photo Paul and him look the same height as they always did. They've both probably shrunk a half-inch, but Eric neither Paul were over 5'10:
Click Here
glenn
said on 17/Mar/09
great play on words brad.lol.wow.i believe it.they say bon jovi was infamous for that.steal ideas from demos of unsigned bands.thanks for backing me on the 5-9.5.that was my estimate originally when the pic was up.
Brad
said on 17/Mar/09
5' 9.5" sounds about right. I was told by a person who knows J.J. Cale very well that Clapton stole 1/2 of "Layla" from a Rita Coolidge tune and the money still hasn't been paid yet behind closed doors. Talk about being a pirate and having to give up the booty.
glenn
said on 15/Mar/09
really daniel? did he look that tall?.i thought he looked 5-9 on the back cover of the blind faith album.of course he is 5-10 min in reality.
Daniel
said on 14/Mar/09
Well, friends, if you look at old pictures of the 60's era or watch videos like the Cream's Farewell Concert in 1968 you would see a 5'11'' - 5'11.5'' height for Eric Clapton. He could have shrunk 1 inch due to age and bad posture. If Johnny Winter has shrunk at least 3 inches, and he's about the same age as Clapton!
mcfan
said on 14/Mar/09
Yeah, I think Clapton and McCartney were the same height back then...about 5'10...slightly taller than John and about a half-inch taller than George. Great guitarist...although I think the credit for the great guitar sounds from "Layla" belong to Duane Allman. He's the one that brought that chirping sound to the record.
norm
said on 23/Feb/09
i thought Eric was about 6'3". i was surprised to find he's not.
Christian
said on 9/Jan/09
No chris, Clapton was 5'10'' in his heyday. My friend talked to him in 2001 here in Stockholm, he said he was 177-178 cm.
chris
said on 30/Dec/08
Clapton is 5'11. McCartney 6'0 and George Harrison is in between the 2...
glenn
said on 29/Dec/08
well,i initially pegged harrison at 5-9.and met him too.but in friends pics he looked 5-10.i could be wrong either way.clapton i see every 6 months or so,and he appears 5-9,but slouches,so in youth and better posture he was 5-10.i think he claimed 5-11 which is absurd.
mcfan
said on 28/Dec/08
He's the same height as McCartney...probably 5'9.5 now. Was 5'10. Yes, Eric and Paul were 1/2 taller than George. I just saw George on flashbacks of SNL. George looked barely 5'9 next to Lorne Michaels...no way 5'10. Even next to Tommy Smothers he looks 5'9.
Chris
said on 21/Dec/08
I think Eric Clapton was 1 inch taller then George Harrison.
Click Here
To me George looked like a solid 5'9'' guy. Clapton was 5'10'' and is today 5'9
glenn
said on 2/Dec/08
knopflers been looking 5-11 to me lately.maybe he shrunk.
mcfan
said on 1/Dec/08
I think Knopfler is taller than Clapton/Lennon/Mccartney/Tom Jones/Jagger. I would say he's 5'11.5 (today 5'11?). Maybe it wasn't a good photo? He doesn't have the greatest posture. He's got to be at least 1.5 inches taller than Clapton and McCartney.
AJ
said on 12/Oct/08
Seen Clapton a few times next to Mark Knopfler in photos - I thought Knopfler was fairly tall (over 6ft) and he seemed to be the same height as EC....how tall is knopfler then?
Craig
said on 19/Sep/08
I met Eric Clapton and he is shorter than me (5'10). Eric was at least one inch shorter which really suprised me because he seems such a towering figure with his guitar. this was mid 1990's, Los Angeles.
Daii
said on 16/Aug/08
Hes never looked 5'11 to me, thats what I cant get people to understand. People think hes close to 6'0 and I just dont think he is at all. Above height at most, probably 5'10 in his younger days 5'9 now.
glenn
said on 30/Mar/08
thanks alicia :-)
Bo
said on 29/Mar/08
eric looks pretty high in that picture. He looks 5'10 to me.
alicia
said on 28/Mar/08
you're handsome glenn :)
glenn
said on 25/Mar/08
he likes me.rarely signs.usually only for me.never,ever poses.legend has it this was the last time he posed with someone he didnt know.im serious.1992.not the friendliest guy by any means.unfriendly but not mean.i see him twice a year.
Joe
said on 24/Mar/08
Hi Glenn. How you doing? I've heard Clapton can be quite a difficult and unapproachable person. How did he see to you?
Anonymous
said on 25/Jan/08
Paul McCartney was taIIer than Eric Clapton in a concert of Music Montserrat.If the height of Clapton is 5 feet 10 inches, the height of McCartney is 5 feet 10 1/2 inches.McCartney wears almost casual shoes.
glenn
said on 23/Dec/07
yeah,its ear wax.where are other people pics with him? i forgot how much he loves to pose.or sign.
Annamari Tury
said on 22/Dec/07
Yeah, what is that white thing coming out of his ear, white wax? I don't care how tall he is, I'm only 5'3' and that's tall enough for what ever.
glenn
said on 7/Dec/07
its amazing how eric can look 5-9ish in new york for the last 20 years.he mightve been 5-10 peak.yes,i was a young pup there of 19 or 20.
Ruana
said on 7/Dec/07
171cm Glenn? Glenny is almost listed as 5 ft 8/173cm. Eric looks a snitch above 5'10" if Glenn is "173cm".
[Editor Rob: glenn was young here by look of it.]
Victor
said on 7/Dec/07
Hello, I met Eric in a London Cafe. He walked around me. He is 1.82 meters
Tim
said on 3/Dec/07
In his prime I would have said he was around 5'10.5".
frances
said on 23/Nov/07
I've seen him and I could have sworn he was around 6 feet; definitely not under 5' 10"
Slh
said on 22/Nov/07
at 20 you were 171..Are you also grown of stature after the 20?
post this comment plz
Schnouzer Breath
said on 20/Nov/07
seems accurite, definately not the 5-11 some claimed in the past year's.
glenn
said on 18/Nov/07
i was 20.spring 1992.
Slh
said on 17/Nov/07
glenn how hold are you in this pic?
glenn
said on 18/Oct/07
your right.he is 6-3.my mistake.
Daniel
said on 16/Oct/07
But Ginger Baker was 6'3'' at the time, as far as I know
glenn
said on 16/Oct/07
maybe.i saw him all last week.with age he shrunk to a 5-9ish appearence.maybe he was 5-11.but i dont agree that he was always looking tall.the pic that intrigues me the most is the blind faith album photo.he looks 5-9 tops next to 6-2 ginger baker.
Daniel
said on 15/Oct/07
Eric Clapton should have been at least 5'11'' in his prime, I guess. Because in early photographs of the 60's (Yardbirds and Cream era) he seems to be tall. What do you think about it, guys? May I be wrong?
Franco
said on 12/Oct/07
yeah Frank-X (here comes Franco the real one) lol
he is 5'11 with shoes not barefoot, barefoot he is around 177-178cm
glenn
said on 6/Oct/07
in cases like that,rob is acurate.others atrocious.
frank-x
said on 4/Oct/07
um eric clapton is actually 5'11, im 6'0 and i have met him a few times, and i have always been eye to eye with him.
Evanna
said on 26/Sep/07
Rob's descriptions are always laconic. My favourite is Dita Von Teese -
"US erm, 'Celebrity' of some sorts." Very true, innit?
glenn
said on 26/Sep/07
i know.rob should touch up on the descriptions.
MHouillon
said on 25/Sep/07
Only description for Eric is "English singer"...?
What about "Guitar-player, called "Slowhand", most famous for Layla and Tears in Heaven" ???
Glenn
said on 3/Jun/07
I was 5-7 in this pic.1992.
Anonymous
said on 31/May/07
clapton wouldn't take a picture with me either. in this picture he MUST must must be wearing lifts. he is not an inch taller than 5'8'' .
Chris
said on 30/May/07
What's that white thing coming out of Eric's ear?
glenn
said on 18/Apr/07
jack bruce is around 5-6.maybe 5-5.
Robert.R
said on 22/Jan/07
He always looked alot shorter than Ginger Baker with Cream. Does anybody know how tall Jack Bruce is?
Glenn
said on 7/Jan/07
Keep in mind I was 5-7 here.but Im standing straight as I can,he isnt.5-10 peak is possible.he is 5-9 now.
Anthony
said on 6/Jan/07
I always thought Clapton was at least 5'11. But now I think he's 5'9. Like most small rockers, his presence and choice of footwear made him come across as taller.
Chris
said on 20/Nov/06
I saw a great picture of Clapton and Keith Richards from the end of the 80:s. Clapton looked 1 inch taller. I guess 5'10'' is correct for Clapton and Richards is 5'9''.
Glenn
said on 6/Sep/06
Yeah,but looking 5-9 towards the end.
mcfan
said on 5/Sep/06
Click Here
Jerry Garcia was 5'10? I never knew his height.
Glenn
said on 22/Jul/06
1990.this was 1992.and the last time he posed with a fan.
iris
said on 21/Jul/06
my question regarding this picture would be... How long glenn has been doing this?
clapton fan
said on 25/Jun/06
In a lot of the old 70s photos Clapton was wearing high heeled boots.
I've never met him, but I'd guess a strong 5-9" - 5'10"
Glenn
said on 10/May/06
Stallone pose forever!
Chris
said on 9/May/06
Yeah! He is not 5'11''. Could he have shrunk a bit? Maybe he was 5'10''? Thanks Glenn, I see you used the Stallone posture:)
Glenn
said on 6/May/06
He also said to my friend during the CREAM reunion,he was done signing.another friend last night who desperatly wanted this photo for years,told me the shocking revelation that Clapton told him once"I dont take photos after my son".how weird is that? a Clapton is worth 300$ and way upwards depending on the item.the most I ever sold something for was 400$ for a MARS VOLTA.how bizzare is that? prices vary depending.20$ is common,and so is 50$ and 65$ as far as pricing.
Glenn
said on 6/May/06
yeah,J.this is the Holy Grail of all photos.harder to get thatn Michael Jackson.Im not kidding! this was the last photo he took with someone on the street! 1991!
[Editor Rob: is his autograph worth much, it must be if he's not signing much? Incidentally Glenn, what's the best auto you ever sold or got?]
Glenn
said on 5/May/06
Correct on Baker.and on the Blind Faith alternate album cover,Clapton looks 5-7 to 5-9 next to him.
J.
said on 5/May/06
Clapton's facial expression is not the friendliest in the photo above. He wasn't the friendliest, huh, Glenn? I've heard he is difficult to work with. He only looks a tad over 5'9" in the photo above but then again, his posture isn't as perfect as Glenn's. So, maybe 5'10" is possible.
D. Ray Morton
said on 5/May/06
Glenn, Baker is 6'1.5"-6'2". He might've been 6'3" back in the day (or should I say the "daze"?). What an odd man.
Glenn
said on 5/May/06
I told you guys he wasnt 5-11.read what Bruce said.
Editor Rob
said on 5/May/06
Does Clapton have a clone? A shorter double like Elton John that he sends out?
Maybe this is the explanation for 171cm Glenn (I think you said you were young then glenn and were about that mark age 19?) looking not that much shorter than the Legend!
Bruce
said on 14/Apr/06
I stood next to him backstage at a concert in the 70s and I thought he was around 5'7". I'm 5'9" and he appeared surprisingly short to me.
mcfan
said on 29/Mar/06
Clapton was probably slightly over an inch taller than Harrison in his prime:
Click Here
Clapton looks like he shrunk a bit and is probably only 5'9.75 now.
Glenn
said on 23/Mar/06
In person he looks 5-9.my friend laugh at the 5-11 as well.maybe he was in his youth.I post my photo with him one day.he looks 5-9.5 in the photo.
MHouillon
said on 23/Mar/06
I first realised that Rob's only description for Eric is "English singer"...?
What about "Guitar-player, called "Slowhand", most famous for Layla and Tears in Heaven" ???
MHouillon
said on 22/Mar/06
The pictures from Chris are exactly the kind of pictures that I was talking about. In one, George stands closer to the camera, Clapton has not the best posture. In the second pic, they are sitting! Nice pictures, but not worth comparing heights with another.
Chris
said on 22/Mar/06
A picture of Cream
Click Here
MHouillon
said on 22/Mar/06
Clapton 5'7-5'9 ? No chance! He looks a definitely 5'10.5-5'11 (179-180) just like Rob has him listed at. Have you ever seen the queens jubilee of 2002, Glenn ? Most every living legend was there, standing on one clear stage and you can compare many stars (thats what we say for celeb in Germany) with each other. And there was Mr. Clapton, too. A photo is not always the best thing to compare a height. (Bad posture, different or sloping ground). Don't get me wrong, photo is good. Filmed material is better. Especially wide angle with visible ground (just like in the "party at the palace - the queens golden jubilee").
Glenn
said on 28/Jan/06
ive seen the guy 30 times.and have photo proof.5-9 and half tops.look at the cover to the blind faith cd.the cover where the group is on.not the rare original.clapton looks 5-7 to 5-9 next to ginger baker who I believe is 6-2.
snrub
said on 27/Jan/06
There is a photo for his record "just one night" he is leaning a fender strat against his leg and it reaches to about his waist, a fender strat is 25.5 inches
Anonymous
said on 23/Jan/06
Clapton could be wearing huge boots in the photo w/ Ringo + George
Chris
said on 22/Jan/06
A friend of mine met Clapton outside Grand Hotel in Stockholm the day after a concert in 2001. He saw Clapton coming out and he ran towards him. They talked for maybe 5 minutes or more. He was very friendly. My friend is only 5'4'' but he knows that everytime he see a celebrity, he take notes about the person´s height. He said that Clapton was (5'11½-6 ft'') with shoes on. Then I compared my father who´s standing 5'11 1/4'' with shoes on. My friend said Clapton looked (2-3) cm taller than my father. So he can´t bee 5'9''. And trust my, he is good estimating heights :)
Glenn
said on 18/Jan/06
a friend of mine also agrees when he ran into him that he was 5 inches taller than clapton,and my friend is 5-11.lifts?
Glenn
said on 18/Jan/06
5-9.tops.
Andy
said on 16/Jan/06
well, I recently watched the "crossroad guitar festival". I looked in particular the song he played with Carlos Santana, who is exactly 1.75, and Clapton looked exactly 2 centimetres, (maybe 3), shorter than Carlos. So Clapton is max 1,73!!!
Chris
said on 27/Dec/05
Look at this picture. Clapton looks at least 6 feet.
http://www.uppa.co.uk/search/comp.bhtml?caption_id=464108&collection_id=10001&results_view=&first_match=
Dries Van Dongen
said on 4/Dec/05
He's shorter than 5'11". Maybe 5'9".
CelebHeights Editor
said on 12/Oct/05
From an email by Ernie:
"Eric Clapton walked directly by me at a show in Charlotte, NC. He was exactly my height, eye-to-eye and I am exactly 5 feet 10 inches tall."
kmoon
said on 3/Oct/05
Well, he seemed a lot shorter than Steve Winwood & I know Conan O'Brien is 6'4", but he absolutely towered over Steve Winwood when Steve was on "Late Night" so how could Eric Clapton be 5'11 or even 5'10" for that matter?
[Editor Rob: I've no idea, maybe winwood slouches? I would say for Clapton: www.uppa.co.uk click guest and in search box enter
oldman clapton to see him beside gary oldman or
B115_083601_1108 to see him near george harrison and ringo starr]
McFan
said on 11/Jul/05
He appears to have been about a half-inch taller than Lennon in "Live In Toronto." I kind of think Lennon/McCartney were 5'10 and Clapton was 5'10.5. He was taller than McCartney by about the same half-inch.
Mr. R
said on 4/Feb/05
This seems high. He is usually listed at 5'10", and that seems closer to the truth.