Stevie Nicks Height
5ft 1 ½ (156.2 cm)
American Singer from Fleetwood Mac. She says of her height in In News Weekly
"Well my boots are the perfect height and I don't know exactly what that is. But I'm five foot one and a half and they make me almost five foot seven.That's six inches, yeah"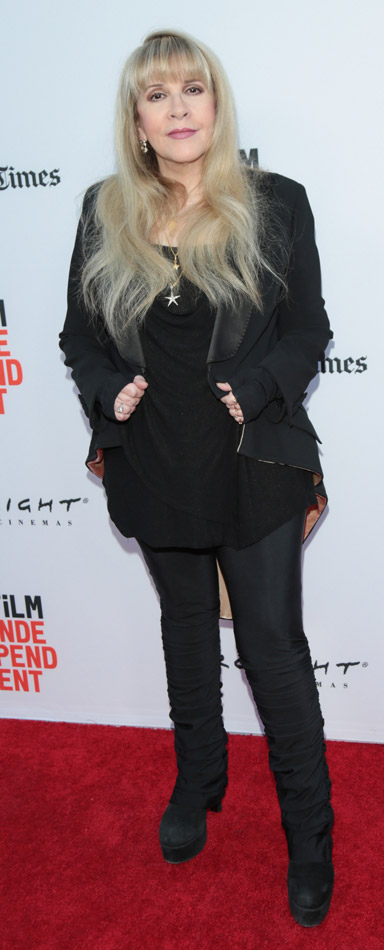 Photos by PR Photos
You May Be Interested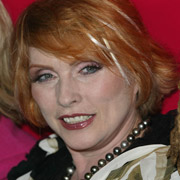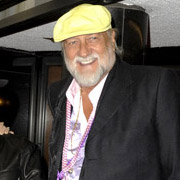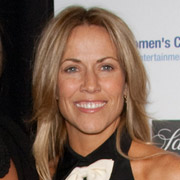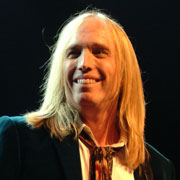 Add a Comment
85 comments
Average Guess (8 Votes)
5ft 1.13in (155.3cm)
Miss Sandy Cowell
said on 26/May/20
💐🎂💝 Happy Birthday 🎶 Stevie! 💝🎂💐
Many Happy Returns to Stevie Nicks, who turns 72 years young today. Have a great 'n' musical day, Stevie! XX
5ft1.5 😃🌞🎉🎵🎧
💐🎂💝🎶💐🎂💝🎵💐🎂💝🎶💐🎂💝🎧
Littlelee5ft6
said on 28/Jan/20
Great singer not great at maths 5ft 1.5 to almost 5ft 7 would be 5 inches. Though unlikely any of her heels would get her up to almost 5ft 7. They'd have to have a few inches of platform on the front
Miss Sandy Cowell
said on 20/Jun/19
Stevie has just been singing the song 'Seven Wonders' on 'American Horror Story', appearing in a big black top hat and high heels! She didn't look small at all! 🎼🎶
Miss Sandy Cowell
said on 1/Jun/19
⭐ I have been rendered pretty much speechless throughout my watching of 'American Horror Story', but can you just imagine seeing an episode entitled 'The Magical Delights of Stevie Nicks', only to find that she actually STARS in it? 😄👏
One of the young witches is crazy about Stevie, so the name of the episode didn't present any surprises, but that she's actually in it DID! I swore that I'd give my little white phone a rest for a while in order to get into some serious viewing, but the seeing of such a legendary rock songstress popping up in what's rapidly become my favourite series of all time was just too much to be able to leave the overworked little white number alone, so as to express here and now this momentous shock and feeling of elation. 🤭
And to think - Stevie has barely even stood up yet; she has been sitting at her piano and playing 'Rhiannon' in front of a delighted audience of young witches. The experience has reduced them to the bunch of the teen girls that you know lurks beneath the surface of each and every one of them!
I'll be back later with my height observations.
🎼🎧🎹😁📏🎶🎧
@ Rob - Surely this earns Stevie Nicks a mention in the 'American Horror Story' section? Thanks! 😉
Miss Sandy Cowell
said on 2/May/19
I DO go for 5ft1.5 instead of the average of a flat 5ft1. She was photographed next to the gigantic Mick Fleetwood, and not in shoes either, for the 'Rumours' album. Anyone would have been forgiven for thinking she was 4ft9!
🎛️🎤🎼🎵🎶
Adey P
said on 20/Sep/17
She's 'on the edge of'............. 5ft 2!
Brian k Dushaney
said on 25/Mar/17
A very beautiful talented gorgeous woman with a great voice I love her Music.
Claire
said on 27/Feb/17
I am a big Stevie Nicks fan and she is indeed 5' 1/2" tall. Her beautiful suede boots go really well with her whole unique style and onstage (and offstage) persona.
Sonia
said on 13/Dec/16
She can barely walk onstage in the ugly five inch things she has worn on the sixteen tour. Girl just wear regular footwear, we know you are tiny.
mjkzero
said on 21/Apr/16
any chance of adding lindsey buckingham rob
keys
said on 6/Dec/15
No page / positive height for Lindsey Buckingham, Rob? His IMDb page lists him as 5'9.5", and I remember reading on another website that he's 5'9". He doesn't look very tall. Indeed, he's much taller than Stevie, John and Christine, but I think the 5'9" range—even in his younger days—is accurate. That hair may give him an impressional boost! What do you think, Rob?
Brad
said on 1/Mar/14
Doesn't lie, she's as listed and rarely seen without the big ones.
Chareth
said on 19/Nov/13
Never thought she was this short
E Rich~Dare II
said on 9/Apr/11
Stevie, with all her stauesque performance, is taller than many I have heard in my worldly travels. She will always be my 'Doll', and the thrill in my heart.....
Alexx
said on 4/Apr/08
I'm sorry, I just have to say this: Glenn, you're beautiful with long hair.
Anthony
said on 14/Jun/07
I saw Stevie in concert last night. She seemed 5'1.5 minus the heels. Great performer, too.
Anthony
said on 19/Nov/06
You're welcome, Glenn. Sadly, the pic doesn't work, at least for me.
Glenn
said on 19/Nov/06
I dont think I saw that post.thanks for backing me Anthony.
Anthony
said on 28/Sep/06
Glenn is 100 % correct on Mick being a solid 6'7. I posted this pic awhile back, and here it is again. Mick looks at least 6'7 in it.
Click Here
Gonzalo
said on 27/Sep/06
Mick looks taller than 6`5. In the Fleetwood Mac`s greatest hits it is said that Mick was 6`6
Glenn
said on 19/Sep/06
Again.he was 6-7.
Brad
said on 18/Sep/06
He played a dumpy club near Boulder Colorado about 20 years ago & Stevie showed up to sing & shake anything sitting about. Same height as me 6' 5". Stevie is amazingly tall in those suede boots compared to her 5' 1" frame.
Anthony
said on 15/Sep/06
Nice pic. Glenn's got a good lean going on there.
Glenn
said on 15/Sep/06
Your good at disappearing Haylie! yeah I was bending over big time.the photo is for a true fan like you to appreciate!
Haylie
said on 14/Sep/06
I'm back. . lol! OMG Glenn that is such a cool photo!! Thanks for posting it! You look like you're leaning A LOT she could be closer to 5'0.5 or 5'1 hmmmm.
Glenn
said on 10/Sep/06
He was 6-7 in his prime.
LA
said on 9/Sep/06
I've been within 5 feet of Mick Fleetwood many times.
He's 6' 5" or 6' 6" for sure.
Glenn
said on 24/Aug/06
There should be a pic of me and Stevie any second now.
Glenn
said on 18/Aug/06
J-didnt see your post.I go on computers all the time.sure,that would be great.thanks!
J.
said on 17/Aug/06
I don't want to deviate further from Stevie Nicks' height, but as for Me'shell in a '94 web chat, she said "I'm 5 feet tall". So, to connect it to Stevie, they're around the same height!
Haylie
said on 9/Aug/06
OMG I haven't posted here for a while because I went on holiday and now I get back I'm so confused LOL
If Stevie ever comes on here she's gonna find it a bit strange!
D. Ray Morton
said on 6/Aug/06
J. - I *love* North African stuff, especially the stuff from Morroco and Algeria. Even the slickest of pop that comes out of those countries (Cheb Khaled, Cheb Mami, etc.) is always interesting and it always grooves. Yeah, that was an old boyfriend you were thinking of. Btw, Hassan's playing here in about a week (the 12th, I think?). Check him out sometime.
Sorry to hear that about Manchester - it seems like that's happening *everywhere*. Even the town I grew up in has changed so much since I lived there that in places it's almost unrecognizable. Kind of the reverse of the Talking Heads lyrics "There was a factory/now there are mountains and rivers." Sad, really.
Glenn - good point. In people like Paula's defense, though, some actually get into for the purity of the art - without a thought about the business - and are mighty surprised (in a bad way) when they hit it semi-big and the monster of fame starts to invite their lives. Which I guess I can sort of understand. OTOH, you can't have something for nothing. The people I really don't feel sorry for at all are those were seeking fame in the first place (which I find a little weird to begin with) and complain about it and denounce it when they find it.
Listen to me going on like this. Sorry, Stevie.
J.
said on 1/Aug/06
I could see someone like Paula being uncomfortable with the whole 'fame' game. She may have been bustling from the pressure when she came across as being short or mean to her public. And obviously, her public would read into that differently. Thanks D.Ray, for the info on Hassan Hakmoun. I checked out his website, he seems interesting. I've been meaning to get into more North African sounds. See, I got him mixed up because I remember a 1998 Rolling Stone profile on Paula and she had a picture with a Nigerian artist (or film director, maybe) that she was dating. So I assumed that was who she married. And yes, I'm a Manchester boy. lol. It's turning into Consumerism City. Nothing but chain franchises and more chain franchises being building, even in the strangest of place. I've been to Danbury a few times. They have a very nice mall. Glenn, if you wouldn't mind, I could e-mail you some of Me'shell's stuff. Although I'm wondering if you could properly hear it on a cellphone. Let me know, if you're interested though.
Glenn
said on 30/Jul/06
Then Paula shoudve product on an independent if she couldnt deal with fame.as for Me'shell I guess I didnt know about.what I did hear didnt do much for me at the time.maybe now it would.maybe Ill search a used cd.Cole was sweet when I met her.guess it was a short period when she was mean.
D. Ray Morton
said on 30/Jul/06
Glenn, maybe 5'8", but I think closer to 5'7" (minus footwear). Yeah, I've heard the "mean stories," too, but I have to say, I never saw it.
"doesnt she wish people were chasing her now."
Tend to doubt that. I don't think she was too comfortable with the fame part of success.
Me'Shell I prefer live to what's on her records. Her band is always ridiculously tight - and the tunes always sound better than the studio versions.
J. - yeah, since '96. I haven't seen her in...almost two years now (alas).
Paula's husband is Moroccan, actually (and a great musician in his own right). His name is Hassan Hakmoun.
You're from Manchester? I grew up about an hour from there in the Ridgefield/Danbury area.
Glenn
said on 26/Jul/06
I think your more accurate on the names Dr.Ray.at least Im close.I know the names you mention,but not the music.I never cared too much for Meshell musically,obviously a great bass player.obviously,I dont know nuff bout her,I guess.I THINK? I met her with Mellencamp.not sure.foggy on that.yeah,I did see her a bunch of times,its coming back to me.always in the NBC building,I think jamming with Lettermans band.I would say 5-8,5-9 on Cole no?,I couldve sworn she was bigger than me.footwear?met her before her short fame.heard she got mean too.oh well,not doin much now.doesnt she wish people were chasing her now.
J.
said on 26/Jul/06
You know Me'shell, D. Ray? Wow. She's a musical genius, that's for sure. And yeah, she's in the 5'1" range, I believe. When's the last time you've seen her? Is Paula's husband a Nigerian artist? I might be getting him mixed up with someone else. I was raised around Manchester. Which part are you from?
D. Ray Morton
said on 26/Jul/06
Sorry to chime in again, but I've known Me'Shell for years. Amazing person. (Oh, and she's tiny.)
Paula C. I've met many times (5'7" or so). Her husband is a friend of mine.
I was raised in CT, J. Which part are you from?
D. Ray Morton
said on 26/Jul/06
"She wrote it herself!"
Ha. Such a sad commentary, isn't it?
Yeah Glenn, Joni does look tallish. I'd go along with 5'8". I was just watching one of her shows with Jaco (tall), Metheny (5'5"-5'6"), Don Alias, etc.. Transcendent stuff, just brilliant.
Carly I used to see all the time. She's pretty tall, I think, maybe 5'8". James is very tall at around 6'4".
Fiona was closer to 5'2" (maybe a little less) when I saw her last. Maybe she's taller nowadays? I'm gonna see her today, btw. (Woohoo!)
Stevie's a Wiccan, I believe. (Blessed be)
"I give props to old salsa,merengue,and bachata."
Glenn, you into Los Van Van, Son 14, stuff like that?
Glenn
said on 25/Jul/06
I used to think The Dance was a stupid title for a cd.a few years ago I finally GOT it.its a witchcraft term.Stevie is involved in some way.
Glenn
said on 25/Jul/06
Joni is probably 5-8.Fiona is 5-3 or so.I always see Carly,she lives here(5-7?).Im bad guessing womens height.plus I was never interested cause its ok and normal for a woman to be short.my friend knew Janis(5-5?).Amos 5-3?.I dont know much about Buffy.what is she like? Liz Phair is mean!(5-4?).I forgot about Behind The Mask.its been great! lets keep it going!
Glenn
said on 25/Jul/06
Sf-yeah,he can play anything,even a ripping heavy metal solo. Haylie-Im OBSSESED with music and Im glad you like discussing it! mainly,I listen to all forms of metal.traditional metal(Maiden),black metal(venom),death metal(entombed),thrash metal(anthrax),power metal(manowar),pop metal(van halen),and loads more forms of metal such as industrial,gothic, jazz,funk,punk,hardcore,experimental,etc.and my second love is new wave.I love Echo and The Bunnymen,New Order,Joy Division,Ultravox,Human League,The Police,Depece Mode,The Cure, etc.I love classic rock acts,not really the corny same songs they play on radio.I hate radio and tv.Im into alot of experimental music.John Cage,Brian Eno etc.love dark, experimental folk.Nick Drake,Tim Buckley etc.I love disco,dance,tecno,electroclash.I HATE numetal(KORN),most rap(like old),most country,most r&b and soul after 1986,reggae after 86.REGGAETON is the worst music I EVER heard.I give props to old salsa,merengue,and bachata.my 3 fave bands are Iron Maiden,Van Halen,Sabbath.
Haylie
said on 25/Jul/06
sf none of my comments have really been about height recently (Sincere apologies to Rob :-) And yes I can't begin to say how talented and underappreciated Lindsey is! If you want demonstration of this listen to 'Murrow Turning Over in His Grave' (on Say You will)- it's the one with the amzing guitar solo!
sf
said on 25/Jul/06
Just another comment, but Lindsey Buckingham is one hell of a guitarist. In my opinion, very underappreciated. That man can finger-pick an electric guitar the way the way the greats finger-pick a classical guitar. He is phenomenal. Sorry this wasn't about height.
Glenn
said on 24/Jul/06
Mick was 6-7.I dont remember those titles well Dr.Ray.must relisten.
Haylie
said on 24/Jul/06
Glenn I could talk music with you ALL day lol! It's really great to talk to someone who knows so much about music!
The Dance is a live album but a really good one! I can't get over how their voices sound exactly the same live (especially Chris- it's scary!) Before 'Say You Will' it had been about 15 years since Lindsey had done a studio album with The Mac, his last was Tango (he had to get out because being in a band with his ex-girlfriend (Stevie) was messing him up, he left just before the tour and Stevie was furious!) . After Lindsey left they brought in Billy Burnette and Rick Vito to do the Tango tour and they did another album 'Behind the Mask' (there are actually some decent songs on that 'Skies the Limit' and 'Affairs of the Heart' but over all I didn't like it) then Stevie left and they didn't do anything until The Dance!
I love Joni too, 'Court and Spark' is one of my favourites too, along with 'Blue' and 'Hejira' (basically because of the song 'Amelia'- I just love it). My favourite songs of her's are 'California', 'A Case of You', 'Amelia' and 'Both Sides Now'. I can't get enough of her voice it's so beautiful, her range really amazes me. I also love hearing her sing about all the places she has travelled, works wonders when you are sitting bored in your house! Oh and I think she is fairly tall!
Who else do I like? Your in for a long list there lol! Well The Mac and Joni are my first loves as well as Tori Amos, Bonnie Raitt, Buffy Sainte-Marie, Carly Simon and Janis Joplin (it kills me when new artists crusify 'Piece of My Heart). As far as bands go I love Heart, Tom Petty & the Heartbreakers ('I Need to Know' is my total favourite), The Pretenders (LOVE Chrissie Hynde), Blondie, The Doors and The Rolling Stones
I'm not really big on newer artists I just don't think they have the same appeal to me but I do like Fiona Apple a LOT and also Liz Phair, Jewel, The White Stripes and Indigo Girls. I went through a faze of loving 90's grunge, Hole (the best thing they ever did was 'Live Through This' IMO), Bikini Kill, Babes In Toyland. I've probably forgotten lots!
What about you Glenn, you know much more about music than me! What are your favourites and opinions? I LOVE hearing them!
D. Ray Morton- ALL of FM are criminally underated IMO! I wish I had lived through the 'Rumours' era yoo're lucky!
'Led Zeppelin? Don't know much about him, neither' lol! That's the kind of thing I get when I talk about music in my school, that and 'have you heard Lindsay Lohan's new song 'Edge of Seventeen? She wrote it herself!' ahhhhhh!
D. Ray Morton
said on 24/Jul/06
Anyone like "Shadows And Light" or "Chalkmark In A Rainstorm?
D. Ray Morton
said on 24/Jul/06
"Especially in the UK if you say you like Lindsey Buckingham, the general response is 'Who's SHE?'"
Ha. "Led Zeppelin? Don't know much about him, neither."
I love Fleetwood Mac. Their music takes me way back to 19*cough cough*, when I used to listen to "Fleetwood Mac" and "Rumours" constantly. Ah...early musical memories.
I met Mick in '95...very tall, probably 6'5" or 6'6"...and a criminally underrated drummer.
Glenn
said on 24/Jul/06
Ah,Joni,another sometimes enigmatic recluse.whats your fave cd? I think mine is Court And Spark.reckon she isnt short,could be wrong.its been great talking music with you! who else do you like?
Glenn
said on 24/Jul/06
I was wrong again,Rumours was around their 11th studio lp.around 10 lps before they hit big.I say around,cause though I have alot of music discographys,I only refered to my Billboard book,which is what sold and charted in the U.S..Pious Bird lp I cant remember if that was a compilation or studio lp.that would put Rumours as 12th studio and 16 or 17th release overall,including live albums and compilations,which I never count.I cant stand comps,greatest hits and Im not big on live releases,though are loads of great concert lps.75% of music lovers study lyrics,so thats normal.other than 80s situations of me trying to decipher lyrics if no lyric sheet was found,I rarely pay attention since I am so involved in the music studying every note.other than seeing the historical set in 1993 playing for the President,I never saw a full set.what was before Say You Will? The Dance? and that was a live cd anyway correct? what studio cds are there besides Say,since they reformed in 1993? eventually I need to get some Chris.
Haylie
said on 24/Jul/06
Yep Tusk is brilliant, the first time I played it for all my friends it really freaked them out! Now it's a standing joke wherever we go we shout 'TUSK!!!!' randomly! I totally love the mix on that album of Stevie's signature mystical and emotional songs, Lindsey's angry and often quite strange pieces and Chris' sweet melodies. I DEFINATELY agree that Lindsey is underated!!!!! I've has so many arguments with my friend's dads about that lol! Especially in the UK if you say you like Lindsey Buckingham, the general response is 'Who's SHE?'
I've been meaning to check out their older stuff for ages, I'll do it soon especially if Chris is on one of them!
I always had Chris pegged about 5'5, maybe more towards 5'6 (though I can see your point about 5'7) as she does look quite a bit taller than Stevie and in 'Stevie Shoes' she's really close to John's height.
Chicken Shack are really quite bluesy but even although I'm not into that I love it because Chris' voice is so beautiful. Their stuff is really hard to find I've only managed to get a few songs. They were a British Blues band and did more clubs and touring more than anything. It is similar to Chris' solo stuff actually. I'm not sure if you'd like it. Her self-titled album from the 80's is probably the best, 'Got a Hold on Me' was probably her biggest non-Mac hit. I also really like 'The Legendary Christine Perfect album' a lot of the stuff on that is similar to that on 'Fleetwood Mac' (tha album, stuff like 'Warm Ways' and 'Suger Daddy'). Chris' albums are a lot smaller scale than Lindsey's or Stevie's but IMO that makes them really sweet and honest and she is really talented.
I adore 'Say You Will'!!! (FM's latest CD) I thougt it was incredible when I first heard it, I played it over and over in my art class. 'Bleed To Love Her' has turned into one of my all time favourite songs, and I also love 'Everybody Finds Out'. I went to the tour for that album, AMAZING!! The best gig I've been to and I've been to quite a few gigs.
Funny thing is lyrics are really important to me when I listen to music, always have been and I'm not sure why. I think that's why my two favourite singers are Stevie and Joni Mitchell because they are so good at that. Quite amusing- I've just noticed I refer to the members of Fleetwood Mac on first name terms like I know them, it's not Christine even, it's Chris lol!
Glenn
said on 23/Jul/06
Haylie-yeah,Im losing it alright,I forgot that Tusk was the first LP that I got into by them in 1996.smashingly original.if your ever bored and have extra cash, pick up the earlier cds,actually,its only the first 3 thats really bluesy.I recommend Kiln House,Mystery To Me,Bare Trees.my mistake,apparantly,Mcvie is on the 4th lp on.I dont recall her singing.Heroes are Hard To Find,I dont recall well,but might be more towards your liking.as for Mcvies Height,I dont recall well,but I know she isnt short.average.5-5 Ill bet money on.even unlikely,but small possibility,she could be 5-7ish,but thats maybe me getting confused on footwear.Tango did suck,I remember it when it came out.to my shock and delight,that last cd was phenomenal and even had a heavy metal guitar solo and a metal song! I was stunned.Buckingham is underated.what was Chicken Shack like? do think Id like Mcvies solo? thats one thing weird about me,is I was never big on following lyrics.now Im off to find my Mac cds,dont know where they are!
Haylie
said on 22/Jul/06
Wow Glenn that's some collection of music! I haven't heard much of the older stuff (before Buckingham/Nicks came into the equation)as I'm so in love with the whole Rumours era because it's new to me. I'm just finding out about the whole 'musical soap opera' they had going on. I had never heard any of the music before but I can see why people feel it is 'over-played'. I think I prefer Tusk though, now that is what you would call 'bizzare pop'. I happen to really like 'Sara' and 'Sisters of the Moon' from that one. I really like their self-titled album too- that has some great Chris McVie stuff on it like 'Sugar Daddy' and of course Stevie's 'Rhiannon' (one of my all time favourite songs!!!)I'm not really big on 'Tango In the Night' and I only like a few songs on 'Mirage' (especially 'Gypsy').
Speaking of Chris I can imagine she's sweet, she always seems lovely in interviews. I'm about as big a Chris fan as I am of Stevie (well, almost. I'm not mad about blues either but I really like a lot of the stuff she did with a band called 'Chicken Shack' before joining The Mac. I like her solo stuff too, though she really peaked in the 80's with that. Her newer album is has some really sweet catchy stuff on it too though. She amuses me too, I remember in one interwiew, she randomly came out with 'A duck walked into my kitchen this morning!' LOL!
Oh! And just to clear something up- What height is Chris Glenn? None of her fans can seem to figure it out! lol
As for Stevie I think you either love or hate her solo work. I think her mystical lyrics often put people off, but that's what attracts me to her, I just like that sort of thing, can't explain it. 'Wild Heart' is another good one of her's, I love the title track!
Glenn
said on 22/Jul/06
Rumours was the reason I ignored them in the first place.good album,no doubt,but to played out.I like the self titled better.and Im with you,Im not crazy about her solo stuff.one of them was good,the rest I found overated.
J.
said on 22/Jul/06
I'm the same way. I ignored Fleetwood Mac until I got my hands on a 99 cent copy of Rumours. Greatest pop album. I also own their self titled effort with 'Landslide'. And yes, their earlier and less commerical, bluesier recordings are also great. Other than Edge of Seventeen, I'm not really that big on Stevie's solo career although I did own Bella Donna, the LP with the aforementioned song.
Glenn
said on 21/Jul/06
As a matter of fact,I totally forgot,but like I said in a different posting,I rule the group photos with,I have a pic with me and the whole band! how the hell did I forget that? maybe cause the photos are lost in my house.yes,I met Mcvie many times.very sweet.I have a huge collection of music,10,000 lps and 10,000 cds(23 years collecting) and only 4 years ago,got into the pre-fame,pre-Nicks,Mcvie period.there is like 7 or 8 lps before Rumours.6 or 7 have neither of the girls.Mcvie came first though.those lps without the girls I adore.wow,so many years I ignored the stuff and its so good! Bare Trees is my favorite.as with Kiln House,Mystery To Me,Pious Bird Of Good Omen.the early stuff was great and all over the place.Im not big on blues,but their blend of heavy blues and original,sometimes bizzare pop,was a great combo.then it got to sappy for me.and I love pop and sap,but I guess Rumours got played out a bit.I liked one Nicks lp.cant remember which.they hate the Buckingham/nicks,they banned its release.
Haylie
said on 21/Jul/06
I LOVE the Buckingham/Nicks album it's so amazing! I dement my mum by playing all the time! My fav song on it has to be Frozen Love or maybe Don't Let Me Down Again. I don't have it on LP I've managed to 'aquire' it on my computer lol! I wish they would release it I bet it would sell well. My fav Stevie CD is a toss between Belladonna and Trouble In Shangri'La.
I've heard she doesn't like getting photos taken in an 'uncontrolled environment' (don't blame her if I was a star I think I would have to make sure I looked half decent before any pic was taken lol).
Are you a Mac fan by any chance, Glenn? Did you manage to meet Chris now she's retired from the band and lives in england?
Glenn
said on 20/Jul/06
Haylie-I met her a bunch of times in 1993 and it was hard to get near her or get her attention due to security and klonopin.she would sign on occasion,but always ignore or turn down photo requests.then one day I got her attention and she posed.havnt seen her since,though I know where she stays when she is in town.the other members I see all the time.whats your fave nicks cd? do you have the out of print Buckingham/Nicks album? never on cd.they dont want to rerelease it.good album too.I have it,along with a bootleg cd of it. Larry-thanks for the words and thanks for the insights on the worlds I dont know! Id like to trade places sometimes!
Haylie
said on 20/Jul/06
That's so cool Glenn, and you can't get much more of a real Stevie fan that me lol! Aww the klonopin era, not such a good time for Stevie, but I do hope you find the pic even if she doesn't look her best (Sometimes people forget how gorgeous she was when she was young!). I'd kill to meet her now! I've only seen her in concert once with Fleetwood Mac in their Say You Will tour, I was too young to see The Dance.
Larry
said on 20/Jul/06
Haylie - AMEN on Glenn! He is the hard data guy & (as a scientist) I love the data! :-) His photos are great!
Glenn
said on 18/Jul/06
Yes,Haylie,1993.klonopin is heavy duty.thanks for the words,I do it for people like you.real fans to get a touch of the truth.
Haylie
said on 18/Jul/06
Thanks so much Glenn! You'd never be worthles to the site! I can't believe Stevie is shy, she's mentioned stage fright before but I would never have guessed! Maybe you met her in the early 90's during her Klonopin addict era. No matter what I still love her :-)
I'm also with Rob on how I can't believe you have pics with a lot of the A-list celebs!
Glenn
said on 18/Jul/06
Oh,and not to toot my horn too much,yes I think that you and I,Rob are the most accurate at height.yes,Sly was 5-10 in youth,and some of you,including Rob,know it.
Glenn
said on 18/Jul/06
Thanks Rob.its good to hear Im appreciated.theres WAY more to come! Im in the top 10 at #10 in the world.theres guys that blow me away.dont forget the L.A. scene! I know this one guy that had Lennon,Jim Morrisson and him in the middle of the Godfather cast! he rules supreme!.Marliyn Manson,who was a tough one,was so impressed looking at these guys pics,he said he had to take one with him! my claim to fame is my entire band pics(Maiden,Halen,Metallica,Slayer,etc).and I have Roy Rogers and Wolfman Jack,which no one has those 2.oh and 7 photos with Deniro! most dudes dont have one!
Glenn
said on 17/Jul/06
Haylie-you can never be annoying,without people asking me questions,Id be worthless on this site,well besides the great pics.thats what Im here for.Stevie signs here and there,but isnt keen on posing and is very shy.actually,I hate to mention this,and was going to have you email me,but she is heavily medicated.I believe I heard for anxiety,which,without meds I suffered and conquered.
[Editor Rob: great pics yes, estimates aswell don't forget! I think you have by far the biggest collection of 'fan with celebrity' pics on the internet...I've seen some guys with several hundred, but your collection is pretty huge and covers a ton of the a-list movie folk.]
Haylie
said on 15/Jul/06
Glenn, I'd say your estimates are usually quite good Glenn, I always thought Stevie was between 5'0.5-5'1.5. I know this hasn't really got a lot to do with height but I am a fan, what's Stevie like Glenn? (*Haylie is sorry if she is being annoying*)
Anthony
said on 14/Jul/06
I don't know, in that one pic, Mick looks closer to 6'6 or 6'7.
Viper652
said on 13/Jul/06
I beleive Mick Fleetwood has always been 6-5.
Glenn
said on 13/Jul/06
Yes,Haylie.Ill post if I ever find the pic.rare that she poses.she always wore monster heels.5ft would have been my guess.of course Im probably wrong.
Anthony
said on 12/Jul/06
Even nowadays, Mick can still look over 6'5.
Click Here
Probably 6'5 barefoot and 6'6 in shoes. He's quite simply a very tall man.
Haylie
said on 11/Jul/06
I agree Anthony I would say 6'5 for Mick right now too! And OMG Glenn have you met Stevie??
Anthony
said on 7/Jul/06
Yeah, judging by that third pic, I'm led to belive that 6'5 is Mick's current height, and that he was even taller when he was younger. I'm also surprised at how thin he looks in the first and third pics (sadly, the third isn't working anymore). He's realy filled out over the years, so that might have caused some shrinkage.
Glenn
said on 6/Jul/06
Mick was closer to 6-7 up until the early 90s when I saw him.saw him 2 years ago,and he was 6-5,with a slouch.
Anthony
said on 5/Jul/06
He might have been 5'11, but I doubt it. He's certainly thin as you say.
Click Here
He looks pretty damn thin in this pic. I'm also curious as to whether or not Mick is wearing pants in this pic.
In this pic, Buckingham looks about 6'3:
Click Here
However, IMO I think it's obvious that Lindsey's wearing heels.
In this pic, there's a pretty noticable difference. Mick looks even taller than 6'5.
Click Here
I'm pretty sure Buckingham's 5'10 - 5'10 1/2 tops. I have a teacher who's 6'5 (I personally think he's 6'4, but he's always claimed 6'5 when asked) and another who's said he's somewhere around 6' - 6'1 (I'd give him 6'0, personally). I've seen them stand next to each other quite a few times, and the 6'0 teacher is much closer in height to the 6'5 one than Lindsey is to Mick. So yeah, 5'10 seems pretty accurate.
I have taken into account that Mick Fleetwood is well into his 60s' and may have lost a bit of height, but if that is the case, I still think that he couldn't possibly be any shorter than 6'3 - 6'4.
Glenn
said on 26/Jun/06
Correct on Lindsey Anthony.
Anthony
said on 24/Jun/06
Buckingham had a thing for platforms, as stated. 5'10 barefoot seems to be the right estimate, 5'10 1/2 tops.
Haylie
said on 24/Jun/06
Thanks Anthony! Like I said those were only estimates, but I'm really not sure about Lindsey being 6ft 1 as his footwear often gives him a boost.
I remember vaguely reading an article in which Lindsey made a comment about Stevie being so short and she retorted with something like 'you're not so tall yourself, why do you always wear heels?' (lol Stevie really amuses me at times!)
I'd probably give him 5'10.5 Chris McVie puzzles me at times she only looks a few inches taller than Stevie and others there is quite a difference. On one fan site fans were trying to gauge her height and the estimates range from 5'5 to 5'10!!!!
Anthony
said on 21/Jun/06
Those aren't bad estimates. Buckingham being 5'10 seems spot on. He comes up a little bit above Fleetwood's shoulder in most pics, so yeah, 5'10 or a tad bit taller. John McVie looks closer to 5'9 to me and Christine can't be more than 4 - 5 inches taller than Nicks, so good estimates.
Haylie
said on 13/Jun/06
Yep Anthony the whole band (of the 'golden' line-up) should actually be listed! I'll give you my estimates (TOTAL guesses because you can't find their heights anywhere):
Mick Fleetwood- 6'5 as said previously
Lindsey Buckingham- I'd say around 5'10, he wore platforms a lot too!
Christine McVie- 5'5-5'6 she often wore Stevie-style boots but definately was a good bit taller than Stevie
John McVie- Really not sure but he looks quite short, maybe 5'8ish
Also I was thinking, Stevie probably hasn't lost any height as she was an amazing ballet dancer (even although she started in her thirties!) and has great posture.
Anthony
said on 10/Jun/06
Nicks always seemed to be 5'5 to me but looking at her now the footwear really adds a fewinches, so yeah, she's a little over 5'1 barefoot. And for the record yes Mick Fleetwood is 6'5. He should be listed IMO. Look at any pictures of him and he towers over his other bandmates, especially Nicks, of course.
Haylie
said on 13/May/06
Just in case your interested Mick Fleetwood is said to be 6'5" and incidently his height was the reason Stevie started wearing her 6 inch heel boots because she "didn't want to blend into the drums" lol. I have no doubt Stevie is around the 5'1 mark.
Haylie
said on 25/Apr/06
This seems correct to me (a HUUUUUUUUUGE Stevie Nicks fan!!!!!) I always thought this and I've read 5'1.5 everywhere however there are some confusing photos with her and Sheryl Crow. I think it's Cheryl who is pretending to be taller as I don't think Stevie cares about her height- she's gorgeous no matter what!
Mr. Whistler
said on 20/Jun/05
Stevie has stated on a couple of occasions that she wears platforms, "the ones with the 6-inch heals"...and also: "Even when platforms went completely out of style, I kept wearing them because I didn't want to go back to being five feet three in a pair of heels." ~Stevie Nicks, Allure, 1995