Traci Lords Height
5ft 5 ½ (166.4 cm)
American Actress best known for roles in films such as Blade, Cry Baby, Excision and TV show First Wave. From a 1985 interview Traci said she was
"5ft 7"
and weighed
"115 lbs"
. Of course, at that time the actress was 17 and in the same interview gave her age as 22 and said she was a virgin till 19. This photo is from a London Film Con in 2014, she had roughly 1.8-9inch more footwear than me.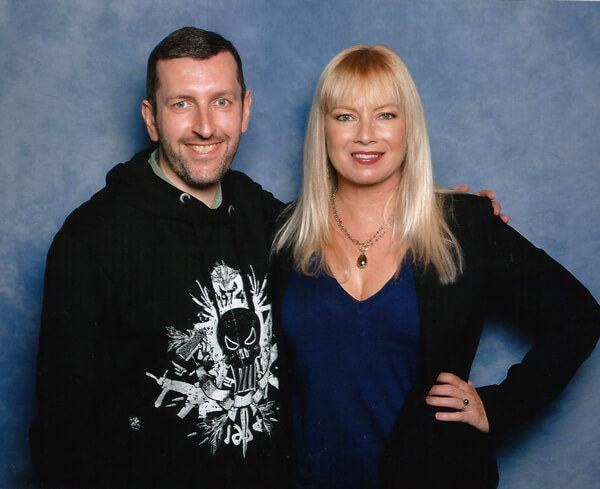 5ft Big Rob with Traci
Add a Comment
23 comments
Average Guess (7 Votes)
5ft 5.54in (166.5cm)
Nik Ashton
said on 27/Aug/20
19 is a cool 🍒!
Nik Ashton
said on 4/Jun/20
Lower - (Height!)! Not 🍒!
Nik
said on 24/Jun/19
She is slightly higher than average for two different things!
GP
said on 7/Jun/15
Rob, you look 3cm taller than her in the above photo, right? So if she has extra 5cm in shoes then wouldn't that make her 165? Correct me if I'm wrong, but I don't think she is 5'5.5".

Editor Rob
there is a chance she is around 5ft 5-5.25 today.
Danimal
said on 2/Jun/15
She's a little older than your gf Rob. How much height has your gf lost? My sister is in her early 40's and has lost between 3/8" and 1/2".

Editor Rob
Jenny has recovered a few mm through a series of exercises I've been getting her to do this last year. She still is at her low a bit under 5ft 8. One of her sisters who is a year younger and has 2 kids hasn't seemed to lose more than a mm herself.
Danimal
said on 2/Jun/15
She's a woman in her late 40's. Most likely was taller in her 20's. Women lose more height as they age than men do. Still gorgeous though.
Lorne???
said on 22/May/15
Haha, if she was claiming she was 22 when she was really 17, that means she lost her "cherry" at 14!
No shame in that, but be honest.
Lorne???
said on 17/May/15
@Shredder: She was 17 when she made the claim of losing her cherry at 19...
Perhaps she's a time traveler(or the wife of one, ha!)
TJE
said on 17/May/15
Well, if this photo was taken earlier in the day, then yea, she's close enough to 5'5.5.
Mason
said on 16/May/15
I'm curious, Rob: how exactly do you determine a celeb's height? Do you go with their peak (i.e., morning) height? And, if that is the case, when you take photos with celebs in the afternoon or evening, do you simply extrapolate based on their relative height to you at the time? Also, when asked your own height, do you go with your tallest measurement, some sort of average (i.e., what you'd be around midday), or will you actually give varying responses based on the time of day? (I assume you wouldn't use your evening height as a default.)

Editor Rob
I'm up 6-7am nearly every day and at any convention will be shrinking to my low range (around 173) by mid-day. So I'm judging from 5ft 8 range.

There's a lot of clues for guessing height. I did a video which is linked on the front page of this site 'how to guess height'. It's also having a mental memory in a way of various heights. So I've measured a lot of people and see them regularly so I know what 6ft or 6ft 2 etc can look like from my perspective...if that makes sense.
J.Lee
said on 16/May/15
Rob, you are taller than other girls listed at 5 ft 8. You are a strong 5 ft 8. Do you think 5 ft 8.25 would still be an acceptable listing for you?

Editor Rob
The height challenge shows me at my low, always about 5ft 8.25 on the device and so nearer 5ft 8 1/8th if measured against the wall. If I took a photo at 10-11am of course I may still be an actual 5ft 8.25, but once I get to 1pm and being up on feet for 5-6 hours I will hit my low.
At cons I get to my low faster than being in my house where I'm well hydrated and back isn't under as much strain.

CD
said on 16/May/15
Looks like 5ft 8.25 vs 5ft 6.75 in pic
Modeus
said on 15/May/15
Lenny says on 14/May/15
( ͡° ͜ʖ ͡°)
Oh my ****ing god Henry is here!!
the shredder
said on 15/May/15
Always thought she was Hot , mostly in the 90's , I lost my V Card at 19 also , wish it was with her though ;) .
CD
said on 15/May/15
This is close, but given the footwear I would say she's closer to 5ft 5 on the nose.
J.Lee
said on 15/May/15
Are you only .5 inch taller than her in this pic?

Editor Rob
more like a decent inch, at this time of day photo taken I would still measure around 5ft 8.25.
Hypado
said on 14/May/15
Traci Lords's height is 5ft 5.5in (166 cm)
Great photo Rob, a 80s ''adult'' movie star.
littlesue
said on 14/May/15
Not too bad a singer either!, she sang on a Manic Street Preacher single called 'Little Baby Nothing
Lenny
said on 14/May/15
( ͡° ͜ʖ ͡°)
TJE
said on 14/May/15
5'5.25 would probably be a better fit.
GP
said on 14/May/15
Rob it appears to me that you are not standing as straight as she is. Is it the case? I can actually see her at 165cm, what do you think?

Editor Rob
well she did look a good inch smaller for sure (and so with the footwear difference I couldn't really see her more than 5ft 5.5)...I think I'm standing ok there.

SHORTY
said on 14/May/15
Is there any possibility she may have lost any height at all at her age? I do know women lose more than men.

Editor Rob
at 46 a fraction is possible.
CelebHeights Editor
said on 29/Sep/05

"I'm 5 foot 7 and a half, 118 pounds"
another 'adult' star, Cindy Margolis.