Wil Wheaton's Height
5ft 9 ½ (176.5 cm)
American Actor best known for playing Wesley Crusher on tv series Star Trek: The Next Generation. In film he can be seen in Stand By Me, Toy Soldiers and Flubber. He has described his weight and height in an article entitled "William F*****g Shatner" as
"even now, at age 30, I weigh 145 pounds at 5'10"
. In 2004's Just a Geek he also claimed to be
"about 5'11" "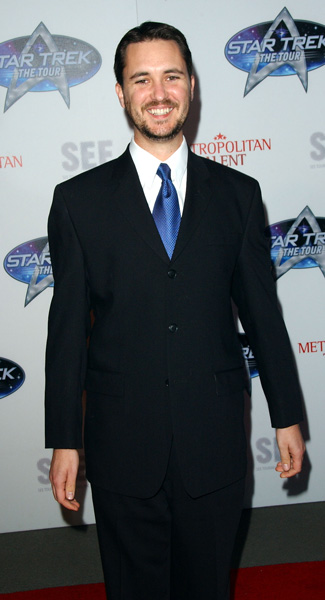 Photos by PR Photos
I'm 5'11", 6' with bedhead. I mean, I'm easily taller than Scrappy Doo
You May Be Interested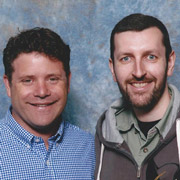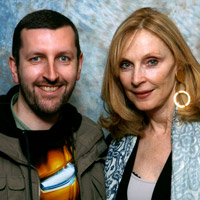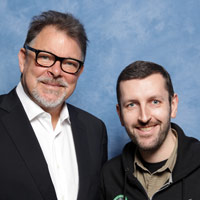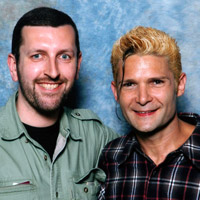 Add a Comment
28 comments
Average Guess (22 Votes)
5ft 9.59in (176.8cm)
Jkiller
said on 7/May/20
Close to 177cm (5'9.75)
Wayne B
said on 13/Jul/19
I've seen a newspaper article on his Instagram page today in fact, which states aged 15 five foot nine inches.
diavolo
said on 15/Apr/18
Pretty lifts-suspicious shoes in Star Trek:
Click Here
What do you think?

Editor Rob
I'm not sure if they are that suspicious. I would have thought the cast were given similar type of footwear, well at least some of them - always thought Patrick Stewart might have been the one - if any - who had slightly thicker footwear.
josh b
said on 31/Mar/18
Rob, do you think out of bed, in shoes, with hair he might be close to his top claim?

Editor Rob
In a big shoe he might be. Barefoot I think he is somewhere closer to measuring nearly 177cm, I'd have said in person about 1/2-3/4 inch shorer than yourself.
vIKS
said on 14/Mar/18
at big bang theory he indeed looks 5'10. Right between Sheldon (6'1) and Raj (5'7)
The shredder
said on 6/Aug/17
Rob , was he over 5 '9 in person?
Editor Rob: yes I think 5ft 9.5 range.
Rick
said on 1/May/17
Doesn't look the full 5'10. 177cm.
JJAK
said on 23/Apr/17
Oh man I think my 5 8 was way off in toy soldiers he towers lil sean pretty massive looked 5 10+.
This is very odd because he never looked that tall otherwise he did so barefoot so pretty conclusive.
In fact he seems to be the tallest of main cast kids not counting hair of course.
Editor Rob: he can look about 5ft 9.5 on Star Trek, that is still a good possibility.
Cameron
said on 29/Mar/17
I think this one deserves a "weak 5'10" downgrade.
MD
said on 3/Mar/17
Yeah, 5'10" can not be possible. He is fairly regularly on Chris Hardwick's @Midnight late-night gameshow, and they are practically the same height. Chris is also currently overlisted here (5'8.5"), but Wil is lucky if he's even a strong 5'9" quite frankly, let alone 5'10":
Click Here
Editor Rob: I can see about 5ft 9.5 for him, that figure might be were he ends up...

5ft 9 I'm not sure he's that low, but hopefully if he turns up at an event this year I'll finally meet the man and pinpoint a figure!
Mike
said on 22/Feb/17
Don't see him as anything close to 5'11", maybe a solid 5'9" at best.
Shredder
said on 10/Feb/17
Will you still take photos with them
Editor Rob: with those who are worth it, some guests can be too pricey.
Shredder
said on 7/Feb/17
Rob , he is going to a london con soon. He doesn't look anywhere near his claims.
Editor Rob: on Big Bang he could look a weak 5ft 10 range, like 5ft 9.5, if he doesn't cancel hopefully I will meet him, but you never know who turns up on the weekend at events.

I'm planning on doing the london film con again with jenny as a stallholder.
josh jeffords
said on 1/Nov/16
Funny guy mostly on accident very unlikely either number are even close look 5 8 160 average ish.
he always looked taller than astin but that doesnt take much.
not sure how on point but he was very short around 12 look maybe 9.
personally i was 5 6 at 11 and now am 5 8 no idea what i weighed but was thin.
last time I saw him he gained a good deal of weight and looks short as ever over 40.
Shredder
said on 18/Jul/16
This guy is nowhere near his claims , weak 5'9 at best , look at him feldman.
Anonymous
said on 21/Jan/16
He looks about 5'8.5" or 5'9" next to 6'7" Rhett McLaughlin.
Thomas
said on 19/Dec/15
He is 5ft 9 at best. Brent Spiner is 0.5/0.75 in taller than this guy.
Dwalin
said on 7/Feb/15
5'9 at best
Lorne
said on 12/Apr/13
I don't see a full 5'10. Never looks as tall as spinet. 5'9.5 just seems a better fit, though I must admit, there aren't many opportunities to compare him with other people.
Ali Baba
said on 17/Nov/12
Met him in October. He's 5'9" or a hair under.
wolf1314
said on 9/Sep/12
just saw him on the big bang theory (S2E20) thought he was a couple of inches shorter, must be because he's skinny
Chuck
said on 22/Aug/12
I met him after a show he did one time. 5'10" sounds about right to me. Interestingly, his father was at the show also and his Dad is a lot taller - like around 6'4" or so.
Dude
said on 28/Jan/12
Walked by him at Phoenix Comic Con last year and he didn't seem any taller than myself, 5'9".
Sceptic
said on 26/Nov/11
Haha, yes Wheaton does look close to one 'flen'. I mean, like I said, I think Notch does have a little more footware, but he's noticably behind Wheaton and has (in my opinion) a worse posture. I just struggle to see a solid 5'10 here, I guess.
Sceptic
said on 25/Nov/11
This will probably make me seem obsessed, lol, but honestly I just happened to stumble across this picture coincidently and thought it gave another particularly good chance for a comparison.
Click Here
It's a picture of Felicia Day and Wil Wheaton with the Markus Persson AKA 'Notch', the game designer behind the PC game 'Minecraft'. Anyway, Notch himself claims to be 176cm which I think is roughly 5'9.25. (Source:
Click Here
)
So here's my thinking. In the photo above, Notch clearly has a footware advantage, with his shoes looking to be a good 1.25 inches (maybe even 1.5)while Will's look to be a typical 0.75 inch sneaker. Regardless, Wil is closer to the camera and seems to have a much straighter posture. So, all in all, this again makes me wonder about a full 5'10 for this guy. My thinking is 5'9.5 max, quite possibly less. I'd be interested in your take though, Rob.
Oh, this may also be a good picture for guessing Felicia Day's height, seeing as she doesn't have a page yet. She get's listed at 5'5 (A quick google search will reveal that) but considering her heels I think she looks under that in this picture. Maybe 5'4? I can't tell what her posture's like.
Anyway, sorry for another long post.
[Editor Rob: flen and wheaton look very close in height, although it's possible he has a fraction more footwear than wil.]
Sceptic
said on 16/Oct/11
I'll trust you on that Rob, but I'd find it hard to believe that Wheaton's shoes give anything less than 0.5 of an inch. And when you consider he looks solidly a little shorter than Spiner throughout the whole scene, I think 5'9.5 would be the highest I could see for this guy. Just my opinion though, but I'd think a solid 5'10 should look taller than this.
Sceptic
said on 15/Oct/11
I also just saw that BBT episode, Vinnie (It's called 'The Russian Rocket Reaction'for anyone who wants to check it out, Bret and Wheaton can be seen at around the 19-20 minute mark). Wheaton looks about a half inch to an inch shorter than Brent Spiner. You even see their footware in the scene and both look to be wearing around the same. I would say 5'9 seems like a far closer bet for this guy considering Rob has Spiner at 5'9.5.
It's also worth noting that Parsons doesn't look the 4 inches taller than Spiner that he should, Johnny Galaki does look a good 4.5 inches shorter than Bret so the 5'5 list seems very accurate, and finally Kunal Nayyar looks nowhere near the 5'8 he gets listed at as he looks a good 1.5-2 inches shorter than Rob did with Spiner.
Sorry for the long post, but it's rare that we get a chance to compare celebs with someone whose height we can compare with Rob.
Click Here
Click Here
I took some screencaps too. One shows the two together (not as good as actually watching the scene though). The other shows footware.
[Editor Rob: brent's got nike free I think, a solid inch sneaker, what wil wears I can't see them closely.]
vinnie
said on 15/Oct/11
Also saw him on big bang theory, and he was an inch or 2 below Brent Spiner, who was about 2" shorter than Parsons.