William Regal's Height
6ft 2 (188 cm)
Peak height was 6ft 3 (190.5 cm)
Darren Kenneth Matthews is an English retired professional wrestler. On twitter he claimed in 2016 to be
"6' 3'"
. I saw him at LFCC in 2017 and would estimate he looked near 6ft 2 that day.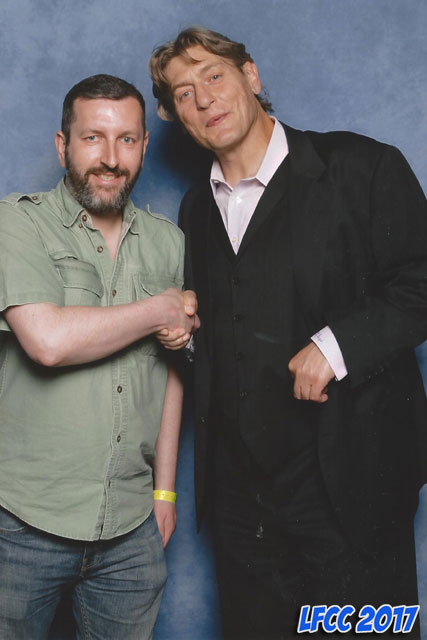 5ft 8 Rob and William
You May Be Interested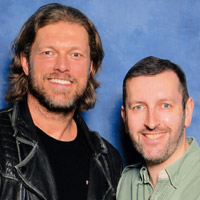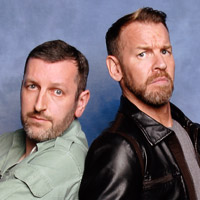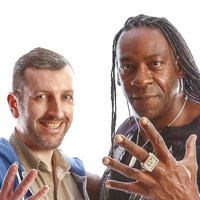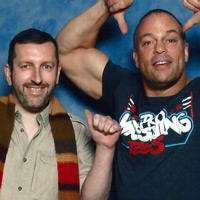 Add a Comment
16 comments
Average Guess (26 Votes)
Peak: 6ft 2.57in (189.4cm)
Current: 6ft 1.65in (187.1cm)
Rampage(-_-_-)Clover
said on 19/Nov/20
I think 6ft2½ range peak. He could look 6ft3 at times but also just 6ft2 going back to WCW. He was constantly edged by guys like Rock, Edge, Dave Taylor and even Batista. I think you could argue the same for Mick Foley. I don't understand how Batista doesn't have 6ft3 peak yet he always looked taller than Regal.
SeanR
said on 12/Aug/20
Hi Rob,
6'3" seems a bit high for Regal unless you have evidence he was that at peak?
To me he seems more like 6'2 1/4" or 6'2 1/2" at his peak. In the same neighborhood as Mick Foley
Rampage(-_-_-)Clover
said on 6/Aug/20
Regal could have been 189-190cm peak
heightchecker34
said on 12/Jun/20
Hi Rob, I still believe William Regal was 6'2.25 in his prime. I watched his matches against 6'2 range guys and he edges out 6'2 Sting, looks a bit shorter than 6.2.25 Bill Goldberg, and matches pretty good with Lex Luger who I used to think was 6'2.5 but might be also 6'2.25 himself. I am not seeing where he was ever 6'3 unless you have some pictures or video. He does hunch... but in even 1996, he never looked over 6'2.5. Please add Lex Luger as well, thanks.
OriginalAnon
said on 24/May/20
William Regal I am sure used to be listed at 6'2'' consistently for years, and he never looked any more than that.
Rampage(-_-_-)Clover
said on 25/Nov/19
But Rob, surely he's lost some height aswell?
Maybe 6ft2 range today like Regal...granted that one of those photos of them from recent years is slanted and might give Regal the advantage

Editor Rob
Yeah he could have lost a bit by now, but prime range 6ft 3
Rampage(-_-_-)Clover
said on 23/Nov/19
Rob, how tall do you think this guy Dave Taylor is?
Click Here
Click Here
Click Here
Click Here
Click Here
Click Here
I think in older photos from the 90's he looked similar to Regal but in more recent photos looks like he may have lost some height. He's also billed 6ft3 by WWE

Editor Rob
I don't think Dave looked less than 6ft 3 range prime.
Wrestling Fan
said on 29/Aug/19
Rob
I really believe that you have overlisted his peak height.
He could have been a bit over 6'2" but definitely not full 6'3".
Back in 2001 The Rock had Regal by over an inch.
The Rock's peak is listed here as 6'3".
So Regal was definitely not 6'3" in his prime.
heightchecker34
said on 21/Jul/19
6'3 would be too tall for Regal. I agree he does slouch a bit, but he does look within the same range as 6'2 guys such as Triple H and The Rock. I would be very surprised if he measured 191 cm. 6'2.5 absolute max. Under 6'2 today.
miko
said on 28/Jun/18
Wow didnt realise he was on here. Great photo.
I think he's always looked around the 6'2 range through his TV years 1995-2015, he's had some quite bad neck problems over the last 5/6 years though so that might have lost him a little height.
He's one of those guys who is rarely ever in good posture, like with Rob above. But when they stand up properly you are surprised at how tall they are.

Editor Rob
If you had another person in a photo with him I'm sure you could get a better photo. You can see
With Christian
that day he was taller.
Rampage(-_-_-)Clover
said on 26/Jun/18
Edge, Rock and DiBiase in their prime I think at a chance of measuring a little over 6ft3 while Regal and Foley might've fallen a little shy of it at worst.
Rampage(-_-_-)Clover
said on 11/Jun/18
Rob, who looked talllrr Edge or Regal?

Editor Rob
I am not sure today there is much between them...I'd say they probably would measure very close.
Mahesh
said on 19/May/18
Who looked taller Rob , regal or del Rio?

Editor Rob
Not much between them, but I think Rio had the thicker shoe.
Rampage(-_-_-)Clover
said on 30/Apr/18
Peak: 189-190cm
Today: 187-188cm
Not as convinced he was a full 6ft3. Was edged out by Rock and Edge.
Rampage(-_-_-)Clover
said on 17/Feb/18
Nice addition Rob, I actually just about to request him
But was he really a 6ft3 guy? I've heard him claim that mark consistently and it's possible he was but looking at old WCW matches I struggle to see it and an inch at 49 is dramatic. Certainly he's had his share of injuries but to that degree?
Click Here
Here he is clearly shorter than a prime Rock.
abdun noor
said on 15/Feb/18
Rob, he's 49 now. I think he lost height. In the 90's, early 2000 looked taller. I think peak 190cm

Editor Rob
Although he didn't stand well he is still in 6ft 2 range.