Adrian Paul's Height
6ft 0 (182.9 cm)
English actor, best known for playing Duncan McLeod on TV series Highlander. In a People magazine article it described Adrian as
"the 6-ft. actor"
. In this photo I was wearing
Clarks Boots
, pretty similar thickness to Adrian's shoes.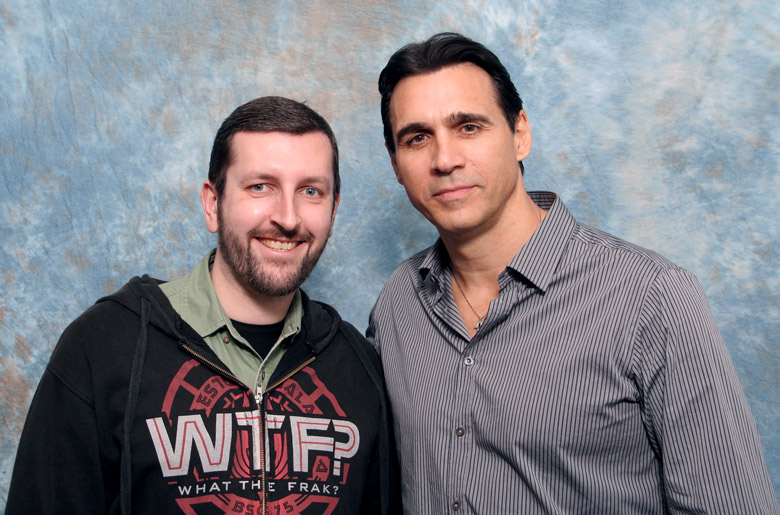 5ft 8 Rob and Adrian @ Collectormania London, 2010
You May Be Interested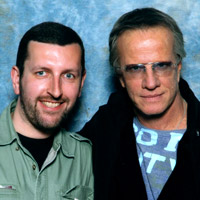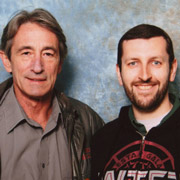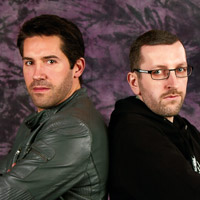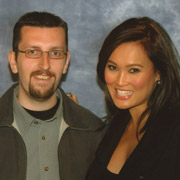 Add a Comment
105 comments
Average Guess (27 Votes)
5ft 11.56in (181.8cm)
Junior Hernandez 1990
said on 18/May/19
Average guess is way too low. Just because he look 5'11.25" with Rob. In the past i watch Highlander with my dad and notice he look 6'0 to me. At worst 5'11.75" now.
Sandy Cowell
said on 26/Nov/18
Two guys by the name of Mr Paul!
The taller Mr Paul can have 5ft11.5 and the Mr Paul wearing a T-shirt that I now covet can have a little less, say 3.25" less.
Other than that, they could pass for two Pauls in a pod; the likeness is staggering! ☺️🤠
😊👍
Zampo
said on 31/Aug/18
5'11.5 range. More likely to measure a hair taller than under the mark.
Nik
said on 31/Jul/18
@ Bobby
Rob is dropping height too!
Powerhouse
said on 22/Feb/18
Any thoughts on Stan Kirsch's height? He played Richie on Highlander. Highlander is my favorite show and I was watching some episodes over again recently and was paying more attention to height. Adrian seems to have between 3 and 4 inches on Stan, but Stan doesn't look as short as 5'8 in my opinion.

Editor Rob
Would have thought 5ft 8 might be ok for Stan.
Christian-6'5 3/8
said on 30/Dec/17
He doesn't look legit 6'0" in the pic.
Rance
said on 29/Dec/17
Wow is he really 6ft? Often on highlander he looks around the 5ft10 mark, though he is a stocky build so I guess he can appear shorter than he is, I'm a bouncer and I stand at 5ft9in and I'm the same build as Paul some guys say hey shorty and I'm like what? I'm level headed with most guys but in my town there are a lot of guys 6ft3in - 6ft-7in even so to them I'm very short of course but yeah I estimated Paul to be around 5,10
Editor Rob: in person Adrian is far nearer 6ft than Christopher Lambert...who is barely even 5ft 10.
Rampage(-_-_-)Clover
said on 14/Dec/17
About 6ft is fair
David
said on 3/Nov/17
I tnink 6ft is right, he did many Highlander scenes barefoot and still looked tall next to other actors.
Bobby
said on 6/Oct/17
I initially thought 5'11 range but he's dropping height.
KH
said on 5/Sep/17
Looks 6'0 to me. Looks around 3 inch height difference and that's with Adrian dropping a bit of height with a head tilt.
Pierre
said on 8/Jul/17
he look 5"11' range here with Rob
MJKoP
said on 7/Jul/17
Nice family reunion picture of the Paul brothers! :D
Editor Rob: I used to live in a street of 8 houses, our neighbour opposite us was also a family of Paul's. We never had numbers on our door (even to this day my parents still didn't bother) so a lot of mail went through each other's door!
S.J.H
said on 21/Jun/17
5'11 with big rob. At least 6'0 with shoes
World Citizen
said on 31/May/17
Looks no more than 180-181 here.
berta
said on 24/Jan/17
dont know if he looks 183 in photots. on tv he looks about 183 but in the photo he looks more like 181. could be a 182 guy
Jordan87
said on 19/Jan/17
"The 5'10.5" Actor" if we go by the picture with Rob, ha ha .
Pierre
said on 14/Jan/17
5"11.25'
Josh Jeffords
said on 9/Jan/17
Of the 2 times I've seen him onscreen he looks a well built 6 ft guy.
In this pic he's leaning in and down I'd but still close to 6ft peak would be 20 years ago..
I think he had 2 on lambert the most average height guy in Hollywood.
The ugly guy wore boots and lifts in endgame looked 6 2 probably borrowed from cool j or Ferrell ☺.
moe
said on 11/Dec/16
I saw him filming last night. He had a little lift in his shoes, but I didn't see him as much over 6ft. Wouldn't surprise me if he was 5'11 and a half. The biggest lifts I ever saw any actor wear is still LL COOL J.
Redwing
said on 25/Nov/16
He looks solidly built and tall probably just hits 6 ft.
Rampage(-_-_-)Clover
said on 27/Oct/16
I think 182cm is a more suitable mark for him. Can look 6ft at times but also a bit under it
The Horse of FUNK
said on 26/Oct/16
Could be one of those 5'11.5" - 5'11.75", or 182cm in Euro-speak, guys who can easily get away with claiming 6'0" and nobody will question it.
I would know, I happen to be one "those guys" :D
Vibram
said on 19/Sep/16
He may be in the 5'11 range but at his peak in the 90's Highlander series he did look tall and around 190lbs.
Pierre
said on 18/Sep/16
i give him around 5"11'/5"11.25' with this picture ,i think he lose a little more height than Rob in this picture
Rampage(-_-_-)Clover
said on 9/Sep/16
Rob, is he really a 6fter?
I see more 5ft11 range, personally...
Editor Rob: much nearer 6ft than 5ft 11.
MJKoP
said on 10/Jul/16
Rob and Adrian Paul. A family reunion picture? lol j/k
Lendal
said on 5/Jun/16
Not really seeing 4" of height difference from 5'8" Rob in the picture above, even accounting for Adrian's slight lean-in.
Paul's 5'11", 5'11.25" at the very most.
184.3cm (Night)
said on 30/Mar/16
If you watched the old Tv series you would never guess this guy under 6 foot. He always looks tall, he easily clears Christopher Lambert.
182cm is debatable though but i can't see him being under that. He does look around 5'11 (180,181) in the pic though.
Mat
said on 26/Mar/16
bollocks he is 5'11
NBAer
said on 9/Mar/16
Looks 180 max next to Rob, i can see maybe 181-182 range standing straight,so 182 or a strong 5'11.5.
S.J.H
said on 5/Nov/15
He only look 2.5" taller than rob. He lean abit here not that much even standing straight he cant be much over 5'11 the most struggle to hit 5'11.25
Judd
said on 9/Jan/15
I think if he stays straight he could be 6'0"...he has really bad posture with rob!
6' is believable!
mike
said on 2/Oct/14
5ft 11.5.
Pippen
said on 11/Aug/14
182 cm max 181 not
mike
said on 22/Jun/14
he looks like the wrestler Alberto Del Rio.
5ft 11.25 is a good shout he could be 6ft 0 out of bed though.
mike
said on 4/Jun/14
181 or 182.
AJ
said on 16/May/14
Ya not quite 6'0. Looks 5'10.5. Considering he's leaning I'd give him 180-181cm.
Alex 6ft 0 1/8
said on 31/Dec/13
Rob, think he looked about my height? I could see 6'0 likely but 5'11.5 is possible too maybe?
[Editor Rob: he may dip a fraction shy of the 6ft mark]
Alex 6ft 0 1/8
said on 30/Dec/13
His head is leaning in a some which makes him appear shorter. More straight I could see 5'11.5-6'0
MOK
said on 24/Dec/13
This guy used to be a legit 6'1 I think. Probably lost a bit. Does look like 5'11-6'0 there.
Rampage(-_-_-)Clover
said on 4/Dec/13
Lambert looked 5ft10.5-5ft11 in the 80s.
avi
said on 18/Sep/13
@Rob could he be under 6'0? im pretty sure you said he could be 5'11.75 range...
[Editor Rob: I think 6ft or close, compared to christopher lambert he definitely looks 2 inches taller in person than the first Highlander does.]
cole
said on 30/Jun/13
Personally I have no idea who this guy is, but you can clearly see that his shoulders are a lot higher than Rob's. He is also leaning a good bit, and dropping posture. That is why you might get the odd 5'11ish impression, but he'd probably look 6ft if he stood straight.
LG69
said on 5/Jun/13
5'11.5" max
Elijah
said on 28/Jan/13
He's still in good shape all these years later. Definitely around the 6' mark standing straight.
Stephen
said on 8/Jan/13
182.5
Aragorn 5'11
said on 22/Dec/12
5'11 flat. 180 cm.
Arch Stanton
said on 3/Nov/12
Looks like he could be Andy Garcia's brother!
Johnnyfive
said on 17/Sep/12
I know he's leaning but I see about 182 on the dot if both of you stand up straight.
Rampage(-_-_-)Clover
said on 8/Sep/12
"Adrian Paul's height is 5 ft 11.5 in (182cm)"
Hob
said on 28/Jul/12
he was not even 5'11.25 here, you guys are kidding at 5'11.5-6'0. he atually look weak 5'11 like a solid 179cm guy
LG69
said on 27/Jan/12
5'11.5"
ChiasmataX
said on 17/Jan/12
He's close enough to 6'/182.88cm to claim it. He's probably a hair shy of 6' or at around 182.5cm.
jake, 1.82 m- 1.83 m
said on 30/Nov/11
5 ft 11.75.
Mathew
said on 20/Nov/11
Could be 6' or 5'11.5".
phl
said on 28/Oct/11
at least closer to 6ft
johno
said on 5/Oct/11
3 inches difference there..
If adrian stood taller, the difference could be more and it would be 4 inches. If rob in turn stood even taller to, the difference would be back down to 3 inches again...
Thus, 5'11
James
said on 18/Sep/11
he looks 182cm with mamun and maybe 183cm with rob?
Deadly
said on 17/Sep/11
Question whats after 5ft11? Not 5ft12 so whats a inch or a half. You can't really see it. He is a 6 footer basically.
Johnn G
said on 16/Sep/11
6' foot looks right - when on Highlander he was matched up with tall women, but 6 feet solid he looks
Joe257
said on 14/Sep/11
Funny that he looks almost the same age as he did during Highlander: The Series. I guess Adrian is trying to conserve himself in case they make another movie or what not. I would guess 5'11.5" (in the TV show he did look taller than 6 ft though).
Danimal
said on 12/Sep/11
I think he is shy of 6'0".
Hullywood
said on 10/Sep/11
Mhh... Shoulder are near the same heigh, but he seems to have the longer head.
1.83m is maybe too much? Looks not 10 cm taller then Rob.
TruebloodFan
said on 9/Sep/11
this is definitely not how a genuine 6ft is supposed to look. that's a fine example of a 5ft11.x.
ahmet
said on 8/Sep/11
he looks me 180-181
5'10guy'n'still growing
said on 5/Sep/11
This guys has to stand up he looks the same as Iames (the 5'10 guy from Xmen) other then that this guy looks 5'11
SAK
said on 5/Sep/11
182cm
@ Maximum
said on 3/Sep/11
"with shoes 6' to 6' 05 inches"
there's no point to describe somebodys height with shoes on because everyone is wearing shoes so everyone is 1-1.5 inch taller with shoes on.real estimating of height is only barefoot.
Maximus
said on 2/Sep/11
looks 5'11"....and by the way thats not short.....with shoes 6' to 6' 05 inches.....
Rampage(-_-_-)Clover
said on 2/Sep/11
Looks 5"10.75(180cm) beside Mamun.
A
said on 2/Sep/11
Yeah Rob, this guy looks 5'11" with you and Mamun. I only see 3 inches between you guys, but maybe his posture is bad?
[Editor Rob: as I say, I think he carries himself a bit shorter but measure him at his tallest posture and if he's not 6 foot he's got to be close.]
jake
said on 2/Sep/11
5 ft 11.5 in (182 cm).
richinkle
said on 1/Sep/11
looks closer to 5'11"
truthman
said on 1/Sep/11
Lol. He looks 5'10.5 with Mamun, not 6'0
Alex
said on 1/Sep/11
Rob, do you think this guy is really 6'0 barefoot? Unless you or Mamun has a good footwear advantage I think he looks 5'11 or 5'11 1/2 tops
[Editor Rob: he's a man who can look under 6 foot, but I think he'd measure near it with his tallest posture.
]
miko
said on 1/Sep/11
Any relation Rob? ;)
[Editor Rob: nah]
James
said on 1/Sep/11
yeah weak 6ft with mamun
Alex
said on 1/Sep/11
He looks more 5'11-5'11 1/2. He doesn't look as tall as the guy Maxwell that Mamun got a picture with. Now that guy is 6'0
Gaga
said on 1/Sep/11
180 in both pics max
Rampage(-_-_-)Clover
said on 28/Aug/11
Doesnt look 6ft on Highlander.
Legend
said on 29/Jun/11
Not 6 feet exactly
Rampage(-_-_-)Clover
said on 27/Jun/11
182cm or 5ft11.5 might be safer bet.
Godred
said on 25/Jun/11
@Cheryl - is 5`11 tall?
Rampage(-_-_-)Clover
said on 24/Jun/11
180-181cm. Not convinced he's 183cm
Dmeyer
said on 22/Jun/11
If there is néed of a 2 in cowboy heels plus 1.5 in lifts to get 3 in over barefeet they might just give 2.8-9 range it méan sly has never weared over 2.2 to 2.5 in élí¨vator and Pitt never over 2 2.5. In
Dean 5ft 9.25
said on 14/Jun/11
He isnt quite 6ft..He appears 5'11 in the pic but the slight lean dont help him..hes a solid 181cm possibly 182 at best night time but no more..Military posture makes a 175.5cm guy like myself 176-176.5cm so upstraight he probably is 183 range but that isnt true height..182 most lowest 181cm
Cheryl
said on 2/Jun/11
I Love tall men.
Shawn
said on 23/Feb/11
"Carlos says on 21/Feb/11
This Miko person forgot to wear his/her glasses while posting. I don't see the slightest resemblance."
They share the same last name. I'm pretty sure it was a joke on Miko's part.
Carlos
said on 21/Feb/11
This Miko person forgot to wear his/her glasses while posting. I don't see the slightest resemblance.
James
said on 20/Feb/11
Probably solid 5'11 1/2.
Anonymous
said on 20/Feb/11
in your opinion rob, is he 6 foot?
[Editor Rob: I saw him several times that weekend.

He can look under 6 foot, but I saw him stand at his tallest and he did look near that mark.]
Ed Kline
said on 19/Feb/11
I dont think so dmeyer. If they both stood as tall as they can, his mouth would not be 1 inch higher than Rob's eyeballs. He's looking 5'11 here, not 6' though I'd give him 5'11.5. He is 50-51 in the pic though so I can buy him at one time being 6'.
mike
said on 18/Feb/11
Man some of you guys on here must be blind, he's clearly 4 inches at least taller then rob. He's not even standing up straight.....whoever said he was shorter then 5.75" is a idiot
dmeyer
said on 17/Feb/11
if he stood fully straight he could be near 4 in on rob
miko
said on 17/Feb/11
Rob's long lost brother?
Anonny
said on 17/Feb/11
Jeannie says on 29/Apr/10
I stood next to him at a Highlander convention and concert he is not 6 feet tall. I am 5.75 feet tall and he was shorter then me. But man can he dance up a storm.
----
How were you taller at 5'7? That would mean Rob is only 5'3.......
Mathew
said on 16/Feb/11
Looks 6' max.
James
said on 16/Feb/11
I see 5'11.25 (181cm) with rob.
BackStageJim
said on 17/Apr/07
Was with him at sci-fi show last weekeknd, he is 5'11-6'0 in soccor type sneaks, with little or no heal. The guy has wide shoulders, so it might give impression shorter then 6'0.
Johnny G
said on 24/Mar/06
the main reason why some people might not feel that Adrian is tall as 6 feet is his co-star in Highlander(Tess Noel) played by Alexadra Vandernoot was almost tall as Adrian - but she was a tall babe next to all other actors that were on that show - he was 6'0''tall and I think your right on about his heigth
Laura
said on 26/Jan/06
He is over 6 feet. We literaly ran into each shopping and I am 5'10".
TNTinCA
said on 25/Oct/05
I think part of the 'illusion' was his sidekick on Highlander. I am guessing that kid was only at 5'7" or 5'8" if Adrian is 6 ft
CelebHeights Editor
said on 22/Aug/05
From Adrian Paul newsgroup, some comments on his height:
"when I had a chance to stand next to him, I did a quick mental comparison of his height with that of my husband, who is just a shade under 5'11", and
I revised my opinion to think that 6' is just about right"
"I've only seen AP in person once, and I don't know if he was wearing boots or not, but he appeared to be under 6 feet. He was only an inch or two taller than me and I'm 5'9".
"I had an opportunity to interview Adrian over lunch last week for a new magazine called Thunder coming out in March. I'm 6'5", so I'd guess he's between 6'& 6'1"
TOMinCA
said on 2/Aug/05
Only 6 foot? I am very surprised. He looks very imposing on the screen. I would have put him in the Kevin Sorbo height range of 6'2" or 6'3".
Must be the Christian Bale effect. That is another person I assumed to be much taller than he actually is.