British Actress best known for her role as Elizabeth Corday on E.R and River Song on Doctor Who. In these convention photos Alex had around 0.75 inch more footwear than me.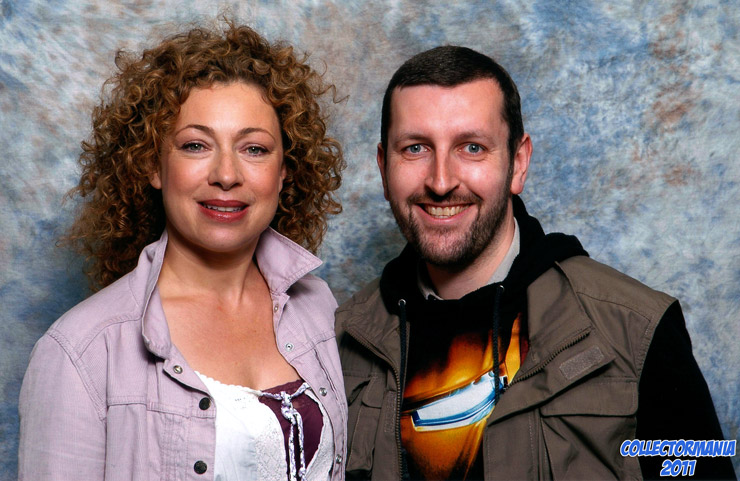 5ft 8 Rob and Alex @ Collectormania 2011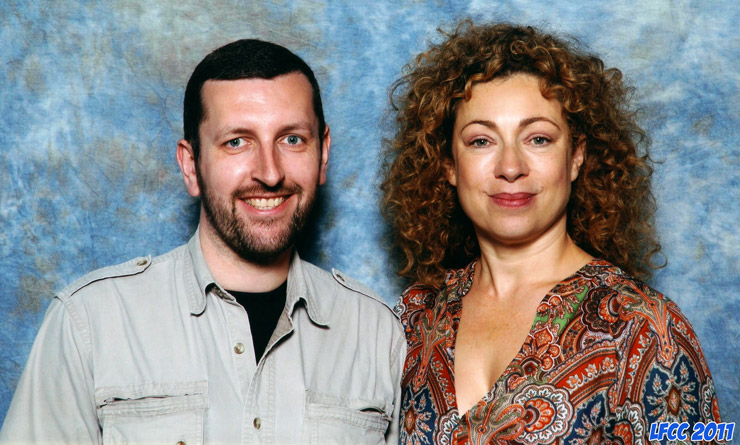 5ft 8 Rob and Alex @ LFCC 2011
Arwyn
said on 15/May/23
I have met the very lovely Alex Kingston and we actually talked about how different camera angles, closeness between the camera and other actors, body positioning plus footwear can really skew how tall people look on screen. We were talking about it because I'm 5'9" figureskater (female) and the judges (and people who think they are) always were always coming down on me regarding not bending my knees enough, despite the fact that I was bending them plenty and that my outfit skirts looked too short all the time except for the fact that they were made 2" longer than standard length than regulation. She gave me great advice on how make my presence look exactly like what the judges wanted. To also help make her point, we got out of our shoes and we we then measured together. She is 5'8.5". I thought that she was actually tallee than me but she attributed it to her taller heeled shoes and the thickness of her curls. I used to have a picture of this but it's gone now, I'm sorry. But she really was only half an inch shorter than me. This also was many years ago and people do lose height as they age after anywhere from 40s on up. So my knowledge is that she was 5'8.5", could possibly be 5'8" now.
Nik Ashton
said on 16/Jul/21
Look at this:
Click Here
Andy5'91/2
said on 4/Jun/20
3/4 inch more footwear and taller than 5'8.25 rob i give her 5'7.5 and put down her being taller to her thicc hair
Nik
said on 29/Apr/20
@ Heightfordays - In the top photo she does although she does have more footwear, there won't be much difference though because Alex has thicker hair!
Heightfordays
said on 28/Apr/20
In the photos is it just me or does she look a shade taller than rob
JohnMoore-162cm
said on 25/Apr/20
5ft7 peak , today she is probably a bit shorter
Christian 6'5 3/8"
said on 24/Apr/20
More 170cm than 171cm.
Miss Sandy Cowell
said on 11/Mar/20
🎁🎉🎂💐 Happy Birthday Alex! 💐🎂🎉🎁
A Very Happy 57th Birthday to Alex Kingston. Probably best known for starring in 'ER' and 'Doctor Who', my favourite of her roles was as the sauce-pot 'Moll Flanders'!
My Birthday Guess for Alex is 5ft7.25. 😋👍
🎁🎉🎂💐🎁🎉🎂💐🎁🎉🎂💐🎁🎉🎂💐
Nik
said on 28/Jan/20
I would love to see a photograph of her with me!
Nik
said on 2/May/19
The 10 voters are not daft, inc Rob of course!
Zampo
said on 16/Nov/18
Looks 5'7 - 5'7.25.
MAD SAM
said on 12/Jul/18
5'7.5" or 171.5 cm !
Nik
said on 13/Jun/18
5'7" - 5'7.25"!
Bobby
said on 4/Oct/17
I would say she's 5'7.5.
Slim
said on 18/Sep/17
Give the full 5'7.5" please.
Chris
said on 16/Feb/15
Wasn't Jennys head about 8,5 inches? Then why does it look so big? It kind of looks almost the same size as yours Rob.

Editor Rob
the longer your head, the further away from another person you can be without people realising it.

Miya
said on 11/Jul/14
does anyone know here weight?

Editor Rob
could be right between 130 and 140
Ciarda
said on 23/Jul/13
Definitely around 5'7", Have you seen the cast pictures back when she was on ER? Every season she was almost always the tallest woman, and even taller than some of the men. However she is shorter than Matt, Arthur or Karen. They usually had those three in trainers or in Matt's case low heel boots, while Alex was in shoes with 2" or more heels most the time. The new companion Jenna is really short, like 5'1" or something- now Jenna gets the huge high heels, since Matt is 5'11". When Alex was back on for the last Doctor Who they had her in flat sandals and she barely looked taller than Jenna, they had Jenna in such high heels, and Matt looked to almost tower over Alex.
johnnyfive
said on 4/Sep/12
She would be this height if your footwear was the same but since she has footwear advantage, 5'7 flat or even 5'6.75
J.lee
said on 31/Jan/12
Rob seems like your still taller than her, even with her footwear advantage. Do u concur?
Mr. R
said on 5/Jan/12
The other thing that people forget is that she was married to Ralph Fiennes. Can anybody find pics of them together? He is listed at 5-11. A pic might be helpful for estimating both of their heights. I am so tech illiterate.
richinkle
said on 31/Dec/11
If Elizabeth Corday is only 5'-7 1/4" (and your pictures demonstrate that pretty clearly), it may be useful to go back to many of the ER cast photos, and gauge the heights of her costars. In this straight-on photo, with about a 3/4" heel advantage, she is about 2" shorter than George Clooney, and 3" shorter than Noah Wyle, confirming they are about 5'10 and 5'11 respectively.
Click Here
Michael
said on 31/Dec/11
I thought someone said 5'8''
Jonathan
said on 30/Dec/11
She was great in Doctor Who.
Imi
said on 21/Oct/11
I met her at a Doctor Who thing earlier this year and she did seem about this tall :D
jonny5
said on 21/Dec/05
in sunday mag about 2 years ago she said she was 5ft6
Elisabeth Grace
said on 22/Apr/05
I think Alex is around that height because she is roughly the same height as Sherry Stringfield (who is also 5'7")