Andee Frizzell's Height
6ft 0 (182.9 cm)
Canadian Actress known for playing The Wraith Queen on Stargate Atlantis. She said on her blog
"I'm six foot one woman"
, although on her talent agency her height and weight are listed as 5ft 11 and 135lbs.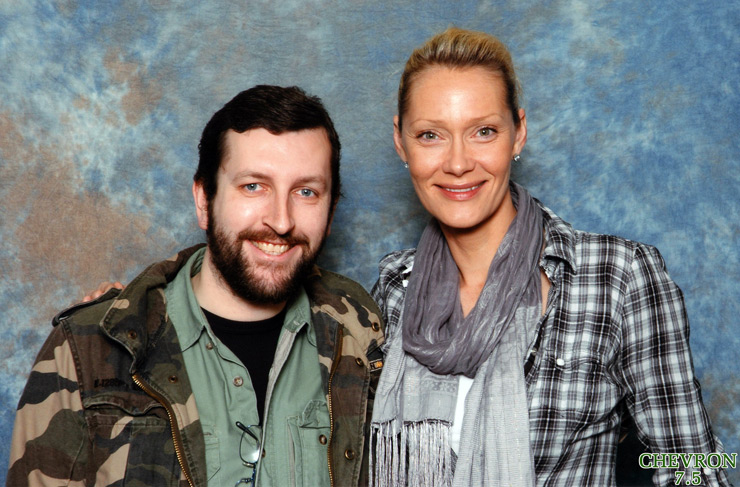 5ft 8 Rob and Andee @ Massive Events Chevron 7.5, 2010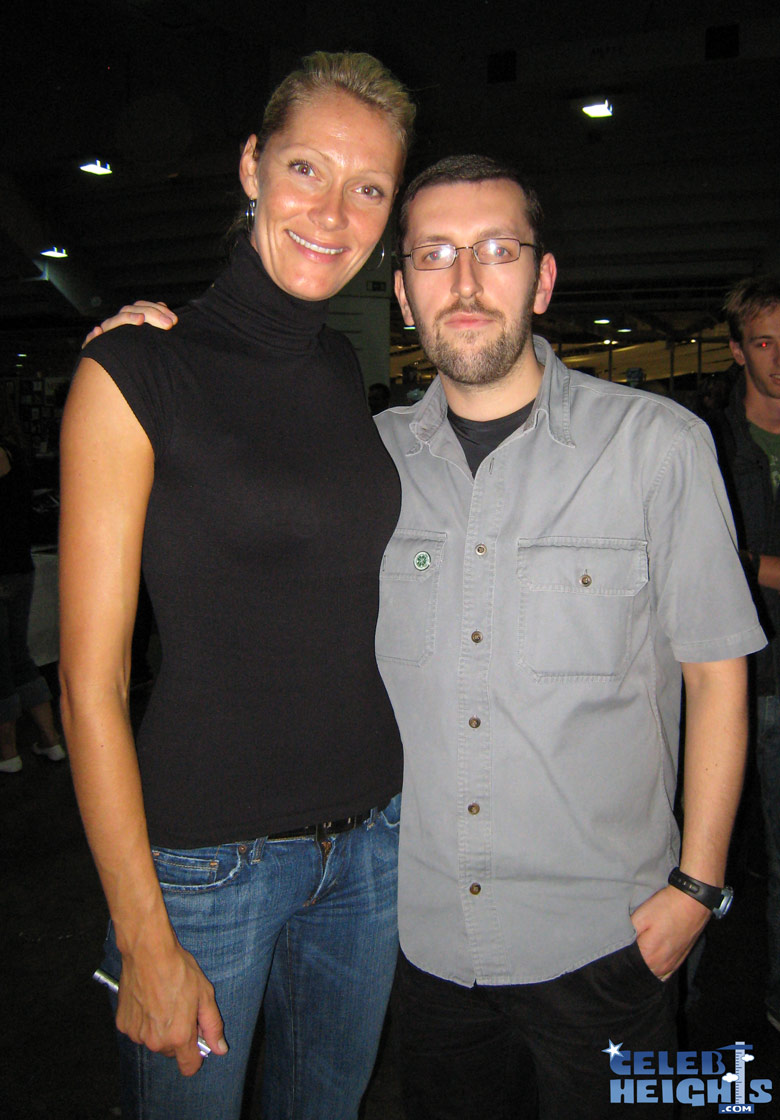 5ft 8 Rob and Andee @ LFCC 2007
You May Be Interested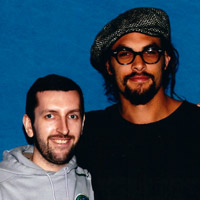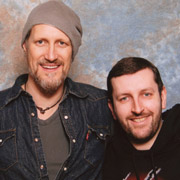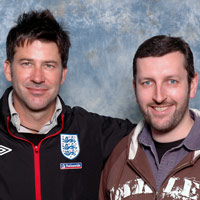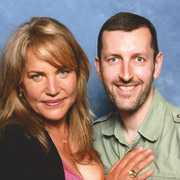 Add a Comment
119 comments
Average Guess (29 Votes)
5ft 11.6in (181.9cm)
Canson
said on 21/Nov/20
@Editor Rob: could it be the case of someone who loses a full inch in a day? Maybe she goes from 6'0.75 to 5'11.75 and measured a bit over 6'0?

Editor Rob
a good chance of shrinking an inch.
Andrea
said on 20/Nov/20
Rob, she gets quoted saying "Going into television and film, and being five eleven, almost six feet tall – closer to six one but don't tell anybody..." on this page:
Click Here
Not sure what she means, but she's definitely not "closer to six one".

Editor Rob
sounds like she's still kind of saying she's over 6ft there. In person she does look more than a 5ft 11 girl, but could be under 6ft a bit.
the link down below to her footwear is gone, but it was like 1.8 inches or thereabouts from what I remembered. She did edge out a six footer that day, you can see the photo with the guy
here
and he's near 6ft in person...
Vincent Caleb
said on 20/Nov/20
@Andrea:
She is not a 6'0" woman for sure but I could buy 5'11" and change
Andrea
said on 20/Nov/20
She doesn't really look any taller than her agency's 5'11 in the first pic (where the footwear is more similar I guess)...
Miss Sandy Cowell
said on 22/Oct/20
Isn't there a crispy snack by the name of Frizzles? There is you know, and they're bacon flavour and vegetarian friendly. No, they're called Frazzles. Ah well - it's almost the same!
Andee Frizzell can have 6ft and some nice, crispy rashers of bacon:
🥓🥓🥓🥓🥓🥓🥓😋👍🥓🥓🥓🥓🥓🥓🥓
Junior Hernandez 1990
said on 4/Jun/19
She look 5'11 and her head was very small compare to Rob on the top picture and on the bottom one Rob was little further from camera and look equal size in head.
burnitdownhomies
said on 15/Jan/19
Looks more like 5'11
Zampo
said on 8/Sep/18
I wouldn't bet against Andee measuring 6'0 if measured. 5'11.75 range. Think she is taller than 5'11.5.
Jim
said on 8/Nov/17
Odd. She doesn't appear much taller than Rob, despite it being a some 4 inch difference.
Nik
said on 7/Nov/17
@ Canson
Yes, I could see her being 5'11.5" or 5'11,75"!
Canson
said on 5/Nov/17
I think the average is more fitting 5'11.5 not a legit 6'0"
KH
said on 13/Sep/17
Looks 5'11 on the left picture and at least 6'0 on the right picture. Probably dropping more height on the left picture.
even
said on 21/Jul/17
your right robinson maybe i was wrong
Matthew Robinson
said on 20/Jul/17
@even I'd say a little more than 135. That's quite thin for 6'0". I'd say she's probably at least 145.
even
said on 19/Jul/17
height : 6 feet weight : 135 pounds
5ft10guy
said on 14/Jul/17
She isn't taller then Steve Bacic who looks alittle more then 1 inch taller.She could be 5ft11.5 really
World Citizen
said on 25/May/17
She looks at most 5 ft 11 on the left picture.
Victor Surratt
said on 11/Feb/17
Solid 6'0", very tall woman.
Rampage(-_-_-)Clover
said on 1/Nov/16
Would have been a better choice for Kill Bill than Uma Thurman
S.J.H
said on 26/Sep/16
I have a legit 6'0 friend took a picture with her recently uploaded in facebook as my friend mention she had similar sneakers as him and she look 181-182cm range with him. He say she was not over 5'11.5 in person and also does look like 181cm
Jakertini
said on 6/Aug/16
Looks 5'11" range in the first picture I think she is 5'11.25-5'11.5".
Sam
said on 27/Jun/15
I see more 181cm - 182cm, bares a striking resemblance to Uma Thurman, who is also around the same height or just a fraction shy at most.
S.J.H
said on 6/Feb/15
I bet shes under 135lbs probably 125-128lbs and strong 5ft11
Judd
said on 30/Oct/14
In the picture above she does look a strong 5'11" but she had bad posture.
6'0" is really possible
dabo
said on 19/Jun/14
rob she could be 182?
Captain Stewie
said on 16/Feb/14
I'm a 6'1 1/4" man and I saw her and she looked an inch shorter than me.
1.84 meters?
Rampage(-_-_-)Clover
said on 5/Jan/14
I think 182-183cm is fair.
avi
said on 30/Dec/13
Strong 5'11
Emily
said on 12/Dec/13
How long is her head, Rob? Around 9 inches? It looks really small there.
[Editor Rob: pretty close to 9]
192cm
said on 5/Nov/13
Wow she looks like my mom so much :D
Matt 184.7-186.7cm
said on 6/Oct/13
Looks barely over 5ft 11 in the left but it kind of looks also like the photo is being taken from short height which means the shorter one will appear higher up on the taller ones face? I could be wrong, I still have doubts about the full 6ft 0 anyway
wiltonstilts
said on 26/Apr/13
She looks 5'11 ...
LG69
said on 23/Apr/13
The photo on the left is easier judge than the one on the right. Based on the fact that her heels are about 1" thicker, she's 5'11" barefoot. By the way, Rob, you look good with a beard.
Elijah
said on 22/Jan/13
Even taking that into account it looks the other way around but if you say so Rob. But that footwear advantage makes this height seem even more unlikely Rob. She doesn't look anywhere near 6'1" in the left picture. She looks more like 5'11" with the bigger shoes.
Elijah
said on 5/Jan/13
In the left picture, I really don't see her being above 180 MAX. Can't see how Rob arrived at 183cm as she only looks that in the right pic with bigger footwear.
[Editor Rob: ...she has a good inch more footwear on the left photo compared to the right.

the photo on the right is taken at a low angle.]
Joey
said on 20/Dec/12
looks 5'10.5 in the left pic and 6'1 in the right pic so i guess with heels then...5'11 area seems to be her height
[Editor Rob: she has about an inch more heel on the left pic than the right, although on the right the camera is low and gives anybody slightly nearer a bit more height...]
J.Lee
said on 23/Nov/12
rob the left pic looks like a 3 inch difference. you have a bigger head.
Elijah
said on 20/Nov/12
It's not true that tall females always downplay their height, it's a myth... I know plenty of ~5'10" women who claim 6', and they get uncomfortable when I tell them that I really am 6' and they are clearly shorter than me. So not really any different to the men.
tom
said on 10/Sep/12
5-11" imo nearer.
thorterr
said on 26/Aug/12
shes 6ft surely,,very attractive ,,yes and better looking that uma ,,would she be less attractive if she was 5ft?
fliper
said on 23/Aug/12
she's look 181.5/182 cm, I saw several times and I could not find your "183cm".
Hob
said on 7/Aug/12
he can't be six. not even 182cm. she is what the agency listed 5'11 and probably weight under 135lbs like 125-128lbs
Comicbookmaster17
said on 4/Aug/12
Rob, can i Measure my Height using a Measuring Tape against the wall, do you think the result i could get is accurate.
[Editor Rob: with a steel/metal tape yes, just face the wall to make it easier to mark with a pencil and use some object on top of your head]
LeBron6
said on 31/Jul/12
Rob, In the pic where she is tilting her head slightly and she has the 1 inch footwear advantage if she had the same posture as you and you added the inch for the footwear. She would come out to .She definetly wouldn't have a full for inches on you in that shot. And the other shot you have the same posture and I dout you have less footwear then her. She Has 3-3.5 inches on you in that shot so more like 5'11.25" to 5'11.75". Downgrade needed rob.
maio
said on 31/Jan/12
rob, 5 ft 11.75 in?!?!
Josh B
said on 17/Jan/12
Looks to be pushing 5'11 at the most, strange for a woman to inflate her height so much, usually they underplay it.
[Editor Rob: yeah, here
Is the link
to her talent page.
I guess if you were 6ft range, it could be a factor in putting 5ft 11 on the resume, as casting agents might be likelier to look at 5ft 11 rather than 6ft-6ft 1 listed females for roles.]
Editor Rob
said on 15/Jan/12
I see on her talent agency she is listed Height: 5'11" Weight: 135 lbs.
USYD
said on 6/Jan/12
Nah I'd say that she is 183cm. If Rob's a true 5'8", which he is undoubtedly, then she can't be below 6'0" because he comes at just above her eye-level, which is about 4-4.25 inches. I would say that she is a strong 6'0" actually, peg her at 183cm-184cm. Not 6'1" though.
ChiasmataX
said on 22/Nov/11
Consider her footwear advantages she's not a legit 183cm. She's probably 180cm if you compare her to the 186.8cm guy from the height challenge (she will be shorter than him by more than 2 inches).
Tman
said on 7/Nov/11
Larc 6 ft 1.75 in says on 30/Sep/11
She's good looking but Uma Thurman is a lot better, let's be serious.
No way just no way,Uma Thurman is nothing special when it comes to looks really
LAN Jiao
said on 5/Oct/11
5'10.5 with rob left. Stand straight could be 5'11.5 or maybe six foot. Obviously not 6'1
Larc 6 ft 1.75 in
said on 30/Sep/11
She's good looking but Uma Thurman is a lot better, let's be serious.
Shaun
said on 6/Sep/11
Agree with Hugh similar but not as rough as Uma Thurman. Clearly not 6'12 in the first picture, unless Rob is wearing his Dons and not telling us!!
[Editor Rob: 1 inch sneakers.]
Mathew
said on 27/Aug/11
Chameleon says on 4/Jun/11
Legend if it isnt enough he is blind when it comes to height, now hes also blind in taste of women. Rofl
Okay, that's pretty funny haha
rob89
said on 1/Aug/11
I don't think she's over 5'11", could even be 5'10"ish if she had heel advantage. I'm only using the photo on the left (the new one) for judging her height, since the other one is obviously not ideal for comparing their heights.
Sasha
said on 30/Jul/11
In the left photo Andee has only 2.5" over Rob and slouches not more than him, So she is even not 5'11" there. In the right photo, even with more slouching, she looks 6'. Without slouching she woold look 6'1". If we subtract the heel advantage, we get 6' again. Maybe, she grew up? (It is rare, but possible.)
By the way, Rob, do you have a heel advantage in the left picture?
[Editor Rob: she had near an inch more heel in the longer beard photo....the old one from 3 years earlier is shot at a low angle favouring her...]
hm
said on 18/Jul/11
I would say she is 6 ft 1in. She's just too lazy to stand upright in both these pictures.
Candyman
said on 16/Jul/11
Big sturdy woman. Don't know about comparing her with Uma Thurman though.
Rampage(-_-_-)Clover
said on 2/Jul/11
Rob, would she be similiar to say Sigourney Weaver or Brooke Shields?
[Editor Rob: six foot is fair, but I don't think sigourney is six feet ]
Chameleon
said on 4/Jun/11
Legend if it isnt enough he is blind when it comes to height, now hes also blind in taste of women. Rofl
Legend
said on 14/May/11
Rampage(-_-_-)Clover says on 13/May/11
A far better looking version of Uma Thurman...
-----------------------------------------------------------------------
No offense, but you must be blind.
Rampage(-_-_-)Clover
said on 13/May/11
A far better looking version of Uma Thurman...
Ned
said on 30/Mar/11
It's a bit of a different situation for female actors. I can get my head around why a guy would exaggerate his height to over 6' in his bio when he wasn't quite there, but I have a hard time seeing my way to a woman doing the same. If they were going to fudge the numbers I'd more expect it to be in the other direction. With a slightly over 6' woman saying she was 5'11 for example.
PHL
said on 30/Mar/11
people seem to believe 100% in actors bios.
Rampage(-_-_-)Clover
said on 12/Mar/11
Why the downgrade Rob?
[Editor Rob: I don't believe she is 6ft 1 barefoot]
Theverve
said on 24/Feb/11
Anything over six foot for a woman is too much
sue
said on 23/Feb/11
No way are 30% of women in the UK over 5ft 9, the average is 5ft 4.5 and no way is 5ft 7 dead average, lol
Buzz
said on 23/Feb/11
I don't know where you live Anonymous but in the UK at least 30% of women are 5'9 or over. 5'7 is pretty much dead on average for a girl in her early 20's here, less so for the older generations. I'm sure Americans are slightly taller than us on average so in the US I would imagine over half of the population being over 5'7.
K4
said on 19/Feb/11
Shaun says on 9/Feb/11
Somebody chops off her ankles in the left photo? She's somehow lost 2 inches!
I heard it's because taller women shrink faster or more than shorter women and men as well. I really don't think a woman should be taller than 5-10, anything above is a male height. I think it has to do with synthetic hormones given in animals later being used for food. In fact, you'll hardly find women over 5-7.
Shaun
said on 9/Feb/11
Somebody chops off her ankles in the left photo? She's somehow lost 2 inches!
Dean
said on 5/Feb/11
How is she anything over 181cm Rob? somewhere between 179-181 for me
linke
said on 22/Jan/11
rob who was taller in person,andee or kristanna loken?
[Editor Rob: well I think andee is taller.]
Goliath of Gath
said on 20/Jan/11
Sorry, But I am seeing 5 ft 11.
K4
said on 18/Jan/11
Maybe she shrunk or just seem taller cause of her build. She looks a strong 5-10 on the left.
Anonymous
said on 17/Jan/11
What's odd is how she can seem taller in the 2007 picture on the right without the footwear advantage. Slouching or leaning in in the newer one perhaps?
Anonymous
said on 15/Jan/11
From looking at the picture, it's quite clear that Andee isn't six foot...Not even close, really. Looks MAYBE 5'10" standing next to 5'8" Rob
Legend
said on 6/Jan/11
Well, in the picture on the left she doesn't even look 5'11.
Matt
said on 8/Dec/10
Hmm... I highly doubt she would even measure 6 foot 0 barefoot, don't you rob?
[Editor Rob: I think maybe she is 6ft 1 in a sneaker]
Matt
said on 8/Dec/10
lol rob from the new picture you downgraded her, i must say in the new pic she looks only strong 5ft 11
[Editor Rob:
she had
a boot
that event, which looked near 2 inches so she had at least 0.75 inch thicker heel than my 1 inch sneakers
but I never really saw her looking 'almost 6ft 2' as a 6ft 1 girl with heel advantage should have looked.
]
Moke
said on 28/Nov/10
I think there comes a time in a mans life when he accepts a woman (for ex. his wife) being taller than himself. At first you feel uncomfortable but you get used to the strangest things, boys ;)
klem
said on 20/Nov/10
she is equavalent to a 6-6.5 man. All the 2-short-for-a-ideal-man(5-9) people here who say's she is a freak are probably just jealus.
Shaun
said on 10/Nov/10
Rob looks really miserable here. I'm not surprised!! Looks 186cm.
[Editor Rob: the guy is sitting down and I'm telling him how to press a button...nothing more frustrating than people who don't know how to press a button :)]
K4
said on 6/Nov/10
I'm beginning to suspect it's synthetic hormones in foods that some people are growing way taller.
Phil
said on 3/Nov/10
she's 6'1 maybe a bit more...no tall woman will ever exagerate on their height (except wnba players!), they usually downgrade a bit. My little sister is 6'1.5, and she always says that she's 6'. Tall woman are known to have this kind of complex
thick
said on 25/Jun/09
she is a mountain of a man.
Doug
said on 20/Jun/09
6'1" women do give a much taller impression than a 6'1" guy because they are slimmer and narrower in frame. In terms of body proportions also a 6'1" women especially if slim gives a lanky impression like a 6'6" skinny man.
Doug
said on 20/Jun/09
Alex a 6'1" women is indeed roughly equivalent to a 6'6" guy. It is usually a 5 inch difference comparison going by average of a women at 5'4" and man at 5'9". So a 5'9" lady =6'2" man, 5'11 woman =6'4" man etc.
Doug
said on 20/Jun/09
I love Gabbie Reece and she is 6'3". She's taller than I am barefoot let alone in heels but I think she is amazing. Mostly though 5'11" max barefoot for women because I don't want them being taller than me in heels! Tallest women I've met was around 6'5" legit and she was one ugly beast. 6'1" is too tall really for a woman as in heels they'll be 6'4" like Penny Lancaster!
Anonymous
said on 16/Jun/09
She is not big but a very tall woman. It's different.
yoyo
said on 13/Jun/09
i personally think shes a cm lower. 6ft0.5 i bet.
sam
said on 12/Jun/09
makes this standard size guy look short. Must be a solid 6 foot 1
Josh.J
said on 11/Jun/09
a lot of men find tall women intimidating hugh, i guess you're one of them. personally i love long and slender ladies even though im just 5'10. Andee does look a full 6'1 but what was she wearing rob?
Hugh 190cm
said on 7/Jun/09
I can't stand woman being over 6ft.
Alex
said on 2/Jun/09
I can see 6'1 for her here.
Ian, yea def. A 6'1 woman would stand out like a 6'6-6'7 guy would.
Realme2008
said on 30/May/09
She's not really big, but she is very tall. She would be big if she was overweight and tall. She's slim and tall though.
j.d.
said on 29/May/09
that would be as unusual as seeing a 6'7'' or 6'8'' guy. In both cases it would turn a few heads. I think tall women, especially the ones i've seen where I live, are incredibly sexy and attractive.
Ian
said on 27/May/09
Really tall woman. Woman who are this tall always stand out as taller than say a 6ft1 guy. I guess we are used to seeing men this tall but not woman.
rony192cm
said on 13/Apr/09
5" on you definitely. Some big hands and long arms too
Charlene
said on 12/Apr/09
I am SO glad I'm 5'3. Being that tall is difficult. You can't wear heals, you have to be careful whom you date. A woman is supposed to be small.
Missy93
said on 23/Jan/09
I think she is awesome, and I am 15 and I am 5.11 1/2 feet tall. almost 6 feet. She is awesome. She is very good at the camrea. Awesome height, hmmm maybe size 11 mens foot wear, I bet.......................................
Alternate
said on 8/Jan/09
Looks more like 5'11 or 5'11.25 at the most, since she's closer to the camera and Rob is tilting a little. Maybe 6-1 in footwear. Need a downgrade.
Grace
said on 16/Dec/08
She plays a good wraith off Stargate Atlantis ( my favourite show ) and is she ever tall and skinny.
Missy 93
said on 23/Nov/08
I might not know her, But I am 5 11 in the half. I bet she's awesome. Awsome long Arms I bet.
missy93
said on 13/Oct/08
Awesome Hight, I wish I was same hight like 6-1. Too tall
Tasia
said on 6/Dec/07
im the same height as her and im 15 :/
and of course her arms are long. there 6'1" from tip to tip.
Franco
said on 23/Sep/07
this picture is really the 0wnage and pwnage. :D
black footware?
185cm it is.
Danius
said on 19/Sep/07
LOOKS 6'1......DAMN LONG ARMS LOL
Max
said on 18/Sep/07
I have a friend who says he's 6'1. I'm 5'9 and we don't stand that far apart as in the photo above.
Markus
said on 17/Sep/07
I wouldn't call her "big" but "tall" instead, because she looks fairly skinny. Big would suggest she weighs 220 pounds or something ;)
Franco
said on 17/Sep/07
nobody commented on footware, if she had heels then she's not 6'1, looks 6'2 in that picture. she's probably 181-182cm
[Editor Rob: no difference, she had some sort of blackish shoe this day.]
glenn
said on 17/Sep/07
im bad with tv.
Anonymous
said on 17/Sep/07
Thats a big girl, any more details on her
glenn
said on 16/Sep/07
big woman,but who the hell is she?
[Editor Rob: oh just a minor actress, only if you had seen tv show stargate you might have seen her.]
Derek
said on 16/Sep/07
Very tall woman. 6'1" with ease if she stands straight.
Jason
said on 16/Sep/07
That is a big ass woman.
Anthony
said on 16/Sep/07
She does look it. Big lady.
Glenn
said on 20/Jul/06
I do it for you Jake!
Glenn
said on 20/Jul/06
Yeah,I was debating sending this in,but we want to cover from the famous to the obscure.I kinda liked some of their doomy metal stuff too.Im not sure who is in the band.
Jake
said on 20/Jul/06
Wow... Glenn... I'm impressed... 3 women?
Anyways, its kind of hard to tell because Glenn is not really standing up to straight. What-ever 5'6" seems fine.