Christopher Heyerdahl's Height
6ft 3 (190.5 cm)
Canadian Actor best known for appearing on tv series Sanctuary, Stargate Atlantis and Twilight: New Moon. This photo is from a 2010 convention. Chris had a little thicker (1/4 inch) shoe than us this day. On his imdbResume he had his weight listed as
"190 lbs"
.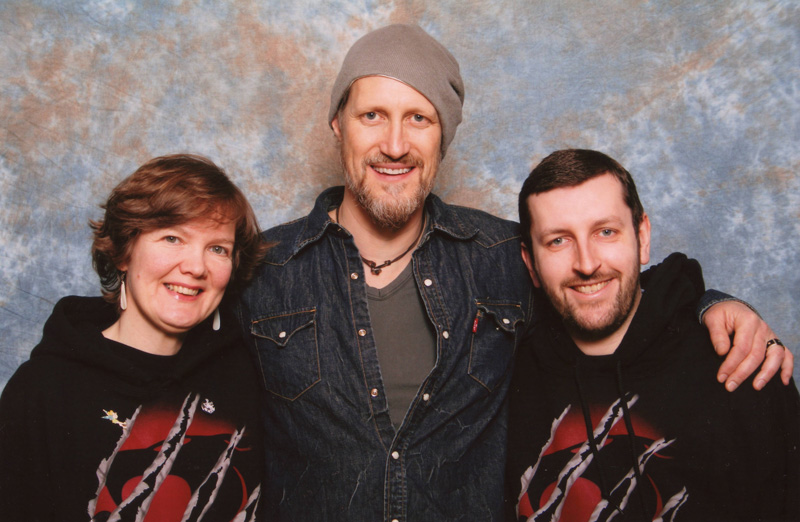 5ft 8 Rob and Christopher
You May Be Interested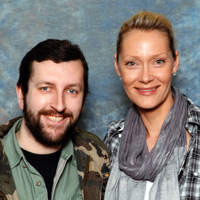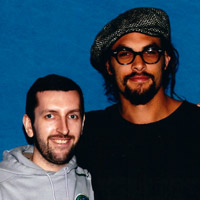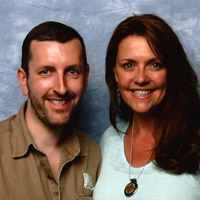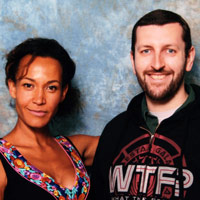 Add a Comment
88 comments
Average Guess (35 Votes)
6ft 2.72in (189.8cm)
184guy2
said on 25/Feb/21
@Rob
Could he be as tall as Rupert Young in person by your estimate ?

Editor Rob
they can look quite similar range
OriginalAnon
said on 31/Jul/20
Looks 189cm.
Rampage(-_-_-)Clover
said on 29/Mar/20
JCL would surely edge out this guy
Jkiller
said on 29/Jan/20
Yeah 190cm seems about right. Lowest 189.5
mark thompson
said on 4/Dec/19
am i the only one who thinks christopher is a dead ringer to rob??
Nik
said on 17/Sep/19
Rob is slouching!
Caldoni
said on 12/Sep/19
Looks under 6-3
Rampage(-_-_-)Clover
said on 12/Sep/19
He looks like Clancy Brown and Hugh Laurie's love child
Rampage(-_-_-)Clover
said on 12/Sep/19
This guy looks a weaker 6ft3 than JCL
Junior Hernandez 1990
said on 4/Jun/19
Rob, that would have mean you intentionally given him a fraction over this listing. Because from your picture and every appearance of Hyerdahl i just don't see him as a big 6'3 guy like John Carroll Lynch.

Editor Rob
In person they can seem close, but I feel John at least in his 30's and 40's has the better chance of measuring over 6ft 3.
Junior Hernandez 1990
said on 3/May/19
@Nik His head was a little further than camera than Jenny and Rob. We could at least see him solid 190cm.

Editor Rob
My head is not nearer the camera.
Nik
said on 1/May/19
He doesn't look 6'3"!
Junior Hernandez 1990
said on 15/Mar/19
If Rob say about 6'3 which is likely to be a strong 6'2 7/8 (190.2) which Christopher Heyerdahl at his worst 190cm through out the day.
Simonnn
said on 1/Sep/18
Rob, is there always a chance for him to drop under 190 cm before bed?

Editor Rob
I think in person about 6ft 3 is quite believable for him, if he drops under it, we are talking a small amount.
Nik
said on 31/Jul/18
This is a smashing photograph!
Sandy Cowell
said on 25/Dec/17
Ha ha! That picture with Rob and Jenny either side of Chris, wearing exactly the same style jumper, is what I'd call an incredibly well-balanced one!
You can also see from it that there is a very tangible eight- inch difference there, so Christopher can have 6ft3!
Jason
said on 14/Dec/17
189.5-190cm
Slothee
said on 28/Nov/17
Looks more 6'2 1/2" range there
S.J.H
said on 12/Jul/17
I will not go under 189.5cm for Heyerdahl. He always look solid 6'2.75 maybe 6'3
Flyin
said on 28/May/17
How tall would you say Jonathan Scarfe is in Van Helsing?, confusing with the army boots.
Editor Rob: have yet to look at van helsing, so many shows out there...but sometimes I do watch an episode or 2 of some shows I'm not intending to watch a whole season of yet.
Canson
said on 9/Mar/17
Agree with SJH between a weak 6'3 and a solid one is with his hair
S.J.H
said on 7/Mar/17
6'2 and 3/4 bang on
berta
said on 21/Feb/17
he always look like a strong 6 foot 3 guy on tv but in tghis photo were everyone looks to snand good i would say maybe 190? a guy that is if he is lucky 6 fot 3? what about that?
Josh
said on 3/Feb/17
Interesting that he's this tall. Someone mentioned a Supernatural episode in the comments, I don't think it's possible to get a good height from that show. Jensen Ackles is always trying to look much taller than he actually is, not even sure the 6' listing on the site is right for him considering how much shorter than Jared Padalecki he looks without the boots.
Here's Chris and Jensen in a shot, notice that camera magic:
Click Here
Victor Surratt
said on 29/Jan/17
Strong 1.91-1.92
James
said on 9/Dec/16
Is he your brother Rob? :0
Editor Rob: James, maybe a long-lost Uncle.
tallgirlsworldwide (insta)
said on 1/Dec/16
Absolutely he is 6'3" (190) tall bcoz his shoulder was equal to your ear and that way 18 cms needed for this so my guess is 6'3"
Tiger
said on 2/Nov/16
Doesn't look close to 6'3 here. 6'2.5 and that might be generous
Rampage(-_-_-)Clover
said on 29/Oct/16
He's got the proportions of a 6ft4+ man
Brandon
said on 18/Oct/16
Looks like a 6'2" guy more than 6'3".
I think I'll vote 6'2.5"
S.J.H
said on 26/Sep/16
I took back my words 6'2.25 , i think he could be 6'3 awhile in the morning kinda like 190cm claim 6'4 he looks it 6'2.75 more i see him
Christian-196cm (6ft5.25)
said on 25/Aug/16
He can give a 6ft5 impression at times in movies and TV shows.
Warren
said on 18/Jul/16
Oh my! this actor really looks like Rob!
Rampage(-_-_-)Clover
said on 6/Jun/16
I might dip slightly below this at worst, 189/190cm. Not only 188cm though
S.J.H
said on 2/Apr/16
Honestly he look 6'2.5 with jenny and rob and by 1/4" shoe took off he can only be like 6'2.25
Rampage(-_-_-)Clover
said on 2/Mar/16
Another 6ft3ish guy who can maybe get mistaken for 6ft4-5.
slothee
said on 30/Mar/15
Accounting for the shoe advantage, I don't see him over 6'2.5".
Rampage(-_-_-)Clover
said on 29/Sep/14
Most places have him at 6ft4 or 6ft5, lol.
He could be 190cm, Rob?
[Editor Rob: I think he's right around the 6ft 3 mark in person]
Miiiiiiighty_-
said on 22/Sep/14
Man.. He looks really tall in "Hell on Wheels"..
Would have thought he was 6'4-6'5..
Amaze
said on 9/Aug/14
191 rob.
was it a long day
you look very tired here like you are going to nap in his arms hehe
[Editor Rob: I was ill, as was jenny that weekend, I think I was knackered most of the time!]
Alex 6'0
said on 19/May/14
He looks somewhere between 6'2.5 and 6'3.
Jack
said on 15/Dec/13
Accurate listing
Rusty
said on 19/Sep/13
You may think he looks under 6'3" due to where Rob comes up to on the nose of his, but keep in mind this man has a larger than average nose
Rusty
said on 22/Aug/13
If Rob is 5'8.25" this guy looks 6'3" yet if he has a quarter inch more shoe he is likely 190cm and very near 6'3". Rob's listing is pretty accurate.
I am from Seattle and actually went to the Twilight set in Forks (only a couple hours from my home) and met some of the actors. I don't have photos or proof so its my own word but I was there when they were filming the last one which was released not even a year ago.
I was wearing similar footwear and met Pattinson and Lautner and Stewart and a few extra and cast and crew but I did not meet Heyerdahl so i can't comment on what i saw. I am right at about 6'3" and Pattinson i felt was a good 2.5 inches shorter than me (making him about six and a half, only a quarter inch more than his listing by Rob, making Rob's listing reasonable accurate). My mom came too and she was a weak 5'9" at her peak and is about 5'8.5" now as she is 56 and has lost about a quarter inch of height. She was about the same height as Lautner, making Rob's listing for him very spot on. I only saw Stewart from a distance so I don't feel i can comment on her.
Rusty
said on 22/Aug/13
Good listing. Rob, on average would a 5'8.25" or so guy like yourself come to the bottom of the nose of a 6'3" guy?
Dalai Lama
said on 22/Aug/13
rob-173
robs brother-190
roberto180
said on 20/Aug/13
solid 6'2 maybe 6'2.5 max
Blaze
said on 14/Aug/13
I just saw a scene in true blood with him and peter mensah who is listed 6'3 standing close together and chris looks close to 6'4 but it was probably just camera angles. In the pics you have he looks 6'2.5. I think in person he is actually 6'3 but no way he is 6'4 or tall like skarsgard, mangeniello, or myself. still though, good listing :)
PepsiCola
said on 24/Jul/13
6ft3 is accurate, i think he has a loose posture in this pic i could be wrong ofcourse
me
said on 21/Jul/13
Rob, you guys look like brothers!
avi
said on 17/Jul/13
solid 6.5 inches
Pedro
said on 20/May/13
His agency lists him at 6ft4:
Click Here
[Editor Rob: a talent agency run by 'G' :) Always adding an inch to their heights ;)]
Bard
said on 6/Apr/13
Looks more like 189-190cm.
Alex
said on 1/Feb/13
Idk, my guess would be nothing under 190 cm. He always looks very tall. Maybe it's his lean physique though...
jasper186cms
said on 19/Nov/12
My minimum guess for this man would be 189cms.
Aragorn 5'11
said on 20/Oct/12
He was in an episode of Smallville as Zor-El and he looked a little taller than Tom Welling. But then again he was wearing boots so that could have made him look taller.
Rampage(-_-_-)Clover
said on 31/Jul/12
Not as low as 188cm but not
quite as high as 191cm.
Most likely is 6ft2.5(189cm).
nice guy
said on 8/Jan/12
classic 188-189cm flat guy
Sasha
said on 14/Dec/11
In this picture looks only 6.25 inches taller than Rob - the top of Rob's head is on the level of 3/8 of Christopher's head. If Rob wouldn't slouch, Christopher would be only 5 inches taller. So he is 6'1"-6'1.25" from here. But, maybe, he stands not very straight.
P. S. Rob, is he your relative? :) Christopher looks like an elder brother of Rob: the same noses, same eyes, same heads and pretty the same beards.
[Editor Rob: he is my long lost brother who stole my inches at 14!

I believe he's in the 6ft 3 range, I saw him with a few guys and that figure seems my guess.]
Theman
said on 28/Nov/11
Looks 189-190 at max.
ChiasmataX
said on 21/Nov/11
Looks a bit taller than the 186.8cm guy from height challenge. Not quite 191cm. Probably 189cm barefeet considered he had footwear advantage.
LAN Jiao
said on 25/Oct/11
1,90 not under
Shaun
said on 24/Oct/11
Good grief he dresses just like I do, surfer goatee is even similar to mine. Da man got style! He should go for the ribbed grey beanies though.
LAN Jiao
said on 30/Sep/11
did christopher heyerdahl claim 6'3 or 6'4?
Rampage(-_-_-)Clover
said on 4/Sep/11
6"3.25(191cm) in the pic but has thicker shoes. So barefoot he's 189-190cm.
xyz.reg(6 ft 0.5er)
said on 9/Jul/11
Hi rob..where would be my top of the head reach compared with this man..?
[Editor Rob: probably somewhere between 1.5-2 inch above eyebrows]
Terryman
said on 29/Jun/11
if ROB stood at his tallest anything over 1,91 meters goes out the window for this guy!
Lenad
said on 11/Jun/11
weak 6'3 it is.
James
said on 31/May/11
actually after looking closer at the pic i think rampage might have a point
Rampage(-_-_-)Clover
said on 19/May/11
Oh come on...with better posture this guy could exceed the 6"3 mark no bother
Lenad
said on 1/May/11
Id say 6ft3 max
Rampage(-_-_-)Clover
said on 30/Apr/11
I think this guy is 191.5cm(6"3.25)
Nick
said on 24/Apr/11
come on guys I'm 188cm but surely in Stargate atlantis I could look 6'7'' or 2 meters easy.. don't mind fiction too much..
James
said on 16/Apr/11
I think he's a weak 6'3
Rampage(-_-_-)Clover
said on 25/Mar/11
Looks 6ft3-6ft3.5
me
said on 23/Mar/11
easy 191cm maybe even 192cm
James
said on 26/Feb/11
Actually 188cm with thicker footware and would look 187cm if his footware was equal.
James
said on 24/Feb/11
looks bang on 190cm.
6'2.75 for this guy
fair assessment
said on 24/Feb/11
Christopher looks like a legit 6'3 guy in this picture. btw he resembles Rob so much! I had intially thought he was Rob's brother or father ;) Same face!!
Truthman 6 ft 4.5 in
said on 1/Feb/11
And Bruce Willis would be Homer Simpson.
jen
said on 25/Jan/11
if they ever made "the simpsons" into a live action movie, he'd be a perfect grounds keeper willie <3
Mr. R
said on 25/Jan/11
By the way Rob, I notice that you and jenny are wearing the same sweater....Uh, were they Christmas gifts?
[Editor Rob: they are Thundercats hoodies, when I saw them for a five quid each I thought I'd have to get em.]
5'7.56
said on 23/Jan/11
In Stargate Atlantis he can look taller than 6'4 Jason Momoa, a 6'2 would never pull it off as a 6'5. he's got to be a 6'3 at least.
Efi A
said on 19/Jan/11
6'2-6'2.5 max in this picture
rob89
said on 16/Dec/10
Closer to 6'2 in this pic IMO.
lolo
said on 11/Dec/10
lookd really huge on stargate atlantis, i thought he was 6'5 or something
lolo
said on 4/Dec/10
rob is losing 0.5-0.75inches in posture, and has 0.25inches less shoes, so heyerdahl looks more 6'2.25, 6'2.5 tops
Rampage(-_-_-)Clover
said on 4/Dec/10
6ft 3.5in(192cm) may be closer