Andrew Divoff's Height
6ft 1 (185.4 cm)
Venezuelan actor best known for his role in the Wishmaster Series of films, Toy Soldiers and for his portrayal of Patchy in Season 3 of LOST. In this photo I was wearing
Adidas Superstars
, whilst Andrew's footwear looked about same thickness. On his online resume, he listed his Weight as
"190 lbs"
.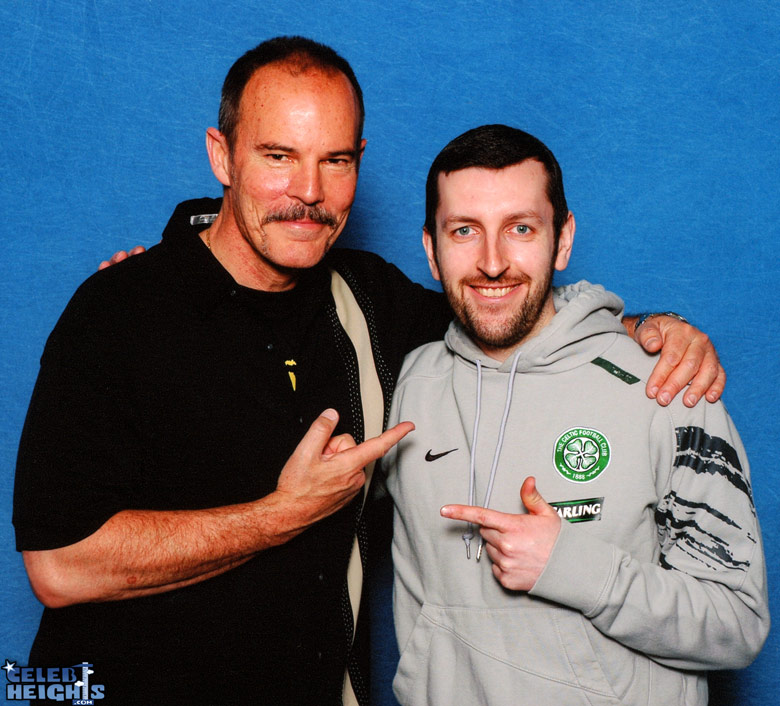 5ft 8 Rob and Andrew @ Lockdown, 2008
You May Be Interested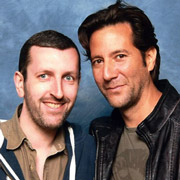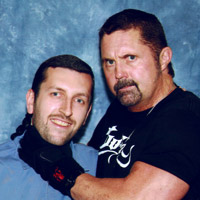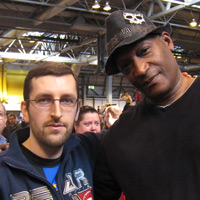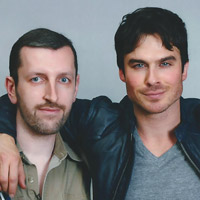 Add a Comment
78 comments
Average Guess (19 Votes)
6ft 0.87in (185.1cm)
slim 6'1
said on 30/Jan/21
Could've been 186 when younger
OriginalAnon
said on 9/Dec/20
Looks a good 185cm in the photos.
Rampage(-_-_-)Clover
said on 13/Oct/20
Might be a guy who went from strong to weak 6ft1
Slim 6'1"
said on 5/Aug/20
Remember him from lost I'll say he was 186 when younger
Jkiller
said on 17/Apr/20
Looked 6'1 in Lost
Zampo
said on 17/Sep/18
Tricky one. Looks like he walks/stands at about 6'0. I do think he would clear 6'0.5 if measured. Possibly near 6'0.75 or so.
Rampage(-_-_-)Clover
said on 14/Apr/18
berta, possibly more 184-185cm today and 186cm peak
tracz
said on 12/Dec/17
6'1 INDEED
berta
said on 19/Oct/17
this guy is one of the best actors to play the bad guy. extremelly good in all his roles. he looks like a 6 foot 1 man. Rob just one question in lost when standing beside terry o quinn he really looks like the shorter one in every scene? i still cant believe terry o quinn was anyless than this height as peak and possible 186. but down to 184 today. Check out the scenes with them together and you will see what i mean. thanks
World Citizen
said on 6/Jun/17
He is tilting his head in the upper picture. I think he is 184.
Paleman
said on 25/Apr/17
He's slouching a little bit in these photos... Standing up straight he looks every bit of a 6'1" guy. He also has a low eye level which can make him look a little shorter than he actually is. A solid 185cm looks spot on for him.
Christian-196.2cm (6ft5.25)
said on 16/Dec/16
He looks only 6ft tall in the bottom pic.
Sandy Cowell
said on 14/Oct/16
That voice he put on in the 'Wishmaster' films really got up my nose! If a nasty genie approached me offering me three wishes and spoke like that, I don't think I'd be able to take him seriously! I would have guessed him to be around the 6ft1 that he is or perhaps an inch taller.
Sam
said on 12/Sep/15
I think he kind of resembles Bryan Cranston (in the eyes) and with the mustache could probably pull off a decent Heisenberg.
Sam
said on 17/Aug/15
Also in The Strain looked strikingly like Josh Brolin with slicked back hair and dressy clothes.
Sam
said on 29/Jul/15
Liked his 1 episode turn on The Strain, he seem rather more cool and likable than Corey Stoll's lead character but he dies quite disturbingly!
Rampage(-_-_-)Clover
said on 23/May/15
Rob, what was he like in person?

Editor Rob
actually I had a chance to talk with him more than normal at a kind of reception and he was engaging and seemed a smart guy!
Joe
said on 22/Dec/14
we'll never really know do to variation in footwear makes that much of a difference in predicting, judging by what we got and the pics, The very top of Rob's head reaches a few hairs above Divoff's eyebrow hairs, which is a distance of 4" so 5'8(rob)+ 4" = 6'0" . Divoff is probably no more than 6.0 1/2"
Mike
said on 6/Dec/14
Looks 186-187 to me.
slothee
said on 1/Dec/14
6'0.5" maximum.
Andrea
said on 3/Aug/14
Doesn't look over 6' in these photos...
danny185
said on 22/Jun/14
i think 184 night is good for him, tall guy
Emil
said on 26/Aug/13
He looks 6'0.25-6'0.5 in this picture but 6'1 is fair. He's 58 (53 here) and he has likely lost a little height
avi
said on 8/Aug/13
weak 6'1 probably be 1/2 bigger than me tops.
Aragorn 5'11
said on 2/Jan/13
Legit 6' footer. Not more than that though!
Sean73
said on 17/Dec/12
He looks more a legit 6 ft 1 to me more than david tennant does.Plus Andrew looks like a really nice guy,too.
Rampage(-_-_-)Clover
said on 28/Sep/12
"Andrew Divoff's height is 6 ft 1.25 in (186cm)"
looks near 6ft2 in the group photo. In Lost he also looked similiar to Matthew Fox
Johnnyfive
said on 1/Sep/12
Actually he looks the same height as me 184cm. That's exactly how I look next to my 5'8 friend, even a bit taller considering my friend is 5'8 flat. So with Rob's solid 5'8 thats how I would look so 6'0.5 for Andrew.
Chameleon
said on 18/Dec/11
He is 185cm. Looks it in Wishmaster next to Hodder and Tony Todd =)
ChiasmataX
said on 21/Nov/11
Not 185cm if you compare this guy to the 186.8cm guy from the height challenge. Assume their shoes are equal I think this guy is a legit 183cm guy. A great example of how tall a legit 183cm guy really look like.
Maximus
said on 20/Nov/11
legit 6'1"....no lifts needed here.
Greenbolt
said on 15/Nov/11
I think this guy looks more in the 6'0.5''-6'0.75'' range than a full 6'1'' personally.
LAN Jiao
said on 1/Nov/11
one of my fave actors. i use to thought he was 6-2 on screen. 6-1 in person is close truth. maybe dip into 6'0.75 now.
Chameleon
said on 26/Oct/11
Tony Todd has 4 inches on him in Wishmaster
Nice try James, Andrew is 6'1 no more.
James
said on 17/Sep/11
Looks 6'2 (188cm) with rob in my opinion 186-187cm with bad posture.
He's got a very big prominent head as well
Maximus
said on 3/Sep/11
He looks a legit 6'1...doesnt need lifts thats for sure.
Chameleon
said on 25/Aug/11
This guy is amazing in Wishmaster, he totally made the movie. And he's 6'1 allright.
Hansen
said on 15/Aug/11
not a big slouch here so he is 180 in pic , straight up 183-184.
ANDREA[ITA]
said on 13/Aug/11
looks max 180 with rob but he's slouching! If Rob says he's 6ft1, i trust him!
Terryman
said on 1/Aug/11
close enough to 1,86m
Alex
said on 20/Jul/11
Looks 6'1 on the nose
James
said on 6/Jul/11
looks at least 6'1 with rob too me.
Mathew
said on 29/Jun/11
Looks about as listed.
Lenad
said on 9/Jun/11
If he straightend up Id say 6'1-ish. Looks like 4 inches taller than Rob but hes got a posture disadvantage
Terryman
said on 2/Jun/11
this guy is the epitemy of COOL just google other pics of him if you dont know what I'm talking about,he always does the pose he's doing with Rob when posing for pics!
Chameleon
said on 28/May/11
Yeah this guy is 6'1 for sure.
Rampage(-_-_-)Clover
said on 27/May/11
Slouching he looks 183-184cm...so upstraight at least 6ft1
Rampage(-_-_-)Clover
said on 23/Apr/11
Looks 186cm on Lost
James
said on 19/Feb/11
A true 6'1
Hugh 190cm
said on 13/Jun/09
Now I'm not saying he is but this guy looked very tall in a low Down dirty shame. I wouldve said 6ft3-6ft4!
Hugh 190cm
said on 12/Jun/09
With realy good posture how tall could Andrew Divoff be then?
Hugh 190cm
said on 10/Jun/09
He's slouching and he still looks 6ft1. I'd say up straight this guy could be close to 6ft2, don't you think rob?

Editor Rob
didn't look 6ft 2 to me.
dani
said on 2/Mar/09
Rob, can you suggest me a good way to measure my height without the stadiometer?, i can't afford a stadiometer. Im using a door to measure my height and a book that i hold over my head and mark with a pencil but i don't think im doing it right coz the values i get are with 2cm so i can't be right coz my height can't be between 181cm and 179cm.

Editor Rob
too much variation with a book I think. If you are doing it yourself, I would do it in the door frame and against a wall. Just face wall and look straight ahead and use something like a long aeorosol can.
dani
said on 2/Mar/09
"Jenny is not really tall. She has just a good height for a woman."
Commo'n Martin, how come you said that Jenny is not tall. Jenny is 175cm which is really tall for a woman. Jenny is more than 3 inches taller than the average. That's tall my friend.
Ronaldo
said on 3/Aug/08
Rob and Jenny do you know each other? friends?

Editor Rob
Jenny is my girlfriend. You can see our height comparison on the
Morena page
, barefoot and Jenny in heels with me...
LV
said on 2/Aug/08
He was just on an episode of Burn Notice and appeared slightly taller then 6.025' Jeffrey Donovan.
Martin
said on 1/Aug/08
Jenny is not really tall. She has just a good height for a woman.
Susan
said on 30/Jul/08
I know him from The ''LOST''.His name was Mikhail Bakunin.Charlie caled him ''Cyclops '' before die. He is a good actor and handsome.He looks 6'1' no doubt.
Joe
said on 30/Jul/08
jenny is very tall for a woman. she'd be huge in heels.
maximus
said on 30/Jul/08
6'1" SEEMS PRETTY ACURATE TO ME...
Jonathan
said on 20/Jul/08
Thats a good picture Rob. Good thing you have that view indicating the 1 inch difference of height between the front of the box and the back of the box. That is what is probably giving everybody the 5'9 perception. Even though the box looks level, there is a 1 inch difference when looking from the camera angle.

Editor Rob
that's exactly reason I took a photo showing the 1 inch angle...

one day I'm going to try to get a better one but I need to set the camera at precisely 5ft 8 high, then move it slightly to the side so you can see the precise height.
footballed28
said on 20/May/08
I say he is more 6'1 1/2
anonymous
said on 2/May/08
hey rob how come you only shrink .6 of an inch in the day do you work out or something??? if you dont mind me asking

Editor Rob
The average is pretty much 1.8cm or 0.7 inch.
Charliemoto
said on 24/Apr/08
i really love that image with DIVOFF kinda like ol' friends sort of image really cool :D really i wouldn't give Divoff anything less than 6'1 i'd give him 6'1.5 even which is kinda more appropriate cause he looks it.
Heightwatcher
said on 20/Apr/08
Rob, in the pic of you below you look 5 feet8,5 - 5 feet 9. because if u look at 5feet 8 then there is still not the whole head of you.
When was that pic taken? out of the bed, morning, afternoon, night?

Editor Rob
near 1hr from waking. If I ever take one out of bed it will show me 5ft 8.6. Of course in every photo or meeting with celeb I don't meet anybody even 1 hour or 2 from waking so my afternoon-evening height of 5ft 8 is what you use.
Charliemoto
said on 19/Apr/08
that's what i said guys, he looks 6'1.5 max for real (barefoot of course).
@Editor ROB - im not sure when did you take that image but you're 5'8.5 exactly IMHO perhaps your lowest is 5'8 173cm but your average is probably 174cm. (just a thought) :)
kinda like me i'm 180.5cm lowest after a very stressful and tiresome day (although i just say 180cm flat because i can't be arsed with 0.5 etc) and my average around 181cm.

Editor Rob
that's at least 2 years old, but it's to show I can clear 5ft 8.
RICHARD
said on 19/Apr/08
Looks 6'1 easily next to Rob. I actually think Rob looks 5'9-5'11 in this pic. Good posture,huh ???
Anonymous
said on 19/Apr/08
Rob am I missing something or does that pic prove you are 5ft 9?

Editor Rob
it's to show I'm 5ft 8.
Heightwatcher
said on 19/Apr/08
ah rob you're right. my apologies. In that pic you're even closer to 5 feet 9 then to 5 feet 8. Then divoff must be like 186cm 187cm

Editor Rob
he's got near 4 inches on me and maybe 1 inch looser posture and I saw him beside a few other friends, so I thought 6ft 1 is closer.
WantingToBe6FT
said on 19/Apr/08
6'1" - 6'2"
Heightwatcher
said on 18/Apr/08
Rob is in my eyes 5'7. Look at his hands! and mr divoff is slouching

Editor Rob
Sid
said on 15/Apr/08
Looks 6'1" in da pic taking into account his slight slouch, although he looked of average height in Another 48hrs for some reason, but in that film he was scary as hell.
Charliemoto
said on 15/Apr/08
i love this actor from Wishmaster and LOST, he's amazing in every role.
looks 6'1 - 6'1.5 max
Imprez
said on 15/Apr/08
I see more than a 4" diffrence here
maximus
said on 15/Apr/08
LOOKS AN EASY 6' TO 6'1.....
Jake Is Back
said on 15/Apr/08
He looks under 6' in the pic. But then again it looks like he's slouching.
TheGhostUponTheStage
said on 15/Apr/08
This guy made the wishmaster cool, he was made for the role. 3 & 4 sucked!
Yaspaa
said on 15/Apr/08
Hard to tell by this picture.