Anthony James Height
6ft 5 (195.6 cm)
American actor, best remembered for roles in Unforgiven, Vanishing Point, Burnt Offerings, In the Heat of the Night, Naked Gun 2½ and High Plains Drifter. In his memoir he described himself as
"6 foot, 5 inch"
.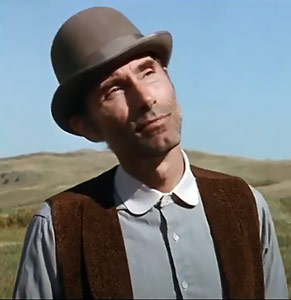 Anthony in Unforgiven
Add a Comment
16 comments
Average Guess (9 Votes)
6ft 4.97in (195.5cm)
Miss Sandy Cowell
said on 7/Jul/20
@ Ian C - ...but strange in a nice way! It's things like this that opens up opportunities for parts for actors.
I've just come from Nick Chinland's page, and he can be strange in the creepiest of ways!
Cheers Ian! XX 😉👍
Tall Sam
said on 6/Jul/20
Interesting, I wasn't aware when I compared that that Anthony James had co-starred with Christopher Lee. He does look a little taller but I think James has an advantage in stance over Lee there which accentuates how much taller he looks. Here's another with them from that film, you could get the impression that James is much taller as he's slouching there but he is also closer to the camera. I'm beginning to think James can even look as tall a guy as Bo Burnham...and him with Lee reminds me of Burnham comfortably edging out Pete Holmes.
Click Here
Ian C.
said on 2/Jul/20
This one is a surprise. I had him at six foot or so. At six foot five and gaunt he was a genuinely strange looking man.
Rampage(-_-_-)Clover
said on 1/Jul/20
Taller than Christopher Lee
Click Here

Editor Rob
I can't even remember watching Return from Witch Mountain, I wonder if they had any comparable scenes together!
movieguy12
said on 29/Jun/20
If you google 'Anthony James George Kennedy' the excerpt from his book comes up and put the wide as he was tall quote in context.

Editor Rob
yeah, that quote didn't quite make sense without context.
Yang (5 footer 8, 173, Aries)
said on 27/Jun/20
True lister for sure.
@Tall Sam, Agreed. He was even bit taller than Eastwood during their peak years...
Michael187
said on 26/Jun/20
195 seems about right.
Rampage(-_-_-)Clover
said on 25/Jun/20
I knew he was tall but I wouldn't for second have guessed as high as 6ft5! But I'll take it :)
movieguy12
said on 24/Jun/20
One of these guys where you recognize the face but don't know the name. Had a weaselly look and hence tended to be cast as villains. I didn't know he was so tall I'd have thought he was a 6'2'' guy. I don't think he's exaggerating either as his height probably didn't help him get parts and may have been a hindrance.
Tall Sam
said on 23/Jun/20
He was definitely had some height on Eastwood. Could see James looming at a similar height as Christopher Lee.
berta
said on 23/Jun/20
i really thought the guy was 190 cm
Canson
said on 22/Jun/20
He could be one of the more legit 6'5" guys on the site along with Peter Hermann, a peak John Cleese, a peak Peyton Manning to name a few. That's not including some of the others who may be able to measure a hair over 6'5" such as Howard Stern
Arch Stanton
said on 22/Jun/20
Yes he had very thin features and what you'd call a "chiselled face". In fact his cheekbines and jawline are so pronounced that it indicates excessive growth hormone, I wonder actually if he had some sort of illness like Marfan or even a bit of acromegaly or something, he could look quite ill at times.
Miss Sandy Cowell
said on 22/Jun/20
Anthony was no stranger to westerns, Clint Eastwood-style. 'Burnt Offerings' was a good film, in fact, judging by the films I know of the above, which is all but 'Naked Gun', Anthony had a taste for some excellent roles.
6ft5
RIP Anthony 🕯️
Chris Junior Hernandez 1990
said on 21/Jun/20
Strange that Stephen Merchant look identical as Anthony James. RIP Legend.
Arch Stanton
said on 21/Jun/20
You must have been watching some old Clint Eastwood films Rob! He's more like somebody I would ask for! I wouldnt have thought him as tall as 196 cm, I thought he looked more 6'4 range. The "same height as Kennedy" is a give away!

Editor Rob
I came across his quote by accident, which happens half the time. But I do remember him looking quite tall in films, helped by his slimness.