American actor best known for playing Archie Johnson on CSI: Crime Scene Investigation and Kai Chen / Blue Ranger in Power Rangers Lost Galaxy. On an Archie fansite in 1999 he gave
"5' 10"
as his height and on his imdbResume he has his Weight listed as
"160 lbs"
.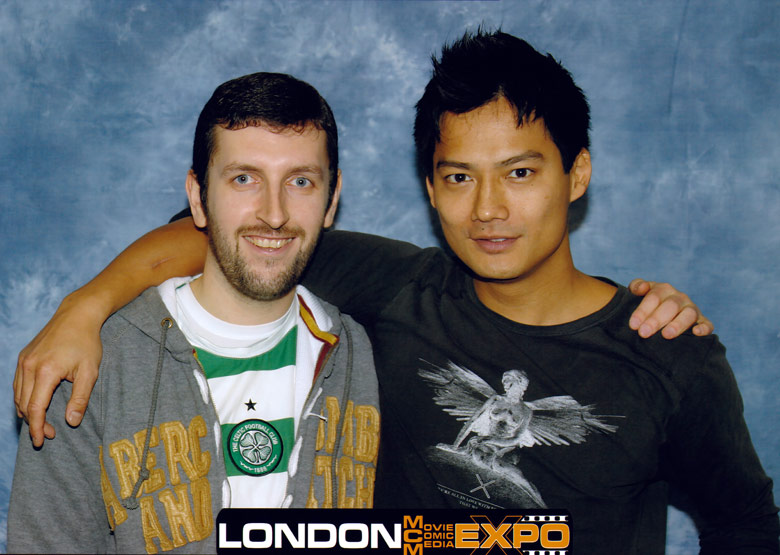 5ft 8 Rob and Archie @ MCM Expo (28th Oct 2006)
Jackie Lee
said on 31/Oct/21
The people guessing him under 5'9 or 175 cm are ridiculous. No way is he as short as 5'8
JohnMoore-162cm
said on 24/Apr/20
flat 175 cm guy
Red Ranger
said on 24/Dec/19
Hi Rob, can you add him and Cerina Vincent to the Power Rangers category? Thanks
MAD SAM
said on 15/Dec/17
175 cm nothing more
Keemstar
said on 16/Sep/17
Kenji, from Need For Speed Carbon, he did look familiar
Revisionist
said on 9/Sep/17
@ Cameron, Agreed. I think that the current 174.8 is very close. His eyes are exactly level with Rob's, so I highly doubt that he's more than half an inch taller.
Slim
said on 3/Sep/17
A weak 5'9".
Bobby
said on 17/Aug/17
How can he be 5'10? If he's 5'10, then I'm 5'11.
even
said on 24/Jul/17
175 cm flat
Cameron
said on 18/Jun/17
@Eduardo The hair is pretty deceiving, I think he's less than an inch taller than Rob.
World Citizen
said on 31/May/17
175 or 176 cm
BlueHead
said on 29/Apr/17
Solid 176 , like me.
eduardo
said on 27/Apr/17
Don't be fooled by the spiky hair, he is no more than 175
Giorgi
said on 17/Dec/16
Oh my god I wonder if it's just the photo or this guy really has a huge head.
Peacegamersd95
said on 8/Dec/16
The actor is also from Power Rangers: Lost Galaxy. He plays as Kai, The Galaxy Blue Ranger.
Ricky muliawan hansyar's height is 5ft 7.5in (171 cm)
said on 8/Aug/15
Rob,if I say Archie kao eyelevel 4.7 in,are you agree?

Editor Rob
probably 4.8 range
Lee Whit
said on 27/Sep/14
I went to college in VA, and he and I hung out a bit(early 90's). I was 5 9" at that time and he was an inch taller than myself. Definitely needs an upgrade.
Lonestar
said on 14/Mar/14
5ft8.5 bang on
Rampage(-_-_-)Clover
said on 17/Sep/12
Not over 5ft9(175cm) with Rob
LG69
said on 12/Aug/12
Solid 5'9"
Jack
said on 19/Jan/12
WoW this guy looks much younger than 42...I didn't expect him to be this old.
Rikashiku
said on 3/Dec/11
Looks like a strong 5'9" with Rob.
ChiasmataX
said on 24/Nov/11
A legit 178cm guy will have the eye-level mid way across the forehead of a legit 173cm guy in picture. At a 176cm his eye-level is no where near 178cm range he's a 174-175cm guy at most.
avi
said on 19/Nov/11
hair is odd but almost inch taller is fine. i'd say 5'9 flat. but if Rob is 5'8 flat then 5'8.75. He is clearly taller but hardly.
Physics Enemy
said on 16/Nov/11
Actually no, he looks the same height as Rob. 5' 8.5". Definitely not 5' 9".
linke
said on 24/Sep/11
Shaun,thats so true man.
Shaun
said on 23/Sep/11
He looks like an older version of Angelina Jolie's Maddox!! The hair gives a 5'9.5" impression
Josh B
said on 28/Jul/11
Then Chanman you ain't 178cm :P
Chanman 5ft 10 178cm
said on 22/Jul/11
He looks around the same size as me!
mofo
said on 14/Jul/11
Looks 5ft8 same eye level pushing rob down with his arm to appear taller!
Also that hair cut is giving him a bit of unfair advantage in height!
Looks 5ft8 flat in csi too!
marie
said on 18/Jan/07
Well, I have met him, and I know him quite well. He really is 5'10", although I find it funny that anyone should care about disputing his height. His favorite colour is blue. Boo.