Bijou Phillips Height
5ft 5 ¼ (165.7 cm)
US Actress from Almost Famous and Hostel Part 2.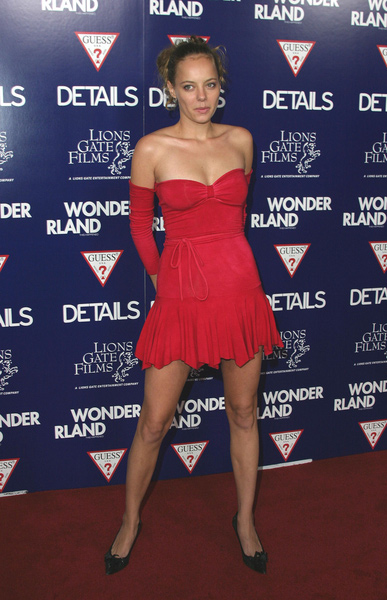 Photo by PR Photos
Add a Comment
12 comments
Average Guess (8 Votes)
5ft 5.5in (166.4cm)
Miss Sandy Cowell
said on 3/Apr/20
💐🎊💝🎂 Happy 4️⃣0️⃣th Birthday 🎂💝🎊💐
A Very Happy Big 4️⃣-0️⃣ to Bijou, whose Birthday was on the first of April. Let's hope she had a fantastic time and enjoys a terrific new year.
Bijou is the daughter of the late singer John Phillips, who was one quarter of the pop group 'The Mamas and the Papas'. She has two sisters and two brothers, so John certainly lived up to the name of the band! John was 195cm tall.
Bijou gets 5ft5.5.
💐🎊💝🎂💐🎊💝🎂💐🎊💝🎂💐🎊💝🎂
Miss Sandy Cowell
said on 29/Sep/19
Oh my - Bijou hasn't had any comments since Christmas 2017, and that simply isn't good enough for someone as special as she is, but having said that, there is something special about every individual. 😀👍
What really surprised me is that it was THAT long ago, 2017, that I bought a load of her films. Yes, I was still bedridden then, and just two months away from my hip replacement surgery. Bijou didn't disappoint in any of the films of hers I bought, and that turned me into somewhat of a fan!
Back then, Bijou was a quarter-inch over half a foot taller than me, but now it's 4-and-a-quarter inches, which doesn't feel so mammoth-like! 🐘 However, when I was her age, the difference would have only been 2-and-three-quarter inches.
⭐ I was just rooting through today's Birthdays and I found someone called 'BUM Phillips'! I thought I'd misread the name and that it was really 'Burn' - an easy enough mistake to make - but I stopped off to find further details in bigger print, and it's Bum alright! What a charming thing to call your bundle of joy baby boy, but not even I am naïve enough to believe that that's his real name - though I used to be, well into my adulthood! ⭐
Bijou gets 5ft5.25.
The thought of Bum Phillips getting a page request from me kind of hits a Bum note! 😂📝❌
Sandy Cowell
said on 20/Dec/17
lee168cm - No? NO? NO NO NO NO NO! YEUCH! That makes it even worse! She looks like a man (a bleedin' awful one), and talks like a man (a bleedin' evil one) and tries to makes the 'victims' look nice for the 'clients'! No wonder she looks like a monster, for any woman who derives pleasure from a place like that deserves to look like she does!
I saw that film again the other night! It shows regularly on the 'Horror Channel', in case anyone's interested. It doesn't get any easier, however many times you watch it!
Bijou bit her nose off and I think anyone would do the same in such terrifying circumstances! I don't reckon she was thinking straight when that incident happened; would anyone be? You can't say she didn't get her come-uppance and unlike that revolting specimen, Bijou is pretty! Well, she sure was until her face was ripped off!
Cheers to you lee168cm, and have a very merry Christmas!
🎅🎍🎄😆
lee168cm
said on 19/Dec/17
The person whose nose was bitten off in that film is actually a woman Sandy if you read the credits poor woman was only trying to help her and gets her nose bitten off could have just pushed her out the way
Sandy Cowell
said on 26/May/17
For the making of his film 'Hostel II', Eli Roth must have interviewed a great many of the world's ugliest men to root out the one that Bijou finds mopping her troubled brow.
And what does she do? She bites his bleedin' nose off! It certainly can't make him any uglier! 👃🐊 👍 😂😂😂
This time, Bijou can have 5ft5.25, and a congratulatory pat on the back for having such efficient teeth!
Sandy Cowell
said on 12/Dec/16
She met with a rather sticky end in 'Hostel 2!' Yuck!
I've just seen Bijou in the film 'Bully' and I can almost see what R Kane was on about calling her 'the Sexiest Woman on the Planet', but only just! She does make wearing those tight clothes look kind of effortless! Also, in 'Hostel 2' her hair is damn fantastic!
I have a couple of films upstairs with her in them which I have yet to see, but judging from 'Bully' and 'Hostel 2' I think she looks quite small - 5ft4.5 at the most!
R. Kane
said on 28/Apr/15
Perhaps the sexiest woman on the planet - in a wholesome, comely form. Wow! If she simply looked at me and smiled - am sure I'd drop dead on the spot; but what a way to go! An extremely brilliant, talented actress - with a face and the voice of an angel! All my best to this frail, enchanting goddess - to her fervent, sweet, florescent soul! B-I-J-O-U, a five letter word for wonderful!
Sonya
said on 12/Aug/11
I think she is 5'4 actually. Models fudge their height, all the time. Kate Moss is around 5'5-5'6(tops).
RentGirl
said on 8/Jul/11
She looks 5'4 to me.
Meti
said on 14/Dec/10
in your opinion the height of 180cm is seems really good for boys or not
bella
said on 15/Aug/07
yea i saw that movie! they were wearing sneakers, standing right next to eachother, and they were almost exactly the same height, if not, hathaway had like 1/2 an inch on her...one of their heights are wrong.
closet celeb junkie
said on 6/Dec/05
Did anyone see the movie Havoc with Anne Hathaway and Bijou Phillips? There is a scene where both of them are wearing sneakers and standing eye to eye. How can Hathaway be 5'8" and Phillips be 5'5" (at the most) and standing eye to eye?