Billy Connolly's Height
5ft 11 ½ (181.6 cm)
Peak height was 6ft 0 (182.9 cm)
Scottish Comedian and Actor.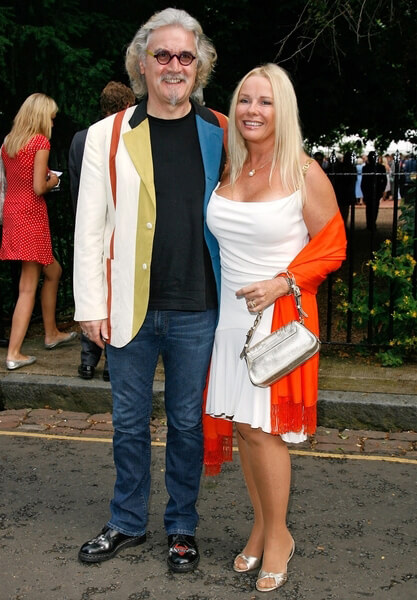 Photos by PR Photos
Add a Comment
62 comments
Average Guess (22 Votes)
Peak: 6ft 0.59in (184.4cm)
Current: 5ft 11.7in (182.1cm)
Slim 6'1"
said on 25/Dec/20
184 peak
181.5 current
Miss Sandy Cowell
said on 23/Dec/20
I love this man so much. 🤗
Having just turned my phone on, I read something which made me very upset.
Billy made a wonderfully entertaining programme about the 'never never' subject not long ago, guest starring Eric Idle. It explored this sad topic in the sort of way that only a comedy genius such a Billy could do, and made me feel really quite relaxed about the topic. I'd like to but it on DVD.
What I read about about Billy's views made me feel so very brave for him.
I would love to meet Billy one day, if not in this world then the next. 😘 He's proved himself to be a marvellous actor as well as comedian. and musician. He's made so many people happy and that is a reason to be proud.
As I said, I love him. 😢XXXXXXXXXXXXXXXXXXXXXXXXXXXXXXXXXXXXX
CuriousPeachie
said on 11/Dec/20
He probably lost another inch, since he's in his 70's.
6'0 peak, 5'10 3/4 now.
Miss Sandy Cowell
said on 25/Nov/20
🎂🎁🎈🎊 Happy Birthday Billy! 🎊🎈🎁🎂
The funniest, most loveable comedian ever, Sir Billy Connolly, turned 78 years of age yesterday.
I've spent many a happy hour watching Billy's stand-up shows on DVD and video, and the Big Yin even branched out into a brilliant actor from his early days as a musician, playing with the late Gerry Rafferty of Baker Street and Stealers Wheel fame.
I particularly recommend a movie in which he stars with Sharon Stone, called 'Beautiful Joe', which is about as moving as a film can get, and then Billy is excellent in an 'X' Files movie too.
I wish Billy a healthy and happy new year and hope he enjoyed his Birthday with Pamela and the five kids.
6ft0.75 peak; 5ft11.5 today. 🤗 XXX
🎂🎁🎈🎊🎂🎁🎈🎊🎂🎁🎈🎊🎂🎁🎈🎊
ala mctavish
said on 9/Oct/20
Tavy@ i thought billy was at least 6' to 6'1" no more than 6' 2" but a solid 6' is a big man. Even if your 6' 2" stand next to some one whos 6' and you will see how tall they really are! But now i would put billy at a flat 5' 11"
ala mctavish
said on 9/Oct/20
Tavy@ billy connelly is the funniest stand up comedian ever! We will never see some one like that again. What a scream! When me and ma pals were younger we would watch all hes videos at that time. My mate had them all. And we just rolled about laughing with tears!!!! The BEST BY MILES. Keep safe big man!!!!! I thought billy was at least 6' to 6' 1" becouse it was really hard to tell when he wore those 2 or 3 inch boots. I knew he wasnt over 6' 2" that i could see standing next to other 6' people. And yes i would say a solid 6' is big. Even if your a flat 6' 2" stand next to some one who is 6' and you will be suprised how tall they really are! But now i would say billys 5' 11"
Chinybobs
said on 18/Jun/20
5-9 Hahahaha. Yeah right. He's a 6-0 on the nose peak
Stuart Leggat (Glasgow)
said on 16/Jan/20
Billy Connelly is around 5ft 8-inches to 5ft 9-inches absolute maximum.
I'm 5ft 10 and a half inches and I stood beside Billy in a queue waiting to be severed at a mobile fish n chip van in Drymen by Loch Lomond when he stayed there back in the 1970s...I was surprised that he was smaller then me by around 2 inches and he wore cowboy boots back then...
Nik Ashton
said on 29/Sep/19
T-A-L-L!
It's great to make my first ever comment on this amazing comedian! 🏴󠁧󠁢󠁳󠁣󠁴󠁿
Rampage(-_-_-)Clover
said on 7/Apr/19
Heading to 5ft11 today I reckon. Peak could look a strong 6ft at times
I'll vote those
Miss Sandy Cowell
said on 6/Apr/19
I have just read that Billy will be leading The New York City Tartan Parade today. I think that's wonderful news!
😀👍
Peak height - 6ft.0.5
Now - 5ft.11.75
Sandy Cowell
said on 4/Jan/19
Wishing this greatest of comedians all the best!
Excellent at everything he's ever attempted, be it comedy, music or acting, he has contributed enormously to my happiness. 😘👍💐🌸🌷
Peak height - 6ft0.25
Now - 5ft11.75
Sandy Cowell
said on 20/Aug/18
Sending my best wishes to Billy, Pamela and the five kids.
This man brings so much pleasure to so many. I pray he recovers as best he can.
6ft peak height, 5ft11 now.
LT
said on 14/Apr/18
Rob over this at peak maybe he looked a lot taller SPF in the Boondock Saints in his 50's and looked the same as Michael Caine 10 years back and of course the pic of him matching up with Connery which I think was taken in the late 90's/early2000's.
Psychedelic Earth 187
said on 14/Jan/18
He's lost a full 2-3cm by now.
Jani
said on 7/Oct/17
Connolly usually looks around 185-187cm when he wears those thick boots so he would be around 181-183cm barefoot. 181cm absolute lowest.
Dee-6'1
said on 4/Jan/17
Met him he's two inches smaller than me I'm 186cm
Sandy Cowell
said on 23/Nov/16
Billy is my favourite stand-up comedian without doubt! I have laughed so much that I ached! My boyfriend saw him live and people in the audience were begging him to shut up!
He's also a warm and lovely person and it is so sad that he is not in good health at the moment. I do hope he makes a speedy recovery.
I was told that Billy was 6ft4, but the somebody who told me was also 6ft4, so maybe he thought that nobody below that height qualifies as 'big!'
From this photo of him with Pamela, I'd say he's about 5ft11.25.
gordon weng
said on 9/Mar/16
Same height as Joseph when he's wearing shoes
Rampage(-_-_-)Clover
said on 28/Sep/15
Rob would you label 6ft as an average height for a man?
[Editor Rob: no, it is still tall in 99.5% of countries. Maybe in a couple it falls within an upper average range.]
Connor6'0
said on 4/Apr/15
He looked 6'0 as Fido
Mathew
said on 22/Jun/14
He doesn't look like a 6-footer in the photo above.
jamieorr 4
said on 7/May/14
Callum i agree with you he looks like he has the built as me 179cm and truth182cm isn't tallish or tall i wouldn't even say 6ft is tall
truth
said on 12/Feb/14
lol not very tall just a bit on the taller side/tallish/kinda tall.
Steve
said on 21/Oct/13
Hey Rob how tall do you reckon Gerry Rafferty was back in the day this photo was taken? Compared with 6" Billy
Click Here
[Editor Rob: might not be much smaller than billy]
Nick
said on 21/Jul/13
He's definitely 6 foot. Very tall guy.
Shaun
said on 13/Sep/12
I read 6 ft 2 for him which I always thought a stretch. But I think he could look 6'1" ish. I'd have guessed 6'-6'1" range. To me he has always looked a similar height to Robert Plant.
SolidSnake
said on 2/Sep/12
I hope Im going to get to see him at the hobbit premiere here in wellington NZ XD
Edinburgh fan
said on 30/Aug/12
He does look slightly shorter, but that could be because of his age. However in my mind he is just as funny as he has always been.
Bys
said on 10/Jun/12
I agree that you should do a peak/current. After all Connolly is almost 70, most people have lost about an inch by that age eg Nicholson, De Niro so it stands to reason that Connolly wouldn't be at his peak height now. You also say he looks shorter.
[Editor Rob: yeah he does look like he's a wee bit shorter nowadays.]
Scot
said on 1/Feb/12
In Scotland it is not really related to height. Many short people are called 'Big Yin' just as fat people might be called 'Slim'! It is a type of joke used as a term of endearment or respect.
Callum
said on 26/Jan/12
Met him last week. 5'10 1/2".
Beatlefan
said on 22/Dec/11
He always looked pretty tall to me, larger than life. Probably more to do with his character and personality. He was called the Big Yin when he worked as a welder in the shipyards of Glasgow in the mid/late 1950's, I guess people were smaller then?. When he started as a school leaver he was quite small and then shot up in height and everyone started calling him the Big Yin, the name just stuck over the years.
jake, 1.82 m
said on 19/Oct/11
If he looks shorter these days (and I agree he does) why not have a peak/current height listing? 181-182 cm now?
[Editor Rob: possibly soon]
Rampage(-_-_-)Clover
said on 29/Jun/11
182cm nowadays I think
dg
said on 10/Feb/11
walked past him a few days ago in the street... i'm 5'11.5" and he was a little shorter than me. that said you do shrink with age.
James
said on 11/Jan/11
Well at 6ft he was big hence his nickname. Mind you he did not look big besides Liam Neeson :)
chizzy
said on 3/Feb/09
just saw him in the zombie movie fido and he looked well bigger than the rest of the cast, just a new movie
Parker
said on 24/Jan/09
Click Here
Still loooking a 6 footer to me.
Anonymous
said on 21/Jan/09
He looked about 6ft in his prime but looks shorter now. I'd say he's about 5'10". People shrink on average 0.5in every decade after 40 an billys 66, so very much doubt he's 6ft.
Mr s
said on 26/Dec/08
Billy connolly looked about 6'0" in his prime, but now cant be more than 5'10"
Mr D
said on 5/Nov/08
Billy must have been at least 6ft in his prime, but he has a huge head, which combined with wild hair and beard give him the appearance of being a lot bigger than he is. But at the end of the cliche - who cares - the guy's a comic genius.
Hugh
said on 8/Sep/08
6ft0.5 was his peak.
Currylord
said on 8/Aug/08
I've met Billy Connolly and he is about 5'11. He has joked in the past that the reason he was nicknamed, "the big yin" even though he is not unusually tall is because everybody else in Scotland is so wee.
Lenad
said on 17/Jun/08
6ft0 at peak? Then downgrade him to closer to 5ft11. Its pretty obvious.
Euan
said on 11/May/08
govan? unlucky for your mother rob :) however my mother is a weegie too
Vic
said on 21/Apr/08
I'm sure this incorrect. I've never met Billy Connolly, but he looks tall. Also, ge doesn't come across as the type of guy that would care about his height at all, so I'm sure he's not wearing cowboy boots for that reason. On stage and in his travel documentries, I would guess he is somewhere between 6'1 - 6'3
Robbie H
said on 4/Jan/08
he looks around 5'11-6ft
Neil
said on 15/Dec/07
Big yin comes from him being taller than his father, who was also named Billy (William) Connolly. So when they wanted to get a hold of Billy Connolly jr, they props shouted "Billy!", and sr. replied "Yeah?", "no, not you, the big yin".
[Editor Rob: my Mother knew him in school days, went to same school in govan.]
Anonymous
said on 4/Dec/07
I passed him in Merchant City last month. Was considerably taller than me (6'0")
Ed
said on 17/Jul/07
He only looked 1.5 inches shorter than Paul Walker and Gerard Butler in Timeline, so 5ft10 would be out of the question. If those two are between 6ft1-6ft2, Connolly has got to be close to 6ft!
Chris
said on 29/Apr/07
How tall is Pamela Stephenson, Billy's (still rather good looking) wife?
pianochris
said on 24/Apr/07
In Billy's act he says that Tom Cruise is 5'10" and that he is not 'wee' at all. He also says that that people that call Tom a shorty are just jealous. I think our Billy forgot to check inside Toms special shoes. Also maybe Billy is in denial about his own loss of height. He used to wear platform shoes in the 70's and looked well over six foot in them.
spiderknut
said on 11/Mar/07
in one of his jokes,he is offended when a woman says "i didnt expect you to be so small".(wherupon he reposts,"Well,I didnt expect your ass to be so fat".doubt he is 6 ft.
Luke
said on 18/Nov/06
The guys almost 65 so he would have shrunk obviously. You don't get the nickname "big yin" from being under 6 feet tall.
short guy
said on 17/May/06
I saw Billy in a chemist shop in Sydney a couple of months back. I was suprised - I thought he would be taller. I'm 174cm and he wasn't much taller than me. He was wearing sandals though.
kramer
said on 18/Apr/06
in this picture he is exactly the same height as the 6ft 2 inch sean connery
Click Here
so he is still "the big yin"
Lilly
said on 31/Jan/06
in reply to the comment by shorter yes, in all of tom cruises movies, they film it so he doesn't look as short as he is...I believe billy was 6 foot when he was younger but he's in his sixties now and we all know that people shrink :)
Anonymous
said on 27/Dec/05
I'm not convinced that Billy is 6' either. I recall at a Bafta Tribute, he stood next to Elton John and was, at most 3 inches taller. If Elton is 5'7.75" as he is listed at, then Billy can only be 5'10"/5'11" max. He's quite slim so that might make him look taller.
Tubbs
said on 12/Aug/05
I remember watching a documentary that said Billy stood about 6'1" - That was from the 70's, so maybe he's lost a bit of height.
larrytom
said on 6/Jun/05
hi there i"ve met billy connolly and he"s about 6"1 but he was wearing his cowboy boots they have 2 inch heals don"t they beacuse i"am 6ft
Shorter yes
said on 15/Mar/05
Why put him as 6ft if he looks shorter? To me he looks around 5ft 10/11 max. Look at him stood beside Tom Cruise in the last samurai.