Charles Malik Whitfield's Height
6ft 0 (182.9 cm)
American Actor best known for roles in TV series such as Supernatural, The Guardian and Behind Enemy Lines. This photo was from Rogue Events Supernatural Convention in 2009.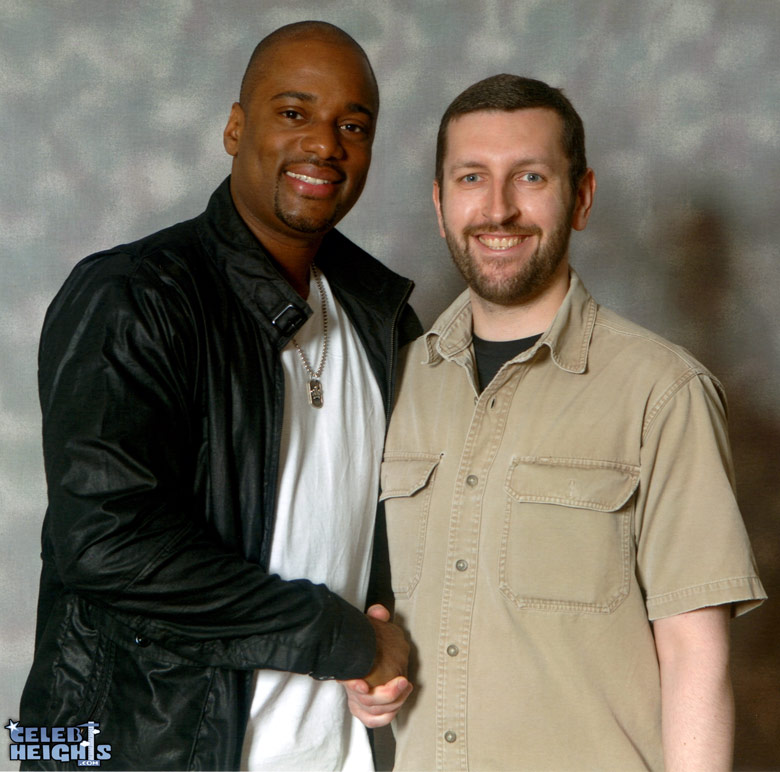 5ft 8 Jenny and Charles
Add a Comment
21 comments
Average Guess (10 Votes)
6ft 0.13in (183.2cm)
Nik
said on 16/Oct/19
@ Rob & Sandy Cowell - I meant he was losing height with a lean!
Nik
said on 16/Oct/19
The average guess justifies the listing!
Bobby 5'10
said on 14/Jan/19
Is Jenny a big fan of Supernatural, Rob? I notice she's the only one in the pic and not you. Also, who would you give the edge on measuring a stronger 6'0, Jensen or Charles? Charles looks like he has more a chance of measuring a fraction over 6'0 than Jensen does.

Editor Rob
I have been unable to find my photo with Charles. Both I think are very close in height in person.
World Citizen
said on 29/Dec/18
Looks 182 cm
Sandy Cowell
said on 5/Dec/18
If that's the case, Nik, Charles should have himself checked out. He doesn't look old enough to be suffering drastic shrinkage, so he might have osteoporosis. I do hope not.
Charles gets 6ft from me.

Editor Rob
I have never managed to find my photo with him unfortunately, but I saw him too and I would say he was close to six foot. I think Nik meant losing height with a lean...
Nik
said on 5/Dec/18
Charles can have 6'0", he's dropping a shed load of height!
Zampo
said on 28/Nov/18
I assume Jenny was still somewhere around 5'8.25 here. He looks like he would be a proper 6'0 flat at a low if so.

Editor Rob
Back then still somewhere around 173 range.
Pierre
said on 13/Nov/18
Nice pic.I guess him around 6"0' too
Sandy Cowell
said on 12/Dec/17
@ Connor - Hi Connor! It's lovely to have your company again! I hope you and your Mum are both healthy and happy! 😁
Great to see you back!
I will give this 'Supernatural' star, Charles, an estimate of 5ft11.75!
Csimpson 6ft
said on 11/Dec/17
I would say 5ft 11.75 is just as possible as a full 6ft, its hard to choose but 6ft is ok i think, he may look it if he stood up straight.
Slim 6'
said on 21/Oct/17
Legit 6 footer.
Christian-6'5 3/8
said on 20/Oct/17
Looks legit 6'0" as listed
Bobby
said on 5/Oct/17
I initially guessed 5'11 from seeing him, but he has his head titled down. If he straightened up, he'd be an easy 6ft.
berta
said on 19/Feb/17
this guy looks like he could be 184 if he stood up staright?
Atsu
said on 30/Dec/15
6'0 seems right. But seems be 5'11.75 could be his height.
ACG
said on 11/Jul/11
Easy 6 footer if he stood up straighter.
James
said on 24/Jun/11
defenintly 6ft
avi
said on 24/Jun/11
i would say he is way over 5'11 but 5'11 3/4 would be a better guess. there is no less than 3.5 inch difference. weak 6'0
Rampage(-_-_-)Clover
said on 24/Jun/11
180cm in the pic but would gain an extra 2-3cm with better posture.
Height: 5ft11.75(182cm)
Terryman
said on 24/Jun/11
nothing bellow 183cm absolutely nothing!
SAK
said on 24/Jun/11
Looks like a high 5ft11(182cm), rather then a full 6ft0 here.