Chief Keef's Height
5ft 11 ¾ (182.2 cm)
American rapper known for songs like 'Love Sosa', 'Earned It' and 'Faneto'. On twitter he has mentioned
""6 foot "0""
and also
"I stand 6"foot some thing I'm tall for all u goofy mfs!"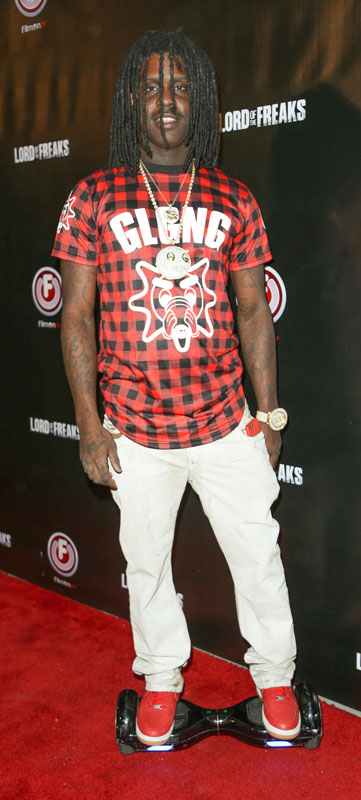 Photos by PR Photos
You May Be Interested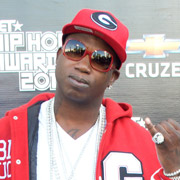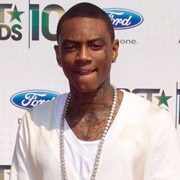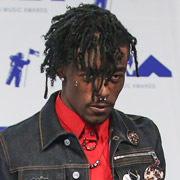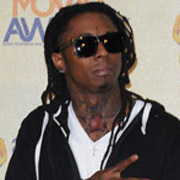 Add a Comment
31 comments
Average Guess (22 Votes)
5ft 11.7in (182.1cm)
JJJ2
said on 13/Jun/20
Rob, here is keef wearing airmaxes with (5'5) Lil pump. shorturl.at/gvwG9

Editor Rob
Another case he can look under 6ft
Carl685
said on 11/Jun/20
@Rob, look at this video with (6'2) meek mill, he looks 4 inches shorter.
Click Here
Joe45
said on 10/Jun/20
I think that he is closer to 5'11 he looks the same height as lil yachty.
J565
said on 9/Jun/20
Rob, how tall does he look with lil yachty? shorturl.at/abLT0

Editor Rob
They can look pretty close there.
Johnny65
said on 28/Mar/20
Rob, how tall does he look with Jonah Hill?
Click Here

Editor Rob
5ft 11 maybe
Blessed
said on 5/Sep/19
His police record states that he's 69 inches which is 175.2 cm

Editor Rob
World Citizen
said on 16/Jun/19
Btw this guy can make very good music!
Charizard
said on 26/Mar/19
He doesn't look 6 foot he is most likely 5'11.5 honestly.
World Citizen
said on 18/Dec/18
Hey big Rob can you add G Herbo?
Nik
said on 10/May/18
@ Sandy Cowell - busy page! A punch in the face to denote the sound of a letter! Whatever next!
Sandy Cowell
said on 10/May/18
@ Nik - Another letter was a punch in the face! 👊😲
Nik
said on 9/May/18
@ Sandy Cowell - I have reached the shrinking age now! It's a great move for someone to release themselves from being critical of their own imperfections, accepting yourself and being happy and appreciative of what you have got are the most important things! More than anything it is important to accept yourself and those around you and for everyone else to do the same, life is so much better without unwanted stresses.
I have @rsed up my fair share of Sudokus, you can fill in most of it correctly and according to the rules, it can fit and then unbelievably you find you are unable to complete one small part, and that is because you have c**ff** it up! I just think, why couldn't I have found that out earlier!
Yes, it is appropriate to spell symbols like ";" with funny sounds and the bouncing or dropping of objects, good idea!
👍
Sandy Cowell
said on 9/May/18
😲 Correction Time! 😝
That should read 'I like certain aspects that COME with maturing' rather than COMES!
Pablo_Escobar
said on 9/May/18
He seemed to grow a bit quite late rob how would you know when someone has stopped growing like what are some telltale signs ?

Editor Rob
The more physical they have developed, the greater the chance they could be closer to the end of growth.
Sandy Cowell
said on 9/May/18
@ Nik - I remember a comedy sketch from ' A Bit of Fry and Laurie' when they were spelling words with letters and funny sounds, including the bouncing of a ball!
That method would be ideal when spelling the name ';'!
Personally, I'd use a single bounce of a ping pong ball and the dropping of a 2 pence piece!
Sandy Cowell
said on 9/May/18
@ Nik - I seem to have 'matured' into a shrinking machine!
Mind you, joking apart, I like certain aspects that comes with maturing and that is not taking yourself so seriously and critically any more. I was once the World's worst critic of my own imperfections, including, of course, my height. Mind you, with my former critical mindset, I would have picked holes in myself for being tall, or even medium height.
Yesterday morning, I @rsed up my first sudoku this year - and I thought it was funny!
185.4cm- 6'1
said on 8/May/18
On one of his prisoner details it said he was 69 inches so 5'9 but that was when he was 17. To me he definitely doesn't look like a legit 6'0 at any point of the year. I'd say now maybe a decent 5'10 5'11.5 with bulky shoes at most
Click Here
:
Nik
said on 8/May/18
@ Sandy Cowell
;;) is a truly wonderful name! There has also been a visitor called "." before!
I like it when you question what you have matured into, I do too and I don't care!
@ Greg
Agreement!
Johntest
said on 7/May/18
Is that height with or without hoverboard?
Greg
said on 6/May/18
I would argue 6'0 best case 5'11.5 worst case so I'll give him 5'11.75 Like Chris Evans.
Sandy Cowell
said on 5/May/18
@ Nik - Yes it is great fun to find interesting names and something I haven't tired of as I've grown older! If anything, I think my enthusiasm for the weird and wonderful world of words has heightened with my maturing! (into what though?😉)
It is a funny little fact that our friend ';)' has also visited this page! Now ';)' isn't even a word, but it still affords us a damn good grin!
Nik
said on 5/May/18
@ Sandy Cowell - Guess what? It's 10 minutes to 5 or a tad later! I hope everything went well at the physio, I knew you were going because I read your comment on Rob's page! Those were a couple of interesting coincidences!
;)
said on 4/May/18
He really looked like it next to tyler the creator
Nik
said on 4/May/18
@ Sandy Cowell - absolutely! It's nice to see a celebrity with an interesting name and it is a bonus when their name rhymes too! Chief Kief! Don't you just love his name?
Sandy Cowell
said on 4/May/18
@ Nik - At 10 minutes to 5 today, I was rushing to make my physio!
At 10 minutes to 6, I was spotted leaving the hospital pulling up my hold-up stocking!
It clearly wasn't doing its job properly! 😓
Sandy Cowell
said on 3/May/18
@ Nik - Ha ha ha! So you were drawn to his name for the very same reason! 🙋
Bradley
said on 2/May/18
Didn't look it when I went to his show a few years ago...maybe he went to grow-up mode like Biebs. His cars are like Biebs': killer rides.
Nik
said on 2/May/18
@ Sandy Cowell
At nearly 10 minutes to 5 Chief Keef can get my first comment today - 5'11.75"!
Yes, his name rhymes, like Pia Mia's! - Good spot!
Frost
said on 1/May/18
Which is crazy because he was booked at 5'9 at the age of 17. And he definitely looked it.
Thanks for adding him Rob. His height is difficult to nail down sometimes.

Editor Rob
He did seem to grow after 16, whether a full 6ft? Still debatable, but looks over 5ft 11 for sure.
Sandy Cowell
said on 1/May/18
Chief Keef is the first name I read this morning, at nearly 10 minutes to 8! For that he doesn't get a comment, but he DOES on merit of bringing a wry grin to my face for his eye-catching name... which rhymes!
The Chief can have a mighty fine 6ft! 😊
5ft10hero
said on 1/May/18
Never thought he was this tall