Chris De Burgh's Height
5ft 6 (167.6 cm)
Irish Singer. In the Daily Mail newspaper he said
"I have weighed 70kg for years now - I'm 5ft 6in"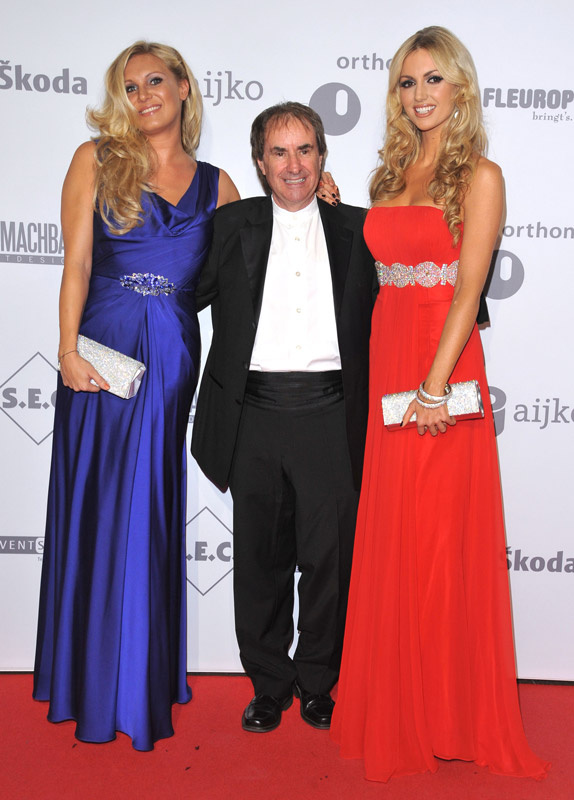 Magdalena Brzeska, Chris de Burgh and Rosanna Davison
Photos by PR Photos
Add a Comment
13 comments
Average Guess (3 Votes)
5ft 5.33in (165.9cm)
Miss Sandy Cowell
said on 15/Oct/19
🎈🎁🎂🕯️ Happy Birthday Chris! 🕯️🎂🎁🎈
Wishing Chris a wonderful 71st Birthday. He seems to like his women tall and blonde!
👱‍♀️👱‍♀️
5ft6. The two tall blondes make him seem quite tiny and I think this has had an affect on the average for Chris.
😁👍🎧
🎈🎁🎂🕯️🎈🎁🎂🕯️🎈🎁🎂🕯️🎈🎁🎂🕯️
Russ
said on 15/Jul/08
Chris de burgh is about 5'3. He was standing next to Judy Finnegan once, and she was a few inches taller than him (and she's about average height)
brunobrowne
said on 13/Jun/08
I'd say he is at most 5'4'', but he does have a beautiful daughter, thank God she got her looks from her mother.
Franco
said on 20/Oct/06
Lady In Red ......She's Dancing With Me.......LOL
maybe she was taller than he is :-D
great man....looked 5'8 minimum, but i agree on 5'6. ;)
dutch hispanic guy
said on 14/Aug/06
so his daughter, rosanna, is 5'11''..... hardly makes any sense.... how did he do that? to bring up a girl much taller than he is?
D. Ray Morton
said on 6/May/06
LOL wow, that takes me back. "Ferryman" was a great song.
sf
said on 6/May/06
My very bad attempt at humor. You remember "Don't pay the ferryman?" yea, I know it's a huuugggeee stretch...
Glenn
said on 6/May/06
It flew over my head SF.explain.its sounds like it could be funny.
sf
said on 6/May/06
Anybody get my attempt at humor? It's really bad...
sf
said on 5/May/06
Did he "pay the paperboy"?
Glenn
said on 5/May/06
Wow.Im bit of fan.
Henry Maguire
said on 4/May/06
No way Chris De Burgh is 5'6". He was a neighbour of mine for years and we used to meet most mornings collecting our newspapers. 5 ft 4 in TOPS and that is being generous.
leonari
said on 29/Jul/05
I think this guy is more 5'5" ROB...at least nowadays...