Daisy Fuentes Height
5ft 8 ½ (174 cm)
Cuban born Model. On twitter she claimed
"I'm 5'10"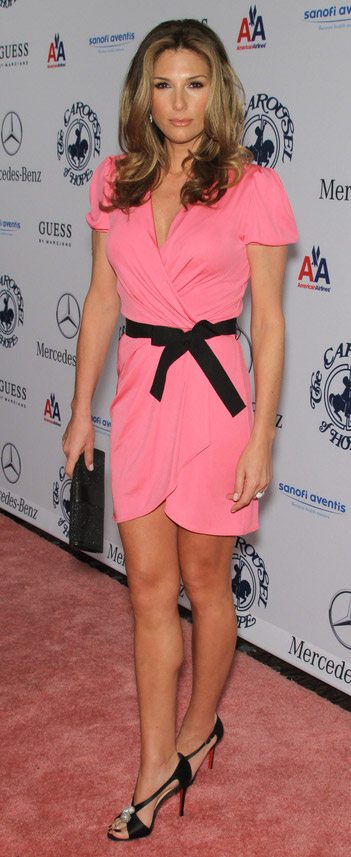 Photos by PR Photos
Add a Comment
16 comments
Average Guess (4 Votes)
5ft 8.5in (174cm)
Amaze
said on 9/Apr/15
Omg hot
Tall girl
rickety Rick
said on 11/Dec/13
She looks good no matter how tall she is,
Ralph
said on 17/Oct/08
Went to grade school with Daisy in Newark. Kept in touch a little. She's 5.8.
Leung
said on 4/Oct/07
Years ago I saw her on a tv show standing next to Linda Evangelista and Cindy Crawford, and she was easily beaten for height. Daisy is fairly short by model standards, she could be 5'8", maybe shorter.
Anonymous
said on 2/Oct/07
Wondered about the 5'10'' claim, too. Saw her at a US Open event with Ana Ivanovic (6-1) and she was literally dwarfed, makes more sense now.
Alex
said on 2/Nov/06
Looking at that picture she looks 5'8 tops, likely 5'7.5.
Andrew
said on 17/Sep/06
Raz ... yeah, we think you're crazy. Actually, if you line up the top of Daisy's hat, it comes below the eye level of Brenda Schulz. Not only that, Brenda is leaning slightly toward Daisy to get her arm around her, so her eye level is slightly lower than should be. All that puts Daisy right as she's listed ... 5'8".
Bystander
said on 3/Jun/06
I met Daisy when she was at MTV. She was wearing boots with low heels and I could see over her head. Being that I'm just over 6 feet, I'd say she's not taller than 5'6 to 5'7.
jason
said on 16/May/06
go to wireimage.com and search cheryl tiegs. There are pictures of them together. Cheryl towers over Daisy. Cheryl is 5 feet 11 or even 6 feet. They are both in heels and Cheryl is at least 4 inches taller.
tina
said on 2/Apr/06
I met her at the airport. Took a picture with her, I'm 5'7 and she was for sure a few inches taller than me. She was wearing sneakers. She's easily 5'10.
Danny
said on 12/Aug/05
I think she 5'8.5 174 what do you think Rob
[Editor Rob: she's been described as 5ft 8, but I'm giving her the benefit of a cm here. The 5ft 10 just does not look possible]
cube
said on 3/Aug/05
I've heard state in a interview: 5'10
I think this is also the height given on her official website.
[Editor Rob: well, beside the confirmed 6ft 2 schultz tennis player I simply cannot see her being that tall...]
Raz
said on 29/Jun/05
Ok, if the tall woman in the picture is 6'2", then Daisy is 5'9"-5'9.5".
I know you think I'm crazy, but if you take a look at the picture and use the lines that are in the picture to give you the perspective, you'll find that Daisy's height is equal to Brenda's eye level.
She could even be 5'10" based on what we can see in that picture, but then we have to determine who has worst posture, and come out in favour of Daisy.
If you've seen Daisy as co-host of that home video show, you know she's quite tall compared to almost all participants. A 5'8" woman would NEVER seem tall on screen next to men, but someone 5'10" would!
Daisy is AT LEAST 5'9", but possibly as much as an inch taller than that!!!
Pheebz
said on 23/Jun/05
yep 5'8", an inch isn't much, and there's quite few between these two...
Anonymous
said on 21/Jun/05
Guy?Actually,that's a WOMAN.And yes,she looks in the 5ft 8- 8.5 range...
leonari
said on 20/Jun/05
To me she looks 5'8" next to the guy...but yeah pretty tall latin chick.