Dan Yeager's Height
6ft 5 ½ (196.9 cm)
American actor best known for playing Leatherface in the film Texas Chainsaw 3D. On his SAG resume he lists himself as 6ft 6 in height and weighing in at 270 pounds. He also said in a MonsterDiggare.net interview
"I'm 6'-6" tall (I get asked that a lot.)"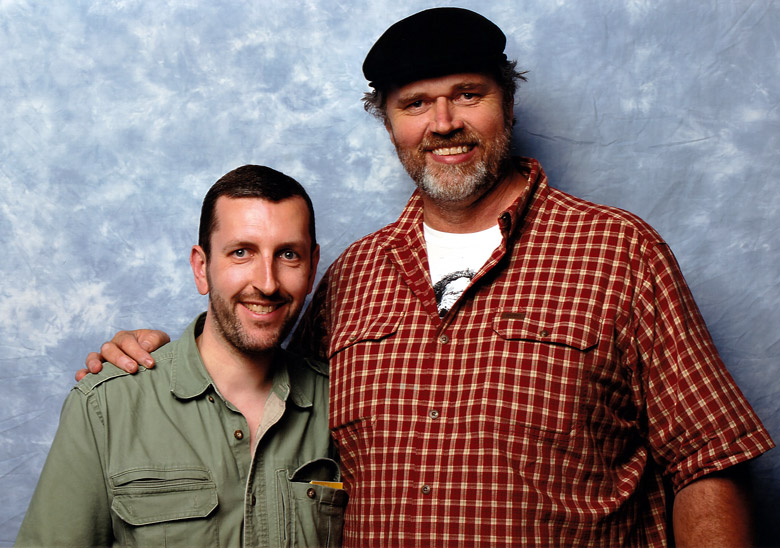 You May Be Interested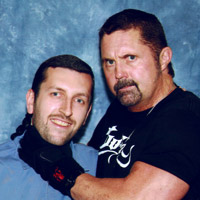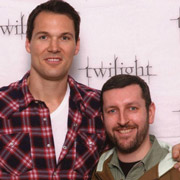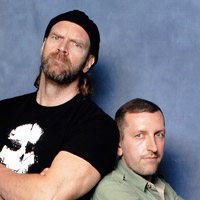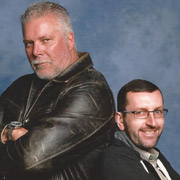 Add a Comment
63 comments
Average Guess (20 Votes)
6ft 5.54in (196.9cm)
Hyper
said on 18/Jan/21
How does he stack up with Rick Fox, in person?

Editor Rob
I'd have said Rick can give a taller impression, though when you get into 6ft 5-6 zone, some guys width and head size can have an influence on perception at times.
FriedChicken
said on 15/Nov/20
Could've lost some height from his 20s.
Miss Sandy Cowell
said on 18/Oct/20
Dan has a big build to match his huge height, so ideal as a monstrosity in a horror yarn!
Six foot six. 👹😆👍
Rampage(-_-_-)Clover
said on 18/Oct/20
This guy would edge Hopper and Nairne
Dream
said on 30/Aug/20
@Rob
Do you think Hopper could measure 6'5 1/8" or is he just only 6'5" on the nose, in your view?
I remember you did say you saw him at many events and everytime, he's always a 6'5" guy.

Editor Rob
Wouldn't say 6ft 4.5 or 5.5, but 6ft 5 plus or minus a small fraction at lunch-time. The odds may well be greater for a positive 6ft 5 than weak one.
Dream
said on 24/Aug/20
Rob, when you saw him in person, did he have an visible edge on Nonso Anozie and Tom Hopper?

Editor Rob
I'd have said the odds were that he was over 6ft 5 flat, but really physically Hopper could look near enough same range to most folk if they saw the 3 in person.
Canson
said on 9/Jul/20
@Nik: if he is 6'5 range it's something like Christian's height. He doesn't look below that
Dream
said on 3/Jun/20
Actually, I've never asked this, but what was his footwear like? He tends to wear boots, but I'm not sure.

Editor Rob
I didn't write down any difference on my notes that day.
Nik Ashton
said on 14/May/20
He looks 6'5" range!
Tunman
said on 13/May/20
From that pic I would have thought a 9"difference assuming his head is a good 10"at least,perhaps is he dropping a little height?
OriginalAnon
said on 5/May/20
Could be 6'6'' prime
Jkiller
said on 8/Apr/20
Feel like he is 6'5.75
Dream
said on 23/Feb/20
Rob, curiosity sake, who would you give the edge to, in mm's, Dan Yeager or Rory Mccann?

Editor Rob
They are tough to pick, I think I seen enough to think both are over a flat 6ft 5, but hard to give one an edge.
Alex Katch
said on 8/Dec/19
Leatherface
6' 6" Casey Hendershot
6' 5½" Dan Yeager
6' 4" Gunnar Hansen
6' 4" Andrew Bryniarski
6' 3" R.A. Mihailoff
6' 3" Robert Jacks
6' 2½" Kane Hodder
6' 2" Bill Johnson
6' 2" Bob Elmore
6' 2" Sam McKinzie
6' 1½" Tom Morga
5' 11" Sam Strike
Nik
said on 17/Oct/19
Dan is listed as 6'6" on some sites!
He has grey hair and grey eyes and I am delighted to give him his 50th comment!
Nik
said on 17/Oct/19
A height chart would be grand.

Editor Rob
I am slowly working through doing the short mugshot videos for about 80% of my collection.

Looking at Dan's photo on this page, I see it's only 540 pixels wide, so it's due an updated bigger size photo. I may manage a chart video tomorrow, though it is not a 5-minute job 🧐
Rampage(-_-_-)Clover
said on 1/Jun/19
Rob, could he be 6ft5 flat?

Editor Rob
Probably still give him a bit over 6ft 5, but not as tall as 6ft 6 (unless he shrunk a bit by the time I seen him).
Dan Trojan
said on 19/Mar/19
Like i've said before i met this guy he is 6'5.5" no less i'm telling you rob is spot on at first i actually thought he was 6'6" even but rob's estimation is pretty fair he's right this guy is over 6'5"
Christian 6'5 3/8"
said on 27/Jan/19
@Jdubbz
In the past I did it somewhat, but no so much anymore. I browse and comment celebs of all heights nowadays.
Canson
said on 27/Jan/19
@Jdubbz: Ive browsed celebs usually around our height +/-2" before but usually mine are based on the comments that I see made on the comments page or if Rob meets a celeb
Jdubbz
said on 26/Jan/19
I agree with both of you. He looks 195ish in this pic and is probably a flat 6'5 right now. Peak might be Christian's height or slightly less.
Unrelated, but do you guys tend to browse 6'4-6'6 celebs the most? That's where I spend most of my time when I'm not on the general forum.
Canson
said on 25/Jan/19
@Jdubbz: at Yeager's peak he may edge Christian but not sure about today. 6'5 1/2 even could be 6'5 1/4-3/8 as Rob, despite how accurate he is, is not always going to get somebody to the T. Rory Is also listed 6'5.5 but doesn't look that in the pic with Rob and Rob admitted he is over 6'5. That could mean 6'5 1/4 in person as well.
Christian 6'5 3/8"
said on 24/Jan/19
@Jdubbz
Based on the photo, I'd say most likely so. Unless his posture's worse than it seems, I can't see him much over 6'5" flat.
Jdubbz 6'4.5"
said on 23/Jan/19
@Christian: do you think you'd edge him out a bit?
Christian 6'5 3/8"
said on 17/Jan/19
@Peter
194cm is too low. I can see him at a good 195-196 though.
Canson
said on 16/Jan/19
@Peter180: he's got poor posture with Rob but think he's at least 6'5"
Peter 180cm
said on 15/Jan/19
Looks at most 6'5 with Rob, probably around 194cm at most. Definitely not 198cm,he's got less than a head difference on Rob.In all fairness, i don't see over 195cm even if he stretched.
Canson
said on 4/Nov/18
@Christian: Rob may have given him a bit like he did Rory M. He looks pretty much the same when we consider both. He looks 196 range as opposed to 6'5 1/2. I agree with 6'5.25 as reasonable. If he falls below it's likely not by much
Christian 6'5 3/8"
said on 24/Oct/18
I know Yeager's posture isn't as great, but I can't see him being any taller than the 6'5 1/8" guy from Height Challege 15.
Click Here
6'5" flat for Yeager
tree
said on 9/Jul/18
Almost every actor who played Leatherface is in this photo
Click Here
Gunner Hansen 6ft4 peak,there 6ft2.75
Billy Johnson looks 6ft1 there,maybe he lost some height,i think he was over 60 there.
R.A Mihailoff 6ft2.5
Dan Yeager 6ft5.5
Dan Trojan
said on 27/May/18
I've met this guy and trust me he's closer to 6'6" than 6'5" I also met Ken Kirzinger who in my opinion is legitimately 6'5" and Dan was defining a little bit taller
Canson
said on 15/Apr/18
@Christian: agreed! Did rob change the listing?

Editor Rob
he's been stuck on 5.5 since the start.
Christian-6'5 3/8
said on 14/Apr/18
@Jordan87
Yeah, he's 6'6" only in the morning.
Jordan87
said on 13/Apr/18
" I'm 6'6 "
No your Not, your slightly over 6'5. Get it right buddy.
Rampage(-_-_-)Clover
said on 5/Jan/18
Christian, I actually think that's a possibility. Certainly a strong 6ft5 for Yeager. Archer I think could still pull off 6ft6 but maybe at worst could be a fraction under...that photo was a bit tricky angle-wise...
Christian-6'5 3/8
said on 1/Nov/17
6'5.25" for Dan Yeager and 6'5.75" for Rob Archer is how I guess them at.
Rampage(-_-_-)Clover
said on 12/Oct/17
Rob, is there really only a ½in between this guy and Archer?

Editor Rob
there might be 1/2 to 3/4
even
said on 23/Jul/17
strong 196 cm , weak 197 cm
Christian-196.5cm (6ft5 3/8)
said on 3/May/17
I can't see him being a full head taller than Rob even if he stood at his tallest. Closer to 196 than 197.
Canson
said on 16/Apr/17
Actually he's slouching it appears. Rob may be on point once again with it. 196-197
184guy
said on 15/Sep/16
@Rob,here he doesn't look much more than 6'4 (including the leaning)
In person he was taller ?

Editor Rob
he wasn't under 6ft 5
Canson
said on 10/Jul/16
The stance is inconclusive but he doesn't look over 6'5 with Rob and that's generous
berta
said on 3/Jun/16
198 is to tall probably measured himself earlier in the day. Could be anywhere from 196-197,5 in the evening
pablo77bar(184cm)
said on 18/Oct/15
Rob,do you really think this guy has 1/2 inch on Hopper ?
They looks like very close

Editor Rob
hopper has a slimmer appearance, this guy still could be similar to Tom
Tommo
said on 18/Feb/15
Maybe time for a downgrade Rob? You said he's smaller than Clive, who's now 6'5.75.

Editor Rob
he's in that zone of not seeming a 6ft 6
joe 192cm
said on 3/Feb/15
it is not looked the same height 6'6 Rory McCann height: 6ft 5.5in (197 cm)
joe
said on 2/Dec/14
Ali Baba, you may find it to toira doubt
Sam
said on 29/Oct/14
Here is Dan with the original Leatherface, Gunnar Hansen, it might be the angle that causes Yeager not to look as tall you'd think with Hansen, who I'm sure has lost some height with age considering his weight.
Click Here
Kostas
said on 16/Aug/14
More than flat 6'5" for sure, but Clive Russell gives me taller impression. Who looks taller in person?

Editor Rob
clive appears slimmer, this guy has more bulk, but he isn't much smaller than clive
Ali Baba
said on 14/May/14
More 6'4.5" than 6'6".
Andrea
said on 13/May/14
Rob, let's say you didn't meet this guy and see this photo with a strong 5'8 dude (a scottish one xD)... What would be your guess, just basing on this photo? I mean, if you met my very strong 198 mate, i am sure you'd be barely at his chin level. It would be interesting to see him with all these 6'5-6'6 you met because he would be clearly taller than all of them... The only guy who might edge him out is Daniel Cudmore, but it would be a very small amount ;)

Editor Rob
well a lot of 6ft 6 guys are what you could call 6ft 5-6 range
Sam
said on 25/Apr/14
The tallest Leatherface I think...2 inches over Gunnar Hansen, 1 if not more over Andrew B., not sure on the other two or three but they for sure were not near 6'6".
Rampage(-_-_-)Clover
said on 5/Mar/14
That is one scary ass dude. Great choice for Leatherface.
Connor 184.5-185cm
said on 26/Feb/14
Dan isnt standing straight though Arch, thats maybe why he is looking a weak 6ft 6 in the pic and hes got his head tilted slightly, i bet the full 6ft 6 if he were to stand up straight. Otherwise yeah does look 197cm
Lorne
said on 1/Feb/14
Your right Arch, but Rob said Rory could be nearer 6'5 flat, and this guy doesn't look much taller, but yeah, one photo is never enough.
Jeff
said on 1/Feb/14
I'm 6'3" and a bit and when I saw him he really didn't seem much taller than myself. Certainly not 6'6".
Blaze
said on 31/Jan/14
Yeah looks 6'6
Arch Stanton
said on 31/Jan/14
@Lorne, g image him and there's a few pics of him from the same event which are full length and he really looks every inch of it. I'm sure Rob would agree having seen him full length and standing in person. Never trust one photo...
Lorne
said on 30/Jan/14
I hate to be the one to say this, but, he doesn't really look 6'6? I mean, if you straightened up, I see MAYBE 9.5in. I guess since your a few mm over 5ft8, that would make him near enough 6ft6, but to me he looks more 6ft5.5...
Arch Stanton
said on 29/Jan/14
Looks sort of like John Schneider's big Texan country ranching brother. Built like an old oak. Looks a bit under 6'6" here but his posture isn't the best.
Sam
said on 29/Jan/14
This guy does look to be a solid 6'6", has an inch if not more than 6'5" range guys who've posed with Rob.
The Exorcist
said on 29/Jan/14
I had no idea Leatherface was so tall! lol
Mathew
said on 28/Jan/14
How come it's so hard to find a 6'6" guy who actually appears a full head taller than Rob in a photo? Granted, this guy is tilting his head down, a bit.