David Anders Height
5ft 11 ½ (181.6 cm)
American actor best known for playing Julian Sark on tv Spy Drama Alias. He has also had memorable roles in Once Upon a Time, iZombie, Heroes and the movie Revenant. His Official Website listed him at 6 feet. In this photo he had 0.3 inch less sneaker than me.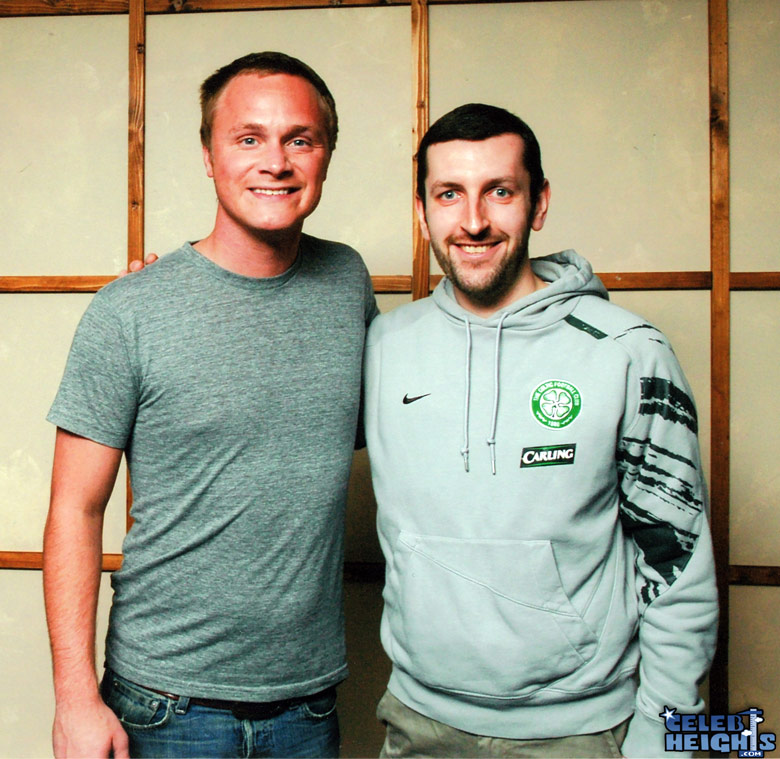 5ft 8 Rob and David @ Eclipse 1, 2007
I'm 6 foot 1 on paper
Sadly, only 6 foot nothing in real life
You May Be Interested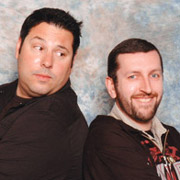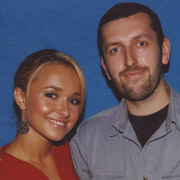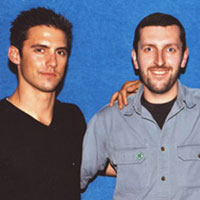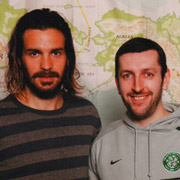 Add a Comment
75 comments
Average Guess (45 Votes)
5ft 11.44in (181.5cm)
Rampage(-_-_-)Clover
said on 12/Feb/21
Actually he does look this. He reminds me a bit of Neil Patrick Harris, similar height aswell
Nik Ashton
said on 3/Feb/20
He ain't over listed!
Que lo Que
said on 1/Feb/20
Spot on. Always looked between 5'11 and 6 feet
Chris Junior Hernandez 1990
said on 10/Jul/19
Anders gave me a deep impression 1/8th inch on Santiago Cabrera who were also listed 5'11 1/2.
Greg
said on 19/May/19
I would go 5'11 5/8ths wouldn't go over 5'11.75 with Rob having the footwear advantage I could see him being a shade over 5'11.5
Stephen Ronald
said on 15/May/19
I don't think he is 5 foot 11.5. Definitely on the taller side, though. I myself am 6 foot 1.75 and met him in person two weeks ago. He was around the same height or at most 0.5 inches shorter than me. My guess is 6 ft 1.5.
Nik
said on 11/Apr/19
5'11.35" (after 31 votes!) is a bit low sided!
QM6'1QM
said on 5/Nov/18
Yeah, he's about 5'11.5" (181-181.5 cm range).
Zampo
said on 18/Oct/18
Based on the photo, 5'11.5 looks fine to me.
Nik
said on 30/Sep/18
He's a good 5'11.5", in Northampton!
Junior Hernandez 1990
said on 7/Jun/18
Rob, one question i'm curious about like someone you meet in real like Santiago Cabrera, Shawn Ashmore and David Anders when you decide to give them 5'11.5" but did you atually think they look 182cm but not over so you didn't bother to leave them 5'11.75" or you just feel they are crossing over 181.5cm?

Editor Rob
I feel from seeing them at a few events that 11.5 is a best estimate. Not as tall as 6ft, but not as small as 5ft 11, somewhere between.
Thunderfin
said on 14/Mar/18
No, he isn't S.J.H.
Rampage(-_-_-)Clover
said on 5/Mar/18
I agree with Christian on this one. He does look closer to 5ft11.
Christian-6'5 3/8
said on 22/Aug/17
5'11.25" rather than 5'11.5" but close enough.
Mickey
said on 28/May/17
good listing, considering he had less footwear than you
S.J.H
said on 6/Feb/17
Anders will still fell into 5'11 by a mid noon and up here he really don't look over 5'11. 5'11 add 0.3 and he is 5'11.3 a middle to late morning , 0.3 is just estimate by rob it could be less. In Necessary Roughness and iZombie he just don't look 5'11.5 not also not quite 5'11.25 but look alot like 180cm so he is solid 5'11
CD
said on 30/Oct/16
5ft 11.5 is a very good listing, I doubt he'd dip much at all below that mark.
Pierre
said on 28/Oct/16
around 5"11.25' imo
Brandon
said on 14/Sep/16
Rob is 5'8.1"
So 5'11.1"+0.3"=5'11.4"
5'11.5" is a good listing
NBAer
said on 13/Feb/16
Looks 180-181 with less footwear than Rob,so near 182 actually(5'11.5ish).Listing is spot on imo
S.J.H
said on 11/Feb/16
I think most 5'11.5-6'0 were only 5'11 or weak 5'11 in person. Here anders look 180-180.5cm range and with less footwear. Close to 182cm like 181.5cm and 181cm by evening night for sure. Solid 181cm
S.J.H
said on 1/Oct/15
He look slightly taller than most 5'11.5 actors rob listed here. Maybe he was really 6foot?
Rampage(-_-_-)Clover
said on 1/Jul/15
I'd guess anywhere between 5ft11-11½ range.
Not quite the claimed 6ft except out of bed.
Judd
said on 10/May/15
honest 5'11.5"
Lonestar
said on 4/Jan/15
Atually a close up zoom rob only about 6.5cm to max 7cm shorter than Anders that makes him 179.5cm to 180cm apart 0.3inch lesssneaker was just an estimated by rob. So 5'10.75-5'11 max for Anders was indeed truth
Dmeyer
said on 11/Dec/14
Looks bang on 3 in on rob so. Near 5'11.25 plus 0.3in léss shoes exactly 5'11.5
Tommo
said on 28/Apr/14
He doesn't look shorter than a guy like Alexis Denisof to me.
James B
said on 20/Jan/14
He looks damn near compared to rob
Rampage(-_-_-)Clover
said on 16/Nov/13
I'd bet more on him measuring closer to if not 5ft11in flat than a weak 6ft considering he struggles to look 3in over both Rob and Jenny.
"David Ander's height is 5ft 11.25in (181cm)"
J.Lee
said on 19/Aug/13
Rob, Jenny's eyes are above his teeth, yours are not.

Editor Rob
that proves the point that if you have a higher eyeline and raise it a tiny bit so it's 4 inches compared to another person with a lower eyeline you can fool people, as evidenced by a comment a few down saying he can look five ten on the right.
There is no difference
...
With height, having a smaller head, higher eyelevel and thicker hairstyles will always be beneficial in tricking people into seeing things which don't exist!
Kourosh 5'9.75-5'10
said on 19/Aug/13
looks 6'0 to me
Lenad
said on 5/Apr/13
looks bang on 182cm
Stephen
said on 8/Jan/13
he's more of a 181.6 at night classic guy 5'11.5 bang on- tallish guy weak tall
Aragorn 5'11
said on 2/Jan/13
5'11 max! 180 cm! Not more than 3 inches taller than Rob!!! Looks 5'10 with Jenny though.
J.Lee
said on 10/Dec/12
Rob is Jenny 5 ft 8.5 now? I thought she was shorter than you at the shortest. can you explain both of your exact heights?

Editor Rob
no...as you've seen, her low is around 5ft 8 flat on the stadiometer. Ignore any fractions, myself included. If you want it really accurate then I'd say 5ft 8 1/8th inch myself but nobody is going to be able to tell.

the same with celebrities, you will have a ton of guys who might say 5ft 10 as their height, but when you measure them there's going to be some above, some below and some near enough on 5ft 10 mark.
Dmeyer
said on 20/Nov/12
Rob 5'8.1 Dave looks 3 in taller so 5'11.1 plus 1/3 in exactly 5'11.5
Dmeyer
said on 11/Nov/12
I aint sure of 5'11.75-6 ft but 5'11.5 Yeah since hé has less shoes
Alex 6ft 0 1/8
said on 11/Nov/12
Looking at the pic again he could be 5'11.75-6'0
Daniel
said on 18/Jan/12
Read, before talk "he is wearing 1/3 of an inch less than me in sneakers"
Tall 5,11.5"
ChiasmataX
said on 23/Dec/11
@ Rob, lol yeah thanks for clearing that up. Jenny looked tall because of smaller face and higher eye-level.
ChiasmataX
said on 13/Dec/11
Jenny looked tall (taller than Rob) and made David looked 178cm but with his tall look/frame, he is 181-182cm for sure.

Editor Rob
Actually as
shown by drawing lines
there's no difference in the photos.
this is a good example of how a longer head (and conversely a higher eyelevel) can fool people.
anonim
said on 20/Nov/11
yeah he is classic 5'11.5 guy
Alex
said on 7/Nov/11
5'11.5 tops. I think he looks more 5'11-5'11.25 to be exact
jake
said on 10/Sep/11
[Editor Rob: I saw him last month a nuber of times.
never as tall as a legit 6 foot like alex, he was shorter than a female crew member who is near 6 foot.]
Could he be more 180-181 cm max then in actuality Rob?

Editor Rob
181cm range is i think nearer than 183cm
tim
said on 7/Sep/11
@ Rampage
you should wash your eyes or smth. anders is clearly at least 181. no less for sure.
Rampage(-_-_-)Clover
said on 13/Aug/11
179.5cm (weak 5ft11) next to Rob.
178.5cm (strong 5ft10) with Jenny.
Doesn't look 5ft11.5(182cm).
Dean 5ft 9.25
said on 15/Jul/11
Basically the same difference as me and my dad.
Im 175.5cm my dad is 183cm..7.5cm difference.
Id say he is 180-181 with 181 fair bet. 182 too high hes closer to 5'11 than 6ft flat dont you think rob?
Rampage(-_-_-)Clover
said on 25/Jun/11
Looks 180cm or 5ft11 in both pics. Upstraight he would probably look 6ft

Editor Rob
I saw him last month a nuber of times.

never as tall as a legit 6 foot like alex, he was shorter than a female crew member who is near 6 foot.
avi
said on 21/Jun/11
looks like 3 1/4 difference. he is a strong 5'11 for sure. looks my height or a 1/4 under or so.
Dmeyer
said on 20/Jun/11
To me hé is hé looks near 182cm in thé pics considering footwear unlike Many other
dmeyer
said on 3/Jun/11
looks about 2.8 to 3 in on rob plus 0.3 in shoes 3.1 to 3.3 in taller so 5 ft 11.3 to 5 ft 11.5

Editor Rob
I seen him a few times since then and he's never really looked like a big 6 footer, but more in 5ft 11-11.5 range to me.


Lenad
said on 6/May/11
Looks 3-3.5 inches taller than Rob. 5'11.5 max
James
said on 4/May/11
181cm is not impossible
xkon
said on 11/Mar/11
Some posters claimed he looks max 5ft11. Take a look at Brian Austin Green next to Rob who is listed at 5ft11 here on celebheights. The height difference of Anders next to Rob is much bigger as Austin's height difference with Rob.
Click Here
James
said on 1/Mar/11
5'11.25 could be closer
dmeyer
said on 26/Feb/11
looks 5 ft 11 in the pics but has a bit less trainers
James
said on 15/Feb/11
he does not look over 180cm with rob
5'8
said on 30/Jan/11
Rob, has anyone of these guys recognized you? I bet in Hollywood somebody must have a height obsesion too, lol.

Editor Rob
I'm like Clark Kent, I wear glasses as a disguise...

nah, but I am sure there are some actors with an interest in height out there ;)
matt
said on 3/Jan/11
do most of these stars know that they are being photographed for sake of height comparison?

Editor Rob
only a small percentage might know.
J.J.
said on 4/Jul/09
Looks 5'11.5" max
Ali
said on 1/Jul/09
He is taller than 5'10 and shorter than 6'0.
miser
said on 26/Jun/09
this one is probably a bit over 182cm just like Joe Flanigan
Haze
said on 5/Jun/09
i only see 5'10.5
Hugh 190cm
said on 31/Mar/09
His posture isn't great. I'd say he could look 184cm if he stood with better posture.
Jon
said on 4/Mar/09
Im 5ft 11.5in and sum1 at 5ft 7in cums up to my eye line. 5ft 8in cums up to my eyebrows roughly. even regarding footwear and everything, 182cm dus seem believeable, but its a bit iffy wen david is next to jenny. more believeable next to rob, perhaps because nxt to rob he is standing straight.
Lenad
said on 5/Nov/08
solid 5 ft 11
Anonymous
said on 4/Nov/08
Looks 5'11" in the pic not with counting the 1/3" extra Rob has. So I guess around 5'11.5".
Lego
said on 4/Nov/08
Jenny is a tiny bit taller indeed than you Rob, what does 5'8.5 means? 175cm? 174cm?
David looks an easy 6'0 there, 5'11.5 is probably his average height.

Editor Rob
174cm, although in the evening I've measured her as often as 5ft 8.3 as I have 8.5 now
Alex
said on 3/Nov/08
I'd say he looks 5'11 1/2.
vaughn
said on 19/Sep/08
nan i give him 1.82:P
dmeyer
said on 28/Aug/08
5 ft 11.75 fits him
dmeyer
said on 30/Jun/08
i agree he can look 5 ft 11.5 as mush as 6 ft 0.25 but h did look a bit aller than 182 vartan
dmeyer
said on 29/Jun/08
he does look 6 f comparing him to 188 cm vosloo and 187 tarantino his build meakes himk 5ft 10 thaugh

Editor Rob
this guy is tricky...I've met a couple of times and have thought he can pull off appearing 6ft, I'd want to meet him again to be sure as my thoughts were he could be more 182cm...
B nn
said on 17/May/08
In Heroes II, there are lots of scenes featuring him, he do look 5'11 / 6'0 kinda guy...
Anthony
said on 10/Nov/07
I thought he only looked 5'10 or so on "Heroes". Then again, his scenes are done on rough terrain and sloping hillsides so it's hard to judge his height at times.