David Mazouz's Height
5ft 9 (175.3 cm)
American actor, best known for playing Bruce Wayne on TV series Gotham. On his imdb.Resume his agent listed his measurements as
"Height: 5 feet 8 in, Weight: 110 lbs"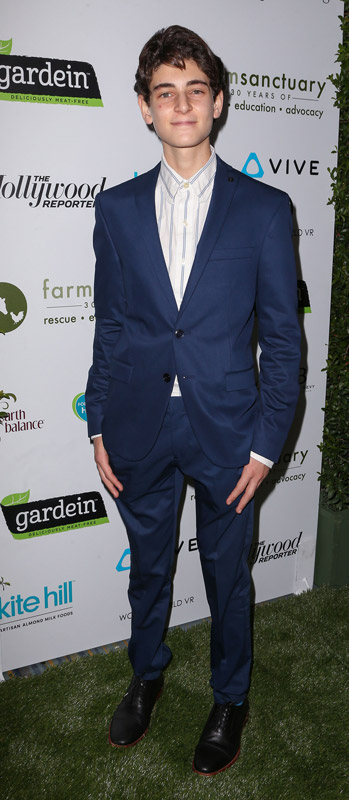 Photos by PR Photos
You May Be Interested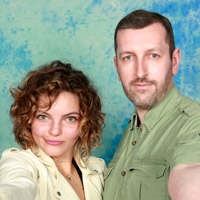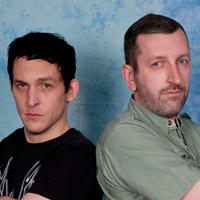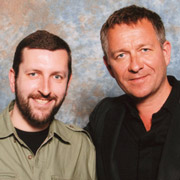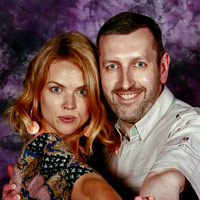 Add a Comment
90 comments
Average Guess (43 Votes)
5ft 8.7in (174.5cm)
alperen
said on 21/Sep/20
rob can you update him height. he looks at least 5'10 in him instagram photos
Gotham
said on 23/Aug/20
Rob, in 2020 after Gotham ends I think David reaches 5 ft and 10 inches with no doubts, try to check his height now.
Slim 6'1"
said on 7/Aug/20
175 perfect
Aviansolider
said on 13/Dec/19
@Rob how many chances for a 5'10" upgrade

Editor Rob
I could see 9.5 range as a possibility, but 5ft 10 I've not seen enough to think he is near it.
Kevin P Price
said on 3/Jun/19
Rob look at his instagram photo with Chandler Riggs who is to be around 5'7 1/2 , he's seems to appear around 2 maybe 2 and a half inches taller than him. Id give david a strong 5'10
TheBat
said on 7/May/19
@Bobby 5'10 (178)
You maybe right! He could be 6'3" or even 6'2" like you've pointed out. Stephen has usually said he's 6'1" but has claimed 6'2" a few times recently. But yeah I would rather have actors 6'0" and up for characters like Batman, the exceptions would be Michael Keaton or Leonardo DiCaprio.
Bobby 5'10 (178)
said on 2/May/19
@TheBat
The guy is probably at most 6'2 because you know how Hollywood folks get. They inflate their own actors for the sake of publicity. Like Grant Gustin is at most 6'0 but gets inflated to 6'2 and Stephen Amell is a weak-flat 6'1 and even he claims to be that tall. Still, I'm glad they're getting a really tall guy to do his Batman role. Batman is canonically 6'2 in the comics, so his actor should be at least that tall.
Nightwing
said on 11/Mar/19
Click Here
Here he looks 1.76m
Coolyfooly
said on 3/Feb/19
@Rob could he be 5'9 1/2 now?

Editor Rob
I haven't seen anything lately to judge, but we'll see this year if he gains height.
Sword
said on 7/Jan/19
The kid requires an updated (2019) picture; I feel like both David Mazouz and Chris Chalk should be upgraded to 5'9 1/2 as they both with similar footwear appeared to be an inch and a half taller than Ben Mckenzie in the Gotham season 5 premiere episode!
JD 5'9"
said on 28/Nov/18
@M.E Yup he grew an inch this past year. Might still have an inch or two left in him. Probably won't quite make 6' though.
M.E
said on 14/Nov/18
op he got unpgraded. Gotta when your at the gorwing age i guess :P
Junior Hernandez 1990
said on 13/Nov/18
Getting to look like Andrew Garfield. Especially in The Darkness.
TheBat
said on 27/Oct/18
David could by now have reached 5'10". He's also one of my favorite young male actors along with Asa Butterfield.
Vanda K.
said on 3/Oct/18
Hi there Rob. IS David the same height now as Sean Pertwee? Look up latest convention pictures it is seems like it anyway. :)

Editor Rob
I'm sure in some photos he might seem close, but I don't think he's near 5ft 11
Junior Hernandez 1990
said on 16/Aug/18
At 17 now he might had the chance to hit 5'10.
Theboyyy2
said on 1/Aug/18
Do you think he might be 5'9.5" now?

Editor Rob
I'm not sure he is that tall.
Gotham
said on 27/Jul/18
Look at this picture Rob! He could be 5ft10
Click Here

Editor Rob
Not sure he looks as tall as 5ft 10. He has a benefit of a thin frame which can make him seem taller at times.
Bruce Wayne
said on 7/Jul/18
taken in January
Click Here

Editor Rob
In some convention photos over last few months he seems to be a bit taller, how much more he might grow is unsure.
Nacho
said on 4/Jul/18
On Gothams fourth season him and Ben Mckenzie have multiple shots together where they look exactly the same height.
Julien Piselli
said on 30/May/18
Rob, David has grown a lot
Look at the second picture, he looks like a 5ft.10 guy isn't he?
Click Here

Editor Rob
He could be taller in recent months, I think 5ft 9 on Gotham (last half of the season) was possible.
Julien Piselli
said on 30/May/18
Rob, David has grown a lot
Look at the second picture
I think that he is a legit 5ft 10 today, maybe more
Click Here
kevin mask
said on 21/Apr/18
Guys bear in mind that the official 6'2" height was given to the charachter only in the 60s as an homage to actor Adam West (which was his height), so we can say that it was Adam West who suggested the modern official height, in the original comic Batman was around 5'10" IIRC as he was more of an agile vigilante than a muscolar tank as he's depicted today, Michael Keaton wasn't much taller than Mazouz but he could play as Batman just fine, actually other than Affleck and West no actor who played as Batman so far was 6,2", so you don't really need a 6'2" for the role, David would be fine with some lifts if the series goes on till he turns 20 at least (I doubt it though).
sepehr
said on 24/Mar/18
good actor but very short for batman role cause batman is 6'2 and David mazouz is 5'8!I hope he will gain few inches
Bruce Wayne
said on 12/Mar/18
He is definitely wearing shoe lifts on Gotham. Looks 5ft 11in in the show.
KevinPrice
said on 14/Feb/18
I found this picture on Google from a fan meeting in late 2017 and David seems to be taller than Donal Logue (I think I spelled that right) and he's supposes to be 5'9-5'10. Either Donal and Ben are lying about their height or David is 5'11.
Psychedelic Earth 187
said on 15/Jan/18
@editor rob, can you please ban all off @bobby's bullies? The guy clearly can't handle all the fighting. It's up to you mate, either these guys will be banned or bobby will eventually quit. Choose wisely.
Ban: mm, anon176 and DruceLee.
When you make fun of insecure people and people with mood disorders. You are disgusting and deserve to get f*cked.

Editor Rob
The User Height page certainly attracted a bit too much nonsense, but it seems folk still trying their luck on General Height.
Ben
said on 12/Jan/18
Cameron, that's another guy commenting, it's not me (I'm the guy from user heights). Yeah David is a strong 5'8" guy now. I think he'll end up at 5'10"-5'11". Younger generation is not taller than the last one, 5'9". In Sweden, the average is 5'10.5".
Jake, not me commenting.
Jake
said on 6/Jan/18
@Ben, eh...Most people don't grow 5 inches after 16. That would be considered a late bloomer. Considering he looks his age, he'll probably grow 2 or maybe 3 more inches. 16 year olds that look 13 are the ones who grow 5 more inches. 16 year olds who look 20, are generally done growing.
Cameron
said on 6/Jan/18
@Ben In =Sweden maybe. In America the current generation isn't any taller than the last generation. He does seem to edge out Ben Mckenzie, could be a weak 5'9" now. I suspect he'll stop growing soon though, will probably max out around 5'10"
Height Detective
said on 6/Jan/18
@Ben
he already had his major growth.
He will be 5ft 11in (MAX.)
Ben
said on 5/Jan/18
He's at least 5'9 in the third series, most kids these days grow to six foot I think he'll be 6'1 fully grown
Psychedelic Earth 187
said on 2/Jan/18
thats okay @bobby. i understand everyday you log on to fight 10+ trolls on the general/request pages. you've been hurt enough. Infact, ask Rob to ban them if that gets the weight off your chest. especially the guy that called you short and greg had the wide hips of a woman.
NOw, to the users that dont hate my guts: i hope you enjoying your holidays and have a happy new year.
Bruce Wayne
said on 2/Jan/18
@Anonymous
What if I meant both?
Click Here
Anonymous
said on 1/Jan/18
Justin bieber is still 5.8 he didn't grow much past 18.
Bobby
said on 1/Jan/18
@Frost, I grew a little over an inch after 18. I measured a flat 5'9 in the afternoon at that age.
Anonymous
said on 31/Dec/17
@Bruce Wayne
You mean lifts? Because everyone wears shoe insoles...
Frost
said on 30/Dec/17
No offense but what scientific data do you guys have on the fusion of growth plates and the end of growth? Nothing I have seen adamantly states that you stop at 18, only that the majority don't see significant growth past that age and a ridiculous minority see anything substantial between 18-25. Some break the mold, though. Will Poulter is a great example.
Anonymous
said on 29/Dec/17
At 20 to 21 u can reach a full adult height of 5.8 it depends on ur personal growth hormones.Some men don't grow much in height between 14 to 18.It's rare that u reach 6 foot past 21 to 24.
Bruce Wayne
said on 29/Dec/17
He is wearing shoe insoles (during the show)
Bobby
said on 29/Dec/17
@Danimal 5'9.3/4, you and I are the same height but I claim 5'10 for simplicity's sakes, and I weigh in at 175lbs, which is around the ideal weight for my height according to Rush Medical University's height and weight chart for BMI. I used to weigh 205lbs, but through changes to my diet alongside moderate exercise, I've cut off a lot of fat to my physique.
5'10 lad
said on 29/Dec/17
He can still grow I feel.
-at 13 I was 5'3
-at 14 I was 5'7
-at 15 I was 5'8
-at 17 I was 5'9.25
-at 19 I was 5'9.75/5'10
He may still get another inch or so if he's lucky
Bobby
said on 29/Dec/17
@Jerk Slim 185, be warned. You started it. Why am I a liar? All I did was state my opinion on how much he's grown.
Danimal 5'9 3/4
said on 28/Dec/17
110 pounds at 5'8"???? That's insanely skinny. How does he weigh so little? That can't be healthy. Anything under 130-135 pounds at 5'8" is anorexic weight for sure. Tbh, anything under 150 pounds at 5'8" is very thin. I'm just under 5'10" and I went down to 146 pounds and I looked sick.
Greg
said on 28/Dec/17
You could still grow up until 18, usually the average guy will gain and inch or two from 16-18 some more other less.
Anonymous
said on 22/Dec/17
why is everyone saying u grow in ur 20s if ur a man? I never did,usually u stop growing at 18.If u were going to be 6 foot he would of been 6 foot at 13 or something.
Anonymous
said on 16/Dec/17
I see people here saying he'll still gro I'm 16 years and 4 months and 5'9.5 with rubbish facial hair and have features of a child still is it possible I'll grow ?
LordOfWizard
said on 11/Dec/17
He have 16 years old, I grew up two inches until 18
Kevin Mask
said on 10/Dec/17
He might wear lifts during the show to appear slightly taller than Benjamin, anyway I also think he won't be growing much more, of not anything at all, around 16 I hit 5"11 and that was it.
Bruce Wayne
said on 8/Dec/17
He already had his major growth. I don't think he is going to even reach 5ft 11.
Slim 185
said on 30/Nov/17
@Lying Bobby, I think Mazous is 16 years old now.
Bobby
said on 28/Nov/17
How old is he now? He still has room to grow I think. He might hit 6ft or 5'11 at the least. I remember when he was shorter than Camren Bicondova (Selina Kyle), now he's a lot taller than her. That's incredible. He's grown a lot since 2014.
Slim 185
said on 11/Nov/17
The guys probably 174.5 now. 5'8.75" upgrade necessary, his height is actually not bad, He might make it 6' but I doubt much higher.
Colonel Sanders
said on 28/Oct/17
5 feet 9 by now
Mr. Wayne
said on 20/Oct/17
Give Rob a couple of months before he upgrades him to 5ft 9in.
At least we gotta wait for 6-12 months to see the latest growth.
Editor Rob: up till a few months ago he still seemed from what I've seen with other cast to be around 5ft 8 range, not sure he's 5ft 9 yet.

Byron T.
said on 17/Oct/17
David Mazouz is now an inch taller than Benjamin McKenzie and deserves an upgrade to 5'9."
Chris
said on 14/Oct/17
Rob he definitely looks at least 174cm in the lastest season of gotham (filmed in 2016)
Theliftguy
said on 13/Oct/17
I think the behind the scenes crew gave David lifts in the show to give the Bruce Wayne impression. He looked like 5ft 10in in front of Ben Mckenzie in the 4x4 episode.
Ben
said on 12/Oct/17
I was roughly 5'9.5" (Roughly 5'10.5" now) at this point when I was 16. He's 11 months younger than me. I don't think we'll end up the same height, I will most likely be the taller one when we hit our 20's...
Mr. Wayne
said on 10/Oct/17
@Dominic
He already had his major growth so I doubt that. he might end up somewhere between 5ft 9in-6ft
Dominic
said on 30/Sep/17
He looks like a 5'9" in the Season 4, I think he is 5'8.75" now and could pass for 5'9" with a good posture. I think adult height will be 6'1.25". I was 5'10" at his age and now i am 6'3.25" (I grew up until 21-22)
Slim
said on 29/Sep/17
Rob, what do you estimate his adult height will be?
I think he'll be 5'11.50"(181)
Editor Rob: I don't know his parents, which might give an idea of potential from 16-19...I suppose he has a chance at a few more inches.
Deathstroke
said on 22/Sep/17
I don't think he grows to 188cm/6'2" which is Bruce Wayne/Batman height in the comics. At his age of almost 17 I was 6'0" and I grew 4 more inches until I was 20-21. I'm guessing he will grow to 5'10"-6'0"
Slim183
said on 16/Aug/17
He might be higher than this now.
Benjamin
said on 6/Aug/17
He's just 16 he will probably grow much taller, boys don't grow until there 20's so there's still hope for him.
The Man
said on 2/Aug/17
Big Rob, he might end up at 5ft 10in - 6ft
Click Here
Colonel Sanders
said on 26/Jul/17
Well he looks a little bit taller than Gordon maybe i give him 176? Could be because he's skinny but he really looks taller than 173 i'm 174 and i can't imagine him being shorter than me
James
said on 2/Jul/17
Rob does drinking milk help you grow taller, my parents always tell me milk will make taller is that true ?
Editor Rob: James, I can't really comment much on the subject.
Batman
said on 16/Jun/17
his posture is like Javier Bardem (181).
I can see 176-181
Slim 181 cm
said on 12/Jun/17
Adult height will be 176-181.
Alfred (The Butler)
said on 8/Jun/17
Jacob your grammar is messed up mate!
Jacob
said on 7/Jun/17
I heard he grew to 5'8" from 5'5" but he was like what 16 I'm like barely 18 and have grown 2 cms rob I think he's still got growth in like I do
Master Wayne
said on 7/Jun/17
He'll end up around MIN 175-180cm MAX !!!
Private Caparzo
said on 5/Jun/17
173 out of bed, 171 at night…
MaskDeMasque
said on 10/Apr/17
Looks slightly shorter than 5'8 ish Ben McKenzie in Gotham. I'd say about 5'7.5 for David.
Ian
said on 31/Mar/17
@Ben depends on whether or not he's a late bloomer. I was 5'4" at 16 and ended up being nearly 5'9" so it's certainly possible. But given that he probably already had his major growth spurt, he probably isn't going to be a true late bloomer.
Bruce Wayne
said on 31/Mar/17
I think the same way as well KYO.
Ben
said on 30/Mar/17
Rob, do you think he will end up close to 6' at 21? I do :)
Editor Rob: we'll see, it's sometimes interesting to see if he grows another 2-3 inches or not.
KYO
said on 28/Mar/17
I think he already had his major growth spurt. I don't see him truly hitting 6', but 5'10" or close to 5'11" is certainly possible. Growing more than 4 inches after 16 would quantify as a late bloomer. Which I don't think Mazouz is. Also if he is really only 110 (which I doubt), I will say it's not that uncommong for teens who have major growth spurts to be super underweight. He probably will fill out his frame.
Boomga
said on 28/Mar/17
He is really underweight but he's grown alot he might become a 6' by season 5
Bruce Wayne
said on 27/Mar/17
I don't think he is going to grow much. Min 5'9.25in Max 5'11 in the near future.
Jay
said on 25/Mar/17
This kid shot up a lot in 3 years, cause he was tiny! Hopefully he fills out in a few years.
Cameron
said on 24/Mar/17
@Shredder he looks more than 110 to me. They probably just updated his height without updating his weight. Based on the picture above I would guess he's more like 130. Not abnormal by any means for a 5'8" 16 year old.
Marc
said on 24/Mar/17
I think he may be in that stage of puberty were hes all neck. I wonder how pressured he is to fit the role as the comic book character. Hes still pretty young though.
Shredder
said on 24/Mar/17
Yeah , 110 is crazy for this height.
Sam
said on 24/Mar/17
He could gain another inch or two and end up near 5'10, exceed that or even stop completely. No way of telling.
Cameron
said on 23/Mar/17
Not surprised by this. Seems like towards the end of last season he was already catching up with Ben Mckenzie. Looks like he might just edge him out now. I think he'll still grow a bit more, will likely max out around 5'10" or 5'11".
Matt
said on 23/Mar/17
His skinness makes him look taller, no more than 5'7.5, plus 110lbs is dangerously low for a supposed 5'8 guy.
Johnny
said on 23/Mar/17
Finally he gets added! Rob, do you think he will grow more?
Johnny
said on 23/Mar/17
Finally he gets added! Rob, do you think he will grow more?
Editor Rob: Johnny, he was about 5ft5 a year ago, so he gained 3 inches...we'll see how much more he might grow.