Czech born Canadian Actor best known for playing Dr. Zelenka in sci-fi series Stargate Atlantis. On his resume he is listed as 5ft 8. This photo is from a 2010 London Film Convention.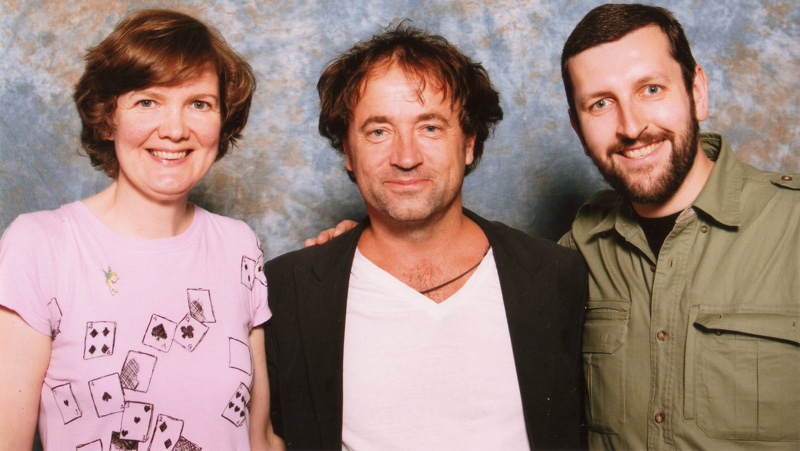 5ft 8 Jenny, David, 5ft 8 Rob
Dferraro
said on 26/Sep/23
Agree! They're much taller than everyone thinks
Jimmy_ESB_182
said on 1/Sep/22
That's a nice picture of 5ft 8 David along with 5ft 9 Jenny and 5ft 10 Rob lmao
Kari E Ryan
said on 9/Oct/21
He and Torri Higginson look to be exactly the same height in Stargate Atlantis.
slim 6'1
said on 15/Jan/21
Amell did have quite a bit of height on him
Probably 169cm max
Jkiller
said on 4/Aug/20
5'6.5, nothing more.
JohnMoore-162cm
said on 28/May/20
Maybe 5ft7
Nik Ashton
said on 27/Apr/20
I must say that 5'8" isn't possible for him and just look at Rob's lean!

Editor Rob
In person he's never 5ft 8, close to 5ft 7 I'd still estimate.
Davidjr
said on 18/Apr/20
He is much taller than that like 5foot 8.5inches
Bobby 5'10
said on 15/Jan/19
One of my uncles from Greece has this listing on his military ID card but my eye level is at the top of his head. This guy can seem a 5'7ish guy next to Rob, but Rob is tilting his head down so I'm thinking maybe he's closer to 5'6.5?
Christian 6'5 3/8"
said on 13/Nov/18
Looks 5'6" next to Rob, but looks 5'6.75" as listed next to Jenny.
Nik
said on 12/Nov/18
He looks a tad under 5'6.75"!
scotsheights
said on 5/Jul/17
a weak 5'6.75 should result in 169 though.
Average height and slim
said on 6/Jun/17
Looks 169 cm maybe 169.5 if he's lucky 🍀.
Peter 179cm
said on 27/Nov/16
Rob is leaning alot,he's no more than 168cm.
Dmax
said on 30/Aug/15
funny he looks more 5'5.75 here
richkid123
said on 26/Oct/14
hes got the frame and neck of a 5'5" guy. kinda like Justin Bieber does
Allistair Smythe
said on 7/Sep/14
5'6" maybe 5'6.5" max.
lasagna
said on 21/May/13
In Stargate Atlantis, David, and Torri Higginson look exactly the same in height.
ChiasmataX
said on 23/Dec/11
A barefoot 170cm will not make Rob (173cm barefoot) looked 5'10 in shoes. He's looking below 170cm even with shoes on. I am seeing him at 168cm barefoot.
Mathew
said on 30/Jul/11
He looks a bit shorter in comparison to Rob.
georgie
said on 28/Jul/11
hes about 5 7
krazy krippled!
said on 1/Jan/11
Yep he's 168cm max, altough you can put Zelenka whatever he wants, he rocks!!!!
Tony
said on 6/Nov/10
I can't help but notice that Rob is taller than Jenny in this pic.
TheVerve
said on 1/Nov/10
i see him 5ft6.75 (169 cm), absolute max.
Andrew
said on 31/Oct/10
5'6.5. not any taller
Moke
said on 31/Oct/10
Rob, you`re being very generous giving him 170 :)
The Horse of FUNK
said on 27/Oct/10
Call me crazy, but if Rob straightened his head and neck, then even 5'6.75" seems generous for Nykl.
cam hawkins
said on 25/Aug/06
yup i saw him in person he is indeed 5'8 or maybe 5'8.5
BackStageJim
said on 16/Jun/06
about right from Vancouver meeting at convention, maybe 5.7