Canadian Actor best known for playing Richard Langly in The X-Files and The Lone Gunmen. On his acting resume he listed himself
"Height: 6', Weight: 160 lb"
, although I asked him his height by email in 2005, to which he replied:
"I am apparently 5'11'' 1/2. Saying 6 feet seems too arrogant"
.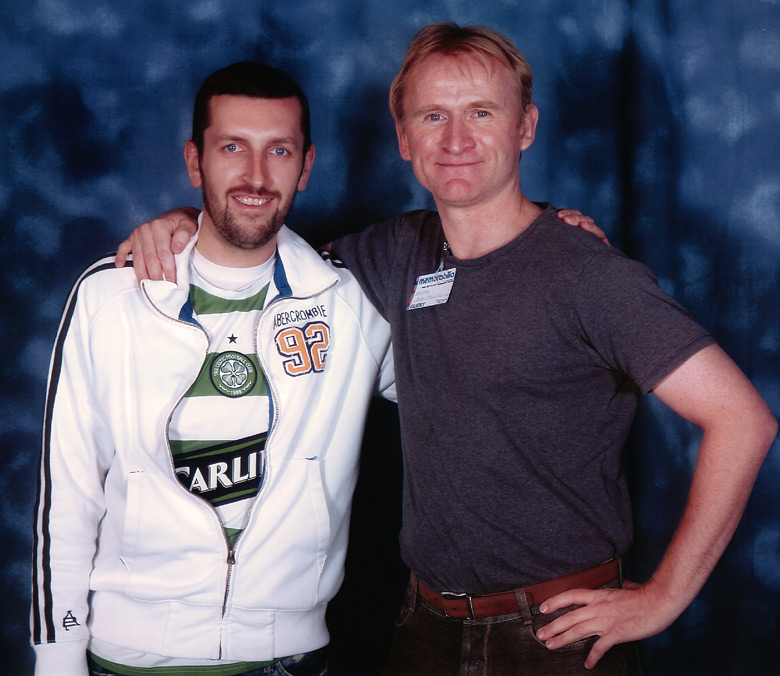 5ft 8 Rob and Dean @ Memorabilia 2006
REX03
said on 11/Nov/22
looks 5'10 here with Rob
Nik Ashton
said on 24/Jun/21
He doesn't look that much taller than Rob!
Mike Sui
said on 7/Feb/21
5'10.5 very obvious one.
Christian 6'5 3/8
said on 4/Oct/19
@Rob
Did he have a footwear disadvantage over you by wearing a pair of Converse? Assuming there's no footwear difference, he looks a strong 5'10".

Editor Rob
On the show he wore converse, not at this convention.
Miss Sandy Cowell
said on 9/Aug/19
I think that Rob must have been having a particularly good day in the above picture! Anyway, I like Deany-boy in 'The 'X' Files' and can't imagine his real persona to be economical with the truth, so I will have to give him 5ft11. 👾👽
Blake
said on 22/Mar/17
Do you still email people for height claims or are those days behind you?

Editor Rob
not done that for many many years.
Rampage(-_-_-)Clover
said on 20/Nov/16
Rob, maybe he got measured at his claim mid-late morning?

Editor Rob
Rampage, it's possible very early.
Dmeyer
said on 30/Nov/14
Rob are you sûre 5'11.5 he looks 5'10.25

Editor Rob
he's probably got a very generous listing here...on x-files around 5ft 11 range is quite possible as he was in converse in that show I believe.
SaveUsY2J
said on 6/May/14
Rob, any thoughts on the heights of the other two Lone Gunmen? Bruce Harwood I think is 5'11" range and Tom Braidwood is pretty short, about 5'4" or 5'5" max?

Editor Rob
yes, close to 5ft 11, although I think Dean is being generous with his 'modest' claim. Tom 5ft 4 is possible.
Daniel
said on 18/Jan/12
For this guy Maybe 5,11.25"
Anonymous
said on 14/Sep/08
How tall are the other two Lone Gunmen? Tom Braidwood looked short and Bruce Harwood was probably average.

Editor Rob
I liked that Gunmen show, right up my geek street. Bruce wasn't much shorter than Dean - who wore converse - Tom looked near head shorter.
Mattiew_-
said on 3/Aug/08
It looks more like two inches to me ...
Alex
said on 8/May/08
I do agree that sometimes saying 6'0 does sound arrogant because you'll have lots of guys 5'10-5'11 and sometimes even shorter try to claim 6'0 and get away with it. Its that height that appears very ideal to most and some get cocky who are that height.
Arjun
said on 14/Jul/07
It looks 2 inches, but he may be losing some in posture.
Franco
said on 11/Jul/07
doesn't look 182cm at all and he got a huge head compared to Rob, i think he is 182cm with shoes and 180cm without shoes.
so 180cm.
17,181
said on 10/Jul/07
one of those strange strange illusions.wowzers.
MD
said on 9/Jul/07
Yeah, I'm not seeing 3.5 inches, at all. The top of your head would have to come up slightly below his eyes for that to be the true, and even if he straightened up I'm not seeing it.
Markus
said on 9/Jul/07
He's the long-haired computer genius-nerdy guy, isnt he ?

Editor Rob
yeah that's him
16and5'7.25''
said on 9/Jul/07
that doesn't look like a 3.5 inch difference in height to me. rob what do you think?

Editor Rob
where did the 1.5 inches go? Even Mulder couldn't figure out that mystery...

nah, I'm sure he was dropping an inch in posture because I thought he was 5ft 11.