Dominic Keating's Height
5ft 8 (172.7 cm)
English actor, best known for playing Malcolm Reed on Star Trek: Enterprise. In the shot below (at collectormania) he had 1/3 inch less trainers than me and about 1/4 inch more than Jenny (at a Starfury convention).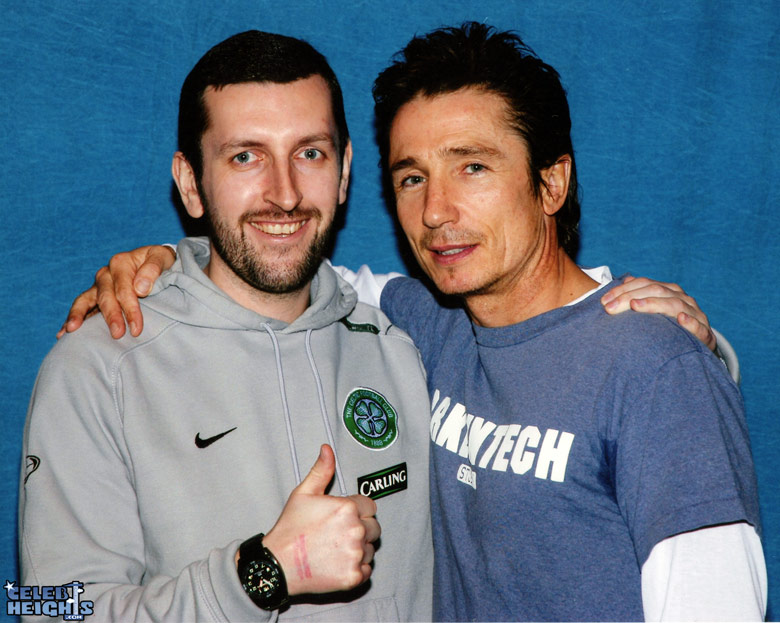 5ft 8 Rob, 5ft 8 Jenny and Dominic
Connor and Anthony [Montgomery] and Scott [Bakula] are big strapping, corn-fed fellas. I'm fairly fit -- by English standards -- but these guys, they're six foot and all muscle. I'm not even 5-foot 10-inches.
You May Be Interested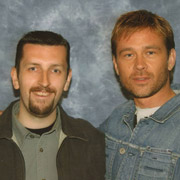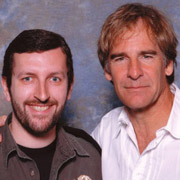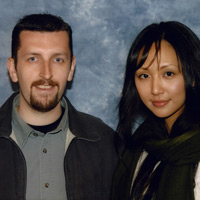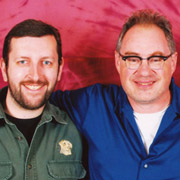 Add a Comment
51 comments
Average Guess (22 Votes)
5ft 7.73in (172cm)
Yang (5 footer 8, 173, Aries)
said on 5/Jun/20
5ft 7 half range...
Sakz
said on 16/Dec/19
@Christian 6'5 3/8" I believe 'cool' in the sense that it's a height which should be embraced, regardless of whether it is tall or not. It's not to say that particular height is better than another. That's what I take from it anyway.
Christian 6'5 3/8"
said on 16/Dec/19
@Nik
There are some heights that the majority of men may prefer over others, but that still doesn't make them "cool". Even I don't consider my ideal (6'2"-6'3") as cool either. That doesn't mean that one shouldn't be confident or embrace the height that they are though. I was almost ashamed of being taller than most of my peers during most of grade school. I didn't really embrace my tallness until graduating.
Nik
said on 14/Dec/19
@ Christian 6'5 3/8" - At least you are consistent and so am I! What I don't agree with is people saying some heights are cool and other heights aren't! I think that your height is cool too but you mustn't agree!
Christian 6'5 3/8"
said on 11/Dec/19
@Nik
There's no such thing as a cool height IMO.
Nik Ashton
said on 9/Dec/19
@ Dominic Keating - Join the huuuuuge club!
Nik Ashton
said on 8/Dec/19
Cool guy, cool height!
Tristan3D
said on 18/Jan/19
I met him in 2014 in Frankfurt am Main, Germany, during the "Destination Star Trek" at the Frankfurt Fair grounds (Messe). I never took an Autograph from anybody, and this time it was for a friend of mine, who couldn't attend the event. Anyway, his booth was kinda empty (while Shatner's booth had a line all the way back to the entrance of the massive fair hall - 200 yards away or something; must have been an enormous dampening factor for anyone's ego except for Shattner's, that is). Connor Trineer was right at the next booth, also empty; having his feet lifted up onto a table; chewing bubble-gum. Michael Dorn (Worf) in the booth next to him with Suzie Plakson (Worf's first mate and mother of his son, Alexander, in the Show) walking back and forth between Rick Berman and Michael Dorn. Rene Auberjonois (Constable Odo) had kind of a long line and Tim Russ (Tuvok) was super communicative - really active. I had the impression everyone else of the various Trek cast was bored, but Russ really engaged with the fans.
Anyway, I was thinking about from whom I should take an Autograph and was going back and forth from Dorns and Auberjonois's booth. I opted for Keating's booth, because he looked so lonely (well, he talked to a pretty german girl working for the event, so he wasn't that "lonely" after all). Thing is, I never took an autograph so I didn't know how the specifics had to be done to get it, and I just talked about that one scene when Reed was fighting that one Maco in the Gym onboard the Enterprise. I figured he would have to tell a story about that, and he did. He talked about the choreographer that went to the set for one day and helped both actors to get this scene done, and I feigned interest to this story (I just wanted to be nice, you know; I'm really not that kind of a Star Trek Fan). Anyway, he actually asked me why I didn't took an autograph from Dorn or any of the other more prominent Trek actors, I said: "Well, ya know... everyone got an autograph of Dorn, or Spiner... or Trineer" (Trineer stopped chewing his bubble gum; looked at me, then at Keating (who was broadly smiling, because I was just joking); didn't smile; put on his 1000 yards stare again; continued chewing bubble gum and opted to ignore us entirely) - "but an autpgraph of Dominic Keating - well that's special!". He was smiling broadly, signed the picture for a friend of mine and that was it. He stood up to shake hands with me. Two things stood out for me: 1.) He had a lot of wrinkles in his face (We all get old, I am no expection, but it was still kind of a surprise), and 2.) He was incredibly tiny.
Well, I guess, it's easy for me to say that, because I am a 6'4'' dude (exactly 193cm mid-day - maybe a bit more in the morning) and I estimate him to be a 5'7' to 5'8 max.
Tristan
Colberto
said on 2/Sep/17
Looks 5'7 1/2"
Cameron
said on 22/Aug/17
Seems like he's leaning some in the two photos with Rob. I'll give him the 5'8" flat.
Realist
said on 5/Aug/17
Looks strong 5'7.5 max
World Citizen
said on 31/May/17
I will go for 172 cm
GP
said on 9/Feb/17
He is below 5'8". As you can see in the photos how he turned his body by placing his leg closer to the camera so he can appear bigger. Lot of actors use this trick. Van Damme did this to me.
Editor Rob: it's a trick I've not seen many do, guys like Christian Kane and Norman Reedus are the 2 guys I know purposefully moved forward just before a shot was taken, can't remember many others doing it...


172.4cm guy
said on 17/Jan/17
Whoa, if he has 1/4 inch advantage over Jenny and still about 1/2 inch shorter, somethings not right with a 5-8 listing. I agree with most comments, he's closer to 5-7.5 clearly.
Sam
said on 21/Nov/16
Solid 5'7.5.
172.4cm guy
said on 22/May/15
Definintely a weak 5-8...172cm seems more fitting.
Josh b
said on 3/Sep/14
Click Here
My photo with Dom.
ed2882
said on 19/Apr/14
i agree with the comments...Dominic looks 172cm at best. his eye level is slightly before rob's, add is his shoulder level. i think Dominic should be downgraded a little but.
Rusty
said on 22/Aug/13
The reason he can look as low as you all are saying is that in reality Rob is a legit 5'8.25" as i watched all his youtube videos and he measures that in every single one of them. An american doctor would likely get him at 5'8.5" or close to it if he went there on his way to work in the morning. he shaves a quarter inch off his typical height. robs listings of celebs are at the absolute minimum they dip down to in his mind, despite making no claims of whether he goes by a morning or an evening measurement.
if this guy went to the doctor on his way to work hed get bang on 5'8" and he likes dips a little below the mark. may get out of bed at 5'8.25"
Emil
said on 18/Jul/13
"I'm not even 5-foot 10-inches"
Most accurate statement in the history of accuracy.
lalala
said on 15/Jul/13
I think he is 5'7.5 (at best).
someone
said on 30/Dec/12
I think that 5'7 3/4 would be more accurate
anonUKguy
said on 7/Dec/12
pushing 5'8 out of bed maybe, but he does look more of a 5'7 - 7.5 with you two.
[Editor Rob: he never looks as short as 5ft 7, I think if he's not 5ft 8 he's got to be quite close.]
LG69
said on 10/Nov/12
@sorry, he's not 1.5" shorter than Rob, but he is shorter. I see 1/2" difference. At best he looks 5'7.5"
Drew
said on 10/Oct/12
WTF, this guy is obviously shorter than Rob!
leonari
said on 8/Feb/12
Where is 1.5 inches shorter? Maybe 0.5 but they are probably the same height
sorry
said on 7/Feb/12
sorry but it doesn't make any sense, how come he's 5'8 if he's about 1.5" shorter than 5'8 rob?
Truth
said on 15/Sep/11
Hair is just as natural as bone......it could be debated as part of someones height. Let the games begin.
[Editor Rob: but the stadiometer will always flatten it to basically zilch unless you wear braids ;)]
lolo
said on 26/Nov/10
5'8.25 with hair
TNTinCA
said on 30/Jun/09
Based on eye level, he still appears shorter than you, Rob. With the 1/3 height disadvantage, I would still peg him about a 1/2 shorter than you. Then again, with the lean in, its hard to tell.
Shawn Jones
said on 17/Apr/09
Rob, this is how I pictured Glenn would measure up to you. If you measure a little over 5'8.5 in the morning, Keating likely hits 5'8.25 or so, wouldn't you agree?
[Editor Rob: whether at night he still is 5ft 8 I'm not as sure, but he's probably 5ft 8.5 morning.]
MHouillon
said on 6/Feb/09
171-172cm.
TNTinCA
said on 16/Jan/09
Hmmm. Interesting. I still would have pegged him at 5'7" based on Enterprise. But he does look about Rob's height in that second picture if he straightened up.
TNTinCA
said on 14/Jan/08
Looks a hair under 5'8", as the other poster said.
[Editor Rob: I saw him again, I added recentish pic, this time he had 1/3 inch less trainers than me in that new pic.]
bruce_willis
said on 17/Nov/07
ooh, he looks 5'9 in heroes and prison break, it's because of his slim figure. But yes, the picture clearly shows he is about 5'8, probably 5'7.75 on the dot.
bobby
said on 16/Nov/07
hes under 5ft8 about barley 5ft7
Adam Brennon
said on 27/Oct/07
I withdraw earlier suggestions that he rivals Culp's stature. I think he's in the 5' 7" region.
Anthony
said on 23/Oct/07
Next to Kristen Bell, I thought he looked no more than 5'7.
max
said on 19/Oct/07
this guy is 5'8-- if he didn't tilt his head a little bit, he'd be Editor Rob's height. And Rob's head is tilted, too.
Anthony
said on 8/Oct/07
He looked a tad shorter than Milo Ventimiglia on "Heroes" tonight.
Adam Brennon
said on 27/Sep/07
A small build can make one look shorter.
Adam Brennon
said on 27/Sep/07
He can look 5' 10.75" Steven Culp in the eye.
Leon
said on 16/Sep/07
Both look same height (without taking footware into account). Dominic is leaning slightly into the picture. By the way, he's great in Star Trek, my favourite non-sexy-female character (lol). But I am British, too, so I'm biased. I like the way he talks.
[Editor Rob: he was good on that show, my fave episodes were the In the Mirror Darkly ones, wish they could have done a few more in that type of Universe.]
Aaron
said on 3/Sep/07
well it doesn't matter how big your head is when comes to how tall you are. Your head could be the size of a watermelon, but it doesn't matter. You height is measured to the top of your head. You don't take off height or add height just because there's a discrepancy in head size between two people. I'd say strong 5'7 or 5'7.5 from this pic unless there is a significant difference in posture or footwear.
Anthony
said on 24/Aug/07
They look even to me. Rob has a slightly bigger head but other than that I don't see much of a difference.
Franco
said on 22/Aug/07
solid 172cm indeed, i agree. actually possibly 171.5cm
6'3'' JK
said on 20/Aug/07
I'd say more 172cm solid
MD
said on 14/Jan/07
I think Rob looks slightly taller even taking into account the posture. Both Rob's head and shoulders are higher than Keating's.
Derek
said on 14/Jan/07
The hair makes Dominic the same height, but you are clearly taller Rob, regardless of posture.
dmeyer
said on 5/Nov/06
how can he be 173 if he is clearly shorter than you
Icelyli
said on 23/May/05
I met him and and he was only about 5'7" only five inches taller than me but comparisaons like that are ones you have to do back to back.