Connor Trinneer's Height
5ft 10 ⅞ (180 cm)
American actor best known for appearing on Star Trek Enterprise and Stargate Atlantis. BackstageJim said at a convention Connor gave his height as being a
"hair under 5ft 11"
. On his
resume
he claimed
"Height: 6'"
and
"Weight: 165 lbs"
. In the LondonExpo photo I had a good 1/4 inch footwear advantage and in the left photo from Collectormania he had 1/4 inch more sneaker than me.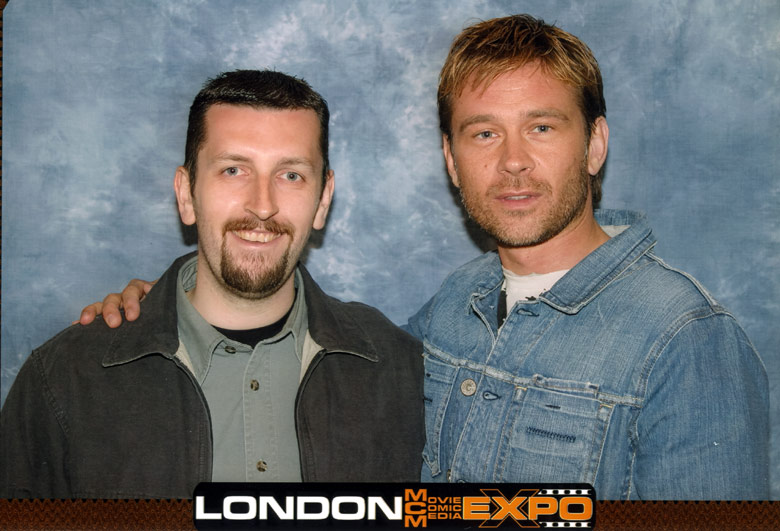 5ft 8 Rob and Connor
You May Be Interested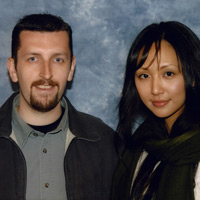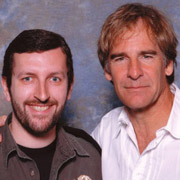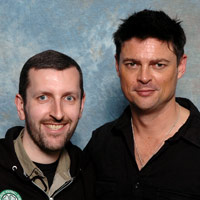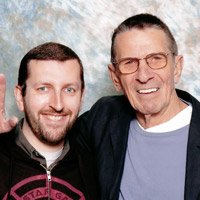 Add a Comment
67 comments
Average Guess (43 Votes)
5ft 10.72in (179.6cm)
Christian 6'5 3/8"
said on 29/Sep/20
I feel that 8th listings are usually unnecessary, unless if they were measured as that or it came from the celeb's own claim. "Hair under" is a pretty vague claim.
Greg
said on 21/May/20
@Rob yeah I am eye level with my legit 5'11 friend who's 5'11-5'11.25 zone so a bit taller than Connor a few hours out of bed I can still manage like 5'10.5/8ths if I don't hit my low, but the difference would probably be so small it would be thrown off by like a little thing such as footwear swing or hair style. But yeah he can look anywhere between 5'10.5-5'11 to me.
Greg
said on 19/May/20
Rob so Would I be eye level with him then? My eye level is a bit over 5'6.

Editor Rob
Well in a photo you would look close to him.
In person he's taller than 5ft 10-10.5 guys I feel.
I added his resume height/weight which was 6ft and 165 pounds...6ft in shoes yes.
Justin Zechariah Yip
said on 10/May/20
Rob, what do you think his eye level is, compared to yours? It seems to be at the 5'6 mark from the right photo

Editor Rob
5ft 6-6.5 range.

Eric W. Tam
said on 23/Feb/20
Lol, "5'10 7/8" must make people who are 1.79 who claim 6'0 cringe to oblivion.
Nik
said on 27/Jan/20
It's great that his height is listed in eighths!
VitoCheng
said on 27/Jan/20
179.7~180.7
DarkPower729
said on 17/Sep/19
Here's a guy who's as 5'11" as it gets. 181.2cm (5'11.375") out of bed, 179.4cm (5'10.625") at night. 5'10.875" is a great listing but I'd give him 5'11" if he claimed it.
Vick
said on 7/Jul/19
Hi Rob, what do you he might measure in the morning and afternoon?

Editor Rob
Maybe 5ft 11.5 range earlier out of bed and then 5ft 10.75 during evening.
Greg
said on 8/Apr/19
Rob would you say he looked similar to Misha Collins in person?

Editor Rob
Connor is pretty close to Misha, arguably both might measure the same mark, but Connor's claim is very believable.
Christian 6'5 3/8"
said on 6/Mar/19
Doesn't look anything over 5'10.5" in the London Expo pic, and that's taking footwear into account. But looks 5'10.75" in the other pic.
Nik
said on 27/Jul/18
I reckon he pulls off 5'10.875"!
Greg
said on 27/Jun/18
Hmm he looks at least 5'10.5" with Rob maybe he's 5'11 morning and 5'10.5" In the afternoon.
Dinho101
said on 30/Apr/18
I believe the guy would measure around 179.7 at night so he'd basically be identical to me at 180cm. Solid listing and props to the guy for being very honest!
Junior Hernandez
said on 4/Feb/18
At least 179.5cm
The Shredder
said on 18/Jan/18
Rob, give him 5'10 7/8 lol . He said hair under 5'11.
Paul NS (6ft0.5)
said on 18/Jan/18
Hey Rob, from his quote would he be eligible for 5'10 7/8?

Editor Rob
Yes, it probably is that...I suppose with Tom Welling, he is another guy you could argue was a 'little' under 6ft 3.
Rampage(-_-_-)Clover
said on 15/Aug/17
He's definitely nearer 5ft11 than 5ft10.
Pierre
said on 5/Jul/17
a weak 5"10.5' imo
World Citizen
said on 28/May/17
I think he is 5 ft 10.5
Aza
said on 21/Oct/16
He looks a bit over 5'10 being generous i.e. 5'10.25.
CD
said on 24/Dec/15
Also I forgot to mention, the "hair under 5ft 11" claim is ambiguous compared to Rupert Graves' claim. It's feasible you could argue Connor anywhere in 5ft 10.75-11 range, so the round figure is the best mark to go with.
CD
said on 24/Dec/15
@Mat
If you read the comments on Rupert Graves page you will see that Rob said it was a kind of tongue in cheek claim, him claiming 5ft 10 and 7/8ths. I don't think the situation is quite the same for Connor. I think sometimes you have to not be too logical and go with "gut feeling"!
Mat
said on 22/Dec/15
[Editor Rob: I think his whisker under 5ft 11 is like a 5ft 10 7/8ths...5ft 11 is fine for him.]
[Editor Rob: I think he probably measured literally a couple of mm under the mark...]
Rob, again, Rupert Graves claimed '' 5 foot 10 and 7/8'' and you listed him at 5'10.875. Connor here, claimed ''a hair under 5'11'', that means, a couple mm under 5'11, so that makes him 5'10 7/8. I don't get why you list one guy at 5'10.875, and another at a full 5'11, when they have almost the exact same claim.
And let me remind you, this is celebheights. He probably wasn't measured ''at night'', so there's a good chance he would dip another eighth of an inch at night, so 5'10 3/4 at his low. You on the other hand, hit 5'8 1/8 at your lowest lowest measurement (everytime I watch your videos you are always closer to 5'8.5 even considering the stadiometer error), and you round down for unknown reasons to 5'8. If the guy said a hair under 5'11, give him the ''hair under 5'11'' listing, OR change Rupert Graves to a full 5'11.
Editor Rob: if there was a fraction value I had written in the code it would look better. I think he is near enough to warrant a 5ft 11.

At cons I am on my feet and discs under more strain than typical days working at home, so I know I will be around 173cm.
Crypto139
said on 30/Jul/15
180 cm on the dot.
Rampage(-_-_-)Clover
said on 24/Mar/15
Rob, are you going to downgrade him?
[Editor Rob: I think his whisker under 5ft 11 is like a 5ft 10 7/8ths...5ft 11 is fine for him.]
CDS
said on 26/Feb/15
If he himself describes himself as 'a hair under 5'11"', he's 5'10.5"-5'10.75" max barefoot end of day height.
Rampage(-_-_-)Clover
said on 7/Jan/15
He looks a bit worse for wear in the left photo
Rob, was he drinking?
[Editor Rob: not from what I remember.
]
Brandon
said on 4/Nov/14
I'm sure he's more like 6'
5'10man
said on 30/Jul/14
Probably 180-181 at wake up height.
cole
said on 14/May/14
Solid 5'11, 5'10.75 at worst.
Themotorbikeman
said on 25/Jan/14
No more than 5ft 11.
Rampage(-_-_-)Clover
said on 19/Dec/13
Rob, surely 5ft10.75 is closer?
[Editor Rob: not improbable.]
diavolo
said on 8/Nov/13
He looked around the same height as 6footish Scott Bakula on Enterprise, but then, I guess, Bakula had a worse posture than him.
jasperwazup
said on 6/Nov/13
he looks like guy pierce and brad pitt in pictures. they're both 5'10.5''-5'11'' range
Matt 184.7-186.7cm
said on 15/Oct/13
shouldn't you be looking at his lips? if he is 5ft 11
[Editor Rob: I think the few times I seen him he was near 5ft 11, certainly taller than 5ft 10 men.]
cole
said on 26/Jun/13
Hair under 5'11, as he said himself, looks good, 5'10.75.
Rampage(-_-_-)Clover
said on 23/Jun/13
We need to move this to 5ft10.75, Rob.
rob89
said on 28/Oct/12
Definitely looks close to if not a legit 5'11 in these pics. Also he was barely shorter than 5'11.5" Bakula in Enterprise, and they could often look the same height.
ChiasmataX
said on 23/Dec/11
This is a fair listing for him, he might look a hair under 5'11 during the day but in the morning he probably over that easily.
Mathew
said on 19/Nov/11
5'10.75" would seem appropriate for him.
dmeyer
said on 22/Aug/11
he could have measured 180 180.1 cm wish is a hair under 5 ft 11
Alex
said on 31/Jul/11
Probably like 5'10 3/4 evening. still a legit 5'11 guy
Dmeyer
said on 20/Jun/11
Does look 5 ft 11 maybe hé is 180.1cm
Shaun
said on 17/Jun/11
Shows that hairstyle makes a big difference to height illusion. Looks 6' on the left and 5'10.5" on the right!
Joe257
said on 10/Jun/11
Is it me or does he look a little bit like Forrest Griffin from the UFC!?
James
said on 31/May/11
in the right pic looks 179cm
astrago
said on 27/Apr/11
realistically i'd say he's 179-180cm.
ROB, you look like Charlie Sheen from the movie THE ARRIVAL :D
dmeyer
said on 21/Apr/11
if he claims 5 ft 10.7/8 whi do you give him 5 ft 11
[Editor Rob: a hair under 5ft 11 is as good as 5ft 11 I think.]
James
said on 7/Apr/11
he looks like nick knowles except he's 2 inches shorter :)
James
said on 2/Feb/11
in the right picture with looks 5'10.5 but is kinda standing with poorish posture?
In the left pics pulls of the illusion of looking 6ft with the hairstlye.
Ed Kline
said on 11/Jan/11
Looks more like a 5'10 1/2+ guy who rounds up. I am 5'8 5/8 and sometimes 5'8 3/4,( smallest measurement ever was 5'8 1/2) about a half inch taller than Rob, and this guy being 5'11 would be like me saying I am 5'9.
Dean
said on 2/Jan/11
Right pic is the perfect example of a 2 inch gap..178cm 5'10..1/4 inch less though so I think probably before bed he would be between 179-179.5. a 180 guy at worst at night would not piss around saying a hair under 5'11 he would just say 5'11, no one can tell 0.2 inch. for me he has to somewhere between 179-179.75.
[Editor Rob: I think he's pretty honest and got measured just about 5ft 11.]
josh b
said on 1/Jan/11
Looked at least this tall in the mentalist recently
Jimmy
said on 16/Dec/10
Looks like Grant Bowler off Ugly Betty
Anonymous
said on 22/Nov/10
Looks a bit like Mark Pellegrino to me...
xyz
said on 7/Jul/09
5'11 looks right. Too bad we can't get photos of Mr. Trinneer with all the other questionable (height-wise) celebrities :)
Hugh 190cm
said on 30/Jun/09
5ft11 for sure. Very honest guy, indeed.
Mathew
said on 5/Jun/09
hair under 5'11" = 5'10.75"
[Editor Rob: I think he's as honest as they come, I believe the hair = mm though.]
Anon
said on 6/Jan/09
Wow he's Trip right? Much shorter than I thought he was. I knew Bakula was 6' and he always looked an inch taller than him. He also looked much taller than the security guy.
I always thought I'd look super short in Enterprise. Guess not.
Josh
said on 21/Nov/08
He looks 5'10 tops
Scritches
said on 16/Aug/08
Yup, that'll do jus' fine;-)
MHouillon
said on 28/Mar/08
Yeah... shoe-advantage + Rob stands very straight (look at his neck), where Connor slouches his head a bit (look at his neck)... I'd say he is 181cm-guy (5'11.25")
[Editor Rob: he's already said he's a hair under 5ft 11. The guy is honesty personified when it comes to height]
Adam Brennon
said on 27/Sep/07
He has far better posture than Bakula and at times can look taller than this solid 6 footer.
[Editor Rob: he's shorter than basically 6ft flanigan in atlantis, but he's one of the honest guys, when he says a little shy of 5ft 11. He was taller than Peter Weller and brent spiner aswell when they wre on enterprise.]
dmeyer
said on 12/Dec/06
about 2.5 inches taller than you but counting 1 cm shoes advatage 5'11
[Editor Rob: either 2.25 or 2.5, I had calculated all 'photo differences' a while ago but can't find the file...trainers really were different, my shoes look good 1cm more so his claim is fine. Actually he looked taller on star trek, but has good posture, some fangirl told me before seeing him he was 6ft 1...]
BackStageJim
said on 23/Aug/06
Wears boots so the height is problem, but direct question was just hair breth under 5'11" at Vegas 2006 con.
[Editor Rob: an honest star trek actor, maybe. I did see him again this year still looking same and in a better mood, actually he carries himself with pretty good posture]
TNTinCA
said on 15/Feb/06
I can believe this height. As you mentioned, he definately wasn't that much different in height than Bakula. An inch at most.