Leonard Nimoy's Height
6ft 0 (182.9 cm)
American actor, best remembered for his role as Mr. Spock on the TV series Star Trek and it's subsequent films. In this photo, Leonard had 1/4 inch more sneaker than me.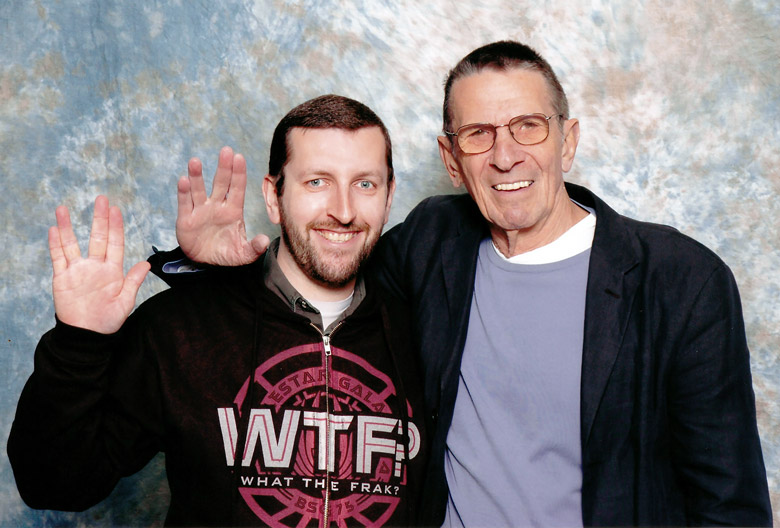 5ft 8 Rob and Leonard @ 2009 Collectormania
(1931 - 2015, LLAP)
I also grew to my present six feet and 165 pounds. - Leonard Nimoy, 1966
You May Be Interested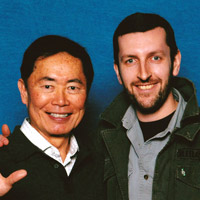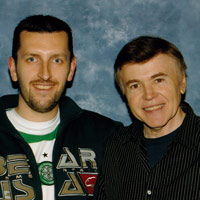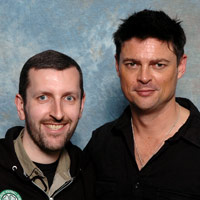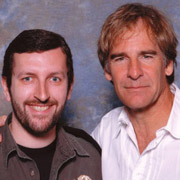 Add a Comment
136 comments
Average Guess (47 Votes)
6ft 0.13in (183.2cm)
Progking
said on 17/Nov/20
I think he was right at 183 cm at his peak and maybe only dipped to 182.5 at his lowest
186cmTravis
said on 3/May/20
The mighty Galvatron stands at a huge 6 feet tall
Miss Sandy Cowell
said on 26/Mar/20
Leonard Nimoy was born 89 years ago today. What a shame he's not here to celebrate his special day.
6ft
RIP Leonard XX 🕯️
Jkiller
said on 24/Feb/20
Leonard Nimoy always looked a perfect 6'0 throughout Star Trek.
Matt6'5''
said on 21/Feb/20
Rob, do you feel he held his height particularly well as he aged?

Editor Rob
Yeah, I don't think he lost more than 2cm by 70's.
MrFish
said on 19/Mar/19
Rob, how tall do you think Mark Lenard (Spock's father) was? About 6ft flat?

Editor Rob
He did look pretty close to Leonard yeah.
Greg99
said on 11/Mar/19
Odd, Leonard only looked at most inch shorter than 6'2" Greg Morris in MI in both the show and in publicity shots for the show. I wonder if he was getting some height assistance since the cast was unusually tall.
Sandy Cowell
said on 21/Jan/19
What an honour for you to have met this great man, Rob! It must hit you extra hard when they suddenly pass on. I even read somewhere on the site that you also saw Christopher Lee!
Well, I saw 'Invasion of the Body Snatchers' just recently, and I didn't trust the character Leonard played from the word go! He didn't look as 'tiny' as I thought he might in comparison to Jeff Goldblum and Donald Sutherland; in fact, he was still a tall member of the cast.
My boyfriend came round and noticed my newly-acquired copy of the film, and he remarked, "Good film, even today!"
Yes, it's stood the test of time, as has 'Star Trek', of course. Even my Mum went through a prolonged phase when she was addicted to it! Fancy having a character who shows no emotions back in the Sixties? How avant-garde is that?
No less than 6ft.
RIP Leonard

Editor Rob
Yes, I had seen Leonard once before at an MCM Expo back in 2005, but the above was his last UK event, and as a Star Trek fan it was an honour to meet him.
MAD SAM
said on 10/Jul/18
Those shoulders ... are of a legit 6 footer at 183 cm maybe 6 feet 1/8th inch was his peak height
Aaron
said on 17/Jan/18
he is 6 ft but i think it's just his posture making him look 5ft 11
an anonymous peach
said on 16/Oct/17
6ft in his younger days, looks 5ft 11 here
Rampage(-_-_-)Clover
said on 15/Sep/17
Rob, maybe 6ft0¼?
Editor Rob: he looks what he claimed, six foot.
Valhalla
said on 20/Aug/17
Rob, do you agree that this guy would've aced the role of playing Namor the sub mariner?
Editor Rob: if he bulked up a bit in his youth, maybe he could have!
Duffer 5ft 11
said on 9/Aug/17
In the 60s classic MI he held his own against such "tallies" as Graves/Lupus/Morris/Landau who I believe were all over 6 feet tall. Granted he was the shortest of all regular cast members on that show, but nonetheless, IMHO, a strong 6' or perhaps even a smidge over that peak, 5'11 in the pic above with both 5'8-ers.
Rampage(-_-_-)Clover
said on 21/Jul/17
Rob, how likely is a strong 6ft?
even
said on 20/Jul/17
he could pass for a 6 foot gentleman
JD
said on 2/Jul/17
Seems like a spot-on listing to me. Always got the impression he was 6'0-6'1 somewhere, and probably didn't lose that much in old age. The fooler for me is DeForest Kelley. I caught a Star Trek rerun earlier where Kelley looked all over the place with the different angles and postures. Glad you had both of them on here.
World Citizen
said on 1/Jul/17
Looks 181 or maybe 182 at best.
Jordan87
said on 29/Jun/17
He was close to 5'11 at age 78 with ROb. He could have very well been the 6'0 he claimed in Rob's quote from 1966 above. Again at 78 years old, in shape or not, he was not as tall as he was in his youth obviously there was some loss.
He was honest with his 6'0 claim.
sumdude
said on 17/Jun/17
A very solid 6ft. Might even be a tad over it. 183.5-184cm. The solid 6ft really showed itself in the movie "invasion of the body snatchers" with 6'3" Jeff Goldblum and Donald Sutherland in my opinion. Didn't really get "that" towered by those two giants.
S.J.H
said on 28/Mar/17
He might be 5'11 before pass on.
berta
said on 10/Mar/17
i have not seen the old star trek but in the movie from 2009 he was only mayube 2,5 cm shorter than pione. that makes him 182 and he was around 80 then? he must have lost more than 1 cm at that age? i think he could have been taller than 6t foot. maybe 184 guy at his peak and just say 6 foot
Sandy Cowell
said on 27/Dec/16
Leonard was my favourite 'Star Trek' character ever! His distinct personality traits opened so many doors for future alien races in all the excellent offshoot 'Star Treks'. I thought it was great that Vulcans were emotionless and had to stay poker-faced all the time! It can't have been easy for him!
I thought he was fantastic in 'Invasion of the Body Snatchers' where he can be seem with Donald Sutherland (6ft3?).
As I haven't seen it for years, I can't make any comparisons, but 'logic' tells me that Leonard was the full 6ft he said he was!
RIP Leonard Nimoy. Your passing was a great loss to the Movie Industry. 👾👽🌠
Johnny
said on 15/Jul/16
@Rob was he about 5'11" when you met him?
Editor Rob: he was still over 5ft 11 I think.
Mario Castoldi
said on 4/Jun/16
Do you remember SPOK'S BRAIN? NIMOY WAS 6 CENTIMETERS TALLER THAN SHATTER....
berta
said on 22/Mar/16
a Little over 6 feet when he was Young maybe?
Real_Austrian
said on 9/Mar/16
I always thought he is atleast 190cm tall.
Arch Stanton
said on 2/Jan/16
In Invasion of the Body Snatchers he looked minimum 6'0.5 with Donald Sutherland.
Sam
said on 23/Oct/15
I think there's a chance he was 6'0.25"-6'0.5" as a young man.
Chuckie Cheese 2
said on 17/Apr/15
Awesome actor, he will be missed!
In his own words in 1966: "my present six feet and 165 pounds"
Click Here
(6 feet 1 in shoes no doubt!)
[Editor Rob: nice find]
CDS
said on 11/Mar/15
For some reason, I never thought he looked 6'1"; more like 5'11"-5'11.5" (maybe due to Shatner always being in the picture with lifts-?? LOL). RIP good sir...
Hypado
said on 2/Mar/15
This guy is the face of Sci Fi in TV. Looks 182 cm next to Jim Parsons to.
Rest in Peace.
2toes
said on 2/Mar/15
Thanks for all, First Officer Spock!
jtm
said on 1/Mar/15
rip and thanks for all the great work.
Rey
said on 28/Feb/15
The words to describe Mr. Nimoy...ineffable. I met him several times. He was a bit over 6'back in the 80's in the 90's after ST VI..He started to lean in a bit. We mourn the loss of Leonard Nimoy.
Damon
said on 28/Feb/15
so cool that you got to meet him while he was alive Rob. Bet that was a pretty cool experience
[Editor Rob: didn't have much time, even when I was getting his autograph, but it was great to see him. The first time I seen him was in 2005 but they didn't do photos with him...]
Lorne
said on 28/Feb/15
... I'm speechless. I had no idea. They mentioned him in the news, but they didn't mention his passing, and I was sleepy, so I changed the channel.
This is truly a sad moment, as an icon passes, though Spock will live on, but never again in his true, original form.
RIP, and may we all live long, and prosper.
184.3cm
said on 28/Feb/15
RIP you will be missed.
Arch Stanton
said on 28/Feb/15
Nooo! RIP Spock!
Michael
said on 27/Feb/15
RIP Leonard Nimoy AKA Spock. Live long and prosper in heaven.
Steve
said on 27/Feb/15
Another icon has passed. He will be missed.
Ed T.
said on 16/Feb/15
Always thought Nimoy was about 6' even during his Star Trek days.
Just saw an old M Squad clip from the late 1950s with Nimoy and James Coburn playing brothers. They looked similar in height. I'm guessing that Coburn had an inch on Nimoy. I think Coburn was most likely 6'1"-6'1.5" peak, so that would put Nimoy at about 6'0.5".
raul3
said on 9/Jan/15
Met him recently at a play that he sponsored in LA. Looked 6 ft 2 in boots.
frank
said on 22/Nov/14
I thought that a 5'8 person came up to 6 foot persons eyebrows? he is an 1/4 an inch off of 6'0 and you come up to his hairline, I don't get it.
Judd
said on 14/Nov/14
[Editor Rob: he might be another fraction lower today, this was like over 3 years ago, but I guess he's pretty much retired mostly now.]
yeah, but i don't think he has lost more than 0.25" in the recent 3-4 years, plus you need to consider his bad posture...maybe standing perfectly straight with his back (if he can) he would be 5'11.5" also today...
i would be very happy if i will lose just 1" at 85 years old...
Judd
said on 8/Nov/14
I agree this listing! 0.75" at 80+ years is good, no rob?
[Editor Rob: he might be another fraction lower today, this was like over 3 years ago, but I guess he's pretty much retired mostly now.]
JohnGB
said on 26/Oct/14
Do you think Nimoy was standing with close to his best achievable posture here? He looks about 5'10.5"-5'11
[Editor Rob: I think he could het another 1/2 inch]
diavolo
said on 23/Oct/14
Leonard Nimoy next to Gene Roddenberry:
Click Here
Roddenberry next to Jonathan Frakes:
Click Here
Frakes is described on this site as 6'3.25". Roddenberry was often described as 6'1", although I'd say he was a weak 6'2".
If that is correct, Nimoy was never 6'1" as he claimed. He was a 6-footer (or 5'11.5") in his younger days, nowadays he's not taller than 5'11".
Also note that he was wearing almost 2-inch Cuban heels in the first season of Star Trek and still didn't look considerably taller than Shatner in his heels plus lifts combo. Of course camera angles could've helped in that too.
avi
said on 31/May/14
@Lorne says on 27/Feb/14
Um, average loss at 70 is 2-....
Really should lose that much maybe at 80+. Its not all loss its posture and the back has trouble straightening up. With all the food stuffs/additives, stress, environment it may lead to more loss
mike
said on 26/May/14
looks more 5ft 11 flat maybe 5ft 11.25 Rob?
[Editor Rob: I think 4-5 years ago he was still in ft 11.5 range, but today he may be a bit nearer 5ft 11 flat]
Bundy
said on 28/Feb/14
@Banshee You are correct a lot of people overstate the Height loss that takes place as you age. By 70 years old the average Height loss is around 1 inch. A loss of 2 inches (4-5cm) is extremely uncommon, and if someone does lose that much it's because they have some serious health problems.
Lorne
said on 27/Feb/14
Um, average loss at 70 is 2-3cm, based on multiple studies. It is quite common to lose more than an inch. However, most people this would star in advanced age. It depends on many factors, but if you make it to say, age 90, well your guaranteed to lose more than an inch.(PS: the average loss for a 70 year old woman is 4-5cm :)
Banshee
said on 26/Feb/14
@Lorne As someone from a medical background, I'd like to straighten you up: people, on avg. ( according to data ), do not lose more than 1 inch. Ofc, there are some deviations, nevertheless, as a rule, you can't lose more than 2-3 cm over your life.
avi
said on 6/Jan/14
At the end of that video Nimoy is leaning against the railing. He still looks 2 inches or so shorter. I'd imagine he can be 5'11.5 if he stands straight though. Quinto is probably 6'0.75 or a weak 6'1
Lorne
said on 3/Sep/13
Man he's done well, was still close to 6ft 5 years ago, now he's still a strong 5'11, shows that even someone over 6ft can make it to 70 with no real height loss.
greg
said on 8/May/13
Really funny new ad from Audi that features Zach Quinto and Leonard Nimoy, with plenty of shots showing them side-by-side.
Click Here
Nimoy looks a couple of inches shorter than 6'1" Quinto and appears to be about 5'11", which is pretty good going for his age (82). Compared to some other actors of the same age, he hasn't lost that much height.
Matheuscore
said on 11/Jan/13
Something between 5'10-5'11
T-Raquel
said on 1/Sep/12
5 feet 11.75 inches (182 centimeters). Mr. Nimoy's right height! Mine is 5 feet and 2 inches (161 centimeters)!
greg
said on 6/Aug/12
Thanks to the wonders of Netflix streaming I was looking at some episodes of the Mission Impossible TV series with Nimoy in it as "Paris" and it's clear that though he's the shortest male in the MI team, it's really not by that much. Definitely looked at least 6ft amongst this tall group of guys.
Francesca
said on 18/Jan/12
I met Mr. Nimoy back in 2009 at a fan-convention, and can truthfully say (at least a few years ago) that he was definitely closely bordering 6'-6'1'' (granted that he was practicing good posture at the particular moment.)
I have noticed discussion of his "peak" below... just as a note, the majority of males do not lose much height in growing age (posture begins to worsen, though, in many cases), to the extent that a large majority of women do.
LAN Jiao
said on 7/Oct/11
Nimoy only look 3" shorter than peak 6'3-1,2 donald sutherland. Peak 6ft , nowadays look 5'11
guyfrommars
said on 19/Sep/11
I must disagree with my previous 5'10" claims. Nimoy, at the age of 80, looked only marginally shorter than 6' Jane Lynch in yesterday's Emmys opening video. But I still say that he was never taller than 6' in his young. Look at photos of him with 6'1" Gene Roddenberry (like the launch of the space shuttle Enterprise in 1976) and you can see the difference between the two.
Freddie
said on 13/Sep/11
My father was 6 ft 1.5 inch and has lost about 3 maybe 4 inch. He is a similar build to Leonard Nimoy and similar age.
Shaun
said on 16/Aug/11
This guy looks like a Cardiff bus driver nowadays..
Rampage(-_-_-)Clover
said on 16/Aug/11
Looks 183-184cm next to Mamun...
[Editor Rob: mamun lost his superman heel so he was at a big disadvantage.]
dmeyer
said on 2/Aug/11
older people are tricky my father can look 5 ft 7.5-7.75 then standing straight he can look 5 ft 8.25-8.5
Hansen
said on 2/Aug/11
he apear 179cm with rob,jenny. despite if he had bigger footwear than mumun that makes him 5ft11-1/4
5'8.56784
said on 28/Jul/11
This guy might have been a solid 6'1 at peak
Dmeyer
said on 25/Jul/11
Solid 6' with mamun 5'11 with Rob but posture not as good
James
said on 26/Jun/11
6'0.25 with mamun
Rampage(-_-_-)Clover
said on 26/May/11
6ft1 at his peak is believable, but after watching the remake of Star Trek with Chris Pine he's looks barely over 5ft11
mike
said on 24/May/11
Nimoy towered over Columbo and Shatner was only marginally taller than Columbo. Nimoy was probably a little over 6 ft at the time.
runt
said on 20/May/11
Brent Spiner has been downgraded to 5-10 so it makes sense now that Nimoy is downgraded to 5-11ish
Click Here
astrago
said on 27/Apr/11
true greatness cannot be denied....Lenoard Nimoy, one of the greats.
i think in his prime he looked 184-185cm flat, definitely looks like he lost some height, 2cm sound about right.
next to Jenny he looks shorter than 182 even, around 180-181cm, i'm 181cm and i look kinda the same next to a 173-174cm friend.
James
said on 26/Apr/11
LOL what i was i thinking saying he was 6'1? he looks 6'0 max with rob
Rampage(-_-_-)Clover
said on 26/Mar/11
Only a shade over 5ft11 nowadays
guyfrommars
said on 20/Mar/11
I've just watched images of him and 5'10.5" DeForest Kelley from Star Trek, and I must say, wearing the same boots, Nimoy didn't look much taller. He was 5'11.5" in his prime, and nowadays he's around 5'10.5".
6'1" Gene Roddenberry looked an inch taller than Nimoy on a 1964 publicity photo. Nimoy is wearing his full Spock costume with the pilot version boots (1.5-inch heels) and Roddenberry has normal dress shoes on. So they're around 6'1" and 6'2" respectively, making Nimoy 5'11.5" barefoot.
Bob
said on 12/Mar/11
Nimoy has always been 5'11.5" barefoot. No one from the original Star Trek was 6' or over
James
said on 26/Feb/11
6'1 if he stood properly with rob???????????????
SolidSnake
said on 26/Feb/11
I would be very pleased If I had lost under an inch at 79 years old. The Darth Vader actor has lost 4 inches according to this site and Clint Eastwood has lost 3.5 inches. Both are of similar age
guyfrommars
said on 29/Jan/11
Here's Nimoy with 6'1" Quinto:
Click Here
He's certainly not 6'1" nowadays, even barely 5'11".
AnonymousIntx
said on 19/Jan/11
Ah..one of those great actors in our generation who I wanted to see more in other movies. I' had thought he was 6-2 at least. I've met him once in trek convention long time ago. He really does smile more than you'd think and while George T looked taller in real life, Nimoy looked shorter.
Legend
said on 7/Jan/11
I guess I'll be the only honest person here and say he's 5'11.25 max these days.
Rampage(-_-_-)Clover
said on 2/Jan/11
He's lost 4cm in height
Was 185cm, now is 181cm
dirtyharry1979
said on 14/Dec/10
looks 1.8m tall to me!
guyfrommars
said on 29/Nov/10
6'1" Zachary Quinto, who played his young self, looked nearly 2 inches taller than 78-year-old Nimoy in the new Star Trek movie. He was 6'1" maximum in his peak, and now he's more like 5'11" or 5'11.5".
Dia
said on 24/Jun/09
I don't know if he's/was 6'1'', but Nimoy's tall figure is something that definately added to Spock's cool image.
Ivana
said on 26/May/09
I wonder what kind of optical delusions could make younger Spock looks shorter than the older Spock to anyone. I do not have a good screenstill, but they looked exactly the same height, except fora moment when younger Spock looked a bit taller, which would not be at all unusual.
You are aware that Quinto is at least as tall as Nimoy, if not half an inch / inch taller? There are more than enough pics of the two of them to confirm that. The only thing I can assume is that you expect Nimoy to be taller because he used to have the advantage of having shorter actors by his side in TOS.
Ivana
said on 26/May/09
"Towered over the younger Spock?" Did you see some other movie?! They are of a simialr height, but younger Spock (aka Zachary Quinto) is taller.
Jimmy
said on 17/May/09
He looked taller than Quinto in Str trek and Quinto is a legit 6'1.
Jake
said on 12/May/09
Even with his bent posture, he still looks legitimately 6ft tall. After all, if he were 5'11, his eyes wouldn't be at the top of Glenn's hair-line. They would be about an inch lower, somewhere near his upper mid-forehead.
glenn
said on 12/May/09
i kidding about the photos,rain and waiting for nimoy brad.i bumped into him.didn't wait.yes,your right,i should be in a club.but im too shy.though i did my fair share of them.
James
said on 10/May/09
Yeah he still looks 6ft
Ian
said on 9/May/09
Would look 6ft if he stands straight.
Anonymous
said on 9/May/09
Just saw the latest Star Trek and was in awe how tall (and sexy) he still is! He towered over the other Spock which was a bit odd since he met his younger self. Maybe he had not finished growing? -CatpurrRobertaBobbi-
Brad
said on 8/May/09
Photos are a joke. With Nimoy you get his record albums signed or limited posters etc.. Shatner put on a whole head mask once and visited a Star Trek Convention dealer's room and said he saw zero real signatures of his. Why wait in the rain with soggy photos waiting for Spock? You could be dancing in a club. 6' 1" 2 years ago in front of me and 20-25 years ago also.
glenn
said on 8/May/09
i always thought he was 6-1,6-2 in person when i saw him early 90s.he was 5-11.75 this night like rob has him above.6ft straightened out.
The Horse of FUNK
said on 8/May/09
I think people should bear in mind Nemoy's lean in this photo; he's losing up .05-1" in height by leaning and slouching in. He was always a genuinely talk man. He towered over that Sex in the City actress in Kahn.
glenn
said on 8/May/09
is that so brad? thats why i avoid conventions like the plague.that and the people that attend them.in the street for free.with the rain on my soggy photos.
Brad
said on 8/May/09
I would have gotten his first 3 LP's signed. He's a thief charging huge $ for his autograph at shows.
MikeM
said on 7/May/09
looks 6' even here
i-Clarke-93
said on 6/May/09
I think with good posture he could look 6ft , doesn't seem to have lost much height.
Frank
said on 6/May/09
To me he looks 5ft 11 flat in the picture with Glenn
Eddie
said on 6/May/09
he slouching a bit. maybe mr. nimoy hasn't shrunk at all.
miko
said on 5/May/09
He's aged terribly. Looks closer to 90 than 78.
As for his height, perhaps just over 5"11.
J.J.
said on 4/May/09
looks 5'11.5"
glenn
said on 4/May/09
acg-somewhat.or precise.im really not sure on nimoy.i remember him so much taller.
Brad
said on 4/May/09
He's shrunk.
ACG
said on 4/May/09
glenn, do you think that the heights Rob has him listed as(peak and current) seem -what's the word- logical?? lol
Sunil
said on 4/May/09
i swear glenn was 5'8
glenn
said on 1/Apr/09
bumped into him last night.he shrunk for sure.havnt seen him since 1993.barely 6ft.i couldve sworn he was 6-1,6-2 back then.i was so happy to finally get a photo with him.seems like he lived here for years without me knowing.
Ivana
said on 30/Mar/09
Well, one thing that has to be taken into account is that he's probably shrunk with age. I'm guessing that 184 cm is his peak height. Nowadays he can't be 184 cm since he's noticeably shorter than Zachary Quinto, who is supposed to be 6'1' (185 cm).
Click Here
Click Here
Click Here
akmed
said on 15/Jan/09
184 cm, spot on.
haze
said on 29/Oct/08
id say 6' to 6'.5" is about right seeing as how a 3 inch enhanced 5'11.5 - 6' shatner comes within .5" in my eyes
Chris
said on 26/Oct/08
>>> i think some of you guys are forgetting about posture.I am 5 11 and one of my friends is bang on the 6 1 mark sometimes he appears taller than me and sometimes he does not due to the way he stands. <<<
I have a friend who is exactly 6.1 too. Sometimes i appear to be close to his height and sometimes i appear way shorter than i usually am. Im approx 5.9, its surprising though how one day i feel and look taller against him and another day i look and feel really short.
Frank2
said on 2/Aug/08
I've met him twice and both times he looked about 6'. Extremely nice man. A real gentleman. The last time I saw him was when he showed up at Fox on the scoring stage for one of the STAR TREK features.
clark
said on 30/Jul/08
Don Lahey....they said Leoanrd Nimoy not Leonard Bernstien. I think you had too much Romulan Ale.
nicole
said on 28/Jul/08
A oncle saw him to at the convention center. He said to me 6ft1.5inch. My oncle was then 6ft.
Don Lahey
said on 8/May/08
Well, I also met Leonard Nimoy over 30 years ago, at the Hynes Convention Center in Boston, and I was shocked that stout little me at 5'7" was looking down a little at him. I am convinced some time after that he either always used elevator shoes or had an operation to lengthen his legs.
[Editor Rob: your memory is failing you...he was sitting down when you saw him.]
Kevint
said on 23/Mar/08
A woman I knew once, who was a very tall lady (around 5' 11"- 6' 0" in bare feet) said she met Nimoy at a convention, and he was a "very tall man". I take this as pretty good anecdotal evidence that he was probably at least 6' 1" or 6' 2" in his prime (which would realistically make him one of the tallest actors in Hollywood in his day).
I think Nimoy is often supposed to be shorter because I think Shatner is often downgraded as shorter than life, due to his vanity and pugnacious persona.
I think
hi
said on 6/Feb/08
i think some of you guys are forgetting about posture.I am 5 11 and one of my friends is bang on the 6 1 mark sometimes he appears taller than me and sometimes he does not due to the way he stands.
clark
said on 21/Jan/08
I met Mr. Nimoy at a trek convention. He IS over 6 feet.
Oh.. and he is about to turn 77 years of age.....give him a break if he not at his prime, but then again he is a Vulcan, so he should be around for another 130 years.
Bass-baritone
said on 24/Jun/07
I am a true 182cm 5' 11 1/2" and I looked directly eye to eye with Mr. Nimoy while attending a musical in Washington DC about 20 years ago. Although, while singing with the SF Opera, I was listed at 6'0".
Brad
said on 1/May/07
6' 1" last week next to me at StarCon. He's been that for decades.
patrick
said on 14/Mar/07
Nimoy looked 6'1 very long and perhaps he has "shrunk" a bit or affectionates a leaning position more often now? Very interesting man anyway and good actor too even though even him could never replace Martin Landau in Mission Impossible!
Brad
said on 12/Mar/07
6' 1" in '75 meeting him at a Star Trek Convention and again in '86 at another con & at a restaurant called "Lucy's" near Paramount around same time. Same height.
Anonymous
said on 31/Jan/07
Dear Anonymous,
Perhaps he was slouching a bit and so seemed shorter? Because I have read that he often does that in real life. He seems pretty tall on Star Trek - he just towers over the rest of the cast and I swear is about 7 inches taller than George Takei.
Anonymous
said on 12/Nov/06
I met him at the this year at Star Trek's 40th anniversary convention. My dad was also with me, and my dad is 5ft11.5 (182cm) Nimoy seemed nearly the same hieght as my dad, maybe 1cm taller.
aerotive
said on 5/Oct/06
I saw him at a convention a couple years ago. He looked right a bit over 6ft.
Interesting person.
Glenn
said on 20/Sep/06
Thank you Jordan.actually,he looked possibly taller.
Jordan
said on 19/Sep/06
Nimoy looks 6'0 at the shortest. He is prolly what Glenn says he is . 6'1. Glenn is a major contributor to this site and has no reason to lie so for me, what gleen says is the truth. Nimoy is 6'1.
Star Fox
said on 7/Sep/06
He was always noticebly the tallest regular cast member on Star Trek. He was always a couple of inches taller than Shatner, so I guess he was 6'1 in his prime, and now a days I'd guess he's just over or around 6ft.
Viper652
said on 29/Jul/06
Hahaha,It had to have been a double. Nimoy is pretty tall.
Glenn
said on 29/Jul/06
Then you met his short double.he was 6-1 when I met him.
sf
said on 29/Jul/06
uhhhh....you SURE it was Nimoy????
Anonymous
said on 28/Jul/06
I have met Leonard Nimoy in person. Now, granted, it was over 30 years ago but as I recall, I was shocked at how NOT tall he was. I am 5'10" and by my memory, he was at least 2-3" shorter than I am.