Edi Gathegi's Height
6ft ¼ in (183.5 cm)
American actor best known for roles in films such as Twilight, My Bloody Valentine and TV series such as Startup, Family Tools and House. In this photo I had
Converse
and Eddie maybe a tad more thicker sneaker.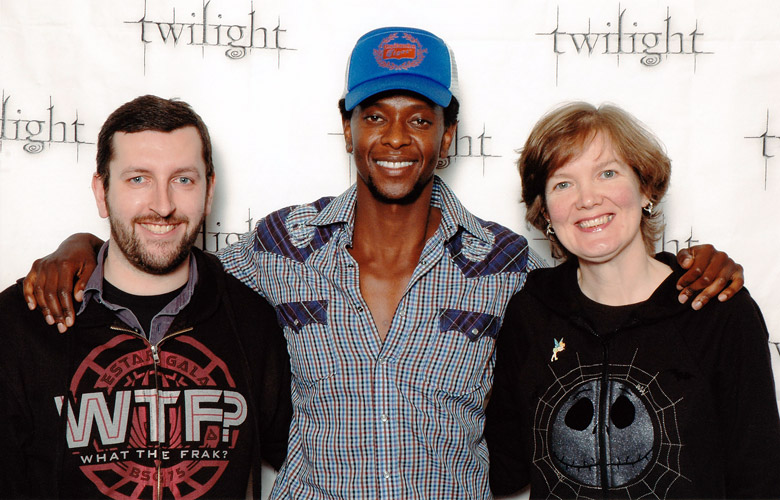 5ft 8 Rob, Edi, 5ft 8 Jenny
You May Be Interested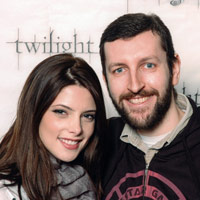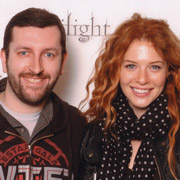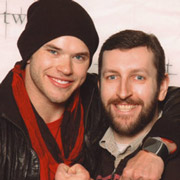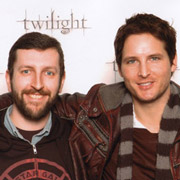 Add a Comment
43 comments
Average Guess (17 Votes)
6ft 0.34in (183.7cm)
Sakz
said on 1/Sep/19
@Chris Brady Middle.
Chris brady
said on 30/Aug/19
Ed looks the height rob listed him at. When you guys say 5-9 reaches your eye brows are you saying that reaches the top of the brows, middle, or bottom?

Editor Rob
I'd usually think towards the middle or top rather than bottom.
Sakz
said on 19/Oct/18
@Zampo That's quite interesting. It goes to show such small fractions are irrelevant in real life when it comes to height perception because they're hard to detect without a measuring tape. To get a good indication of your height facial proportions are quite accurate assuming you have a normal head length and eye level. I'm about an inch taller than you so 5'9 reaches my eyebrow, therefore straight away I'd be perceived as 6'1 in photos on here and by others around me despite being around 6'0.5-0.75 at a low.
Zampo
said on 20/Sep/18
@Rob, I think Edi has a similar advantage to myself where the distance between our mid-eye levels to eyebrow is nearer if not 0.75 inch (my case 1.9 cm) rather than the standard 0.5 inch. 5'8 comes to my eyebrow and I have a 9 inch head so most people guess me as a strong 6'0, as you can imagine I would look it comfortably in photos however I am technically closer to 5'11.75 than 6'0. In fact much nearer to 182 cm on very active days which are common for me.
On the other hand I may be completely wrong and Edi is indeed a big six footer. I haven't met him and with your superior knowledge in height, you are in a far better position to assess.
Zampo
said on 18/Sep/18
Still back my last post. I can buy he may measure this listing at lunchtime. I feel like David Labrava would edge Edi by a 1/4 inch, so a flattish/solid 6'0 (182.8-183.2 cm) is fair him.

Editor Rob
I think Edi generally looks 6ft plus, sometimes he might look 6ft 1 to people in person, though I would still say 6ft and a fraction is quite possible.
Nik
said on 13/Sep/18
At least said height! 🏠!
SD(172cm)
said on 7/Jun/18
He's pretty tall for a Kenyan man :
Click Here
could it be that growing up in THE USA helped him grow nearly a half foot taller than the average Kenyan man...I always thought he was too short to play Darwin in X-MEN:DAYS OF FUTURE PAST but too tall to play Laurent in the Twilight Movies.
MAD SAM
said on 31/May/18
I feel he's about 184 cm
cmillzz
said on 23/May/18
Rob, his head looks quite small for a strong 6 footer doesn't it?

Editor Rob
It's not huge, but not small in person...closer to average
Christian-6'5 3/8"
said on 22/May/18
@Zampo
I can agree with that. He looks flat 183cm.
Zampo
said on 22/May/18
Think he is a flat six footer. Above the 183 cm mark but closer to 183 cm than 184 cm, probably a hair of 6'0 in the afternoon.
Rampage(-_-_-)Clover
said on 1/May/18
Generally he looks over 6ft, you couldn't rule out a full 184cm.
Christian-6'5 3/8
said on 6/Nov/17
A big tall hat like that can often throw things off when guessing height differences, but you can tell by his eyelevel that he isn't 6'1"
Sully
said on 12/Mar/17
Hi Rob , I have to say , in the image up top of Edi with you and Jen he looks a decent 6'1" (185 cm) .I also saw your image with Stephen Amell who you rate at 6'1" and Edi looks about the same height range as him standing next to you.I have also done an experiment to determine the effect wearing a cap has on height and found that it can knock a bit of height off so what made you put him at 6'0.5"rather than 6'1"?
Editor Rob: Sully, a trucker cap certainly can give more than a tight baseball cap. Edi didn't seem as tall as 6ft 1.
Peter 179cm
said on 2/Feb/17
He looks like a flat 6'0 considering footwear.Definitely 183cm.
Rampage(-_-_-)Clover
said on 4/Jan/17
Out of bed: 185-186cm
Before bed: 183-184cm
phil
said on 30/Sep/16
probably 6 foot on the dot, he has bigger shoe
so
said on 30/Sep/16
Hes quite lanky!
Sully
said on 29/Sep/16
Hi Rob, In an episode of The Blacklist , he looked exactly an inch taller than Ryan Eggold who you rate as 183cm 6ft so i think Edi is a solid 6ft1 , please google some pics of Ryan Eggold with Edi Gathegi ,and analyse it.Thanks.
travis
said on 12/Sep/16
this is correct he is 6ft
Emil 182-183 cm
said on 2/Jul/15
@Sammy Derrick.
Edi was born in Kenya by Kenyan parents but he grew up in the US, so both you and Rob are right :)
Sammy Derrick
said on 18/May/15
Hi Rob?I don't know why but Edi gives me a STRONG 6'1 vibe?And I thought he was Kenyan?
[Editor Rob: looked more closer to 6ft in person than 6ft 1.]
Alex 6'0
said on 29/Jun/14
Edi looks to edge out Ackles. Edi is a legit 6'0 and may measure a hair over while Ackles looks to be 5'11.5 range
Rampage(-_-_-)Clover
said on 28/Nov/13
I think Ackles could pull off 184-185cm range in Supernatural. But a weak 6ft is probably the more likely outcome. Gathegi is definitely the stronger 6ft.
Probably 1in taller than Gil Birmingham
Lorne
said on 5/Aug/13
Shouldn't his description mention his role as "big love" on House, it is by far his most well know role, I immediately saw him, and recognized him, didn't even realize he was on Twilight as well. And the listing is perfect, btw.
[Editor Rob: yeah I can mention his recent tv show aswell as House, I'm slowly working through these listings rewording the descriptions a little, but with 6000+ it takes time ;)]
Rampage(-_-_-)Clover
said on 29/Jul/13
Rob, who looked taller, this guy or Ackles?
[Editor Rob: edi I think is more of a stronger 6ft, but ackles the 2 conventions I seen him (he didn't stand the second time) he was wearing big boots, the kind that can turn a 182-3 guy into a 183-4 guy...]
izak
said on 13/Jun/13
rightly so, his scalp is roughly in line with g in 'twilight' that is 4 inches above the white lady
Balrog
said on 13/Apr/13
Jake Gathegi edge out Ackles by a little bit if Edi is a strong 6 footer then Ackles is a weak one and I think he is
Peyman
said on 18/Dec/12
seems as tall as #10
considering the footwear advantage then 6ft 0.25in is spot on.
Hob
said on 28/Jul/12
small head , advantage cap and footwear all accounted to put him look taller. but he did't apear 6'0.5 above. not quite 5'11.5 as well. i would't be suprise his thin frame and small head fool people he look taller on screen. 180-181cm. solid 5'11 guy.
LAN Jiao
said on 26/Oct/11
look 1/2" taller than 181cm jensen ackles in my bloody valentines. maybe 6'0 , 184cm out of league.
Alex
said on 20/Aug/11
Looks a legit 6'0 guy
Terryman
said on 9/Jun/11
likes to lean back for pics anyway good job Rob He is 183,5cm(6ft.25)
Click Here
Rampage(-_-_-)Clover
said on 8/Jun/11
No problem...and Cranberries, 6ft should never be considered small or average. In almost every country in the world it is accepted as being tall.
Rampage(-_-_-)Clover
said on 29/May/11
Looks 5ft11.75(182cm) in the picture
James
said on 19/May/11
He really does not look over 183cm at all.
Rampage(-_-_-)Clover
said on 14/May/11
I love USYD's precise estimates...really I do.
gogo
said on 13/May/11
6ft 0ins considering the advantage
Cranberries
said on 9/May/11
He's very small. He has very fine bones. 6' with the illusion of being taller.
Rampage(-_-_-)Clover
said on 29/Apr/11
182cm(5"11.5) next to Rob and Jenny
Maybe 183cm(6"0) Rob?
[Editor Rob: he looked in the 6ft range.]
Lenad
said on 25/Apr/11
probably 6'0-ish barefoot
Rampage(-_-_-)Clover
said on 16/Mar/11
183cm I think
Matt
said on 5/Mar/11
rob, this guys eye level is 5ft 7.0, would he really have a 5.25 inch eye level?