Elizabeth Olsen's Height
5ft 4 (162.6 cm)
American Actress best known for starring in film Martha Marcy May Marlene, Godzilla, Red Lights, Oldboy and as Wanda/Scarlet Witch in the Marvel Cinematic Universe.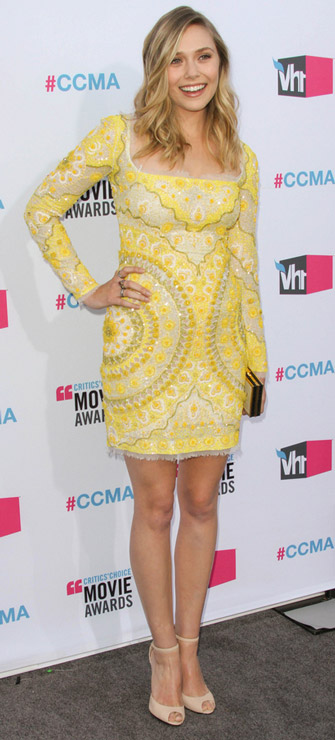 Photo by PR Photos
Add a Comment
62 comments
Average Guess (64 Votes)
5ft 4.03in (162.6cm)
Da truth
said on 12/May/20
5'3"... In Capt America Civil War..when Clint frees her from Vision from the stark compound.. She was wearing thick heels. Looked like at least 3 inches. That would make her 5'6" and Jeremy Renner looks to have about 3 inches in her.
Jam Cherry
said on 2/May/20
Strong 5 foot 4 possible more at 163.5 cm
Davidjr
said on 1/May/20
She is 168cm is tall for be an actress
Nik
said on 20/Feb/20
@ A - Very interesting!
Miss Sandy Cowell
said on 16/Feb/20
💐🎂🎊 Happy Birthday Elizabeth! 🎊🎂💐
On this day, 31 years ago, Elizabeth Olsen popped into the world! Here's wishing the lovely actress a Very Happy Birthday! 🥂
5ft4 😁🍰🎈
💐🎂🎊🎁💐🎂🎊🎁💐🎂🎊🎁💐🎂🎊🎁
Littlelee5ft6
said on 18/Nov/19
Rob do you agree her and Aubrey plaza look exactly the same height in photos together? Maybe both are 5ft 4?

Editor Rob
They can look close enough that you could argue they may well measure near each other.
khaled taban
said on 30/Oct/19
Most likely 5'4" , her max is 5'4.5".
Iman Ahmad
said on 20/Sep/19
I Guess She Is 162,6 cm Barefoot , She Has 162,6 cm Body , A Lovely Woman , One Of Most Beautiful Actress In Hollywood Today ,
Junior Hernandez 1990
said on 29/Jun/19
Looks like she is at least 5'4 i initially thought of 163cm but fraction lower its fine too.
Nik
said on 24/Jun/19
She lights up celebheights!
Miss Sandy Cowell
said on 23/Jun/19
Unlike her twin sisters, Elizabeth opts for horror roles, so she's definitely the one with whom I am most familiar. Considerably taller than the twins at 5ft4. 💐😁
Tunman
said on 23/Jun/19
Yes,her smile is absolutely lovely.
James Cleary
said on 18/Jun/19
She's definitely 5'4" without a doubt I'd say 163 or 164 centimetres
Nik
said on 16/Jun/19
5'2" is far from super petite, nowt wrong with being super petite! She can have 5'4"!
Ashlion
said on 15/Feb/19
Hey Rob how much difference between elizabeth and Chris Evans when they dance in Ellen's show

Editor Rob
He looked close to 9 inches taller, though did have sneakers with Olsen barefoot, but 5ft 4 and 6ft could be what they looked based on
the clip
.
Me orange
said on 5/Feb/19
She's super petite about 5"2
Littlelee168cm
said on 24/Dec/18
I think the she's 5ft 5 as she kinda stated in the wired interview claiming 5ft 6 is generous but never said 5ft 5 was generous too and her and Aubrey plaza are the same height
MattW
said on 25/Sep/18
September 25, 2018:
Click Here
She says "I am five feet and I don't really know how many inches. Some people say 5 some people say 6, but I think 6 is generous."
Nat
said on 25/Sep/18
Elizabeth did the Wired Autocomplete interview, a question regarding her height came up and she said that some people say she is 5ft 5 and some people say 5ft 6.
Nik
said on 8/Jul/18
@ Rob
That's very interesting to hear!
Junior Hernandez 1990
said on 5/Jul/18
She look identical with her two twins sisters but lucky to be over 5'3.
MAD SAM
said on 16/Jun/18
I believe she's the most beautiful actress in MCU, in my opinion her height should be about 163 cm
Leno
said on 13/May/18
Solid 163 cm. Btw, she is so beautiful
Theguy
said on 3/May/18
How tall do you think her boyfriend Robbie Arnett is, Robbie?

Editor Rob
Under 6ft, but maybe at least 5ft 10 range.
Svetlana
said on 10/Mar/18
Click Here
@Nat this is the picture you were talking about right?
Layla
said on 19/Feb/18
I think she just appears so tall because her older sisters are so small. I never would have guessed 5'4".
Bobby
said on 9/Feb/18
She's hot, I would date that woman. Never considered her stature before when seeing her in Avengers: Age of Ultron, but she appeared around 4 inches shorter than Jeremy Renner, er, Hawkeye, that is. Aaron Taylor Johnson is listed 5'11 on here, I think, and she seemed over half a foot shorter than him.
Realtalk
said on 7/Jan/18
Same height as scarlett
5'3
Nat
said on 5/Jan/18
There is a recent photo of her and Emilia Clarke (listed as 5ft 2) stood next to each other, both in same size heels and they are about the same height! If anything Lizzie is only around half an inch or so taller. When you search her height on google it says she is 5ft 7! I'm staring to think she is closer to 5ft 2 than 5ft 7.
Karen
said on 19/Dec/17
She's like 10-11 cm taller than both her sisters, so this listing or even less makes sense. And about her weight, she's like 115-118 lbs right?
Editor Rob: she's not quite as thin as I would have first thought, so that weight estimate may well be believable, maybe on the higher end towards 120
Anonymous
said on 7/Nov/17
She was stood next to Taylor Sheridan (who is listed at 5ft 8) whilst in very high heels and was still not as tall as him, she said herself that she is 5ft 5 and a half but I doubt.
Anonymous
said on 12/Oct/17
I loved her in Wind River! I want to see her in many more films. Amazing!
Az
said on 2/Sep/17
I worked with and met her a handful of times. She looks closest to 5'3.5-5'4' in person. I'm 5'7 and change and she is well under my 5'5 friends:) Beautiful girl.
asdf
said on 15/Jul/17
She is not taller than 5ft 5 David Spade in flats both
So, solid 5ft 4 for Olsen
Click Here
Berto
said on 7/Jul/17
Solid 5'5", I'd even say +1/4"
Gagger
said on 29/May/17
i belive that she is 5'5....Elizabeth we love yuuuuuu
Sandy Cowell
said on 9/Feb/17
Elizabeth is on my TV at the moment in a film called 'Silent House'. I know that the Olsen twins are her sisters, younger ones I think; their faces are very much alike! Their heights are not though! Elizabeth seems a good deal taller, not that I've seen the twins act, but I see them in my magazines and know that they're below 5 foot apiece! (Smashing term!)
I have seen Elizabeth in the film 'Red Lights' as well; her films have more appeal for me as they seem to be of the scary variety!
Elizabeth is a lot smaller than the male actors in this film, so I reckon she is 5ft3.5 - 4.
I will settle for 5ft3.75!
This time I didn't cheat! 💡👏
I think I did quite well!
Josh
said on 5/Jul/16
Seeing her with 6'0 Chris Evans, she is definitely not taller than this listing.
Abdabb
said on 6/May/16
I was short-listed to be her body double for a movie and I'm 5ft5
Alex
said on 4/May/16
Click Here
Next to Chris Evans in Ellen's show. She is definitely 5ft 4.5in
Kyle
said on 4/May/16
Here she is barefoot next to Ellen and Chris Evans. Thoughts?
Click Here
Lis
said on 9/Apr/16
In the videos of her and Emily Vancamp for Marvel Studio's girl scientists program she does look much shorter than Emily(1.73/5'8), though we can't see their shoes.
Sean73
said on 20/Mar/16
She is 64.5" inches of all woman! Just watch the Spike Lee remake of Oldboy with her and Josh Brolin. Good movie with awesome performances.
Lis
said on 17/Jan/16
She got very long legs for a 5'4 woman, I thought she was at least 5'6.
Axaros
said on 6/Nov/15
5'4.5" is a perfect height for women
S.J.H
said on 29/Oct/15
At most shes 5'5 can't be over. She look short next to avengers co-star
cole
said on 20/Jun/15
@anon: Holbrook can look around 6'1.5. I'm not so sure on him, but I don't think he's a legit 6'2 anyway.
BGee
said on 20/Dec/14
She's probably 5'5 at most.
PRMcD
said on 1/Sep/14
She's seems to be around 5'4-5'5. She is just slightly taller than Dakota Fanning who is listed at 5'4. If she were 5'7 she would be towering over Miss Fanning.
Click Here
Click Here
Pedro
said on 26/Aug/14
In this article they say that 5'6":
Click Here
kiana
said on 25/May/14
5'4 is enough
chrisssss
said on 14/Apr/14
5'5 max, not a tall girl, only around her very short sisters, that's it
176,2Tunman
said on 18/Mar/14
Niiiiice,I just watched Oldboy.She looked a good 5" shorter than 5'9-9.5"Josh Brolin.She's 5'4-4.5".As always Rob's guess is accurate and as always other sites giving her 5'7 are ridiculous.
A
said on 24/May/13
She's definitely 5'7
Lew
said on 9/Apr/13
Hey Rob, how tall do you think she looks in this picture. Looks like her boyfriend may be wearing a boot with a small heel and she's wearing flattish looking boots. The guy in the photo is billed as 6'1 most places.
Click Here
[Editor Rob: she looks like a 5ft 2-3 girl there, but I think the pavement gives her a little disadvantage]
Princessa
said on 3/Apr/13
I think elizabeth is 5'7 coz she looks soooo much taller than her older sisters
Anonymous
said on 20/Mar/13
I think Elizabeth is 5'4" and MKA between 5'-5'2" Elizabeth doesn't look so much taller than them.
Stephanie
said on 25/Jan/13
The 5' 7" estimates are based on the assumption that Mary-Kate is 5' 2" and Ashley is 5' 3". But considering Ashley is really 5', that puts Elizabeth at 5' 4". She looks to be about the same height as Dakota Fanning, who is 5' 4".
DaczMan
said on 2/Dec/12
I agree, she looks about 2 inches shorteR than Sarah Paulson botn in the film and pictures and about Dakota Fannning height (who i believe is also 5'4" based on pictures)in the set for Very Good Girls.
da_truth
said on 1/Dec/12
just saw Martha Marcy May Marlene. A very upsettingly disturbing film with a great acting performance by Elizabeth. Well, Sarah Paulsen is also in it and if she really is 5'6" - then Elizabeth looked a good 2 inches shorter. So 5'4.5" is not too far off, but could be more 5'4" - from how it looked on film.
E.
said on 24/Sep/12
I don't know how tall she is exactly, but when you watch her on Kelly & Michael, she's only slightly smaller than Kelly in pretty high heels. Funnily enough Kelly is wearing the exact same heels as when Emma Watson was on this year, and she seems smaller compared to Kelly than Elizabeth (both Emma and Elizabeth are wearing pretty flat shoes, less than an inch). Anyway, I guess I'm trying to say Elizabeth seems to be slightly taller than Emma Watson, when you compare them next to Kelly. Don't know whether Elizabeth is actually taller than 5'5" or Emma Watson is smaller than 5'4.5", though.
Asianmoviefreak
said on 10/Sep/12
Most sites say she is 5´7", but i believe she is 5´5" as she doesn´t look much taller than Juliane Moore who is 5´4":
Click Here