Danish-born Canadian actress best known for her portrayal of Ashley Magnus in season 1 of SyFy show Sanctuary and for roles in films like Hunt To Kill. In a SanctuaryFans.com webchat she commented on her stature, saying:
" Hrrrm....I'm not so tall...167cm... or 5.5ish"
.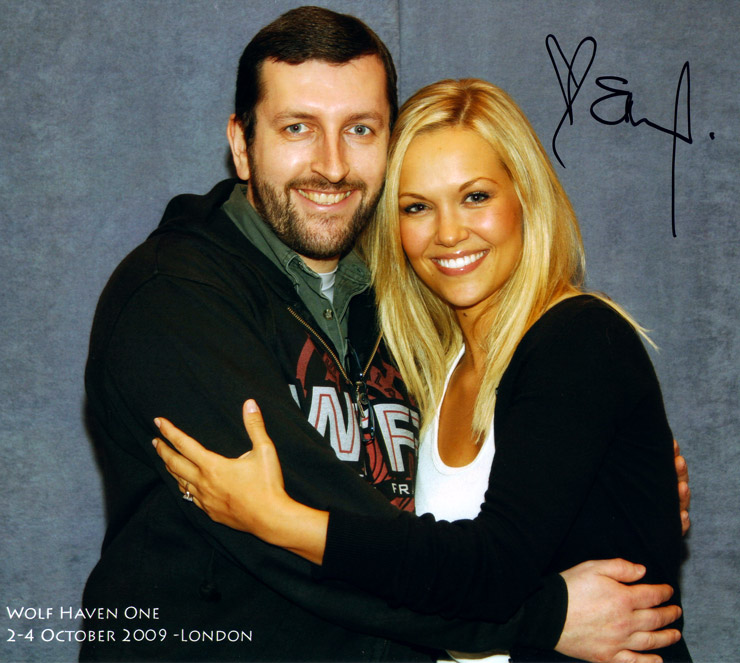 5ft 8 Rob and Emilie @ Wolf Haven One, 2009
Miss Sandy Cowell
said on 30/Oct/21
That's a good name... Ullerup: it just rolls off the tongue!
5ft4.75 for Sister Goldenhair*, Emilie.
👱‍♀️🌹
* 'Sister Goldenhair' is a haunting song by Syd Barrett. 🎶😏🎶
Elene
said on 7/Aug/21
Might be 5'5,
JohnMoore-162cm
said on 7/May/20
I have no doubt she's 5ft4 3/4"
Nik Ashton
said on 8/Apr/20
A lot of people are interested in how tall she is and I am delighted to give her her 25th comment!
khaled taban
said on 2/Oct/19
I'd say 5'4.5"-5'5" range , 5'4.75" is acceptable.
Nik Ashton
said on 14/Aug/19
She's actually slightly above average!
Jancys
said on 24/Feb/19
I think she can pull 5ft 5.
Sandy Cowell
said on 13/Dec/18
Why haven't I seen this picture before?It's gorgeous and exudes friendliness! So is Emilie, who can have 5ft4.75!
Nik
said on 13/Jul/18
I have no doubt that she lives up to her listing!
Jedi Master 5'11
said on 20/May/16
@Brad I concur
Aza
said on 11/May/16
What a cracker! Nice hair too. Good listing.
Sam
said on 27/Nov/13
Another hugging picture, Rob do you have a hugging-required clause with the pretty ones?

Editor Rob
yeah, some of them :)
marla singer
said on 22/Jan/13
Wasn't she listed at 165 cm?

Editor Rob
she did look a weak 5ft 5 in person, so reflecting the listing to match.
Brad
said on 10/Sep/12
Even her hand is a ten.
the AMAZING Babushka
said on 14/Jan/12
who cares how tall she is !!!
Joey WW
said on 14/Jan/12
She looks 167cm to me if you are wearing the same footwear. Compare her with challenger 12 girl 1 they are more or less the same height.

Editor Rob
challenger 12 looks taller in person than Emilie.
ian
said on 11/Oct/11
not bad but looks better on tv

Editor Rob
this actress looked better in person than on the tv!
Brad
said on 12/Feb/11
Reset,my mistake,near lookalike next to her. Rob is correct and a 10.
Brad
said on 12/Feb/11
5' 6". Wears heels. Reset on looks.
Brad
said on 3/Feb/11
Meeting her next week at Burbank show, I'll find out her height.
Anonymous
said on 1/Feb/11
so pretty.
perfect
said on 29/Jan/11
This chick looks good and a perfect height for her look!!!
Brad
said on 27/Jan/11
Durance might have been taken in this site's beauty queen.
Moke
said on 26/Jan/11
yeah around that. But...wow, what a beauty!
jtm
said on 26/Jan/11
5'5 and gorgeous.
Brad
said on 25/Jan/11
Hey Rob, which Canadian was prettier, Emilie or Erica Durance?

Editor Rob
both were rather pretty!
Jake T.
said on 24/Jan/11
5'5 seems right for her.
linke
said on 24/Jan/11
maybe 167 with sneaks