Garrett Wang's Height
5ft 10 (177.8 cm)
American actor best known for playing Harry Kim on the Sci-Fi TV series Star Trek: Voyager. On
twitter
he said
"I'm 5'11" tall. With that hair, I was 6'3" lol"
. In this photo Garrett had 1/3rd inch less sneakers than me.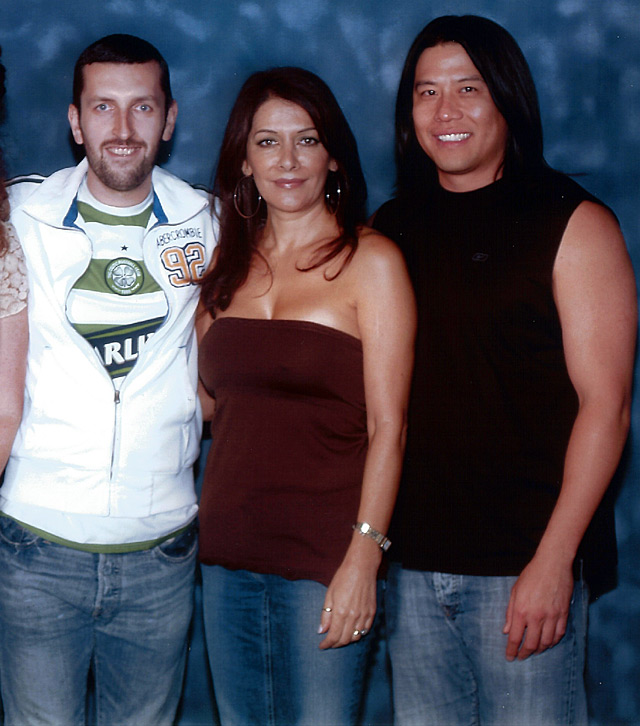 5ft 8 Rob and Garrett @ Memorabilia 2007
all the women of VOY wore heels. JeriLyn was the tallest of the women at 5'8" I am 5'10 1/2"
-- Twitter, 2014
You May Be Interested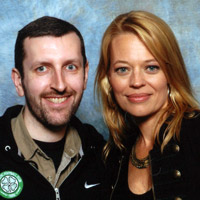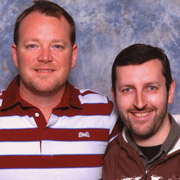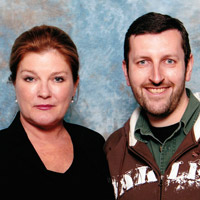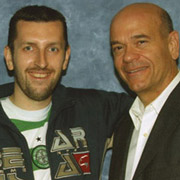 Add a Comment
30 comments
Average Guess (12 Votes)
5ft 9.98in (177.7cm)
Andy5'91/2
said on 11/Jun/20
5'10 7/8 range
Danimal 5'9 3/4
said on 5/Dec/18
Sorry Rob, but he's at least 5'10.5". Your markers are not accurate. It has you at slightly over 5'8", but that is your barefoot height during the late day, not your height in shoes.

Editor Rob
That photo was at 3pm or thereabouts, after they did a talk on stage from 2-3pm.
Markers are just a guide as if I was barefoot, although if you have people different distances, it's trickier because the person closer has their true head size amplified...In this case, Garret/Marina are a bit closer, but I have a fraction more sneaker, although I was trying to drop height on my left hip (my right knee is bent a bit as a result).
On Voyager I do think he looked 2 inches smaller than Tim Russ.

Nik
said on 8/Jun/18
I am not convinced!
MAD SAM
said on 4/Jun/18
I think he's about 177 cm
phil
said on 20/May/17
he 5'9
Editor Rob: he's taller than 5ft 9 for sure!
Jordan87
said on 5/Apr/17
Rob,
Good Comment below. Sirtis has a nice Greek Mediterranean look to her. I liked her with the Curlier hair on that show. He voice was also stunning.
Redwing
said on 11/Dec/16
Who are those hot women?
Editor Rob:
the women on the left was in one of the star trek films and the shorter women is
Marina Sirtis
, who pretty much was the hottest thing on Star Trek: The Next Generation 👌
S.J.H
said on 26/Sep/16
He is 5'10.75 with boots and 5'9.25 barefoot
John
said on 19/Oct/15
5'9.75 be his night height?
josh b
said on 30/Sep/15
Here is my photo with Garrett
Click Here
tony t.
said on 19/Apr/15
Who is the beautiful woman on your left with the red top on, Rob?
[Editor Rob: marina sirtis on my left, on right robin curtis]
xar
said on 7/Feb/15
Rob, how much difference is in this pic?
[Editor Rob: maybe close to 1.5 inches, but I have a fraction more footwear so in the 5ft 10 range I think is ok - he claimed 5ft 10.5, maybe earlier in the day he could measure near that.]
Oanh
said on 18/Nov/14
He has a little less sneaker than Rob, and he appears 1.5" taller, so I say 5'10" is reasonable. Forget about 5'11".
[Editor Rob: since he claimed 5ft 10.5 himself, it's already ruled out. I think in the morning he'd be around that mark.]
John
said on 7/Nov/14
Rob,whats the name of the girl in maron dress and how tall is she?
[Editor Rob: she was in Star Trek 3, robin curtis. She had a
standard heel
there, so more footwear than me, I'd have said somewhere in 5ft 7.5-8 range.]
Nam
said on 1/Oct/14
Who is the woman on the left?
[Editor Rob: she played Lieutenant Saavik in Star Trek 3 I think, robin curtis her name.]
Kourosh177cm
said on 17/Dec/13
rob how tall is the woman in white dress?
[Editor Rob: she was in a Star Trek 3/4 Robin Curtis, she looked 5ft 9 range but had more footwear so near to 5ft 8.]
avi
said on 18/Jul/13
His ticket is just missing entrance to the prestige yet highly abused 5'10 club. 5'9.5 probably.
Rampage(-_-_-)Clover
said on 7/Jul/13
Looks 176-177cm. Not quite 5"10"
thorterr
said on 10/Sep/12
5ft 9 defo and i bet hes sooo glad voyager has ended so he can grow his hair back
ChiasmataX
said on 21/Nov/11
176-177cm in this pic. Probably look more 178cm with same footwear.
Physics Enemy
said on 10/Nov/11
5' 9", just under an inch on Rob.
[Editor Rob: he definitely had a fraction less sneaker than me that day.]
guyfrommars
said on 16/Sep/11
Seen another episode of Voyager, and in a scene they looked the same height with Picardo. Wang is 5'9".
rob89
said on 3/Sep/11
LOL at 6'1.5" for RDM, he's closer to 6' even, 6'0.5" tops. He's listed at 6'0.5" on this site and has a pic with Rob where he struggles to look that even in footwear and posture advantage! And I never saw 4 inches between Robert & Garrett anyway, 3 at most, even looked 2-2.5 at times. They are around 6'0" and 5'9" respectively, that's what they look.
guyfrommars
said on 28/Aug/11
He looked around the same height as Picardo and around 4 inches shorter than 6'1.5" Robert Duncan McNeill. I'd say he's around 176cm (ca. 5'9.5").
thorterr
said on 23/Aug/11
yah rob so why u got mainly marina sirtis on this page ? some of the non sci-fi fans would be confused by this page lol
[Editor Rob: I changed to just the one group photo, so it's better now]
rob89
said on 13/Jul/11
Seems closer to 5'9" here, maybe with some change at best. If you draw a straight line in Paint from the top of Rob's head towards Garrett's head, there doesn't seem to be more than 3 cm between Rob & him IMO, as long as you don't count Garrett's hair. He looks to be slightly closer to the camera as well, but considering rob had footwear advantage i'd say it cancels out. Oh, and like guyfrommars mentioned, he was very similar in height to Picardo on Voyager, and also definitely about an inch shorter than Beltran. So overall i think he's probably more of a solid 5'9" guy.
Springer
said on 16/May/11
176cm if anything. Definitely not 178cm
guyfrommars
said on 14/Feb/11
Looked the same height as 5'9" Robert Picardo in Star Trek.
Josh
said on 6/Feb/11
looks 176cm tbh
Dean
said on 31/Jan/11
How tall is the girl on the left in the bottom pic Rob? Wang looks about 176cm not 178cm
[Editor Rob: she was in a star trek movie, her name robin curtis, she had about a 2-inch heel, here is a clear
Photo of her shoe
someone else took that day.]