Robert Duncan McNeill's Height
6ft ½ in (184.2 cm)
American Actor/Director best known for playing Tom Paris in Star Trek: Voyager and for appearing in film Masters of the Universe. In this photo I'm wearing
Converse
thin, whilst Robert is in footwear giving him a near 0.5 inch advantage over me. On his imdbResume he listed his Weight as
"225 lbs"
.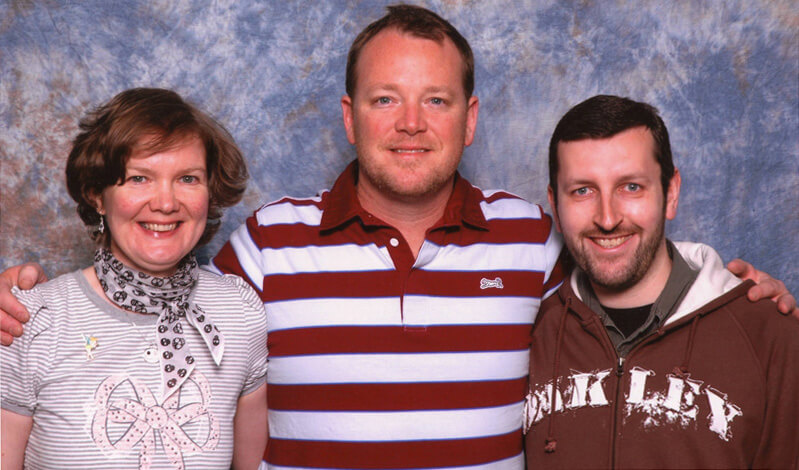 5ft 8 Jenny, Robert, 5ft 8 Rob @ Collectormania 2010
You May Be Interested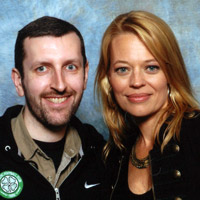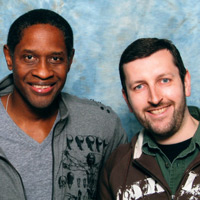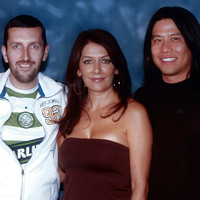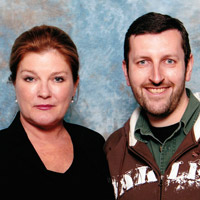 Add a Comment
53 comments
Average Guess (13 Votes)
6ft 0.25in (183.5cm)
Cathead91
said on 25/Nov/19
Wouldn't it make sense to have a friend who is 5'11 or so that way you could really measure the persons height. Your friend Jenny is the same height as you.

Editor Rob
the photographer was 181 range, so Robert was at least an inch taller than him that day, when they were facing each other.
Christian 6'5 3/8"
said on 8/Sep/19
Can look 6'0" but certainly no less. I'd put him at 6'0.25" like Zampo did.
Linda Martin
said on 10/Dec/18
I don't care how tall Robert Duncan McNeill is, he will always be a great actor in Voyager. Always great to watch reruns.
Zampo
said on 30/Aug/18
6'0.25. 183-184 zone. I reckon he would measure shorter than the 6'0.5 challenger.
Deloris's
said on 12/Apr/18
183,5 minimum in this photo
Out of bed can be 6'1
Rampage(-_-_-)Clover
said on 16/Dec/17
6ft0¾ in his 30's is arguable and today still 6ft0¼-6ft0½ at worst...
Anonymous
said on 30/Sep/17
6 feet , legit , hands down .
Anonymous
said on 29/Sep/17
look 6'1 here but shoe advantage so hes 6' 1/2
World Citizen
said on 29/May/17
I see a flat 6 ft without that shoe advantage.
Jordan87
said on 21/Apr/17
He looks like a 6 footer in the picture. Not sure I see over 4" between him and Rob. Especially if he had 1/2" Extra Shoes, No Way does he hit 6'0.5" I would put him at about 5'11-1/2.
berta
said on 27/Mar/17
i think the listing is fine but to be exact he could be little over not realy reaching 6 foot 3/4 but right beetween this listing and that. so either of those listings would be right. a 184,5 guy ore something
Rampage(-_-_-)Clover
said on 19/Mar/17
That weak 6ft1 zone is arguable. Today can look more a strong 6ft though
Delvin chung
said on 17/Mar/17
Is 6'0 1/3 a decent estimate ?
Editor Rob: still say about 184 is a good shout for him...6ft too low, 6ft 1 I just think a bit too much.
berta
said on 27/Jan/17
strong 184 ore weak 185 guy. looks 185,5 cm in the photo but have bigger shoes. i think the listing is good
Rampage(-_-_-)Clover
said on 14/May/16
6ft0½-1 range peak.
Rampage(-_-_-)Clover
said on 5/Mar/16
185/186cm w/h the shoe advantage so around 184cm barefoot is fair. May have been near 185cm peak though, Rob?
Editor Rob: at times he could look 184-5 zone on Voyager, so it's not impossible almost that 6ft 1 zone.
Yaspaa
said on 28/Jul/15
Always looked a smidge taller than Tim Russ. 6'0.
pablo77bar
said on 11/Apr/15
well with this add 1.5 inch of shoe he looks 186-187 like me
So 6ft 0.5 is correct
TJE
said on 16/Aug/14
Hardly has 4 inches on you. I'd say 182-183 is a better range.
Tim
said on 2/Sep/13
6 ft 0.75 with shoe advantage, 6 ft 0.25 without the advantage.
Rampage(-_-_-)Clover
said on 21/Jun/13
Looks an easy 6'1.5"(187cm) with the shoes.
Maybe a weak 6'1", Rob?
[Editor Rob: never looked that tall, I think 184 range is what he is, although losing a fraction of inch is possible in 50's]
Nick
said on 14/Feb/13
I agree UK. He looked 6'1-2 to me at first. But, this listing may be legitimate. He's doing something most 6 plusers don't in robs pictures, stand tall.
UK183cm
said on 1/Dec/12
He looks half a head taller than you, so that should be 4.5 inches. Taking off the half inch in footwear and he is 4 inches taller, making him around 183 - 183.5cm. Pretty much 184 but perhaps not quite, hard to say. Looks taller than a lot of the people labelled as 6ft on here, and taller than many recorded as 6'1.
Arch Stanton
said on 19/Nov/12
186cm isn't "very" tall USYD!
Arch Stanton
said on 19/Nov/12
Does actually look close to 6'1 next to Rob.
[Editor Rob: he's also got half inch more footwear that day.]
Johnnyfive
said on 30/Sep/12
Exactly as listed
Yes
said on 24/Jan/12
He looks a bit over 6 feet...
Rampage(-_-_-)Clover
said on 4/Jan/12
184.5cm(6"0.75) in the pic
maio
said on 26/Dec/11
6 ft 1 in/185 cm in the pic, but considering he had a good 0,5 in/1,25 cm advantage, 6 ft 0.5 in/184 cm is fair for him.
Moke
said on 30/Nov/11
He's exactly the height the dude from height challenge is, so nothing wrong with 184 cm.
ChiasmataX
said on 24/Nov/11
He's 6 feet flat (182-183cm) indeed just around the height of the dude from height challenge # 10.
Physics Enemy
said on 18/Nov/11
6' flat, Rob's dropping a bit of height, McNeill also has 0.5" more footwear.
xyz.reg(6 ft 1.5 in)
said on 13/Oct/11
If gill birmingham is listed as 6ft..then this guy should be listed as 186cms...lolz!!
PatB
said on 25/Sep/11
Again Jenny and Rob are redundantly the same height. She's a bit too tall to be the average woman. Rob is OK as the average man but you need a standard tall man. Someone from 6'0" to 6'2". This guy would do. Maybe he needs work? I've never seen him before. There must be a lot of unattached ex-Star Trek actors floating around. Make him an offer.
barny
said on 21/Sep/11
meeeooow joe...
Alex
said on 12/Sep/11
184cm seems about even taking into account the 1/2 inch footwear he had on Rob.
Joe257
said on 6/Sep/11
Robert got old and fat, I hardly recognized him. Also his hair seems to be falling out and his polo looks ridiculous. But yeah, I would guess around 6 feet tall in height.
Chameleon
said on 13/Jun/11
Looks 6'0 flat if u ask me
Lenad
said on 13/Jun/11
I can see 4-4.5 inches taller than Rob flat
James
said on 8/Jun/11
185cm with footware advantage. In reality 183-184cm
Chameleon
said on 15/May/11
Here we go again
he's 6'0 no more.
Rampage(-_-_-)Clover
said on 14/May/11
On second thought he looks 6"0.75(185cm) in the pic
James
said on 4/May/11
183cm maybe?
Jake T.
said on 3/May/11
Looking at the picture I saw 6'1 for Duncan but an 11 cm difference sounds reasonable too. 6'0.5 is fine.
Chameleon
said on 30/Apr/11
Yea hes not over 6'0
Rampage(-_-_-)Clover
said on 27/Apr/11
Maybe 6"0 on the dot is closer
James
said on 23/Mar/11
Well given that rob is tilting his head down in my opinion robert still does not quite look 6'1 with footware advatange.
Maybe 6'0 (183cm) could be closer for this guy? He does not look remotely 6'1 1/2 in the photo either.
Rampage(-_-_-)Clover
said on 20/Mar/11
He's giving a 186-187cm illusion in the pic
adams1818
said on 16/Mar/11
In photo he looks between 185-86 cm
TheVerve180
said on 11/Mar/11
ok yeah 183cm-184cm
Observant
said on 8/Mar/11
Based on stadiometer pic, and his shoe advantage 6 feet absolute maximum for this guy.
Big Show
said on 12/Jun/06
Looked this height next to 6'5 Dolph Lundgren in Masters of the Universe. But then again, some people claim Dolph is only 6'4. But Robert is definately in the 6 foot range. He was taller compared to Courtney Cox, than any of the other Friends actors, and some of them get listed as 6 foot.
[Editor Rob: the funny thing, was his reluctance to say height though. Maybe he simply couldn't care less, but he did seem to be down to earth especially talking about some of the tv shows he's directed on last year...]
TNTinCA
said on 9/Jun/06
Looked about 6'1" to me in the Voyager days.
You know, I fail to understand why so many of these actors refuse to devulge their actual height. Especially if they are obvious 6 footers!