Tim Russ Height
5ft 11 ½ (181.6 cm)
American actor, best known for playing Tuvok in Star Trek: Voyager. On a StarTrek.com chat he said he was 6 foot. In this convention photo I'm wearing
Converse
thin, whilst Tim is wearing a shoe giving him a footwear advantage of nearly 0.5 inches. On his imdbResume he gave his Weight as
"195 lbs"
.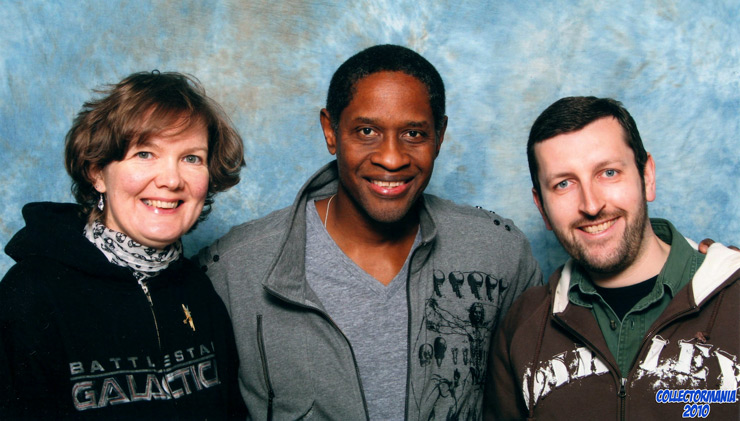 5ft 8 Jenny, Tim, 5ft 8 Rob @ Collectormania 2010
You May Be Interested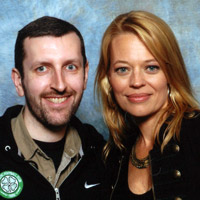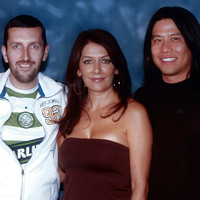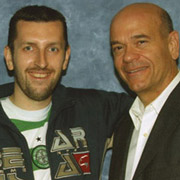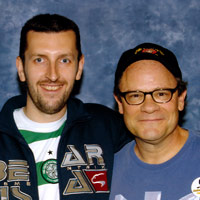 Add a Comment
50 comments
Average Guess (9 Votes)
5ft 11.33in (181.2cm)
Genau
said on 5/Feb/21
he doesnt look much over 5ft11
Rampage(-_-_-)Clover
said on 13/Oct/20
I think there's still potential for this guy to measure over 5ft11 today so maybe 6ft peak
VelikiSrbin
said on 7/Feb/19
Has he lost height on the last pic?
berta
said on 23/Nov/18
maybe 180 today?
MD
said on 15/Jun/17
Just watching an episode of Star Trek: Voyager ("Repression") and Tuvok ask the computer to give his height and the computer replies 182cm. Of course, characters are given all kinds of heights in shows that the actor may or may not be, but it's something to add as documentation.
World Citizen
said on 2/Jun/17
Looks no more than a weak 5 ft 11.
josh b
said on 30/Sep/15
Here is my photo with Tim
Click Here

Editor Rob
he could be heading towards 5ft 11 soon.
Emil 183 cm
said on 5/Mar/15
@Rob
He looks nothing close to 6 feet at all imo.
I can't see how his posture is compared to yours, but he looks 5'11 and considering his footwear that makes him 5'10.5.
Andrew M
said on 24/Feb/15
He was really funny as the po-faced doorman in "Samantha Who" - another show which deserved to do better than it did.
Rampage(-_-_-)Clover
said on 22/Dec/14
He looks about 5ft11 flat
Judd
said on 30/Nov/14
Rob your posture is very bad...it's much hard evaluate his height if you have poor posture...however if you think he's 5'11.5", since you met him i trust in you!
De
said on 3/Sep/14
He was listed as 179cm in star trek.
truth
said on 17/Jan/14
ice you are an unbeleivable downgrader lol. He clearly looks 5ft11 or 180cm at least. Maybe 181-182cm if he stood up straight.
lelman
said on 20/Nov/13
Looks more 180, but 177? don't be crazy, he's easily got more than 3cm on Rob.
Ice
said on 8/Sep/13
unbelievable 182 for this guy ?! seriously i was a head taller at that height then a 5'8 Person .. he Looks like 177 at the highest
Rampage(-_-_-)Clover
said on 8/Sep/13
This height is fair. With good posture nearer 6ft
herber 185
said on 8/Aug/13
no way this guy is 182, definitely needs a downgrade - 5'11 at best
Rampage(-_-_-)Clover
said on 7/Jul/13
He's 5"10.5" - 5"10.75" or a solid 179cm in the pic
John-117
said on 7/Jul/13
I met him last week and he is exactly 6' today, was probably a little over in his prime
Mathew
said on 10/Jun/13
If he's 5'11.5' with .5" footware advantage he should look 6'0", which I think is certainly a stretch here.
Tim
said on 31/Mar/13
Looks 5'10.5
thc-182
said on 3/Jan/13
doesn't look 182 cm compared to other actor who are listed at this height
maybe 180
LeBron6
said on 4/Dec/12
looks a week 5'11 considering the footwear advantage
Jack
said on 2/Oct/12
looks 6 ft
ray 6' 158 lbs
said on 14/Aug/12
i think he is 5'11" tall nex to you if you are 5'8" he doesent seems more than 3 inch taller than you for me
Liston
said on 28/Jul/12
He is not 182...more like 178.
Mr-KILLER-SHRIMP
said on 2/Feb/12
Another 5'10" listed at 182cm.
avi
said on 10/Dec/11
strong 5'10.5
dmeyer
said on 7/Jun/11
more 5 ft 10.75 11 considering shoes
Rampage(-_-_-)Clover
said on 27/May/11
Doesn't even look 5ft11 in both pics
Rampage(-_-_-)Clover
said on 27/Apr/11
In both pics he looks below the 6"0 barrier...next to Mamun he looks 5"11(180cm) and with Rob and Jenny about 5"10.25(178cm)
Observant
said on 22/Feb/11
5'10 end of story
josh b
said on 7/Dec/10
Looked at least 6ft on a new episode of CSI Miami, although the camera angles, footwear and clothes choice most likely made this possible, as rob's pictures show he's less than that by a fair margin.
jtm
said on 4/Nov/10
i always thought he was 6ft.
Haze
said on 8/Jul/09
if supermun is wearing sandles russ is barely looking 5'10
Gary
said on 7/Jul/09
He looks 5'11
Mamun
said on 3/Jul/09
My friend I was wearing sandals with 0.25 inches of soles for this picture
and this gentleman may even have a slight footwear advantage over me !
Regards
Supermun
Alex
said on 3/Jul/09
He looks straight to me but its a bit tough to tell. Maybe Mamun is wearing bigger footwear or something because he doesn't even look 5'11 here.
Danimal
said on 2/Jul/09
5'11"-5'11.5" if he stood fully straight.
Alex
said on 2/Jul/09
No way is that 6'0 or even close. I'd say 5'10-5'10.5.
Anonymous
said on 1/Jul/09
Looked this height next to 5ft9 - 5ft10 Picardo.
Anonymous3
said on 30/Jun/09
I see him with a slight slouch.
J.J.
said on 30/Jun/09
ABout 5'11.5" in this picture
James
said on 30/Jun/09
I think at his peak he might have been around 6'1. I remember seeing this guy in the Fresh Prince and I always thought 6'0 was a bit low for him, somewhere I think it says as well that Tims height is 6'0.75?
Not over 6'0 today though.
miko
said on 30/Jun/09
6"0 maximum.
Mathew
said on 30/Jun/09
I only see 179 - 180 cm for some reason.
James
said on 30/Jun/09
He's aged quite a lot. Could be close to 6'1 with better posture.
Adam Brennon
said on 5/Sep/07
In one episode of STVOY his character stated his height as 182 cm exactly.
Austrian
said on 12/Nov/06
i thought his name was Tuvok?
Anonymous
said on 3/Dec/05
Looks a solid 6 ft. to me.