Gaten Matarazzo's Height
5ft 5 (165.1 cm)
American actor, best known for playing Dustin Henderson on Stranger Things. He mentioned in April 2019
"My doctor just told me I'm done growing....I'm not too dissapointed because I passed what the Doctors told me I was gonna be when I was younger, which was Five-Three....I'm Five-Five."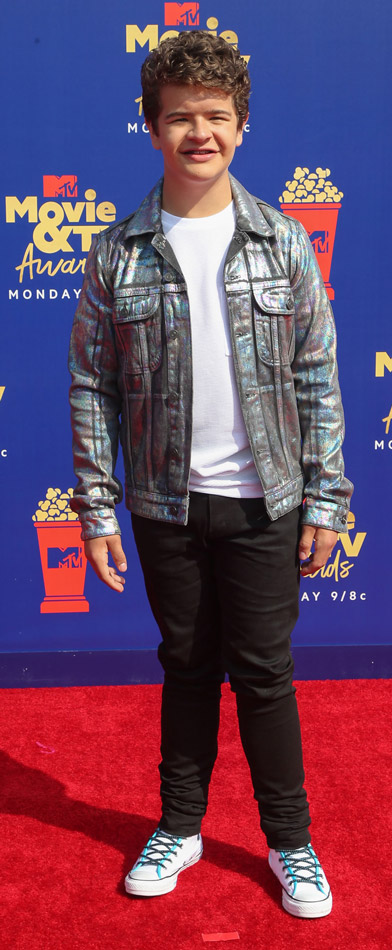 Photos by PR Photos
You May Be Interested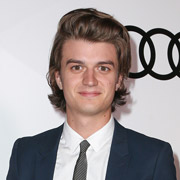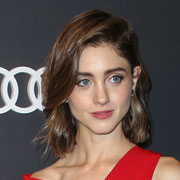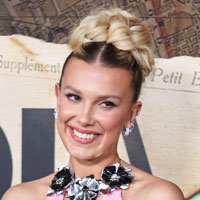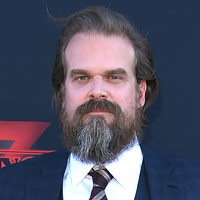 Add a Comment
33 comments
Average Guess (23 Votes)
5ft 4.75in (164.5cm)
Progking
said on 7/Mar/20
How tall do you think he looked back in 2017(season 2)? 5'3 maybe?

Editor Rob
Yeah, at most 5ft 3
Jordan silva
said on 3/Mar/20
Do you think he stopped growing. It doesn't look like he's done with puberty's

Editor Rob
He seemes to think he's done too, and probably is. 5ft 4.5 to 5 might be his range.
RubBenn
said on 26/Feb/20
In his insta picture with Billie from green day he looks more than 2inches shorter then him I think? What do you think rob?(I ain't good at guessing height differences) i don't know about shoe difference but I think Billie mostly wear converse. Or is it just the hair of Billie that make him seem much taller?

Editor Rob
I can see how at times just under 5ft 5 seems very possible.
Javier
said on 18/Jan/20
@Keith 5'10 That photo you have in the link with Caleb, Gaten, and Kiernan Shipka from Instagram was taken in Rome. Having been there myself I can tell you the ground is not flat all the time so maybe that could be giving Gaten a disadvantage in that photo. I don't think Caleb is 5'8" he is probably 5'7" at the very most maybe even 5'6" range when I see him next to Finn. As for Gaten he can look 5'5" most of the time I believe for sure he dips below it at night time probably to 5'4.75"
Keith 5'10
said on 8/Jan/20
Footwear Rob? Maybe Caleb is 5'8" or Gaten is under 5'5".
Click Here

Editor Rob
I don't know if Caleb is finished growing, but Gaten's posture is poorer, though 5ft 4.5 isn't ruled out for him.
Keith 5'10
said on 19/Nov/19
Weak 5'5 maybe
Clown
said on 3/Nov/19
I don't know about Caleb, maybe 5'8 but Finn is definitely 5'10 now.
ASG
said on 15/Oct/19
Rob, please add Caleb. He's 18 and looks likes he's nearly fully matured. Finn on the other hand can wait. He looks very baby faced and young so I'm guessing he still growing. Not to to mention I saw of a picture of his dad and he looks about 6'2ish so I'm guessing Finn is gonna grow to 5'11-6'0 (He's probably about 5'10-5'10.25 rn)
Crab
said on 22/Jul/19
I reckon 5'5 at a push, I wouldn't be surprised if he fell ever so slightly short.
@Kristian, Caleb looks about 5'7" next to Gaten. I would say Finn is about 5'9" he looks a couple inches taller than the other kids but is still roughly 2 inches under Joe Keery. Wouldn't be surprised if he eventually ended up 5'11"-6'0". I would guess Noah is about 5'7" too
Stranher things fan
said on 18/Jul/19
He's so cute I love him😭he looks 5'5 to me
Kristian S.D.
said on 15/Jul/19
Hey Rob, have you gotten around to reviewing Finn Wolfhard and Caleb McLaughlin's heigts? They both have new listings on Google after season 3 was released.

Editor Rob
caleb has to be at most 5ft7
Miss Sandy Cowell
said on 13/Jul/19
Gaten is only 16-years-old so he might yet squeeze out a bit more height.
Miss Sandy Cowell
said on 10/Jul/19
@ Mini Golf Kid and, of course, Littlelee: I have ordered the second series of 'Stranger Things' just now. Aren't they difficult to find, not to mention expensive? The only First Season I could find was being auctioned, and the current bid is £26 - quite absurd, especially as I have reason to believe that it's a second hand copy!
I shall bide my time and wait. In the meantime, I shall get my gnashers into Season Two, and insodoing, I can have a look at all the actors' heights, and have a good old scare-fest into the bargain.
You two guys are exactly the same height of 5ft6. Cheers fellas!
😁👍 X 2.
Miss Sandy Cowell
said on 10/Jul/19
@ mini golf kid - Thanks for that! It sounds great stuff and I am 100% sure that I'm going to get right into it! Cheers m g kid! 😉👍🏌️‍♂️⛳👻
mini golf kid
said on 10/Jul/19
Great actor, one of the bests actors from Stranger Things. Looks like a inch shorter than me.
@Miss Sandy Cowell Stranger Things is great, probably the best tv series currently. So many inspirations from great sci-fi and horror shows from the past.
Miss Sandy Cowell
said on 9/Jul/19
🐽🍦 Correction Time! 🍦🐽
In my crazy, pig-based comment dated the 8th July 2019, there was an extra and completely wrong set of speech marks: (") after the word 'anymore'. 🐷😝
Andrea
said on 9/Jul/19
5'5? Maybe in shoes, but barefoot? I'm not sure I would have guessed him quite that tall, from looking at recent pics and videos. A guy like Caleb McLaughlin I think looks at least 2 inches taller than him, and I doubt Caleb is much over 5'6...
Miss Sandy Cowell
said on 8/Jul/19
@ Ice Cream - Yum yum double yum!
🍦😋..🍦😀..🍦😯..🍦👧..🍦😆
🍦🍦🍦🍦🐖 "I think I've had too many! My jacket doesn't fit me anymore!" 🐷 Yes, I've had my sn🐽ut in more than my fair share of these! I think I'll continue - and walk about au naturel!"
🐷🍦🍦🍦🐖🍁✔️👚❌
Nik
said on 7/Jul/19
He's so cool!
Unbewohnt6666
said on 7/Jul/19
Does he have lower than average eye level, Rob?

Editor Rob
For his height, I'd say yes.
Arslan 6'10 210 CM
said on 6/Jul/19
He does look to have some form of HGH deficiency
Ice Cream
said on 6/Jul/19
I'm sorry, how can a doctor predict someones height exactly? - just by his parents or..?

Editor Rob
Well parents heights can be one predictor, but there are also regression formulas/bone age used...actually if anybody wants to read some research,
this paper
I would say is useful in going into the topic, athough it is a bit technical at times!
Miss Sandy Cowell
said on 6/Jul/19
@ Animus - Isn't Gaten to be admired for his positivity? He could teach many a person a thing or two about self acceptance. It's such a shame that people are shrouded in the belief that they have to 'be like everyone else', and this is grounded in from such an early age. Ha ha! When I was a little kid, I wanted the same shoes and dresses as the other girls at school, but that does get phased out as we grow up into individuals and develop our own tastes. Height, however, is the one thing we're stuck with, and how it affects us is largely down to ourselves, but past negative put-downs also play a part, alas, having already crept deeply into our psyches.
There's no denying it though, that the best jobs, regardless of our sex, do tend to go to the taller among us. The ideal way to be in with as equal a chance as possible is to show as much confidence as you can, like young Gaten here.
In our early school years, good academic work is always rewarded, but even then, taller people are FAR more likely to make the sports teams. Ideally, I should have been in the netball team because my aim and goal-scoring record were both good, but my height held me back. I did make the hockey team though. I was nearer to the ball!
Enjoy your weekend, Animus! 😁👍🎶
World Citizen
said on 6/Jul/19
Oh I'm sorry I didn't see that quote from him.
Miss Sandy Cowell
said on 6/Jul/19
@ Mimi - It seems likely, yes, given the fact that Gaten's doctor actually estimated his expected adult height, yes! I've never known a doctor to do that unless the patient has a condition which is going to result in an either very tall or not-so-tall height, which is going to be cause of concern and anxiety to the patient and his or her parents. Have a good weekend, Mimi! 💐
World Citizen
said on 5/Jul/19
Is there still a chance he will grow?, because he is still 16.

Editor Rob
He seemed to think he was finished growing.
Mickie
said on 5/Jul/19
I didn't realize he was more than 5'2" - 5'3".
Animus
said on 5/Jul/19
@Miss Sandy Cowell
Yes, I picked up on that too. That's an extremely healthy attitude that will carry him far. It's also completely grounded in truth. If you outgrow the height expected of you based on your parents heights, you should be grateful, regardless of where you fall on the distribution.
Mimi
said on 5/Jul/19
Doesn't he have the condition that makes his growth stunted?
Miss Sandy Cowell
said on 5/Jul/19
I like that! Gaten is a full 2" taller than his doctors predicted for him, and he's grateful for that - so grateful, in fact, that he has the confidence to become an actor and brace the whole World, saying, "This is me! I'm a 65" actor and I star in 'Stranger Things'!"
That being the case, I know I will be able to sum him up for myself soon; 'Stranger Things' is my next huge Must Watch!
📺☕😎🚬
5ft5.
Redwing
said on 4/Jul/19
Is he really done growing? He's so honest too
Arslan 6'10 210 CM
said on 4/Jul/19
How tall are his parents?
Blake
said on 4/Jul/19
Rob, I would have thought 5 ft 3 to 4 for him. Maybe in shoes he was measured 5 ft 5?

Editor Rob
I do believe he did measure 5ft 5, but it's whether in a sneaker or not.