Gena Lee Nolin's Height
5ft 9 ½ (176.5 cm)
American Actress best known for playing Neely on tv series Baywatch and starring in another TV series, Sheena. Gena once said in regards to Justin Timberlake,
"I don't get it - it's hilarious. He's a little boy. I'm 5 foot 9 inches and in heels I tower over him. Plus his legs are probably even skinnier than David Hasselhoff"
. On twitter she also said
"I'm 5'9 1/2"
and once mentioned her weight was probably
"120 pounds"
in her earlier career.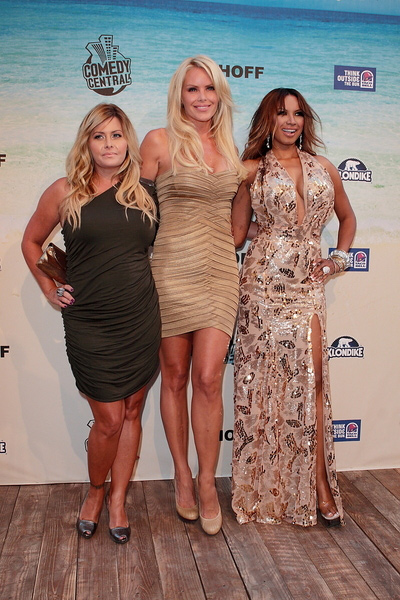 Nicole Eggert
, Gena and
Traci Bingham
Photo by PR Photos
You May Be Interested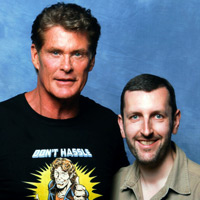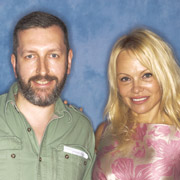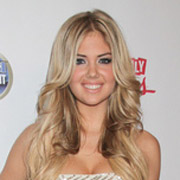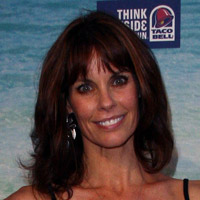 Add a Comment
31 comments
Average Guess (22 Votes)
5ft 9.49in (176.5cm)
Iman Ahmad
said on 4/Sep/19
I Guess She Is 176,5 cm Barefoot , She Is 176,5 cm Barefoot , A Lovely Woman ,
Nik
said on 2/Nov/18
I honestly think that Gena Lee Nolin was joking in a friendly way with Justin Timberlake! Everything she said about him above will have been done in good heart!
Christian 6'5 3/8"
said on 31/Oct/18
@Nancy
It was probably just to poke fun at him. Celebrities do that all the time. I don't think she has malicious intent towards him.
Nancy D.
said on 30/Oct/18
a flat 5'9" seems to be about right, and what the hell is her problem criticizing Justin Timberlake's legs anyway? How would she feel if someone pointed out her flaws? I would like to see her make that same comment when Jessica Biel is next to her.
Nik
said on 27/Sep/18
It's nice that she is so height honest!
Nik
said on 24/Sep/18
I think she can pull off 5'9.5" and 13 voters think so too!
Tifi
said on 21/Sep/18
That quote about Justin Timberlake was back 2003 lol
Misleading a bit, had to Google to find this article.
He was like what 20 still in n'sync SMH
We have people on Justin Bieber page claiming a late growth spurt lol

Editor Rob
Well not 20, but 22 in 2003 who Gena says she towered above, which might be a slight exaggeration.
MAD SAM
said on 17/Jun/18
She does look the height she has claimed (176-177 cm) next to her 190 cm husband, she isn't wrong about Justin Timberlake btw 😂
KH
said on 6/Sep/17
I don't feel like she is quite this tall and coule be as low as 5'8.5 range. She has said herself 5'9 at times although she has also said 5'9.5. Most celebrities tend to lie about there heights and women no less then men really. I believe no more then 5'9 barefoot based on movies and TV I has seen of her which is still a very good height for a woman basically a 6'2 man. As for the picture above Eggert is really short it doesn't take much to tower over her.
Hans Meiser
said on 5/Jun/17
I don't get the hype about Timberlake either.
mak
said on 1/Dec/16
Always appeared tall to me.5'9.5 not a stretch..lol
Arch Stanton
said on 15/Oct/16
Didn't look 177 on Baywatch.
184.3cm (Night)
said on 3/Apr/16
Another nail in the 6 foot claim from Timberlake.
She probably was shocked because ol justin once claimed he was "almost 6'2" ". She is probably about that in a decent size heel. Still Justin would be 6'1" in shoes so a whole one inch? I think more that he is 6' with shoes max.
Arch Stanton
said on 9/Oct/14
I thought Gena was noticeably shorter than Alexandra Paul in Baywatch and can't remember her being this tall. She does look it above.
Arch Stanton
said on 9/Oct/14
Funny but Piers Morgan said the same thing. I suppose Justin is one of those guys you either love or hate.
Arch Stanton
said on 9/Oct/14
To be honest I used to think the same thing about Justin Timberlake. Totally didn't get why a lot of chicks think he's hot. Especially boy band era. I used to think he was like 5'7 or something, It's only in the last few or two really with his change in image from the skinhead chav to handsome movie star with acting roles in which he really impressed me with his acting talent that I changed my perception of him and now think of him as upper average/tallish.
Pedro
said on 28/Aug/14
She made wrote another tweet where she said that she is "5'9 barefooting":
Click Here
Pedro
said on 1/Aug/13
She recently said on her twitter that she is "5'9 1/2":
Click Here
J.Lee
said on 11/Mar/13
Rob, is she calling Justin Timberlake short? She's only taller than him in heels... He's almost 6 foot.
amy
said on 23/Nov/11
She is NOT 5'9" as she claims. I live in Scottsdale where she lives. Seen her around a lot. I am 5'9 1/2" and she was a good couple of inches shorter. No better than 5'7". Many celebrities lie about their height. Pam Anderson is really tiny so compared to her she may have looked a lot taller.
mf
said on 12/Aug/11
Compared to the other babes on Baywatch, she looked 5'9"/5'10".
Shaun
said on 27/Apr/11
She has a point, what the hell do women see in JT....
bruno
said on 19/Apr/11
170cm barefoot tops!
Brad
said on 9/Apr/11
6' in heels next to be, I had her by 6" in zero added Chuck Taylors worn to my foot bottom. As listed or 1/2" more.
bdk
said on 7/Apr/11
Seen her in various movies etc, she seems around 5"7 maybe half an inch more tops (170-171 cm).
mm
said on 2/Apr/11
Compared to the other babes at baywatch she doesn't look over 5"7=170cm.
Jake T.
said on 4/Mar/11
Gena does look this tall against the other girls on Baywatch.
didi b
said on 22/Feb/11
5"8=173 max.
Josh
said on 23/Nov/08
Yeah she looks 5'9 and JT 5'11
mf
said on 12/Aug/07
She was listed as 5'9 1/2 in an article about "Sheena".
TNTinCA
said on 18/Feb/07
She was my favorite hotty from Babewatch. And considering what she said about Timberlake, I like her even more now. :-)