George Eads Height
5ft 9 ¾ (177.2 cm)
American actor, best known for playing Nick Stokes on CSI: Crime Scene Investigation.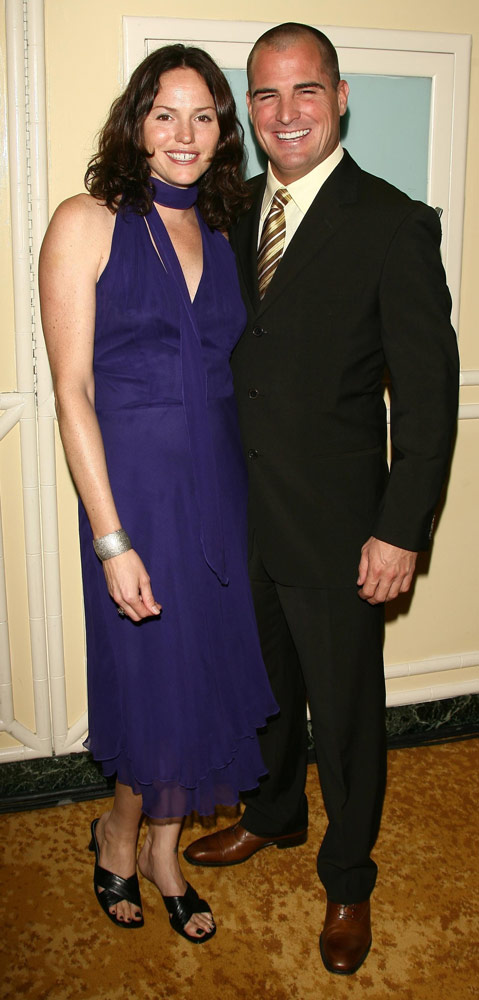 Photos by PR Photos
Add a Comment
30 comments
Average Guess (12 Votes)
5ft 10.13in (178.1cm)
Marcelo Fonseca
said on 18/Sep/19
He looks 5ft11 (180cm) in MacGyver. But maybe I'm wrong.
Robert Purvis
said on 26/Dec/18
He is 5-11
Kate
said on 26/Nov/17
He appeared way taller next to Jorja Fox.
Oanh
said on 13/Apr/17
Rampage(-_-_-)Clover said on 4/Dec/16
Has the head of someone much taller
Yes, I've always thought his head is on the big side.
He looks around 5'10"
Rampage(-_-_-)Clover
said on 4/Dec/16
Has the head of someone much taller
Chase Witherspoon
said on 11/Oct/15
This surprises me, I thought he looked a smaller fella more of 5'8" dimensions, maybe 174cm, his build is slight though perhaps that distorts the perception... he does also seem to wear a lot of block heels too..
Ali Baba
said on 20/Sep/13
Dude says on 17/Sep/13
I went to high school with him. He's about 5'9" in shoes.
So do you still live in the CenTex area? We met him at a cell phone store in Temple a few years ago when his father was ill. He seemed close to 5'9" to me as well. My wife had a pic with him but its been lost.
Dude
said on 17/Sep/13
I went to high school with him. He's about 5'9" in shoes.
B.T.Stomp
said on 4/Aug/13
Nooo.
I worked background for CSI this past Thursday & Friday.
During a film break I was standing in line to get a hot dog.
He walked right in front of me to get to the condiments table.
I'm 6'1" and he was almost eye to eye with me.
Although I was wearing Vans sneakers and he was wearing his CSI boots.
I'm not sure if he wears lifts but he may have been.
According to the 'Internet Movie Database' he is listed at 5'11".
I'd estimate him to stand around 5'11" if his boots were standard.
If his boots had lifts then maybe around 5'10".
doodlebug
said on 2/Jul/13
5'9", really??? He's gotta be shorter than that. Check out the soles of the shoes he wears on the show......
scooter
said on 2/Jan/13
His neck diameter is bigger than his inseam!
SolidSnake
said on 26/Feb/11
Eads always wears big shoes in CSI
Anonymous
said on 25/Feb/11
On the last CSI I saw he was only about an inch shorter than Langston (Laurence Fishburne) who is listed as 6 ft. In another shot I saw he had rather big shoes though
leonari
said on 6/Nov/08
spot on. average guy who looks shortish due to his frame.wears big boots on the show.always. not a full 5'10
leonari
said on 6/Nov/08
spot on. average guy who looks shortish due to his frame.wears big boots on the show.always.
Lmeister
said on 8/Apr/08
Damn the angles really make him taller. I'm just watching an episode of CSI and Jorja Fox is taller than George. She is wearing moderately heeled shoes and he is wearing somekinda black workboots. He seems to be 5ft9 max.
Danius
said on 10/Aug/07
177 seems right, hes a bit shorter than william peterson
leonari
said on 30/Apr/07
seems right...176 seems already too low for him
MD
said on 12/Nov/06
Yeah, 5'10" is the very, very top of the scale on him.
Padraig
said on 11/Nov/06
Md, Rob finally is back on msn and he agreed that George is a max of 5 feet 10.
MD
said on 14/Oct/06
But, then you have Jerry Bruckheimer (5'8" just two persons to the left) with George looking not much taller, and certaintly not 2.5"
[Padraig: Eads and Jerry.

As for the Bruck, here with Dennis Hopper Click Here Click Here I take it he is pretty much in the 5 feet 8 range.]
MD
said on 17/May/06
This one is totally wrong. Here he is near Jerry Bruckheimer (3rd from left):
1.
Click Here
And, again with Jerry:
2.
Click Here
5'9" TOPS
Jess
said on 16/May/06
I think George and Jorja look like they are the same height and she is 5 9.
John R
said on 22/Feb/06
No way 5'11''. Check his footwear on CSI. I'd say he's anywhere from 5'9-5'10''max
missmeg
said on 1/Jan/06
I've never heard of him being described as taller than 5'10, I don't where on earth you heard 6'1.
CelebHeights Editor
said on 21/Aug/05
From gossip newsgroup,
"A few years back, when they filmed the cheesy soap, Savannah here, I met CSI's George Eads. He is really short, too. He must wear lifts on CSI, because I'm sure Gary Dourdan is much, much taller. Eads was probably around 5'6 or 5'7. Still very cute, though"
CelebHeights Editor
said on 5/Aug/05
Hmm, I noticed the episode where they are talking about the height of a suspect and Warwick goes
"5ft 10...about Nick's height"
Bill
said on 25/May/05
in the episode on UK tv last night his character was described twice as being "about 5-10" so it looks like they're sticking to 5-11 measurement.
Mr. R
said on 13/Apr/05
When CSI first hit it big, he was listed as the "6'1" hearthrob. Oddly enough, he is now listed at 5-11 everywhere. Rarely does a studio downgrade celebrity heights. I wonder what George did to incur the wrath of the studio gods!