Gerard Way's Height
5ft 7 (170.2 cm)
American Singer from My Chemical Romance. You know, he looks like he has the musical equivalent of Paul Giammati posture. In Rolling Stone, it mentioned
"at his heaviest, he carried nearly 200 pounds on his 5ft 8 frame...when he walks, he hunches his shoulders as if he'd prefer to be invisible"
, although he himself said on twitter
"I'm actually 5'10, but struggle standing upright fully as I was diagnosed with scoliosis as a child"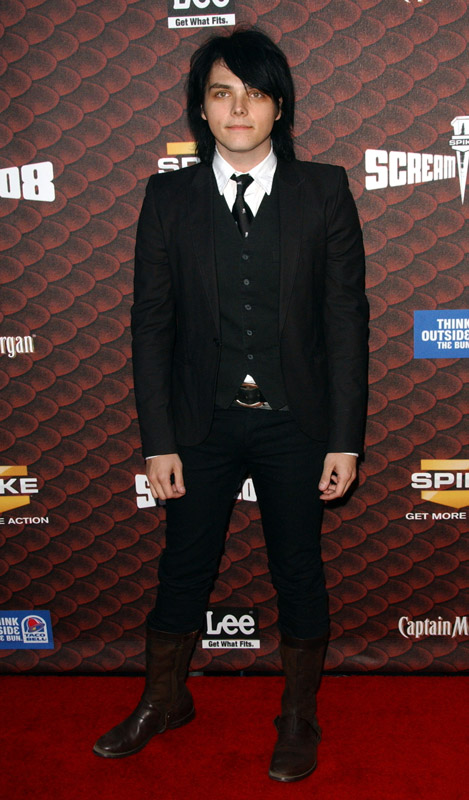 Photos by PR Photos
Add a Comment
153 comments
Average Guess (15 Votes)
5ft 7.38in (171.2cm)
Keith 5'10
said on 12/Aug/20
How many inches are between him and Ellen Page here Rob?
Click Here
Also, he is listed as 5'9 on his license:
Click Here

Editor Rob
maybe 5-6 range, depends how well he's standing there. But you've got 6ft 5 tom on the right, who makes him look short too.
Keith 5'10
said on 11/Feb/20
Well, he looks around 5'8 in some pictures with Jared Leto. And I can see him being taller than Billie Joe Armstrong
Not Josh Dun
said on 1/Jan/20
He looks like he is 5'9
Jim1445
said on 1/Oct/19
I'm a pretty huge MCR fan and judging from his videos and his red carpet appearances, I'm gonna put him at around 5'7.5, maybe 5'8 when he first wakes up in the morning. I think Frank Iero is roughly 5'6 just judging from proportions and eyeballing. Gerard seems roughly 1.5-2 inches taller in my eyes. He has pretty good proportions too, which can make him look a bit taller.
Keith 5'10
said on 15/Aug/19
Around 5´8 with Chester Bennington Rob ?
Click Here
(you can see his footwear only for a second or so)
Click Here
Click Here

Editor Rob
There could be something to his ability to stand taller, though his 5ft 10 claim always seems very hard to imagine, but I'm not even sure he'd be 5ft 8
dinglederper
said on 5/Nov/18
@MJKop In pictures with Lana Del Rey (who is listed as 5'6 on this site), Francesco Carrozini is about exactly the same height as her... but that's while he's wearing shoes and she's barefoot. He's not the full 5'9--more like 5'6 or a bit under. As a result, I don't think Gerard is 5'9 either. However, Carrozini does have footwear advantage in that pic over Gerard.
liamhayes699
said on 14/Aug/18
@Editor Rob Since you listed Gerard and since the other members, Ray Toro, Frank Iero, and Mikey Way had active music careers outside of My Chemical Romance, do you think that they would be worthy to have their heights listed? I know Frank Iero is pretty popular outside of MCR, and I think that their heights are pretty tricky considering that they don't quite appear to be the heights that Google lists them as, so I'd really like to see what their heights actually are.

Editor Rob
It's getting time to look at people.
MJKoP
said on 19/Oct/17
zavb932 said on 30/Jul/17
Most probably 5'7. Here is a pic of him during a photoshoot with 5'6 Iggy Pop.
Click Here
The dude in that picture is 5'9" listed Francesco Carrozzini, NOT Iggy Pop.
zavb932
said on 30/Jul/17
Most probably 5'7. Here is a pic of him during a photoshoot with 5'6 Iggy Pop.
Click Here
Peter175
said on 4/Apr/17
He has a very wide frame and a big skull. I can believe his scoliosis claim as most guys 5'7 and even 5'8 do not look as big as he does.
That said it shows how wide shoulders, short neck and short head can make someone look an inch taller than they are
Aaron
said on 4/Mar/17
If you're still wondering about Frank, I met him recently and I'm about 5'3 and a half. Frank was literally the EXACT SAME height as me.
same
said on 26/Oct/16
so you are not buying the scoliosis story like kurt cobain
Editor Rob: I think he probably has a degree of it, but his idea of being 5ft 10 may well be if he had a fully straight back.
mjkzero
said on 12/Sep/16
is 5ft8 possible here rob doesn't strike me as 5ft7 and if gerard way is 5ft7 then Frank Iero must be 5ft2 or 5ft 3 goo.gl/yZvpmV
Editor Rob: not convinced on a 5ft 8 for Way, although I'm sure at times he does look it.
Daniel
said on 2/May/16
He needs and upgrade Rob, I think he is 5'8 at least because he has terrible posture
Alex
said on 3/Sep/15
He claimed 5'10 on twitter
120
said on 5/Jun/15
Rob, how tall do you think Ray Toro is?
[Editor Rob: can look 1.5, maybe even 2 inches taller than gerard.]
Anna
said on 29/Jan/15
I met him this year and he was as tall as me (me w/heels), so he must be 170cm, as you say.
BGee
said on 16/Dec/14
I met him back in 2008 & 2011 after two of MCR's shows and he's definitely shorter than i imagined. I'm 5'4 and he was barely taller than me so 5'7 is spot on in my opinion.
Rez
said on 14/Dec/14
Gerard Way and Bert McCracken (170cm)
https://www.youtube.com/watch?v=ndzRLfAWSc0
Rez
said on 14/Dec/14
Brian Molko (168cm) and Gerard Way (??cm) meeting
https://www.youtube.com/watch?v=Y4XhMa9pNhM
Party Poison
said on 23/Nov/14
Wait, Gerard said on his twitter that he was about 5ft 10 standing upright. He just appears shorter because he has scoliosis, hence the bad posture.
GerardLover
said on 15/Oct/14
im 11 and im 5ft 5in. lol he must of been really small when he was a child. XD
mcrlover
said on 9/Aug/14
he is only 1 cm taller than me xD....I am a 19 year old girl xD
Sain\'t
said on 20/Jun/13
I really think he deserves an upgrade rob. Atleast 5'8.
Gee:)
said on 13/Oct/12
Jared Leto is 5ft 10, so Gerard must be about 5ft 9 if he stood up straight. :)
GuitarKid
said on 5/Oct/12
Well when I saw Gerard in person, he wasn't much taller than me at all (if at all) and I'm 5'5.
Guy
said on 11/Sep/12
um is Frank a little over 5'4? coz if he's not then how come he can look 5'5 in dress shoes? I think he's more like 5'4 and a half
vglythia
said on 24/Aug/12
He'd have to be around 5'9, next to Jared Leto (5'9) he's shorter, but Way has terrible posture. Next to Billie Joe Armstrong (5'7), he's considerably taller, but Armstrong has bad posture, too, so he'd have to be only a couple inches taller.
The Karl
said on 31/Jan/12
flat foot sloucher, like cobain, only much heavier. i bet if he stood straight and lean, he might hit 5-9.
chilean
said on 6/Nov/11
next to 5´9 jared leto
Click Here
he is 5'7 for sure
Gee W
said on 1/Nov/11
hey,im 5'9...i can't lie after my licence got leaked mann
grievingsquall
said on 1/Sep/11
Almost 5"8(173 cm) about (5"7.75')172 cm tall.
maroonlighting
said on 19/Aug/11
in a rolling stone interview it has said he is five ten. and my mother is five ten and when we saw gerard my mother was the same height. as for frank he may be five eight because in pictures of frank and gerard he is at least two inches shorter.
katy says yes
said on 22/Jun/11
I actually agree with Belle...I will believe what I want and you can believe what you want. This is a bit ridiculous.
Belle
said on 21/Jun/11
You guys are fighting about whether he's 5'7 or 5'9? Seriously?! Let's just say he's somewhere around that height or settle on 5'8 or something. Seriously, no need to fight about it.
katy says yes
said on 2/Jun/11
Actually, I met him just this last weekend (Saturday, May 28, 2011) and he stood about 4 1/2 or 5 inches taller than me. I'm 5'4", so that means he must be about 5'9"
T.J.
said on 26/Apr/11
Maybe a strong 5'7" or 5'8"
terrible posture.
Not 5'9" though.
amyyy
said on 21/Apr/11
erm..can i just say? why does it even matter how tall they all are? :')
6'2 dude
said on 15/Apr/11
um...really i thought Gerard stands at 5'8-5'9 but how come there r even claims of him standing at 5'7 ?? at most i'd say 5'9 n at least barefoot, hes 5'8, nuf said i guess
T.J.
said on 10/Mar/11
Well anonymous, driver's licenses arent always accurate.
they state the information that the driver provides (obviously lol)
For some reason, most people have no clue what their height is or inflate it..it's strange...I've almost never seen a license with an accurate height on it.
leylah breanna masters
said on 16/Feb/11
lnxz is about 5ft 3 in and weres heels allday so he must be about 5 ft 7 in
Anonymous
said on 15/Jan/11
there was a leak of his driving license or something that said 5'9
Click Here
TheBiggestFan
said on 5/Dec/10
Frank Iero is 5'4".
In an interview, Gerard Way said that He was 5'8."
However, Frankie has made jokes saying that he was only 4'11".
ACG
said on 1/Dec/10
Maybe you confused someone else for Frank?
Anonymous
said on 12/Nov/10
maybe i'm an idiot but i saw a show and as they walked out the door past me. i'm sure frank was definitely taller than gerard...no i was not drunk but i may have been a bit dazed. his head was definitely higher than mine. i'm 4'11" if that helps lolz.
Dudeguy
said on 1/Nov/10
Think about it logically Gerard looks around 5'7 when he is standing casually yet people say he is slouching making him around 5'9 when he stands straight, but that can't be true because whenever you look at a picture of the band together no matter where he is standing he isn't much taller then Frank iero who is 5'4 and he is around the same height as his brother mikey way who is around 5'6 5'7 which means the people claiming that Harare is around 5'7 are probably right
Caty
said on 29/Jun/09
Wait... He was about as tall as me when I met him and I'm 5'9. WTF?
Jen
said on 12/Jun/09
Gerard is about 5'9". And the person who asked about Jimmy Urine, he's about 6'
Steven
said on 14/Apr/09
Rob or whoever, can you upgrade his height to 5'9"?
Sam
said on 2/Apr/09
hey lizz, ever look at their footwear? i think gerard's like 5'8, mikey 5'9 frank iero like 5'4, bob 5'10 and ray looks pretty tall, i'd say 6'1
T.J.
said on 28/Mar/09
I did research all i could on there heights.
I gathered that Frankie is 5'4"
Gerard is 5'8" Ray is 5'10" Mikey is 5'9.5" and Bob is 5'10"
In all the concert and interview footage, Ray has no more than 2 inches on gerard. I've heard 5'10" and 6'2" claims. So Arikado, I think ur the one who's mistaken
Lizz
said on 23/Mar/09
gerard way is about 5'9, really. i know im 5'7 and he was about two inches taller than me when i met him. ray is 6'1, mikey is about 5'10 1/2, frank is about 5'6, bob is about 5'7, ive met them all.
Arikado
said on 24/Feb/09
No you're the one who's wrong T.J. Ray is 6'1.
Is 185 cm 5"8 ?
go research their heights again.
Correcting me even when you're the one who's wrong.
T.J.
said on 21/Feb/09
Ray Toro is not 6'1 arikado, he is officially listed as 5'10, and so is Mikey.
Gerard is officially listed as 5'8" This site got this one wrong.
Arikado
said on 21/Dec/08
i like my chemical romance.
Gerard Way -5"7.75
Frank Iero- 4'9 (no way) 5'4
Bob Bryar- 5'10
Mikey Way- 5'9.5
Ray Toro -6'1
T.J.
said on 16/Dec/08
my friend, the absolute biggest my chem fan ever, who ran it into the ground for me, found an artical in a guitar magizine that says his official height is 5'8". He showed me because I told him I thought Gerard Way was my height, 5'9"
ACG
said on 12/Dec/08
i find it hard to believe that a person of his status would claim 5'7" when he's really 5'9". possible, I guess.....
Camille Way
said on 22/Nov/08
I've seen them live already, and Gee's height is the same with my da, whose 5'9".
Stan
said on 11/Nov/08
i met him
he's definatly 5'9 when he staightens out
??
said on 29/Oct/08
i'd say 172 cm...
Anonymous
said on 16/Oct/08
Sasha, thank you, I agree completely.
sasha
said on 24/Sep/08
i think gerard is about 5'8
i met bert mccracken after toc and i'm 5'6 and he was about an inch taller than me and he's about an inch shorter than gerard.
Kate
said on 22/Sep/08
i think the mugshot photos you're talking about were taken at angels and kings (pete wentz's nightclub). the height chart is supposedly wildly inaccurate.
Steven
said on 4/Sep/08
LMAO, sidewinder, that's a lie. Mikey is a legit 5'10", and Gerard is taller than 5'7, I'd say 5'8" would be very accurate.
sidewinder
said on 19/Aug/08
his brother mikey is no more than 5'6 according to the mugshot pictures taken at some event. There are 4 or 5 pictures floating around showing him up against a height chart and he's barely over 5'5"
FrankieAnn
said on 9/Jul/08
Gerard Way is about 5'7, but no taller than 5'9. His wife was exactly my height when I met her (5'6 1/2), and she seemed to be his height when they stood next to eachother. But either way he's not very tall.
Samantha
said on 2/Jul/08
Brent: "his wife is married to Gerard"?
You're KIDDING ME right??! Please re-read that sentence. I almost wet myself laughing.
On topic - Gerard is around 5'7". I met him once, and we were the EXACT same height. We were both wearing converse as well, so you can't blame it on that.
brent
said on 29/Jun/08
I hope my comment doesnt go to off topic, but does anyone know jimmy urines height? his wife is married to Gerard, annd he makes fun of shorter people, but when I saw him he looked about 5-9 at most thanks.
Johnny Thunder
said on 27/May/08
what the hell Dishwalla? Gerard Way is NOT the lead singer for FOqueers.. he is the lead singer of MY CHEMICAL ROMANCE.. plays with his brother Mikey Way, dumbass.. and gerard is 5'7.. i know.. i know him personally
Dishwalla
said on 23/Apr/08
I think small person are more attractive than giants, specialy when giants looks monster, they are too creepy... tom cruise, gerard way lead singer of FOB and me are cool.. thats my only comment.. so dont be mad if youre 6'0 or above, because its only for me
Dena
said on 3/Apr/08
To me, Gerard looks around 5'8. Although, as he has stated himself, he appears alot shorter due to hunching his shoulder. I have a friend on a small frame who is half an inch shorter than me yet looks two inches shorter than me thanks to bad posture.
brother_h
said on 20/Mar/08
nopr ray toro is 5'10 or 5'9. he was alot shorter than me back then. and i think i may have gotten the heights wrong because im doing that alot now. people who i thought were 5'10 actually told me they were 5'6 haha.
ACG
said on 25/Feb/08
lying about one's height on a driver's license is a very common practice. you can write anything you want as your height as long as it isn't completely ridiculous.
Linda
said on 22/Feb/08
Gerards driving license says he's 5'09".
ACG
said on 16/Feb/08
frank is only marginally shorter than gerard in many pics/vids. there's barely any height difference between them, despite common misconception. it was funny how gee made fun of frank for his height on the making of helena video when in reality he's only fractionally taller!
Emily
said on 16/Feb/08
I've met all the guys...I'm 5'8", and I could look Gerard in the eye. Mikey was pretty much the same, give or take an inch...Bob was a little taller than me, Ray was a half-head taller than me, and I was a half-head taller than Frank...that man is seriously short...but amazing.
HaydenC fan
said on 9/Feb/08
brother_h, you mean Ray Toro? Yep he is the tallest, but 6'.
And the smallest is (hmm) Frank Iero, claiming to be 5'4 only.
Gerard Way looks only 5'7"... (very right here)
ACG
said on 28/Jan/08
Yes, I believe Gerard is no more than 5'6. I heard a 5'9 guy remark about how short he was.
brother_h
said on 28/Jan/08
ive seen MCR up close and FOB upclose.
i was 6'1 at the time i met them, and i was like the tallest guy in both shows.
the tallest out of fall out boy was the one with the big nose and afro. i think he was like 5'9 or 5'10
tallest on MCR was the guy with the afro i think, it was easy to measure upto him coz he had his hair in a ponytail. his hair came under my eyes. so 5'8?
the smallest on FOB were the lead singer and the emo looking guy. i think they were 5'3 and 5'4, considering both came upto my chest.
shortest on MCR was the lead singer from the looks of it, i didnt see all the band memeber. but he looked about 5'7 or 5'6. he was under my nose.
HaydenC fan
said on 26/Jan/08
Wait, he carried 200 lbs on 5'8"?
BTW he looks like the average American male height.
acg
said on 18/Jan/08
frank has said he is 5'4.
Becky
said on 15/Jan/08
on the pics ive seen frank is about 1 inch smaller than mikey and mikey is sumwhere near 5'8 frank is 5'6 ot 5'7 defo
Clinton
said on 11/Jan/08
how tall is geoff rickly from Thursday please?
I can't find his height.
julia
said on 3/Dec/07
i thought he was taller, coz people say pete wentz is short, and he's 169cm... and people say gerard is tall, so work that one out.... omgz im nearly as tall as gerard XD!!!
i saw MCR a few days ago at ther concert, and gerard looks wayyyyyy taller
allana
said on 15/Nov/07
i met him at brixton academy like two years ago and he was shorter than cause i'm 5'9 so i'm guessing 5'7 and i've met bert from the used on the taste of chaos who's about the same as Gerard. and frank is seriously short, but cool.
acg
said on 16/Oct/07
@jamie: as "that guy from the used" you mean bert mccraken? i always saw gee and him as about the same height.
tho gerard is definitely taller than frank iero.
Anonymous
said on 24/Sep/07
on the official MCR DVD Frank Iero said that he was 5' 4" tall.
Jon Doe
said on 18/Sep/07
If he said he was 5'7 then that should be the cut off height for him.He's taller than Frankie and that guy from The Used too.
jamie guerrera
said on 18/Aug/07
mmm. i love gee and frank. how tall is frank? 5'4"? cause if he is.. i'm like.. 2inches shorter than him and im 14. plus, i have so much in common with frank its crazy. just ask me.. scared of spiders, some small spaces, ima vegan, incredibally short, fits in lockers, gets injured a ton.. yeaz. theres a ton of stuff we have in common. xD
Bombay Rocker
said on 11/Aug/07
I think he is a legit 171- 172, he just has a short body overall and plus he hunches so much.....but MCR is awesome....one of my favourite bands ever...love how they covered Underpressure with the used.
Jon Doe
said on 3/Aug/07
Bert McCracken? I suppose that guy is 5'6,he's a little shorter than Gerad Way in some concert thing I seen on youtube.com and an inch or two taller than Frankie Iero.Wish I could find that concert video for ya but I'm lazy.I usually just plane out ****ing hate emo bands and all the hype about them but I actually somewhat like My Chemical Romance's songs.You just can't put Gerade Way at any taller than 5'7 though,he claimed that height and he looks it,any time you see em in interviews the male interviews usually have a couple inches on them.And Frankie Iero aint any taller than 5'5 coz he can fit in a school locker,a regular sized school locker like I can lol.
Screamo-boy777
said on 30/Jul/07
How tall is Bert McCracken from The Used? Anyone ???
Jon Doe
said on 22/Jul/07
He's just one of those solid 5'7 guys that can look taller I've seen guys at school like this... girls never look at them and call them "short" coz when you're that height it depends on your posture really if people are gonna be considered short or not.This guy even said he was 5'7 so thats the cutoff mark and he aint any taller than that.Frankie Iero said he's 5'5 in some interview and I'm not sure if i beleive him but he does look very close to my height and he's not any shorter than 5'4 and I can tell that for sure.
Eclipse
said on 19/Jun/07
There is no way he's as tall as 5-9, believe me. I don't think he's 5-7 either. From what I remember, 5-8 is what I would call him.
Lady Vertebrae
said on 12/Jun/07
Gerard's 5'9". Take a look at him in comparison to Frank, who's 5'5". You'll see it. He's also just a few inches shorter than Ray, who's 6'1".
Eclipse
said on 24/May/07
I went to high school with Gerard. Solid 5-8.
Ally
said on 18/May/07
I think Gee's about 5'7 because i know that Mikey is 5'9 and Bob's 5'8. Gee's shorter than Bob, Mikey, and Ray.
Evelyn Way
said on 28/Apr/07
Gerard's 5'8". He's the same height as Johnny Depp, who is an inch shorter than my sister. I am the same height as Frank, 5'4". There you go!!
alicia
said on 6/Apr/07
frank's 5'4", he's the shortest in the band.., gee's 5'8", kinda short, but it's just right..,
Mir
said on 1/Apr/07
So he's 5' 7''.
My first view is, he was 5'11''
Nuts! He's great.
I like his hair.
§Ryana§
said on 24/Mar/07
I dont know why, but whenever Gerard is wearing his bullet proof jacket he hunches. so instead of lookin 5`8 he looks around about Frank Iero's height which is 5`6. PS stillluvhimthough!
xomcrluvr
said on 24/Mar/07
okay. my friend is 5'10. She took a picture with him and he is 1 inch shorter than her.. There you go.=]
Smnta
said on 23/Mar/07
People keep saying, does height matter? You're on this page, so yes.
However, if you believe in evolution and all that, humans have a natural disposition towards taller people. Genetics and all of that.
But Gee and Frank are still "champs".
Me
said on 17/Mar/07
well he did a photoshoot in Kerrang with Ian Watkins from the lostprophets who is approx 5ft10-11 and he is about 2 or 3 inches smaller than him when they r back to back so 5ft7-8 is correct!
Anonymous
said on 16/Mar/07
They're all small guys. My roommate met Gerard at Warped Tour and got a photo. My roomie is 5'11", just under 6 feet and is a half a head taller than Gerard. I'd peg him around 5'6" or 7" which clocks Frank in at about 5'3" or 4" in shoes.
mark
said on 11/Mar/07
Frank is defiently 5'4.. although Gerard looks taller on stage he wouldnt be taller than 5'7-5'8. I wouldnt care if he was 4 ft nothing he'd still be a champion.
sianna
said on 8/Mar/07
the pic url is too big to put on, but if you go to buzznet.com and put in gerard and mikey way, all these pics come up...obviously lolz...but you can see that gerard is about an inch taller than mikey, who is 5'10
adriane
said on 3/Mar/07
dude, i agree who acctually cares how tall they are, your like stalking him. URG, some people are just anoying
blage*
said on 1/Mar/07
the look of gerard and frank lero is very cool i loved he's
sianna
said on 27/Feb/07
his license says 5'9..and im pretty sure that it would be right...and he does have bad posture which makes him look about 1-2 inches shorter...
gemma
said on 25/Feb/07
who cares what height they are, thats just weird omg!
Bella
said on 23/Feb/07
If Gerard says his height is 5 foot and 7 inches then chances are Gerard is 5 foot and 7 inches. and frank is apparently five foot and 4 inches. Does height actualy seriously matter????
Ericka
said on 21/Feb/07
I thought Gerard was 6/7 or something he is alot bigger than 5/7 because my friend mike is 5/10 and well Gerard makes avrage grown men look 3 feet tall. And frankie well I'm even taller than him. He's 5/4 no? It's sad that I'm 13 and taller than frankie. I think I've said enough. <3
ggluvva4life
said on 17/Feb/07
the one n only gerard way measures 5'8" which he has told people a million times so i hope its settled n y argue over his height anyway wen u cud argue over his talent or his band which r the main thing he mite be the hottest thing goin but thats not the most important fing in da world u shud all talk about his music coz that is wot matters to him most
A7xfan
said on 17/Feb/07
I always thought he is about 5ft 8, as Mikey is around 2 inches taller than him and he's meant to be about 5ft 9/10
§Ryana§
said on 16/Feb/07
I think Gerard is about 5`8 cos he definitely taller than frank who is about 5`6. P.S iluvgerardway!
emo annie
said on 15/Feb/07
ahhhh, that is so sweet, he is so small, but i still love him. emo annie.xxxxxx.
mcrluvr.
said on 8/Feb/07
i know someone who is 5'9, saw gerard, TOOK A PICTURE WITH HIM, and gerard is 1 inch shorter. So he is around 5'7-5'8
mcrluvr.
said on 5/Feb/07
no its not fake, I got it off a fansite. And I HIGHLY doubt its fake
mcr rulz the world
said on 5/Feb/07
apparently the pic that dee supplys is fake!
gerardluvr
said on 3/Feb/07
On Gerards licence it says hes 5'9" so this info is wrong
mcrluvr.
said on 31/Jan/07
actually nvm, on gerards license its 5'9. So im gonna go with that.
Teresa
said on 30/Jan/07
I just watched the MCR dvd with the making of Helena. Frank actually said he was 5'9. He's way taller than that. I've read that he was 5'4 and Gerard 5'6.
admjg8
said on 22/Jan/07
mcr always-[sarcasm]yeah and celebs NEVER lie about their height! [/end sarcasm]
mcr always
said on 22/Jan/07
listen up bitches! in the makij of the helena....franked JOKED he was 4 whatever....in a magazine, he said so...hes really 5'4./ and gerard...well, hes 5'7 cuz of that interview in the mag. so thats that deal!
Maléne
said on 20/Jan/07
How much will that be in cm,MCR?
AutumnEMOTHHUNKER
said on 15/Jan/07
Gerard is 5'6 and Frank is 5'5 i met them not that long ago and i asked them and the said that they are that tall and by looking at them in person you can tell they are that tall.
MCR
said on 11/Jan/07
mcrfreak4eva: you can clearly see that Gerard is leaning against the table behind.. hes not that short. and yes he tends to hunch his shoulders, which is probably why alot of people who have met him thinks that hes way shorter than he actually is.. and theres no way Frank is 4'11 hes only joking when saying it in "the making of whatever.. what most sources says is that Gerard is 5'7 - he has said it himself. and when looking at photos of MCR, Frank is probably and inch or two shorter than gerard.... The End.
juliaMCRfREAK
said on 9/Jan/07
i agree. like he is 4'11. but i think gerard is about 5'7 though... frank is probably about 5'5..
DukeNukem
said on 5/Jan/07
Frank is NOT i repeat is NOT for the last time 4'11. come on, guys there's no way he could be that short without standing out like a sore thumb! he joked about being around that short height in one of the "making of" vids but he is actually 5'6-5'7 if many estimates can be believed. this puts gerard at a least 5'8-5'9.
hope this straightens things up.
Ana
said on 5/Jan/07
I met Gerard And He Told Me He Is 5'6 Not 5'7. I have a pic but my computer won't let me put it on there And It Sucks Cause i wanna Show You!
nikki [again]
said on 4/Jan/07
okay. its actually that frank says that he doesnt even have to hold the coffin in th Helena Video, while evry1 else does.
Nikki
said on 4/Jan/07
yaa. i was watching my LiFE ON THE URDER SCENE videos(the making of whatver) and i was watching the one about Helena. Frank was like," i am the shortest of them so its hard for a guy who's 4'11" to carry a coffin with other tall guys."
yeah thats not exact but i am SURE he is 4'11".
NOT 5'6".
&&gerardisjusthott.
admjg8
said on 2/Jan/07
bentleigh: in the making of helena frank actually says he is only about FOUR foot nine!!! but i'm sure he is exaggerating his shortness! in reality he stands about 5'3-5'4
bentleigh
said on 1/Jan/07
ok guys GET IT RIGHT!! On the behind the scenes of the making of Helena Frank said he was only about 5"9!!
Homie
said on 31/Dec/06
It's kind of hard to tell Gerard's real height because I have noticed that he hunches his shoulders a lot, especially when he wears his bulletproof vest it's very noticeable.
random person
said on 25/Dec/06
um,i'm 5'8" and when i met them gerard was about an inch shorter than me and i towered over frank i think he's like only 5'3" soo...idk
Brie Way
said on 19/Dec/06
Uhm, i'm gerard's cuzin Yeah, he is 5' 7". I think i'd know best! I see him like, everyother week!
Anonymous
said on 17/Dec/06
i would say about 5'7 hes only slightly taller than frank wheni met them, and about the same height as my mum...
Talie xoxo
xxninja_fairyxx
said on 15/Dec/06
actually gerard is 5"8 and frank is 5"6 and a half. coz im 5"6 and frank was the same hieght as me practicly wen i met him and gerard. gerard was the same hieght as my bf who like 5"8. lol. and in the helena video if you watch one of the interviews it actually ses that frank was infact too short to carry the coffin so the oothers had to carry it and frank pretened. it was edited to make it look like frank was carrying it..but rele he wasnt. soz im a complete mcr freak (ive seen them over 30 times in the last 3 years or so and have met them like 15 times) so i know all this random s***. lol.
lots of love from me [x][x][x][x]
p.s gerard's the hottest guy on earth even with the blonde hair (it makes him look cute n you can see his pretty eyes better lol.) franks the 2nd hottest guy lol.
admjg8
said on 4/Dec/06
uhhh....no. frank is 5'4 and gerard is 5'5-5'6 at best. in some shots, frankie actually looks taller than gerard!(though he isn't)
xgothica666x
said on 4/Dec/06
gerard isalot taller than frank.frank is 4'11'' and gerard is 5'8'' and in the making of helena you can see that frank barely has the coffin but gerard has a good grip on it.and he doesnt have a hunchback, its just on some pictures that make him look like it... gerard is PERFECT and thats what i think
-the biggest my chem fan-
Albino_Kid
said on 21/Nov/06
To be honest, I think he's only a little bit taller than Frank. And as we all know, Frank is very small. If you watch The Making Of Helena, Frank can hardly touch the coffin and Gerard has only got the very edge of it. So there you go.
Skittles
said on 20/Nov/06
My proposal(This is stupid) to his real height is that it rests at that he's around 5'8" to 5'9". He does look shorter in most of the pictures he takes but it appears that he tends to kind of walk in a way like a hunchback way if you ever seen him walk or stand, I have a picture where he is slouching while looking upon the ocean at some random beach, proof postive to the fact he slouches and at which points makes him look ridicusly short when really he isn't.
Mcr know it all
said on 19/Nov/06
Gerard was asked in a intaview in kerrang how tall he is n how tall ppl throt he was and he replied "I'm 5'7 but ppl think im about 5'5"
queen of MCR
said on 9/Nov/06
I'm glad there's tall stars i'm 5'6 and couldn't be happier
NNl
said on 2/Nov/06
I met Gerard about a year ago. He is taller than Frank, but is definitely not 5'8. I am about 5'7" and he was most definitely between 5'6" and 5'&". Actually I met him on the same day as this girl alley. Frank is most definitely short, and not taller than Gerard. without a doubt.
vS
said on 30/Oct/06
isnt like frank like 5"4 and in the picture gerard is probably 5"6. you know shoes often add 1 or 2 inches
ACG
said on 14/Aug/06
Weird, what kind of shoes were you/he wearing? I've read from many sighting that Gerard is well under 5'8." And the driver's license was confirmed to be fake on several different factors, one of them being the inaccuaracy of height. In the discussion I saw, the person who had seen him was 5'8 and said Gerard was a good 2" shorter. In another forum someone said he was 5'6 and Gerard was very slightly shorter. Finally someone who met him on a MCR fan board said that it was cute that Gerard was about the same height as her (5'4-5'5) and didn't look like Michael Jackson in person ;-). She also scanned a 5 dollar bill she had signed by Gerard.
AND Frank is definetely only 5'4 at best he is listed at that height everywhere and sure looks it.
I think we need more input. Are you listening Glenn?
alley
said on 13/Aug/06
hes the nicest guy you'll ever meet. i met him october 13th(in 2005) in the meet and greet. Hes really quiet and soft spoken believe it or not. Unfortunatly i couldn't get a picture with him. But i did hug him. I'm about 5'5 he was a good 3 or 4 inches taller then me. Frank might be taller then we think. He's probally about 5'6
Anonymous
said on 6/Aug/06
according to his driver's license that got leaked on the wed, gerard is 5'9"
ACG
said on 7/Jun/06
the guitarist frank is only 5'4
here is a pic with him and gerard (gerard is on the right)
i'd give gerard 5'6 at best
Click Here
Anonymous
said on 7/Jun/06
Frank Iero is known to be 5'4-5'6 and Gerard doesn't looker taller in a lot of pictures.