Henry Cooper's Height
6ft 1 ½ (186.7 cm)
British Heavyweight Boxer. His stats when he was in his prime were listed as
"Height: 6ft 1.5, Weight 190lbs, Reach 75 inches, Chest 42in, Neck 17.5 inches, Waist 34 inches, Biceps 15 inches, Thigh 23 inches, Fist 13.5 inches, Wrist 8 inches, Forearm 12 inches, Calf 16 inches and Ankle 10 inches."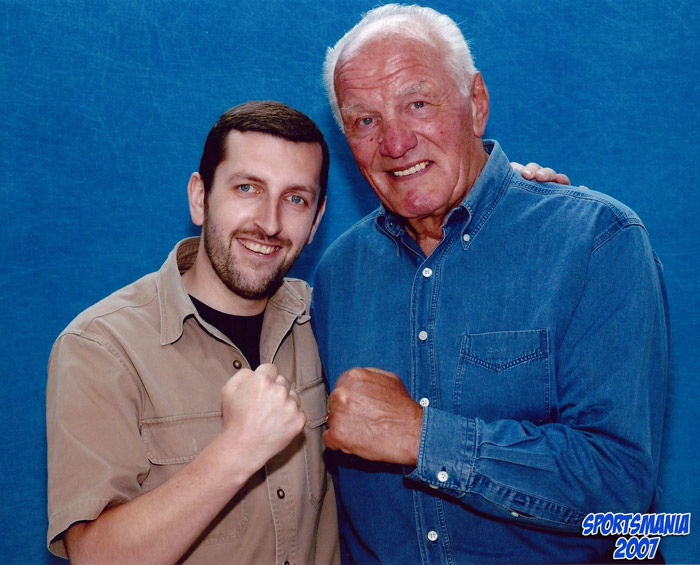 5ft 8 Rob and Henry @ Sportsmania, 2007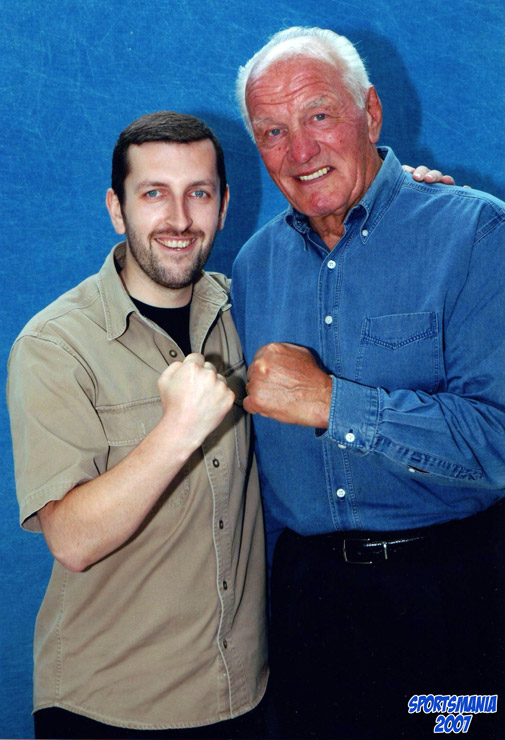 Henry Cooper (1934 - 2011)
You May Be Interested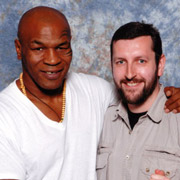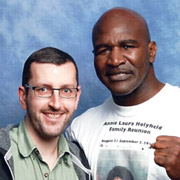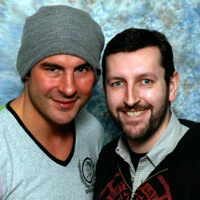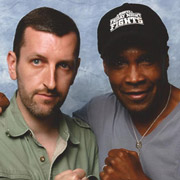 Add a Comment
40 comments
Average Guess (8 Votes)
6ft 1.34in (186.3cm)
Rampage(-_-_-)Clover
said on 6/Jan/21
Rob, maybe the original 6ft1¾ is better?
Still looked a decent 6ft1 when you met him. There was really not much between him and Ali like less than an inch. Not much between him and Joe Bugner either in their bout, 2in tops maybe
Miss Sandy Cowell
said on 28/Nov/20
I'm watching Henry playing darts on an old edition of 'Bullseye'. I don't usually watch the programme because I can't tolerate the stupid background voice! 😩🙉
I have no idea how tall the late Jim Bowen was, but Henry looks far taller. Jim was probably around 5ft8.
I enjoyed this rare opportunity to catch Henry on TV, all happy and festive.
6ft1.5
🎯🐂🥊🎄🎅
Miss Sandy Cowell
said on 30/Jul/20
Oh dear...
I didn't realize Henry had passed on.
RIP Henry XXX 🕯️
Miss Sandy Cowell
said on 30/Jul/20
I never knew Henry is THAT tall, but then I rarely watch boxing, apart from when I want to have a laugh with my Dad. Yes, we've been in hysterics before!
Henry gets 6ft1.5. 🥊🥊📺😂🤣
Canson
said on 23/Apr/20
@Jordan87: I agree with what you said
Jordan87
said on 5/Feb/20
@ Movie Guy,
Cooper is still easily over 6'1" at age 72 ( His age during Rob's Picture). I always thought Ali looked no more than an Inch Taller then Cooper. Figure cooper was a good 6'1.5" in his Prime.
Ali I would put between 6'2 and 6'2.5. , Never over.
Your right about Tyson Fury. I'd Say 6'7.5 is his max height.
movieguy12
said on 28/Nov/18
I think Cooper gave Ali as 6'3.5'' which seems odd. Nowadays Ali is usually considered about 6'2'' or just over. Cooper would seem to be a good judge being a tall man himself and having met Ali in the ring and outside I guess. Angelo Dundee Ali's trainer has also given different heights for Ali stating 6'4'' but on another occasion saying the champ wasn't that tall at 6'2''. I think Cooper claimed 6'2'' for himself and does still look a big guy in the photo with Rob although quite elderly at this point. I've also read an article in which the writer put Cooper at about 6ft in his prime saying he was too small for a heavyweight even in those days. Sports heights seem to be all over the place. You'd think if anyone would have an accurate height it would be an athlete as I'd imagine they have easy access to health checks, medicals etc. Rocky Marciano was typically given as just under 6ft or thereabouts but was probably shorter, one writer described him as being 5'9'' if stretched on a rack. Mike Tyson was given as 5'11.5'' in his fighting days but says he is 5'10''. A modern example is Tyson Fury who claims 6'9'' but is probably an inch or two under this.
Tall In The Saddle
said on 7/Apr/18
Rob - lucky man to have met him. Cooper appeared to have some fair sized mitts on him.
I only linked the Daily Mail article for the Tale of the Tape - interestingly just one year later the orig. Tale of the Tape for Clay v Liston downgraded Cassius to 6'2.5".
I actually just read the Daily Mail article and it's excellent. Particularly for the fact that they put paid to the long perpetuated myth that there was between 3-5 minutes delay between rounds 4 and 5 after the knockdown. It was established years ago that there was only 6 seconds delay before the start of round 5 - Ali's torn glove may or may not have been caused his corner man Angelo Dundee, worsening an existing tear with his pinky but in the end the glove wasn't actually replaced - so the still torn glove wouldn't have helped an already cut Cooper and even though only 6 seconds delay - when you're in a world of hurt as Cassius was, sometimes it can make all the difference. Ali was also lucky that the ropes incrementally broke his fall and that he was knocked down right at the end of the round.
Over the years, both Cooper and Dundee used to talk up the delay between rounds. I don't think Cooper was making excuses - it simply made for a great yarn and Henry related it in good humour. As to Dundee, I'd say he exaggerated the delay to promote himself as a savvy corner man who bought his fighter crucial extra time.

Editor Rob
Yeah, a mutually beneficial exaggeration I'd say.
Tall In The Saddle
said on 6/Apr/18
Accepting prime Ali at no less than 6'2.5" I would not put 'Enry below 6'2" and would probably place him closer to 6'2.5" if not bang on that mark himself.
In action in the ring Ali gained at least 1" extra illusory advantage over his opposition - because Ali always fought "tall" in so far as his posture was always upright and Ali was constantly up on his toes bouncing. There a lots of photos of Ali and Cooper outside the ring standing in close and while it might surprise there is in fact little if nothing to choose between their heights imo. Henry only carried about 192 lbs (13st 10lbs) into the ring but otherwise he was a big framed man. Cooper was an awkward and dangerous opponent for Ali (great left hooks were kryptonite to Ali) and if not for cuts, I believe he would've gone the distance every time with Ali - despite getting hit flush time and again when blinded with his own blood Cooper did not stagger or appear badly hurt at any time. Ali knew this and that is why he always afforded Coop some much respect as a fighter. Ali also appreciated Coop for the consummate and respectful gentleman that he was (see This is your Life for both Ali and Cooper respectively in which their mutual respect for each other is well advertised).
Here's a link to the orig. tale of the tape -
Click Here

Editor Rob
For one fight in 1966 Cooper was 191 and 1/4 pounds...for a 1962 fight he weighed in at 189 pounds against Wayne Bethea

In person he was still a tall guy, but I believe the almost 6ft 2 fits him. Not a guy who lost that much height, a straight-backed fella who looked taller than most 6ft 1 guys who stood beside Malcolm the photographer!
Rampage(-_-_-)Clover
said on 28/Dec/17
I've read 6ft up to 6ft3 for this guy so honestly this is probably the most reasonable mark for him...even though he could pull off 6ft2
Rampage(-_-_-)Clover
said on 2/Jul/17
I think the 6ft1¾ listing was fairer. Right between the two most commonly reported heights
berta
said on 8/Feb/17
this guy looks like he didtn loose any height before his death? in the photo he looks barely 187 like he was maybe 186. cool to see that guys that reach 80 dont loose anything in height. i mean if you look at the photo and new his age then most would probably have guessed him at 6 foot 3 ore little over at peak. this guy went from being 2 and a half inch shorter than clint eastwood ( if that is true) to being 1inch taller. at about the same age
movieguy
said on 6/Sep/16
I remember reading an article that said his big problem with beating the top heavyweights was that he was too small at about 6ft. He does look more than that in the photo with Rob though.
Rampage(-_-_-)Clover
said on 27/Aug/16
If he was 6ft1 range in his 70's then I don't see how he could not have been a full 6ft2 in his prime…
Rory
said on 25/Aug/16
He looks 6'1-1.5 in that pic with Rob in I'm guessing his mid seventies, based on that I'd say 6'2 range peak is very believable.
Rampage(-_-_-)Clover
said on 13/May/15
About 1in below Ali who I reckon was a weak 6ft3
Rampage(-_-_-)Clover
said on 11/Jan/15
Rob, is this his peak height or did he still look when you met him?
[Editor Rob: since he's passed he's at his peak, a height he was described in his day. He still looked 6ft 1 when I'd seen him.]
Arch Stanton
said on 10/Oct/14
He looks quite a lot like Jason Statham's dad
Click Here
Looks about as cockney as you can get!
chris
said on 15/Aug/14
He walked past me at a celebrity golf match, I would say 6'2.
Dracula
said on 28/Mar/14
I remember noticing a very tall, stocky gentleman standing in front of me in the local high street store circa 1994. It was only when he turned to leave that I realised it was indeed Henry Cooper. I was and still am 5'10 and he must've been at least 6'3.
Rampage(-_-_-)Clover
said on 14/May/11
Is he dead? wasn't aware. RIP
Ivan
said on 2/May/11
R.I.P Sir Henry
Anonymous
said on 9/Apr/09
I met Henry at the same black tie bash as johnathan Ross, Henry is 6'2, i asked him and he confirmed he is still 6'2 and i think he is correct.
Hugh
said on 17/Jan/09
So maybe 6ft2?
Lenad
said on 28/Dec/08
Up straight a solid 187cm if not a bit more.
Hugh
said on 27/Aug/08
He may still be 6ft2.
Hugh
said on 23/Mar/08
Leo, Your right about this guy being a tank, look at the size of his hands and shoulders.
Hugh
said on 29/Feb/08
I'd give him a full 6ft2. Ali was a solid 6ft3 at his peak. He looks no more than an inch shorter in that match.
Leo
said on 7/Feb/08
He still looks like a tank!
Anon
said on 2/Feb/08
Ali vs. Cooper, Ali looks a bit taller...
Click Here
Anonymous
said on 2/Feb/08
Looks tall but surprisingly his peak fighting weight was about 13 1/2 stone. Very light even by the standards of the 60s when heavyweights weren't the monsters they later became. I think that Ali was about 6'3'' when young. OK he's smaller now but he's older and has a stoop.
anonymous
said on 1/Feb/08
was about a half inch to an inch shorter than ali. 6`2ish seems pretty dead on.
Danny
said on 1/Feb/08
He still looks like solid 6'1, maybe 6'1.5... Listing looks accurate
zzz
said on 1/Feb/08
6'2..he was an inch shorter than ali in their fight..
miko
said on 31/Jan/08
Rob why do most of your photos have a blue background?
[Editor Rob: they are photoshoots]
Anonymous
said on 30/Jan/08
he looks like 6'0.5-6'1. maybe 6'2 when he was younger.
dmeyer
said on 30/Jan/08
steel looks 187 cm with you rob
[Editor Rob: he's 184cm in that pic but definitely losing 2-3cm with posture, he did look still quite tall]
TJ
said on 30/Jan/08
In the 90s, he described himself as 6'2, but he was referring to his height when boxing. He also said Ali was 6'3.5, which seems too much. Odd though because he fought Ali twice, so you would think he would know if there was only half an inch between them.
miko
said on 30/Jan/08
Probably 6"2 peak and 6"1.5 current or something like that.
AshnarLynx
said on 6/Oct/07
Yeah, on the Tommy Cooper show he looked 6'2.