Holliday Grainger's Height
5ft 2 (157.5 cm)
British actress best known for roles in Jane Eyre, Great Expectations and The Borgias.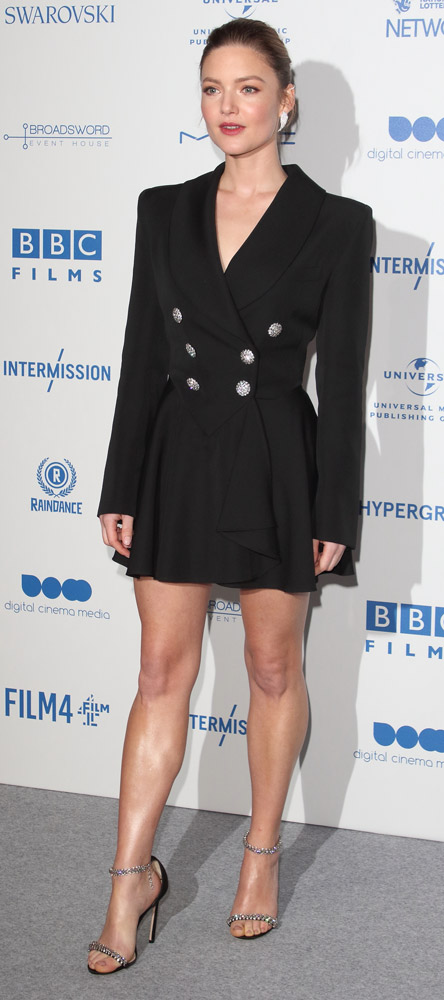 Photos by PR Photos
Add a Comment
9 comments
Average Guess (12 Votes)
5ft 1.88in (157.2cm)
Littlelee5ft6(167cm)
said on 3/Sep/19
Paul clyde Barrow was 5ft 4 not 5ft 6-7 but I agree bonnie was 4ft 11
Paul Wood
said on 29/Mar/19
She was listed as 5ft 1in for a long time all over the internet. I think she might be 5ft 1.5in or 5ft 1.75in (157cm) but not quite the full 5ft 2in. Regarding Sandy's comment, I think Bonnie Parker was 4ft 11in so Holliday Grainger is closer to her height than Faye Dunaway. Clyde Barrow was 5ft 6in or 5ft 7in depending on which site one views.
Sandy Cowell
said on 12/Mar/18
I recently saw Holliday playing the part of Bonnie Parker in a remake of the film 'Bonnie and Clyde'!
My immediate reaction was to say, "Surely this tale is loosely based on fact and as Faye Dunaway was 5ft7, which is the more correct? A 5ft2 Bonnie or a 5ft7 version?"
We have, of course, got to take into account that Emile Hirsh is probably a lot shorter than Warren Beatty, but it still was an irregularity which got my goat! 🐐
I'm going to check Emile's height now! It probably has a lot to do with his being on the short side, thus needing a bonnier sized Bonnie!
But that still doesn't tell us which one was nearer the 'real thing'!
Bah!
This time round, Bonnie, I mean Holliday, can have the full 5ft2!
Gina Costume
said on 9/Sep/17
She is actually 5' 4.5 " as per tv production wardrobe department measurements.
As often, erroneous information on the net.
Editor Rob: that can't be barefoot, but in a costume I'm sure she'd measure around that.
Sandy Cowell
said on 4/Sep/17
I have only seen Holliday in the Tim Burton musical version of 'Sweeney Todd', singing sweetly like a little canary and looking every bit as 'yellow-haired' as a canary is 'yellow-feathered'!
I have seen her in many a TV magazine, so I knew that she had done far more than just the musical; she looks absolutely ideal for the part of 'Jane Eyre', and it would be well worth tracking down a copy to see her in this classic. I see Holliday is also in 'Great Expectations' - I don't have to think too long and hard to imagine which part she plays in it either!
Yes, this delightful young lady definitely leans towards a love for classic literature, which is thoroughly refreshing to see in a youngster of today, not to mention novel! It would have been a novelty even in my day! I bet she had an education whereby they concentrated on the greats of years gone by, from which so much can be learnt about how people lived back in those times.
As for her height, I don't see Holliday being quite as tall as 5ft2, so I will opt for 5ft1.5!
Holly
said on 3/Sep/17
I just watched her in the new series Strike with Tom Burke. In one scene they're walking down the street and she's wearing 3" heels. She barely comes to his shoulders. You have him listed at 5'10.25". I'm not sure she's even 5'1". I suppose he could be wearing lifts.
Anon
said on 5/Aug/16
As some celebs shave a few years off their ages, others add a few inches on to their height. She may telling the truth, while others add a few inches on...
anon
said on 20/Mar/15
5'1 makes no sense!
Shes not much shorter than 5'7 Lily James
She must be wearing massive platforms to get that tall!
Click Here
Click Here
Click Here
hey i know that guy
said on 21/May/13
Rob - I always feel she's a bit taller than 5'1, but actually in bare feet I think that's spot on. Anyone else have the same sense about her, that she seems an inch or two over but isn't? Interesting how some short people have that effect, maybe it's posture or proportion.