Isabelle Adjani's Height
5ft 5 (165.1 cm)
French Actress, best known for roles in films such as Subway, Diabolique, The Tenant, Nosferatu the Vampyre, Possession, The Driver, The Story of Adele H and Camille Claudel. Sometimes in magazines she got described as a 'tall French actress' but as 171ish cm Sophia Marceau once said about her:
"I'm eight years younger, I'm 3 inches taller and I've got boobs."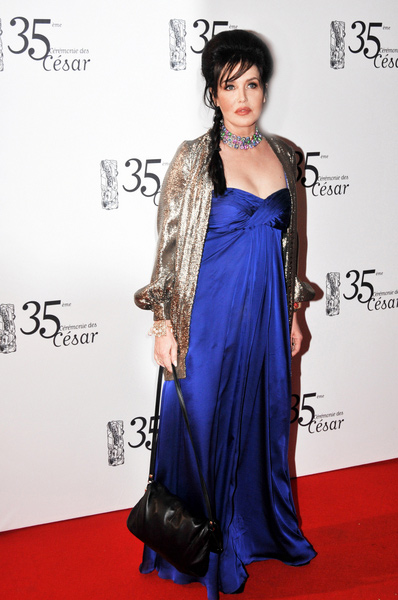 Photos by PR Photos
Add a Comment
11 comments
Average Guess (6 Votes)
5ft 5.29in (165.8cm)
Sandy Cowell
said on 22/Dec/18
I saw Isabelle in the film 'Possession' this afternoon, which I was awaiting eagerly - to see if I'd agree with it being a video nasty. I did!
Isabelle's performance was excellent, but she played the type of cold character I simply couldn't warm to. She played opposite an almost as disturbed young Sam Neill, who isn't likeable either, as he is insanely jealous and beats her.
Sam does indeed tower over her, but at the opening of the film, Isabelle's Anna even wears high heels in the kitchen, but that touch of glamour doesn't last! One scene that makes Anne-Margret's baked bean and mud fantasy seem like a fairy story in Ken Russell's 'Tommy' is a disturbing, writhing insight into her psychotic head which takes place down what seems to be an underground station or subway.
Isabelle's height didn't seem more than 5ft5 in this. I could dig my copy of 'Diabolique' out and compare her to Sharon Stone, and I just might do that come the New Year. She is an interesting actress, there's no escaping that! 🐍🐉😰
stella
said on 9/Sep/18
I'm actually surprised to see her listed as 5'5" b/c she always looked so petite on screen. Maybe b/c of her body shape? I always thought she was around 5'2.
Arch Stanton
said on 23/Dec/16
Rob can you add The Tenant, Nosferatu the Vampyre, Possession, The Driver, The Story of Adele H and Camille Claudel. Insanely beautiful in her prime, but you can just tell she would be a nightmare and the type to have constant tantrums. Andrzej Zulawski called her a "brat" though said she was generally well behaved on the set of Possession.
pierric
said on 14/Jul/13
Click Here
Look at around 27:12. Sharon Stone is barefoot and doesn't looks taller than Adjani. Adjani has around 7 cms of heals, (we can see it at 30:17 during a few seconds)I think 7 cms of heals gives an advantage of about 5 cms, not ? For me Adjani is only 2 inches smaller than Stone. Stone 173, Adjani 168 ???
[Editor Rob: she has other scene further on where it could be both same footwear/none and about 3 inches smaller I thought, but she is very similar in heels to sharon yes]
pierric
said on 14/Jul/13
She's taller than that. My explications : Albert de Monaco looks for me around 181 cms with shoes (if Rafael Nadal is 186 in tennis shoes)
Click Here
Adjani with Albert, looks around 175/176 with high heals. We can estimate an advantage of 9/10 cms when she put this kind of shoes. I think she's around 166 barefoot.
Click Here
Sharon
said on 23/Nov/11
The misconception that she is tall probably has to do with faulty translation of French articles about her. In French the adjective "grand" (feminine="grande") has two meanings: one literal (tall)that would follow the noun and one figurative (great),preceding the noun. So if she was called "une grande attrice," it means she is a great actress...not a tall one.
guyfrommars
said on 23/Jan/11
I must agree with my previous comment. In Subway she wore large heels and still looked at least 3 inches shorter than 5ft10.5 Christopher Lambert. She's 5ft4.
rick
said on 3/May/06
It's strange beacause in Diabolique I's say she looks 6/7 cms smaller than Sharon. Well, Adjani 167 ? Stone 170 ? Hmm
Nolifts81
said on 30/Apr/06
Yes she is 164cm.In the movie Diabolique she looked nearly 4 inches shorter than Sharon Stone. Sharon Stone is 5'8.5.
ricky
said on 3/Oct/05
Next Pierric Rampin,french tv presenter (179),Isabelle Adjani looked 10 cms smaller but with an advantage of around 5 cms by her shoes. She looks really 164.
rick
said on 28/Aug/05
"tall French actress" means "great actress" and she's often listed as 5'4".I'm not sure Sophie Marceau knows the exact height of Isabelle Adjani,and she did a mystake about the age of Isabelle ( there are 11 years of difference between the 2 women). In France we never had informations about Adjani's height althought we can see 5'4" on lot of sites.