Israel Adesanya's Height
6ft 3 (190.5 cm)
Nigerian-born New Zealand professional mixed martial artist and kickboxer who currently fights in the UFC. In 2014 he said on Instagram "I'm 6'3".
You May Be Interested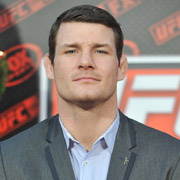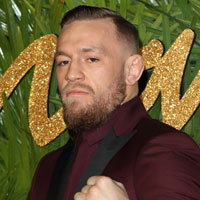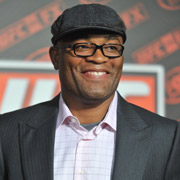 Add a Comment
45 comments
Average Guess (35 Votes)
6ft 2.8in (190cm)
Black Noir
said on 4/Aug/20
I think he's probly 190.3 cm or the same as Chris Hemsworth; I wonder if he still claims 6'3
mkwd
said on 20/Jul/20
Tapout, Glory, Fightclub, MMAJunkie. They all list Issy Adesanya at 188 cm or 6'2.
This is interesting..
Animus
said on 30/May/20
Yoel Romero is around 5'10. Here he is with Adesanya:
Click Here
Clooony
said on 19/May/20
Adesanya is 6'4 and not even a hair less than that
Josh Jeffords
said on 13/Mar/20
Yeah he was listed at like 6 2 back in the day kickboxing and metric equivalent.
I dont believe he was growing then so 6 2 .5 would be my guess.
Funny Ufc slapped 6 4 on him then I saw 6 3 and tapology has him at 6 4 conversely Glory Kickboxing has him at 6 2, 190cm .
ConorFan.
said on 8/Mar/20
Yoel's 175cm tops (shorter 5'9). By bed time he's probably around 5'8 flat. Plus the Olympics put him down as 174cm. Which makes me wonder how tall is Rogan really. I saw an easy 2.5inch between him and Yoel.
ManwithNoName
said on 7/Mar/20
What is your estimate on the height of Adesanya's title challenger Yoel Romero? He is listed at 6 feet by the UFC but I think he may have been listed at 5'10" back in his Olympic wrestling days for the Cuban national team.
Click Here

Editor Rob
He can seem at least 2 inches shorter there (than his ufc listing).
Canson
said on 27/Feb/20
@Big Troy: I would put Carter Williams at about my height 193.5-194 in the afternoon and Adesanya at 6'3 or maybe 190cm Worst case. Here's a comparison with Anthony Joshua. Kobe against MCW was likely taller as his 195 was likely an afternoon height for him
Click Here
Joseph 175
said on 7/Feb/20
Rob UFC 248 face off just finished. What is your guess on Yoel Romero? He is so hard to guess! Looks anywhere from 176-179.
Jkiller
said on 17/Jan/20
Honestly can't see anything below 190cm for Israel. Between 190-190.5cm 100 %.
Big Troy
said on 12/Jan/20
I agree with maa, if Basketball player Michael Carter Williams is 195 cm, I don't think Israel is over 189 cm.
Click Here
Because Michael Carter Williams is shorter than Kobe, he's likely not over 194 maybe 193.5. Israel could easily be 188.5 or 188 cm.
Redwing
said on 18/Dec/19
Click Here
Hi rob what do you think of his height? How tall is Israel?

Editor Rob
Compared to say Anderson Silva and Francis Ngannou, he could look 6ft 2.5 up to 3
Joseph175
said on 24/Nov/19
Rob, what's your guess on Kelvin Gastelum's height? He is listed at 5'9.

Editor Rob
Always seems less than listed height, even 5ft 8 at times is a stretch
Animus
said on 2/Oct/19
I'd love to see a listing for Whitaker. I don't think he's much more than 5'11. He might even be slightly shy of it. (He was listed at 179 cm for one fight in the UFC.) I think Donald Cerrone would be perceptibly taller than him - I peg Cerrone at 181-182cm - especially considering Cowboy often wears big boots.
Big T
said on 1/Oct/19
Adesanya also looks at least 6'3" with 6'6" Paul Pierce.
Guest66
said on 22/Aug/19
A shade under 6'3" flat is probably what he stands at.
maa
said on 19/Jul/19
@Frost
I agree with you, after seeing more of Whittaker I guess he is around 5 ft 11...
Frost
said on 16/Jul/19
Whittaker and Tavares were both listed 5'10.5" but were both bumped to 6'0" for whatever reason. Think tavares might even be listed 6'1".
Click Here
Tavares is the shorter man so the 5'10.5" might be his range and Whittaker something like 5'11" flat. They both do not look 6'0" next to Adesanya.
UFC listings of the past were kind of a joke
maa
said on 9/Jul/19
Hi Rob,
can you please tell me how tall the champ Rob Whittaker is? Billed at 6 ft, in the video he has footwear disadvantage. I believe he is around 5 ft 11.5
Click Here

Editor Rob
I'd have said 5ft 11.5 at most there.
Mew
said on 7/Jul/19
I am curious about Whittaker height .
Robert is definitely taller than yoel Romero who is also listed at 6 ft but I believe he is more like 178. the least I would go for Whittaker might be 5 ft 11 1/2
Big T
said on 5/Jul/19
If Israel is 6'3" or less then Robert Whitaker is definitely under 6'. The height difference in the face off was more than I expected.
Undisputed
said on 20/Apr/19
please add badr hari !!!!!
Guest66
said on 13/Mar/19
Rob, have you seen photos of him and Silva from the weigh-in ? He was barefoot and Silva was wearing pretty chunky flip flops, gaining a solid inch from them, and Israel edged him out by about a fraction at least. In my opinion Israel is 6'2.5" minimum but not quite 6'3" flat, maybe 6'2 3/4 will be the best shout ?

Editor Rob
6ft 2.75 might be the lowest I'd go.
maa
said on 13/Mar/19
@Frost
I STRONGLY disagree with you on Jon Jones/Israel Adesanya comparison. Please look at Jones pic with Silva and similar footwear...Jon is 2.25 in taller...Israel is not even 1 in taller than Silva as the stage proves it ( Adesanya barefoot was very similar to Silva with shoes).
Silva 6 ft 1.25
Adesanya 6 ft 2.25
Jones 6 ft 3.5
Aldo Woodley is a little shorter than Conor, probably TWOOD is a weak 5 ft 8.
Max Halloway is not far off the 5 ft 11 mark, but probably around 5 ft 10.5 as he wears sport shoes with higher heel than usual shoes.
Frost
said on 8/Mar/19
Tbh the way the photo is framed I don't think he really edges him out by much. Conor seems to be standing better as well. I'm of the mindset that Conor is likely below the 5'8.5" mark all things considered so yeah a 5'8 listing works for tyron. They're probably not more than a cm apart.
Guest66
said on 7/Mar/19
@Frost, Tyron himself claimed to be 5'8", McGregor is edging him out.
Frost
said on 6/Mar/19
I believe Dana is 5'10" and not much more.
@maa, if Khabib is indeed 5'9-5'9.5" in height then it's safe to assume Max Holloway isn't far off his 5'11" listed height.
Click Here
I also think Tyron Woodley and Conor Mcgregor would get similar listings if he was added here.
Click Here
He's more than likely shorter than his 5'9" listing. Also this works for Israel. He's a noticeably tall guy and I doubt there would be more than inch between him and Jones. Maybe a quarter off the mark but that's about it really.
Nik
said on 26/Feb/19
I don't think Dana White is any more than a flat 5'10"!
maa
said on 26/Feb/19
Clearly not 190 cm...Anderson Silva has the same heigth with 0.75 in footwear...No more than 6ft 2.5 in
Miiiiiiighty_-
said on 25/Feb/19
Well his fight with Anderson clearly debunked the 6'4 possibility.
He looked 190cm at best there..
As for Dana, looks 5 inches shorter so 5'10 at best ( Israel has a wider stance )
Not quite 6'2
said on 22/Feb/19
*sigh* starting to get tired of this. Almost every page people are determined to downgrade someone. Be real, 190cm is bang on the mark for Israel at absolute worse 189 but I highly doubt it.
ConorFan.
said on 22/Feb/19
I agree with this listing, he didnt appear massively taller than Anderson Silva, 2inch at most. Although he's very lanky in general which makes people think he's bigger than what he actually is. Good job Rob 👍🏼
mike dent
said on 21/Feb/19
Hey Rob , can you do Robert Whittaker, Yoel Romero, Tony Ferguson, Tyron Woodley
These are the MMA fighters which I can't really guess there heights, there legit stars in fact more famous than Israel
saltyfish177cm
said on 21/Feb/19
Dana is around 179cm he ever so slightly edges Mike Tyson
maa
said on 21/Feb/19
HE needs a downgrade...
6 ft 2.5 in
Littlelee168cm
said on 21/Feb/19
So dana white must be around 5ft 11 then?

Editor Rob
5ft 10 or 10 and change I think is more likely.
Jordan87
said on 20/Feb/19
The Guys Says he is 6'3", Looks 6'2-6'2.5", of course the UFC Lists him at 6'4"!!!.....My favorite was When Frank Mir was Listed at 6'3 and Carwin was listed at 6'5", yet Mir is actually a Half Inch Taller.
UFC is just as bad as Wrestling in some cases.
maa
said on 20/Feb/19
Dear Rob,
please can you add Dana White? I would also appreciate Velasquez, Whittaker, Woodley, Holloway and TJ Dillashaw
Guest66
said on 20/Feb/19
@maa, Agree, either Silva is a legit 6'2" or this guys is in 6'2" range himself.
SnerhagAip777
said on 19/Feb/19
How long is his head? It doesn't look large for a 6ft3 man.
Redwing
said on 19/Feb/19
Awesome that you added him rob!! Wooo!! Do you think he's more 192 cm or 191 cm?

Editor Rob
Well he claimed 6ft 3, I know he was also listed 191cm so you could argue he has a chance of 6ft 3 and a fraction.
maa
said on 18/Feb/19
Barefoot HE is exactly the same height as Silva with 1 inc shoes....I would go for 6 ft 2.5 in for him, not sure a full 6 ft3....his scrawny frame helps him
Click Here
:
Stepehen Newell
said on 18/Feb/19
Barely taller than Anderson , looks in the 188-189 range to me
Randomdude0000
said on 18/Feb/19
easily looks 6'3 there with 5'10 Dana White
Rocky Balboa
said on 17/Feb/19
Barefoot 6'3 is a fair call I believe. The UFC lists him as 6'4 which he likely pulls off in shoes